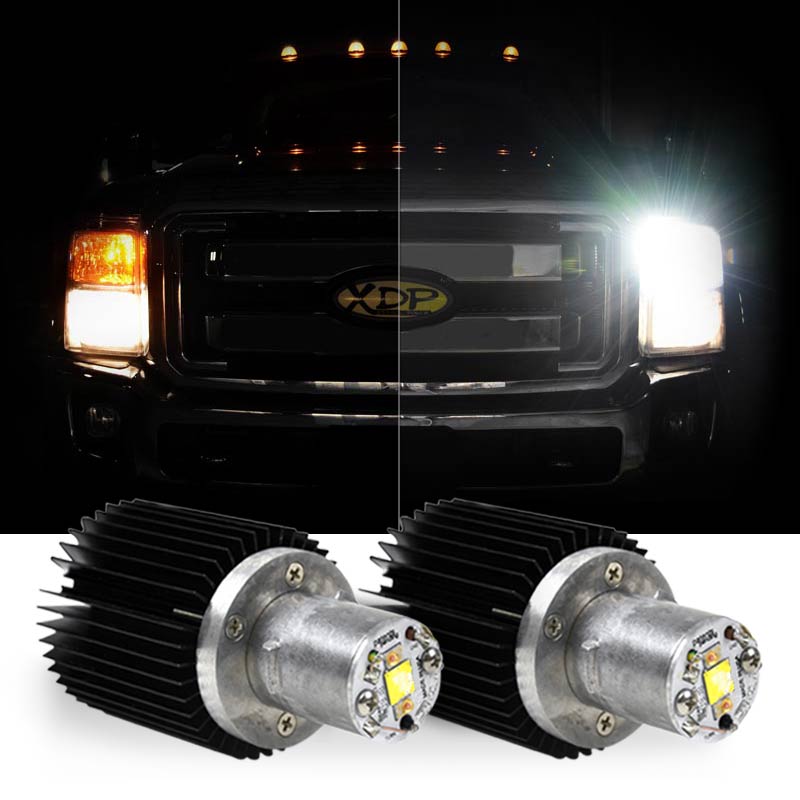 WALL, NJ, February 3, 2020 – Xtreme Diesel Performance, LLC. (XDP) a leading retailer, distributor and manufacturer of quality aftermarket performance parts has recently announced the newest addition to its product lineup, the XDP X-TRA Bright Stealth LED Light Bulb Kit.
Light the way in your 2011-2016 Ford Super Duty with the XDP X-TRA Bright "Stealth" LED Light Bulb Kit XD347. The XD347 adds X-TRA Bright LED lighting to the front of your truck with an easy, no-hassle installation. Simply remove and replace your existing turn signal/parking light bulbs with the XD347 "Stealth" LED Bulbs. This allows you to retain full function of your turn signals and parking lights while also adding powerful LED lighting to your existing headlight housings. The X-TRA Bright Upgrade Kit adds an additional 8,000 lumens of light to the front of your truck! It's like bolting on an auxiliary LED Light Bar, but keeps a clean stealth look and doesn't require drilling holes on your roof or bumper!
Each bulb features (2) amber LED's and (1) X-TRA Bright LED. Each kit comes ready for installation and the X-TRA Bright LED's can be wired to any 12-volt power source, or switch of your choice.
Features:
X-TRA Bright CREE LED's
Direct-Replacement For Factory Bulbs
Amber LED's Retain Signal/Parking Light Function
Adds 8000 Lumens Combined Using Existing Headlight Housings
Specifications:
Amber LED Output: 108 Lumens per LED (2 Per Side, 432 Lumens Total)
White LED Output: 4000 Lumens per LED (1 Per Side, 8000 Lumens Total)
For more information on the XDP X-TRA Bright "Stealth" LED Bulb Kit XD347 – Click Here