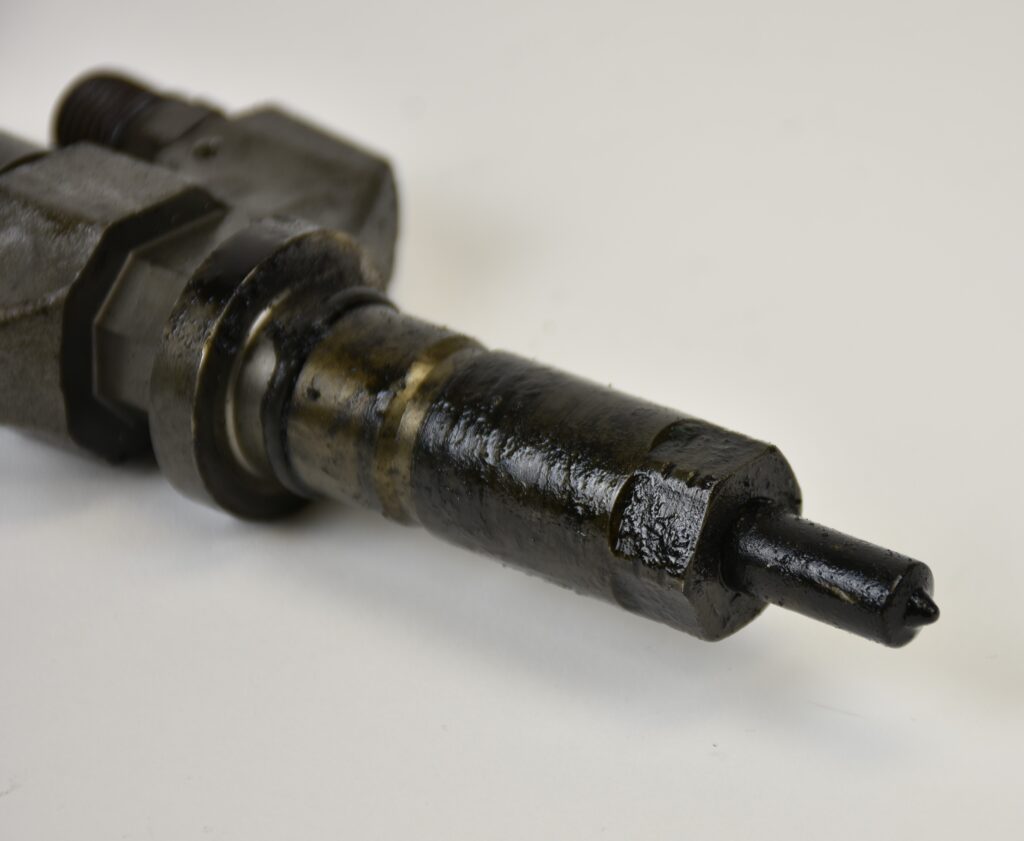 Properly functioning fuel injectors are essential to getting the maximum performance and fuel mileage out of your diesel engine. If your truck is experiencing a recent loss of power or decreased MPG's, consider having your fuel injectors professionally tested. XDP now offers in-house Diesel Fuel Injector Testing and Inspection, as well as an Ultrasonic Fuel Injector Line Cleaning Service.
Deposits can build up in the tips of fuel injectors which severely restricts flow. Your injectors can also get tired over time. Eventually, they can wear down and even develop cracks. Unfortunately no injector cleaner or fuel additive is going to be able to fix a worn/cracked injector. XDP can help properly diagnose your fuel injectors. Stop firing the parts cannon at your engine and wasting your hard-earned money on the wrong parts.
Send a complete set, or just a single injector to be tested. Each fuel injector you send is tested and inspected by a certified Bosch Master Technician. You will receive your detailed results within 2-4 business days from the time XDP receives your injectors.
Testing and Inspection Procedure
The XDP Fuel Injector Testing Service is intended to provide you with a complete diagnosis of the fuel injectors in your diesel engine. The test procedures outlined below cover a wide range of functions and give you definitive answers to the current condition of your fuel injectors.

Visual Inspection
A visual inspection is the first test that is performed when your injectors are tested by XDP. The trained eye of an experienced technician can find issues such as injector body damage, damage to the injector nozzle, or components damaged from contaminated fuel, excessive heat damage, and many other conditions.

Injector Test
An Injector test refers to the basic tests performed to ensure that a fuel injector is working properly. Functions like nozzle spray pattern and obvious signs of leakage are first noted during the initial analysis.
Leak Test
On the Bosch Test Stand, there are two leak tests performed. Each series of tests are performed to detect if any leaks are present.

The first test builds up to a pressure just beyond the bias pressure of the injector nozzle. This test indicates the following.
The nozzle spring can keep the nozzle closed
The needle is not stuck in the open position
There is no debris trapped between the nozzle needle and nozzle seat.
The second test increases pressure all the way to the maximum operating rail pressure. This test indicates the following.
There are no external leaks
There are no cracks in the injector body
The injector nozzle does not leak
No excessive internal leakage
Visual Inspection
Ultrasonic Cleaning
Injector Test
Back Pressure (Piezo Injectors Only)
ISA Detection (Select Bosch Piezo Injectors)
Resistance Test (6.4L Powerstroke Only)
Leak Test
Return Leakage Quantity Test
Injector Flow Test – Injected Fuel Quantity
Tests Performed on Bosch EPS-205 Test Stand
Test Results & Options
After the tests are performed you will receive an email from XDP containing the results along with a copy of the handwritten visual inspection report, and injector images (if required). XDP also has some options for you depending on the outcome of the testing.
Option 1 – Return Injectors
XDP will return your injectors with new copper washers and o-rings for injector bodies (where required).
Option 2 – Purchase New Injectors
If you choose to purchase new injectors, XDP will provide you with a core credit and 10% off on your choice of any new or re-manufactured injector or injector set.
XDP can also help prolong the service life of your fuel injector lines with our Ultrasonic Injector Line Cleaning Service. Injector Lines are often damaged or filled with debris, especially when an injector has failed due to fuel contamination.
It is a little more complex to thoroughly clean the injector lines than most people realize. Spraying brake cleaner in the lines and blowing them out with compressed air usually isn't enough. While there are good intentions in cleaning them yourself, without the proper tools and experience the injector lines may never be completely clean. Using an Ultrasonic cleaner, XDP's Fuel Injector Line Cleaning Service removes debris and contaminants from your injector lines and helps eliminate the risk of contaminating your fuel injectors.
How It Works
XDP's Fuel Injector Testing and Injector Line Cleaning is priced per fuel injector/line. Simply add the quantity to be tested to the cart, check out, and then proceed with the steps below. Each test is priced individually, per injector/line.
Package your injectors/lines for shipping. Ensure they are clean and well packaged to avoid fluid leaks or shipping damage.
Write your order number and "Injector Testing Service" or "Fuel Injector Line Cleaning Service" on the outside of the shipping box.
Ship your injectors to XDP using your preferred shipping method. It is highly recommended that you use a trackable method and insure your shipment.
An email confirmation will be sent once XDP receives your injectors.
Shipping Address:
XDP East Coast Distribution Center
1001 New Hampshire Ave Suite D
Lakewood, NJ 08701
Click Below to read more about the XDP Fuel Injection Services –
XD910 Common Rail / Piezo Fuel Injector Testing and Inspection Service
XD912 Ultrasonic Fuel Injector Line Cleaning Service