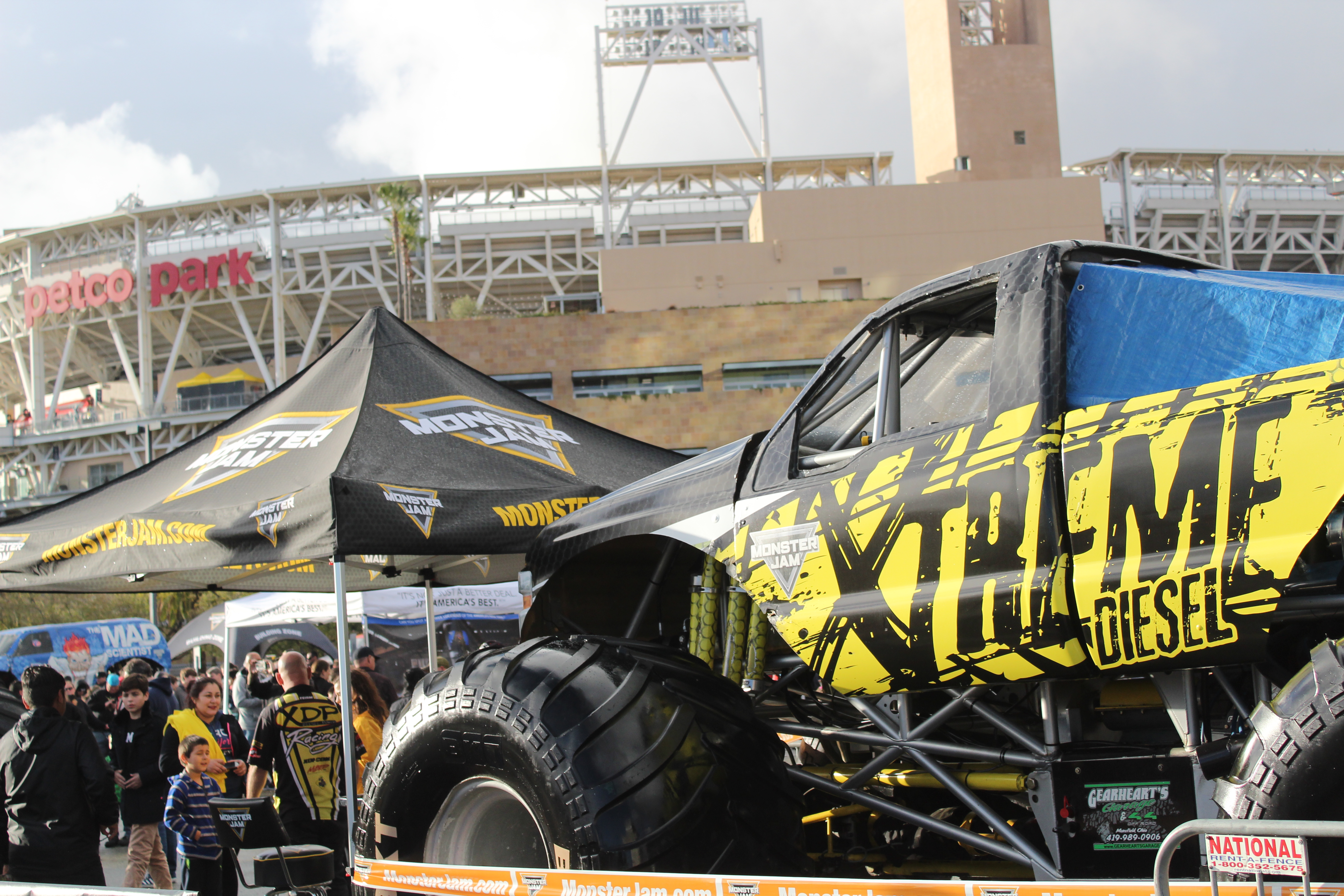 It was a wet and muddy weekend for Team XDP in San Diego. Pulling out of Minneapolis last weekend, the crew thought they would be headed west to enjoy the beautiful weather of Southern California. That was far from reality, as they pulled into some of the worst rain San Diego has seen in quite some time!
With the usual kick-off Pit Party in the early afternoon, the fans, trucks and grounds were drenched from the on-and-off rains! That didn't stop the action from happening, though. Dave and the crew got to meet with the fans, show off the truck and sign some autographs.
Since most of this stadium tour has been indoors, the weather hasn't been much of a concern. But with nasty rain storms rolling through, it made for some messy conditions during the main event. Starting off with qualifying, "Xtreme Diesel" won the first round of racing, but got knocked out in the second round by Grave Digger. With so much mud flying out behind these trucks, it looked like a mud bog!
Right at the end of racing, a clump of mud with a rock in it kicked up and landed between the injector hat (a scoop-like throttle body that sits on top of the blower) and the throttle linkage. Dave went to hit the accelerator after noticing he had no throttle, and it pulled the cable right out of the linkage.
The only time they had to work on the truck was during the 9 minute intermission. Which is normally closer to a half hour, but was cut short due to earlier delays with the rain.  So with the clock ticking, our Crew Chief Michelle, had to run 4 blocks to get the throttle cable, and swap it out during the 9 minute intermission. They got the cable swapped, but putting it all back together just wasn't in the cards. Even working on the truck at what felt like the speed of light, the air cleaner wasn't back on when the crews were called off the field. Because we couldn't run in the mud and rain without it, we were unfortunately sidelined during the freestyle portion of the event.
After the first muddy event of the tour, crews began cleaning the trucks. Enough to make any show truck owner cringe, they removed as much as 700lbs worth of mud from each truck! Team XDP reported about 6 hours of cleaning/power washing just to be able to get the body bolts out for a detailed cleaning. They've got almost a week till the next event so they'll be hard at work getting the truck ready.
Even with the terrible weather, throttle linkage issues, and required deep cleaning, Team XDP was glad to be in San Diego, and had a great time at Monster Jam!
Look for Team XDP next weekend at Angels Stadium in Anaheim, California!