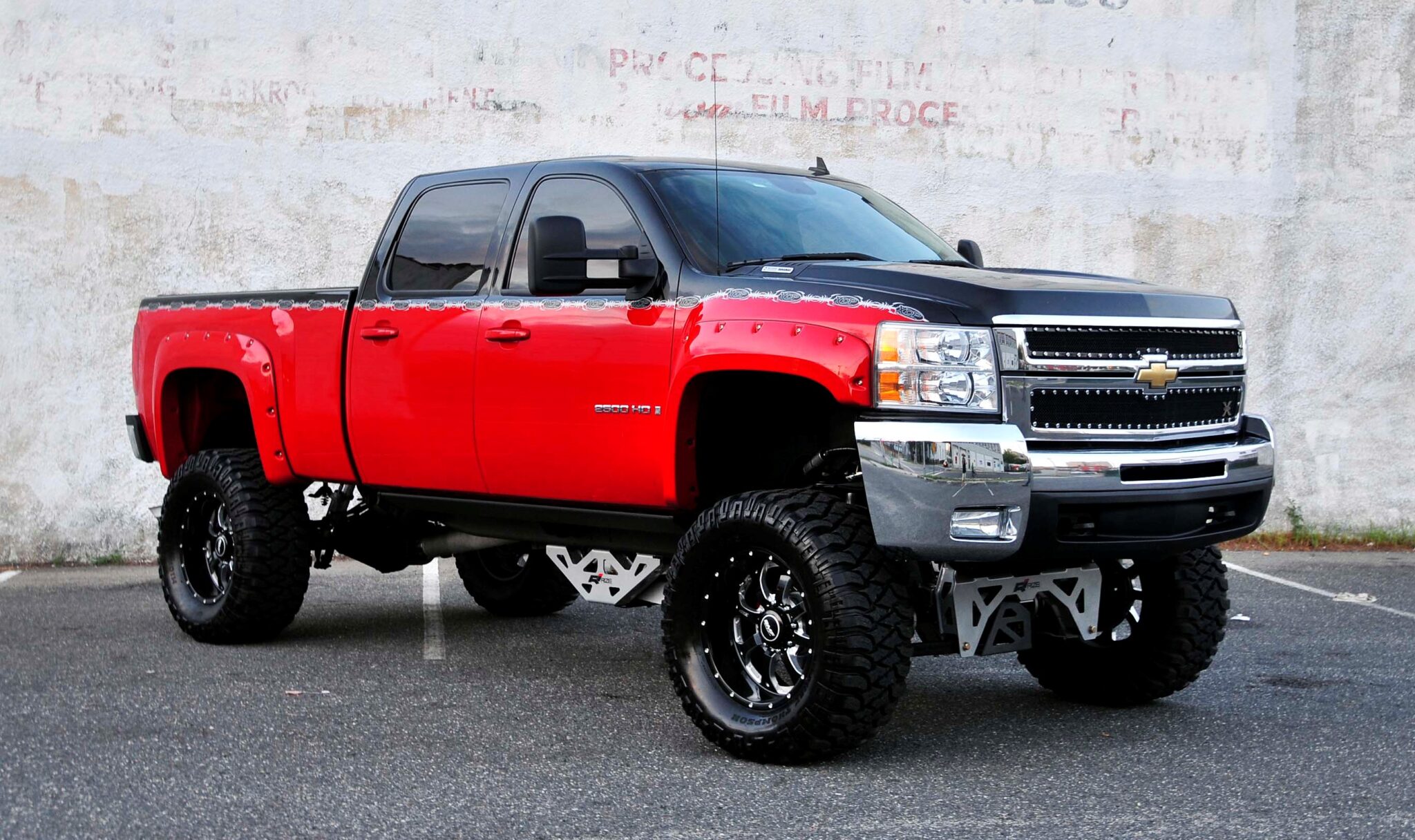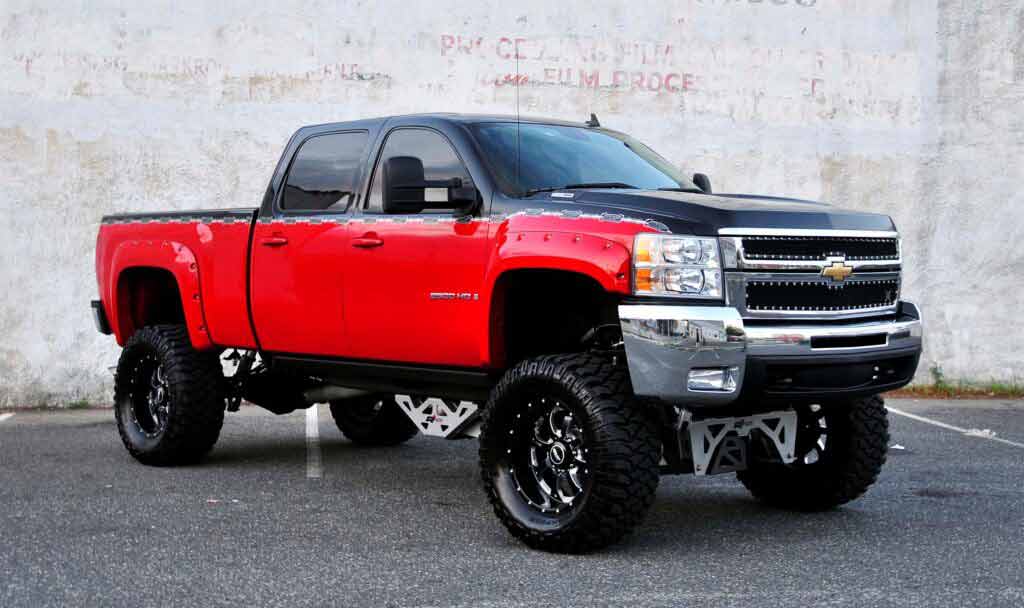 There aren't many things cooler than a lifted truck with some big 'ole tires underneath it. Read on as we discuss lift kits and help you decide what is right for your truck as well as the pros/cons to lifting your vehicle.
Lift Kit History
Lift kits date back as early as World War II. Vehicles needed to be able to transport equipment and supplies to some of the most remote regions of the world. Engineers basically had to develop a way to fit taller tires. Thus, the military began modifying their off-road vehicles to travel in tougher terrains.
As WWII came to an end, some industries continued to develop lifted vehicles for use in the private sector. In the 1940's there were off-road vehicles available to the public such as the British Land Rover and Willy's/Jeep. These were largely modeled after the vehicles used in WWII.
The SUV made its debut in the 1960's with the introductions of the Scout, Bronco, Blazer, Land Cruiser, and Wagoneer. All of these vehicles featured four-wheel drive and tires that were designed for unpaved surfaces. Most consumers made do with the factory suspension and it was still uncommon to see drivers lifting their trucks.
The lifted truck phenomenon really started to gain momentum in the 1970's. The number of off-road enthusiasts raising their vehicles started to grow by leaps and bounds. All this growing interest and experimenting eventually led to people pushing the envelope and the first-ever monster truck. The popularity of monster trucks and lifted trucks started taking the country by storm and it continues to grow to this day.
Today, many truck owners enjoy driving a truck that sits a bit higher and can fit larger tires for better off-road capabilities. As a result, the off-roading aftermarket has taken notice and developed a wide range of lift kits for enthusiasts. Many drivers choose a lift kit between 2'' and 6'', but some people like to push the limits with extreme lifts.
Let us start by examining two of the most popular options available.
Leveling Kits vs. Lift Kits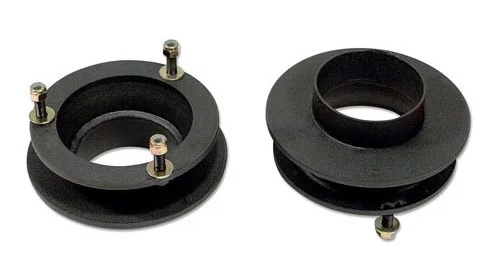 What is a Leveling Kit?
A leveling kit does pretty much what it sounds like, it levels the truck. The majority of pickup trucks come from the factory with a slight rake built into their suspension. The rear of the truck sits a little higher than the front. The primary reason for this is that trucks were designed to haul heavy loads. With extra weight in the back, the rear springs will compress, and it causes the rear end to drop. Since the rear started out higher than the front, it will not create as dramatic a difference when there is significant weight in the back.
Leveling kits are normally a relatively simple design utilizing coil spacers, strut extensions, or torsion bar keys. This of course depends on your truck's suspension type. These are primarily done for looks, but will also add a small amount of ground clearance to the front of your truck. This helps give you the ability to run slightly larger tires. Since your payload capacity remains unchanged, you can still put just as much weight in the bed without fear of the suspension bottoming out. Best of all the leveling kit is typically a much less expensive option and can start at less than $100. If you do not care for the factory-raked look or just want to run a slightly larger tire, a leveling kit might just be what you are looking for.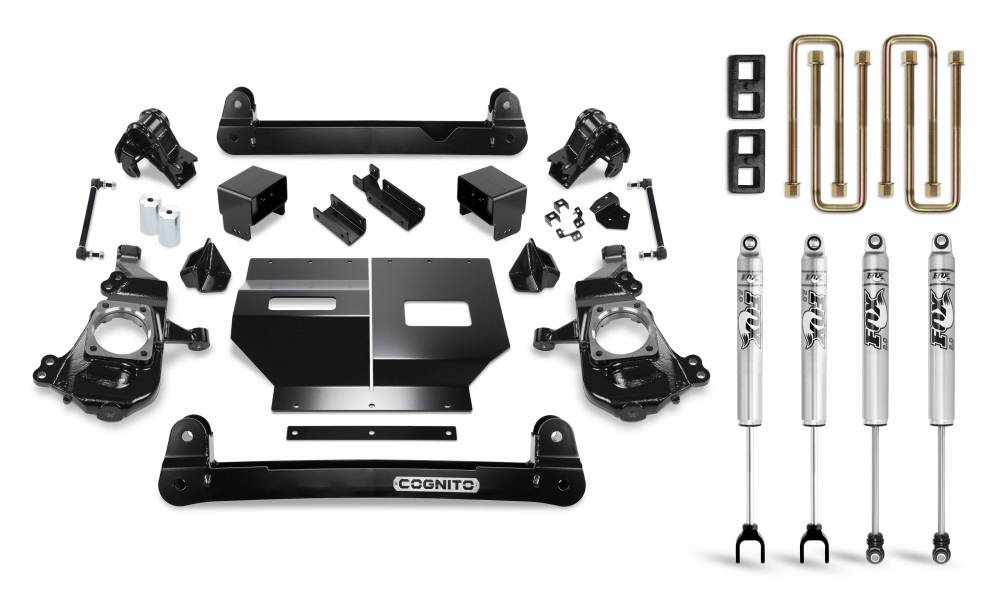 What is a Lift Kit?
A lift kit raises your entire truck (front and rear). This can be anywhere from as little as 2" to a whopping 10" or more. Lift kits can either keep that slight factory rake or fix the rake by raising the front a little extra to help level out the vehicle. A lift kit is basically required anytime you want to run a significantly larger tire size.
Lift kits come in two basic varieties, Body Lift or Suspension Lift
Body Lift
A body lift utilizes blocks/spacers to raise the body higher off the frame without altering any of the suspension geometry. With a body lift kit your ground clearance remains unaltered (before adding larger tires). The added height allows you to run larger tires under the body. Since a body lift does not change the distance between the vehicle frame and the axles, new shocks are not technically required. Although upgrading the shocks and factory steering stabilizers can help drastically improve the ride and handling characteristics.
Body lifts in general tend to be more affordable and easier to install (compared to suspension lift kits). Many suspension lift users might argue the added cost is worth every penny, even when you factor in the installation.
Suspension Lift
Suspension lifts typically involve replacing or upgrading a good portion of the suspension. This can be anything from leaf/coil springs to control arms, trailing arms, spindles, and even steering components. The benefit of upgrading these components is that it allows for more suspension articulation, more ground clearance, as well as the ability to run larger tires. All of this helps to create an off-road vehicle that is simply more capable all-around.
A suspension lift kit will set you back more money than a body lift kit since there can be quite a bit more content included in the kit. Because different trucks use different suspension types, not all suspension lift kits are created equal. The parts in a Silverado/Sierra lift kit will look very different compared to a Ram or Super Duty lift kit.
Suspension Limitations
There are times when you may require both a suspension and body lift. If a 6" suspension lift isn't enough to clear a 40" tire, an extra 2" gained by raising the body might be what you need to make it work.
The factory suspension design can also cause limitations for the aftermarket. Trucks with an IFS (independent front suspension) typically don't lend themselves to as large of a tire. If you do not see a lift kit listed for your vehicle in larger offerings, there is probably a reason why.
Installation
Installation time and complexity will vary depending on the application and the type of lift kit being installed. Lifting a vehicle with an IFS is typically more involved than lifting a vehicle with solid axles front and rear. Most lifts can be installed at home by the shade tree mechanic with basic automotive hand tools. If the installation of the lift kit looks too intimidating to you, or you just don't have the time to do it yourself there are plenty of professional shops that can easily handle the installation.
The need for an alignment after the installation of a lift kit can vary depending on the suspension design and what parts were removed/replaced. Even if an alignment is not required, it is a good idea to have it done periodically to ensure proper handling and tire wear.
Ride Quality
It is possible to maintain a factory-like ride (or slightly firmer) with an aftermarket lift system installed. For most trucks, the ride quality does not noticeably deteriorate if the factory springs or torsion bars are not replaced. As a general rule of thumb when it comes to leaf springs, as the spring arch increases so does firmness.
Shocks do not help provide lift, but they can dramatically improve a soft or spongy ride. Depending on the truck and the type of lift kit that you choose it may require a longer shock. Many lift kits already include new shocks that are the correct length. If you purchase a lift kit that does not come with shocks or already have a lift kit and are looking to upgrade the shocks, always make sure to order the appropriate shocks for your lift. Shocks are often labeled with the corresponding lift kit heights that they work with.
Driving Your Lifted Truck
Of course, the taller the vehicle the higher the center of gravity. This will have underlying effects on the overall vehicle stability and make it easier to roll over. If you are installing larger tires with a more aggressive tread pattern you should expect an increase in road noise and slightly longer braking distances. In other words, it is a good idea to start taking turns a little slower and give yourself a little longer to stop. Raising the truck and putting larger heavier tires on will also decrease the aerodynamics and increase the unsprung weight, so do not be surprised when you start to see a decrease in fuel economy.
It is always a good idea to check to and see if your state has any restrictions on lift height. Not all states limit lift height, but those that do use different methods and measuring points (bumper height, frame height, headlight height, etc.). Do some research when deciding exactly how high you want to go, and what size tires you will be purchasing.
Verdict
Lift kits are not for everyone. Sure, there are some small sacrifices that you will be trading off (as listed above). With the exception of some exotic sports cars that cost a few hundred thousand dollars, there is nothing else on the road that commands the attention of a lifted truck with oversized aftermarket wheels/tires. From mild to wild, there is no better way to personalize your truck and make it stand out from the crowd.
If you have any questions on a lift kit for your truck, contact the Performance Specialists at XDP (888-Diesel-4).
Shop Lift Kit Manufacturers –