Atlantic City, NJ, July 20th – 31st, 2022 — A line of trucks extended out onto N. Albany Ave Saturday morning, as contestants, vendors, and spectators alike poured onto Bader Field for the 2022 Atlantic City Truck Meet! The stage was set for an exciting weekend, with events like the burnout pit, monster truck rides, all-day dyno, and bikini contest. The AC Truck Meet had something for everyone!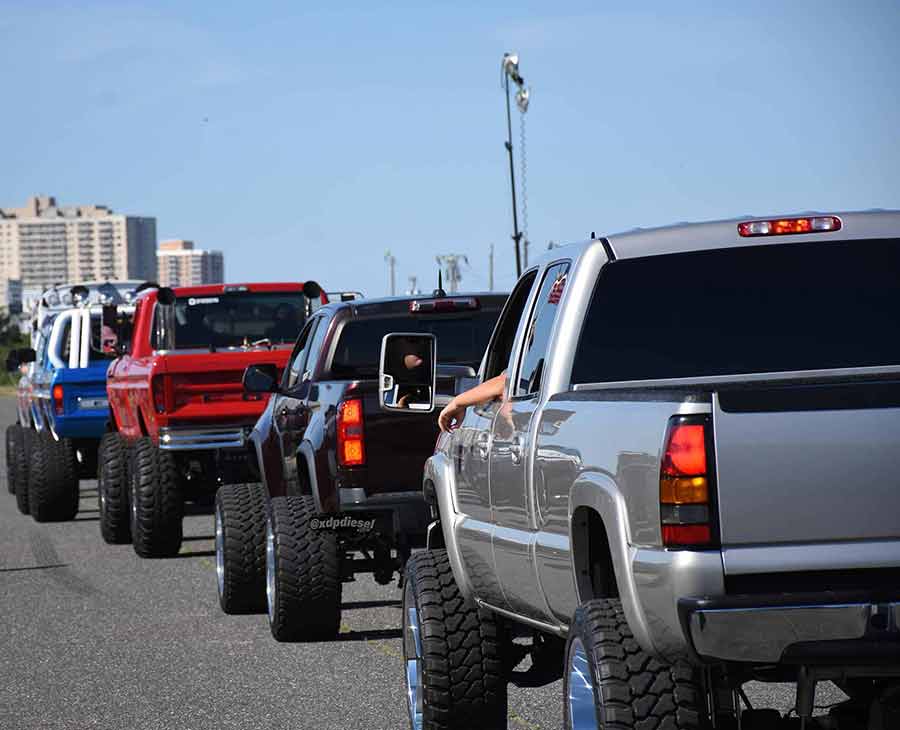 Vendor Row
Vendor Row was filled with some of the most popular brands in the aftermarket truck industry. Xtreme Diesel Performance, Fuel Off-Road, AlphaRex, Morimoto, ReadyLift, and more were in attendance.
Many vendor booths featured truck builds that showcased their parts and gave customers ideas and inspiration for their own builds! We spoke with Julian about all the featured products in the XDP booth. This included the XDP Billet Aluminum Oil and Transmission Pans, XDP Fuel Contamination Kits, HD High Output Alternators, XDP Remanufactured Fuel Injectors, the XDP line of fuel, oil, and coolant additives, plus more!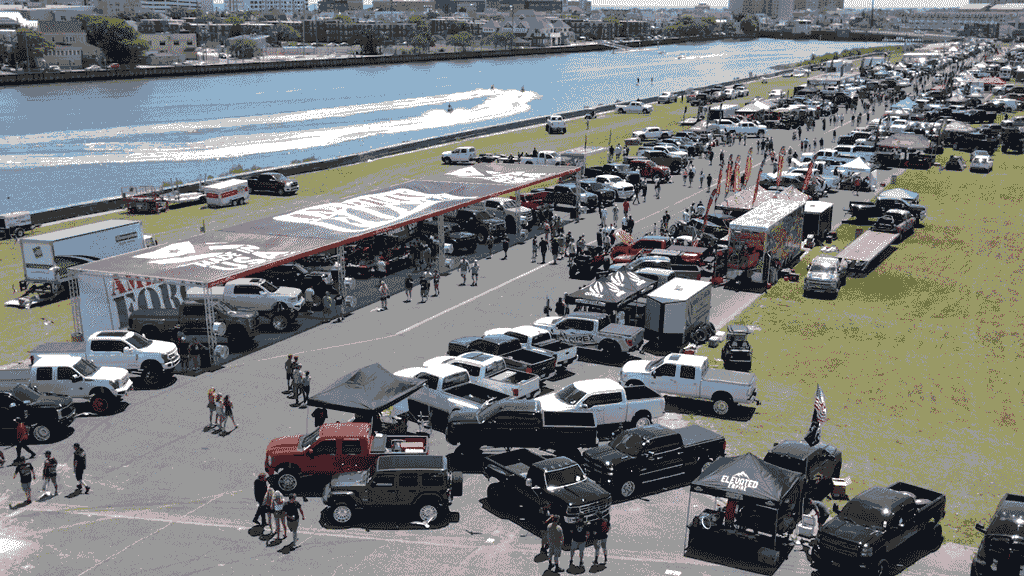 Show & Shine
The Atlantic City Truck Meet's Show & Shine had trucks competing in diverse fields with a trophy for each category. Trucks would be competing for best in show, best manufacturer, best lowered, best ol'skool, best paint/wrap, and more!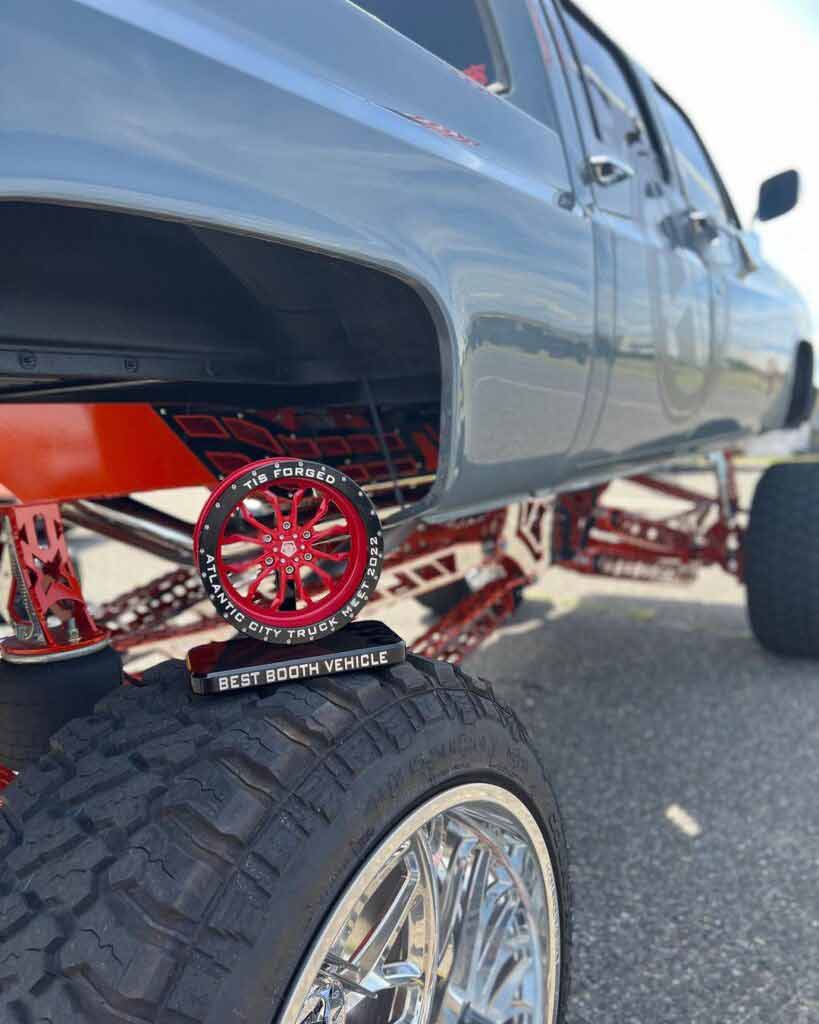 As we walked through vendor row, we stopped to talk with Eddie and check out his 1987 6.6L LBZ Duramax Swapped Crew Cab. After picking up the truck from a friend in Florida, Eddie tore it down determined to install a Duramax. Staying true to Chevy roots, Eddie opted for a Duramax, but when it came time to swap in the LBZ, the frame wouldn't support the engine, so Eddie came up with his own solution.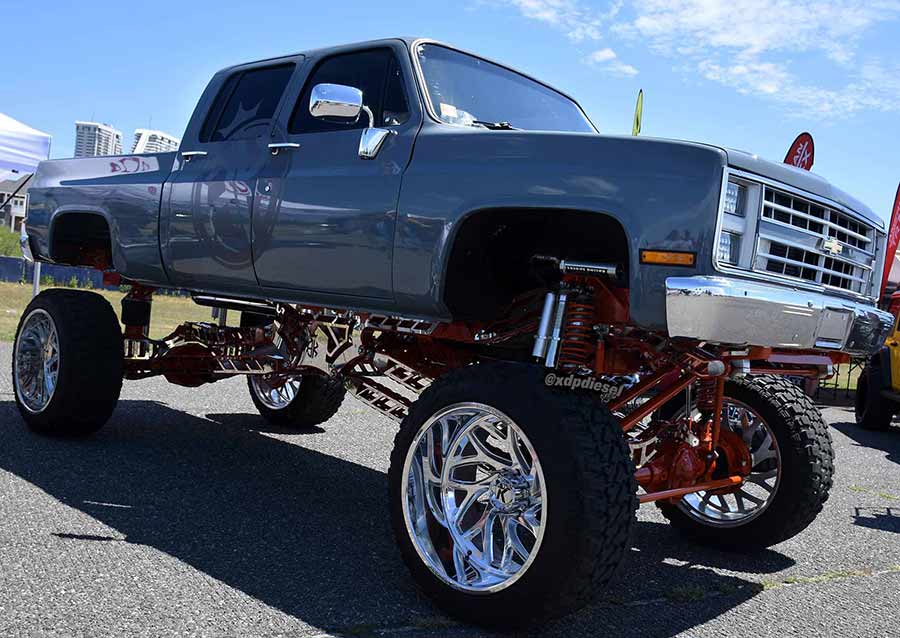 He built his version of the '87 crew cab on a fully custom chassis, rolling on 26×16's on 40's and Super Duty running gear. This unique Chevy required some custom suspension, including Super Duty axles, and front & rear four-link with air ride in the back and coil overs upfront. Eddie's LBZ didn't just catch our eye, the truck won Best Booth Truck of this year's Atlantic City Truck Meet.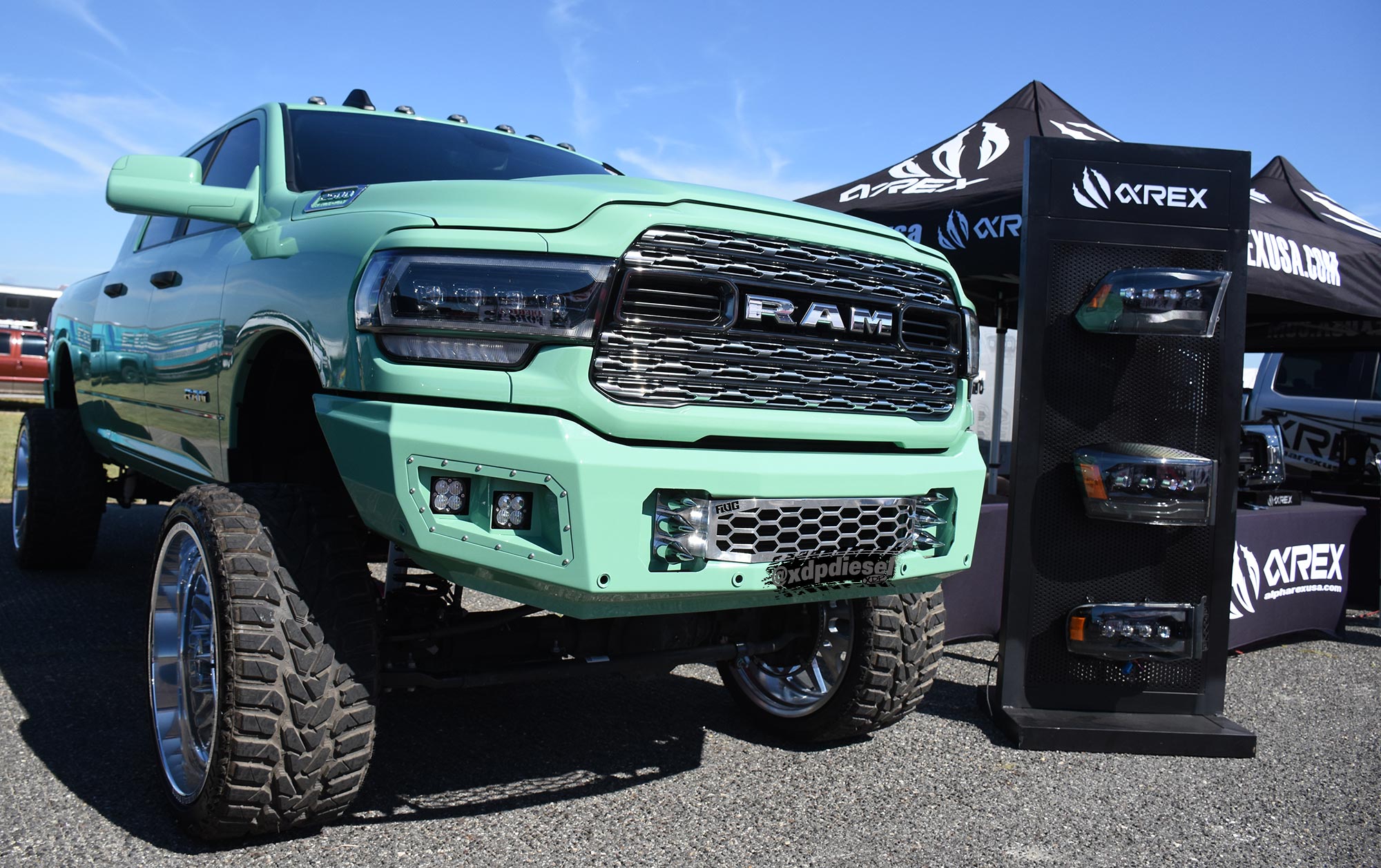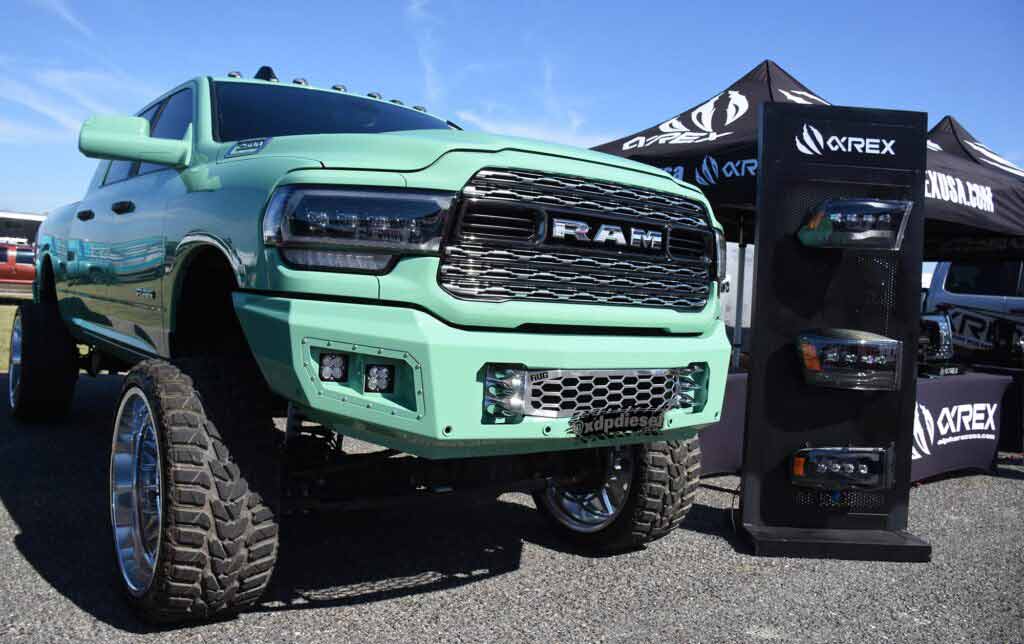 Danny From AlphaRex
Another truck that caught our eye was located in the AlphaRex booth; an unmistakable Miami Vice-themed 2022 Ram 2500. Danny from AlphaRex got his hands on this low-production-color Ram and ran with the light green theme. Further complimenting it with pink and purple suspension components. In addition, it rides a set of American Force wheels and features an 8-inch lift. "It was all green from the factory with chrome bumpers, really ugly. I wanted to paint match it all."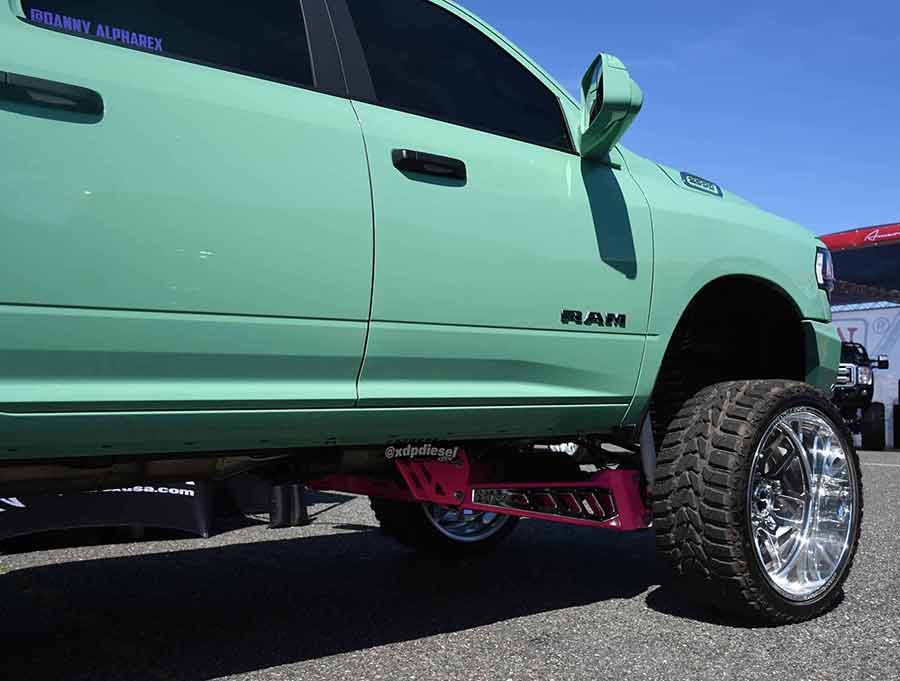 The truck originally came with chrome bumpers, grill, and emblems. Danny color matched with the truck to more closely fit the theme. If you somehow missed this truck during the day, don't worry. This 2500 has as many unique lighting accessories as it does spectators stopping to look at it. Danny's unique Ram featured none other than AlphaRex's Nova Series headlights. Safe to say that this is a truck that you'd expect to see Don Johnson behind the wheel of.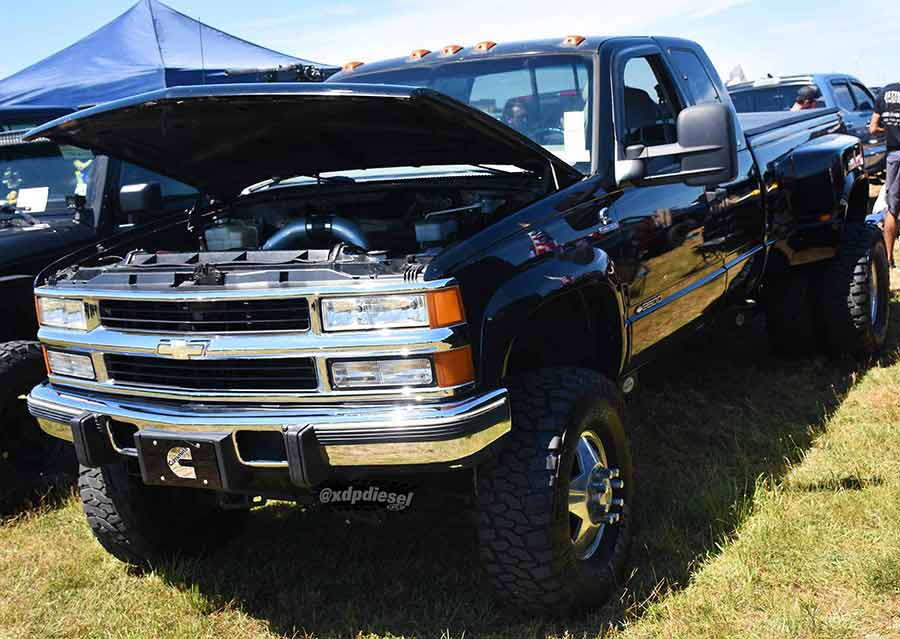 A Cummins Swapped Chevy
We caught up with a few of the competitors and their unique trucks that were vying for a trophy this weekend. Zack's been driving his Cummins swapped 2000 Chevy 3500 since his junior year of High School. Back then it had a 6.5L in it but as the years went on, he was looking for more power and reliability. He decided to buy a 1990 Dodge W250, and swapped out the 12v Cummins engine that came along with it. If that wasn't enough, Zack also went ahead and put a Chevy NV4500 transmission in, making it a 5-speed.  
Why Cummins? "There's just so much aftermarket support compared to the old 6.5L, and it just makes so much more power." So far Zack has taken advantage of the Cummins aftermarket support with a new intake and turbo. Future plans consist of upgraded injectors and an intercooler to get even more power. The suspension setup is unique on this vehicle in that it was necessary to add the body lift. This helped to ensure proper clearance of the NV4500 transmission. In keeping with his "upgraded but stock" theme, the only other suspension modification are some ladder bars. This truck has come a long way and is Zack's daily driven dream!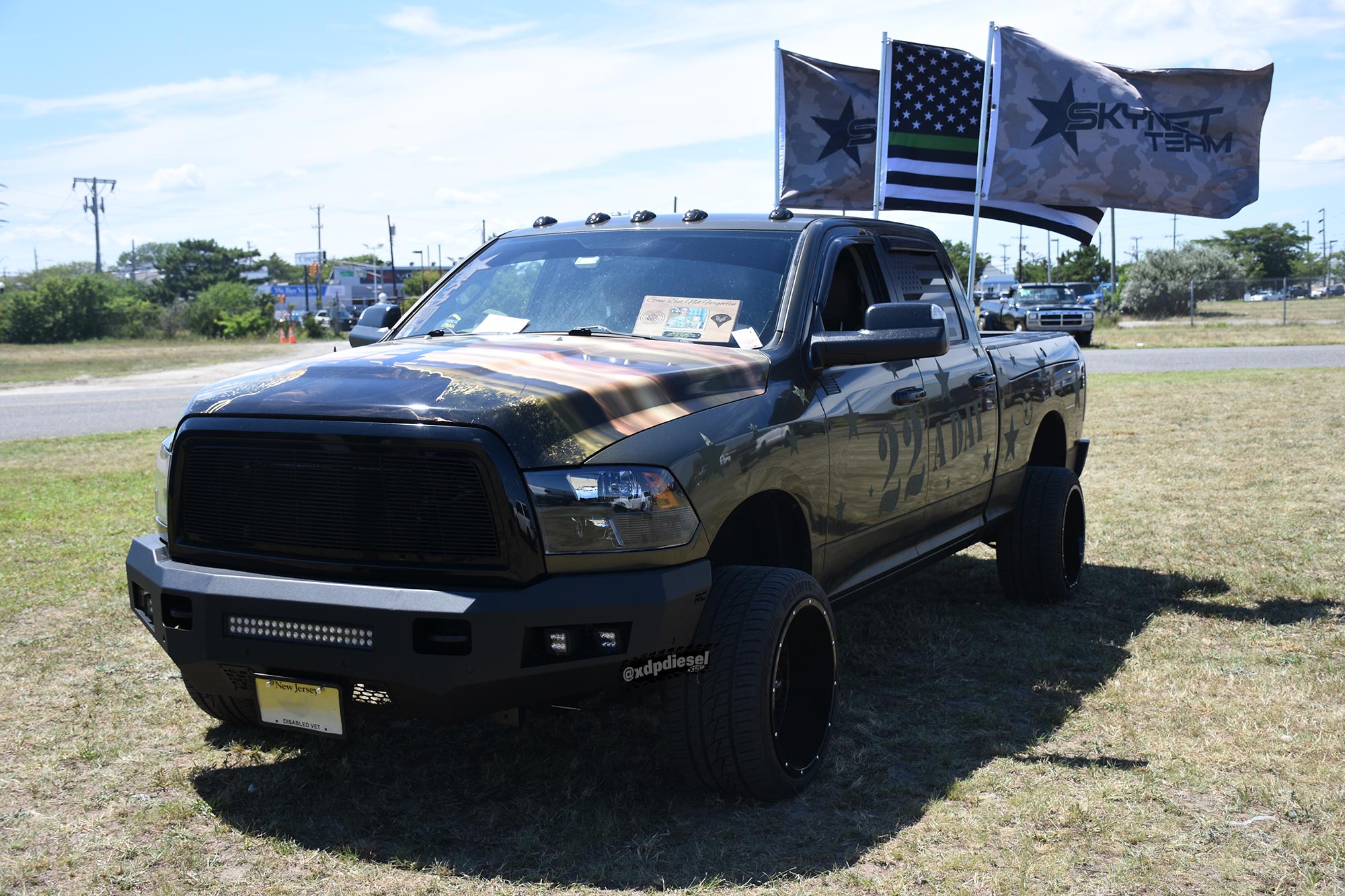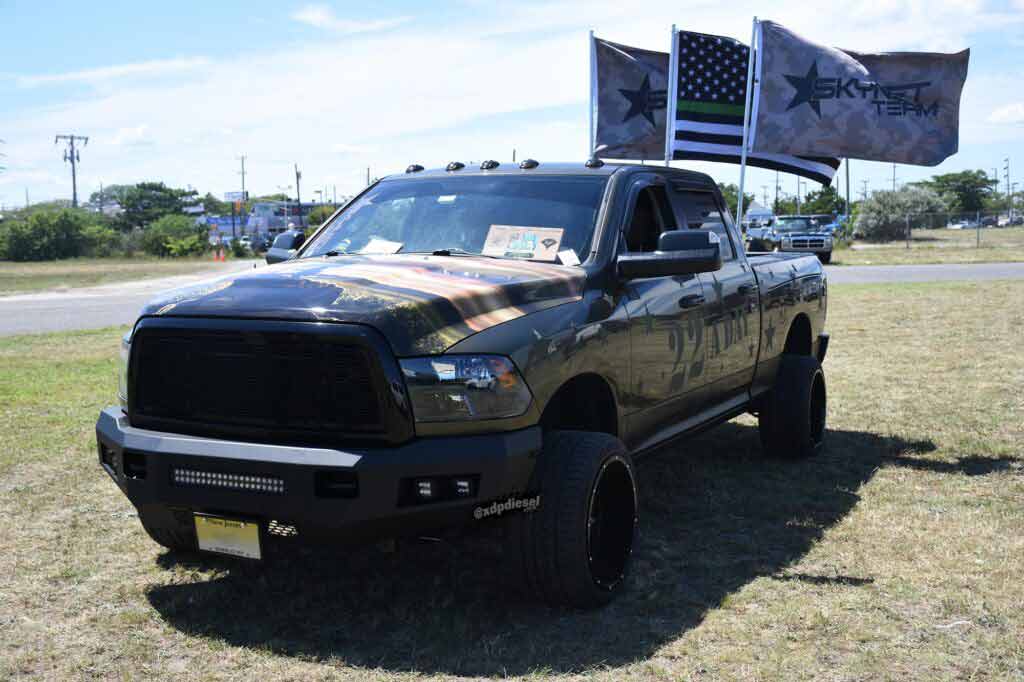 A Tribute to Army Veterans
In one way or another, every truck has sentimental value to its owner, shop, brand, or community. However, few trucks carry a better cause than Will's 2021 6.7L Cummins. Will lost his brother Michael shortly after a tour in Iraq. To honor his service he decided to build something truly special. "We lose too many soldiers when they come back home… we decided, let's build a truck and dedicate it to my service and my brother's service and honor all those that come home and are in the struggle as well as the ones that we lost." From bumper to tailgate, this truck is adorned with stars and stripes, POW-MIA decals, "22 a day" and a special plaque near the driver's side window with a photo of Will's brother Michael.  
In the end, the 2022 Atlantic City Truck Meet was a weekend to remember! Two action-packed days of fun in the sun at the Jersey Shore, surrounded by top vendors and all the creative and unique builds. We saw trucks showcased in the show and shine, vendor row, all the action of the burnout pit, and more! For a full event recap, be sure to check out our YouTube Channel and keep an eye out for XDP at the next truck event you attend.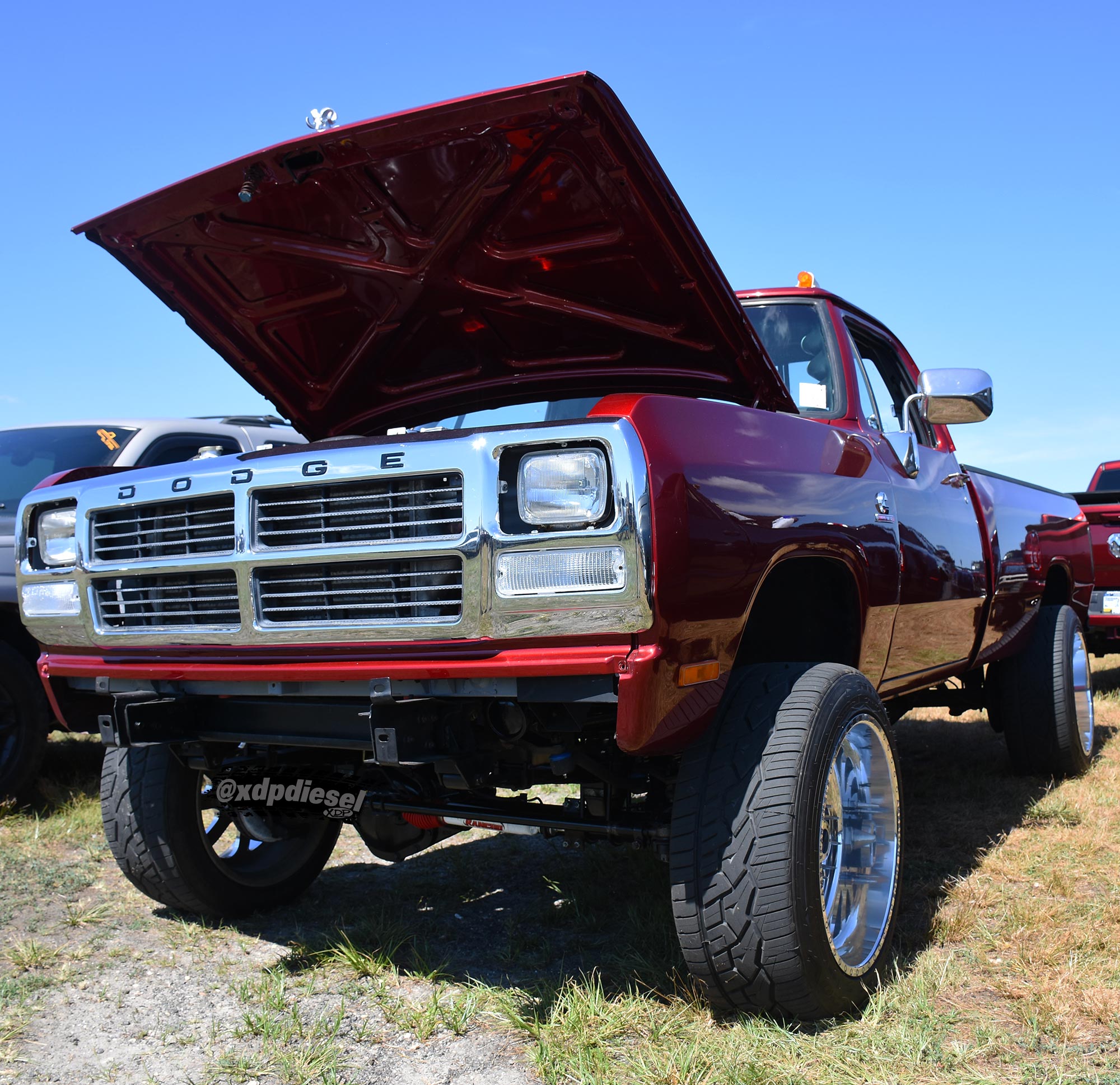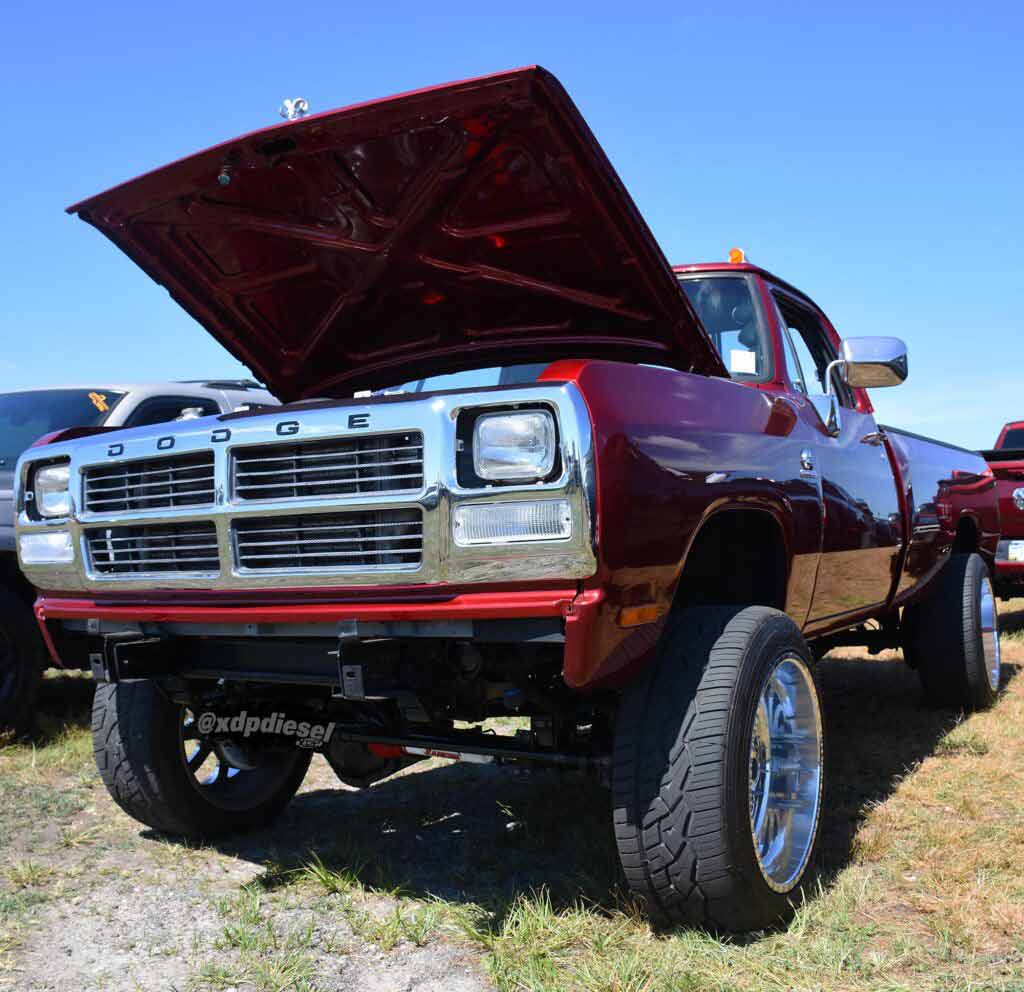 Interested in the parts featured in the XDP Booth at the Atlantic City Truck Meet? Find out more and shop for the parts you need at XDP.com today!