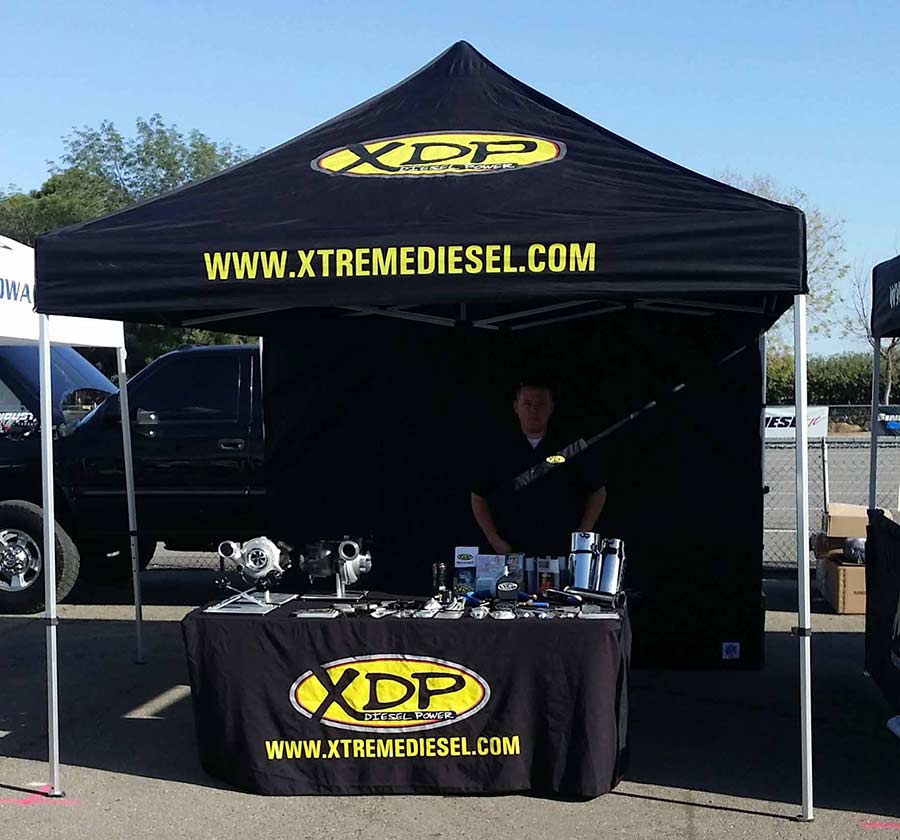 Maybe it was the long cold winter we've all had. Or maybe it was the rain we fought at many races last season.  Regardless, the off-season is tough on us race fans. So XDP and many other West Coast Diesel racing fans were excited to kick off the 2014 NHRDA Diesel Drag Race Series in sunny Bakersfield California last Saturday at Historic Famoso Raceway.  Plus with XDP's two locations, one being in Las Vegas, it meant we could easily drive to Bakersfield for the event.
As racing picked up throughout Saturday morning, so did the crowd which continued to flow into the raceway and onto vendor alley most of the morning.  By midday the XDP booth was busy answering questions and interacting with fans. The weather was beautiful for racing, with clear skies and the sun out in full force .  The NHRDA kicked competition off with drag racing in many classes which raced throughout the day.  As the racing went on there were some great head to head battles and fast times, a clear indication that many had successfully completed their winter build projects.
Meanwhile, others tested their off-season upgrades on the dyno to see what kind of numbers their truck could lay down.  Many came off the rollers and headed to the track to back the dyno numbers up and to gather more data to help with any early season tuning still needed.  After a day of racing the event turned to sled pulling.  The interest and growing popularity for sled pulling was clear as the amount of spectators seemed to grow when the pulling got started.  The pulls began with stock trucks, then onto the modified trucks, closing out with full on tube chassis and tractor sled pulling. This was a great way to end the day of racing as families gathered together eagerly looking on to see who would pull the furthest.  If Saturday was any indication, this looks like it is going to be a great season and XDP looks forward to seeing everyone at the next NHDRA event in Ennis Texas on April 12th!