DAVE RADZIEREZ DID IT AGAIN!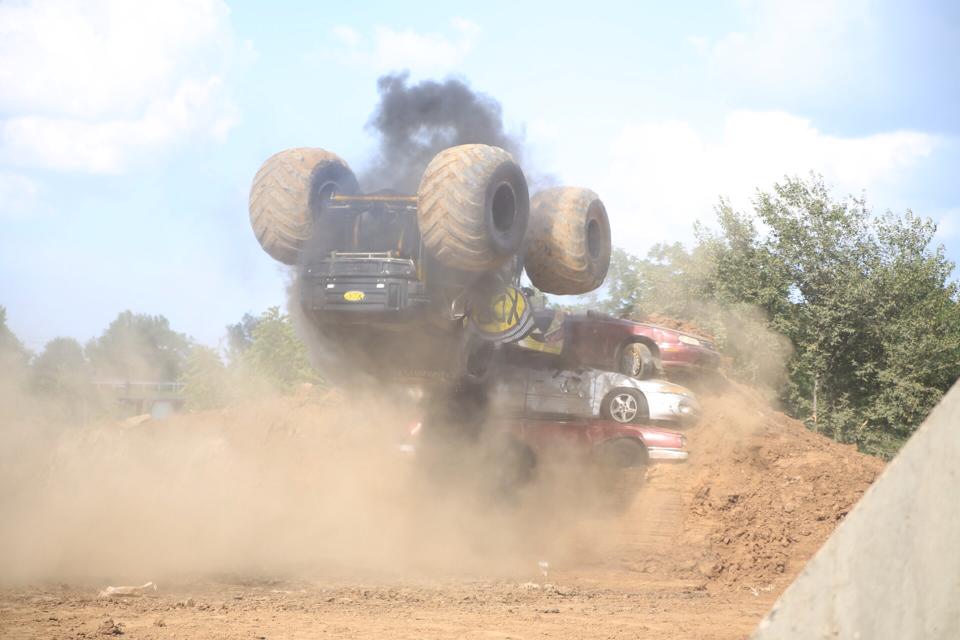 Another successful backflip attempt that was executed with near perfection.
Over the past weekend XDP and its Race Team had a chance to attend the 2014 Springfield Missouri 4-Wheel Jamboree in Springfield, MO.  Thick, hot humid air filled the area but that did not stop people from coming out and showing their support for their favorite monster truck or local mud truck.  Events for the weekend included monster truck races, freestyle competition, mud bog challenge, a burnout contest and many others.  However, the talk of the town was focused on Dave in the XDP monster truck and his second backflip attempt.  His last (in Lima, OH) was a crowd favorite and he was determined to land it again in Springfield, MO.  All weekend leading up to the final event the crowd was bustling with talk of the attempt, was he going to land it? or come up short and wreck?  Everyone was on edge leading up to the main event.  Finally when the time came Dave started the truck, casually hit some small jumps, eyed up the jump for the backflip and went for it.  Watching a six ton truck twirl in the air and successfully land back on all four tires is something out of this world.  Once he successfully landed the crowd went insane, he was an instant crowd favorite.  The cheering could be heard from miles away!
Now that Dave is currently 2/2 with his backflip attempts, do you think he can make it 3/3 at the next event?
XDP would like to give a special thanks to Don at Daystar and PK with Edge/Superchips for all their help and support.
We at XDP hope everyone had as much fun at the show as we did, and we look forward to seeing everyone soon.
Check out the full youtube video – Click Here