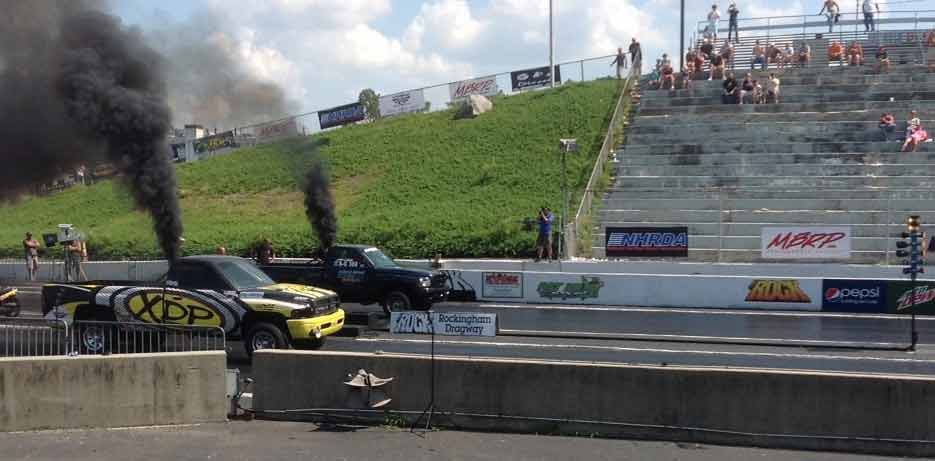 The XDP Drag Race Team took to the track this weekend in Rockingham, NC for the NHRDA Carolina Diesel Nationals at THE ROCK!!  The team was looking to really open the truck up for the first time down the quarter mile drag strip in Rockingham.  As with any new race truck, we have fought little issues since debuting the truck earlier this season and continued to work through them this weekend in NC. 
 Saturday we went out and qualified #2 with a 10.07 @ 138 mph with some tractions issues causing the truck to move towards the wall and center line for a few hundred feet.  With another nitrous issue fixed after that pass and seeing what we had run previously, we were VERY optimistic about getting the truck into the 9's and 140 mph range for the next round.
 With the truck now at full strength I lined up against Dan Hair who had qualified .01 seconds behind me! Both of us were very excited to have a close race and we didn't let the spectators down!!  With a 10.21 at 125 mph, the XDP truck was able to move onto the finals on a victory that was decided at the starting line, as Dan went 10.15 to the stripe.  We'd won it at the tree, but during the pass the XDP truck broke the #1 injector line and blew off and severely bent an intercooler pipe. So we had raced our way into the finals but were now scrambling to prepare for the finals against a very fast Micah Sullivan and the Scheid team. The XDP team thrashed to get the truck ready for the final round in hopes it would hold together for one more pass!  The win, however, just wasn't in the cards for the day, as we cut a .058 light to give us a great advantage again off the starting line, only to have the intercooler pipe explode soon after.
 We had a GREAT time in Rockingham and look forward to the next event to get that 9 second pass we have been looking for!