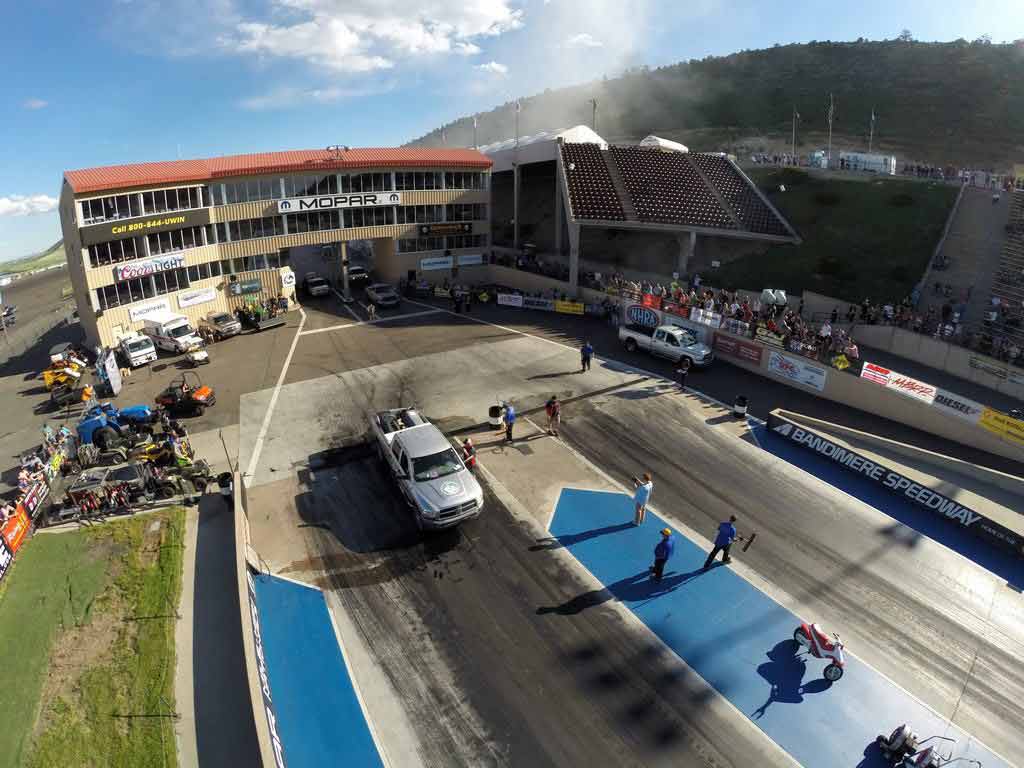 This past weekend XDP headed to beautiful Denver, Colorado for the NHRDA BD Diesels on the Mountain event.
BD Diesels on the Mountain Day 1
The event started Friday night with sled pulls taking place at the Jefferson Country Fairgrounds in Golden, Colorado. With storms earlier in the day and the sky still dark with clouds we were not sure if the event was going to take place. With the track being prepped and crowds starting to gather in the stands it began to lightly rain. The track crew continued to prep the track in hopes that the rain would subside. Luckily the rain let up enough to allow the event to start. About 15 minutes into the event it began to rain again, this time a little harder. The track began to get a little slick and the trucks looked like they were sliding a little bit. In between classes the rain stopped, the skies cleared, and the rest of the event went off without a hitch.
Day 2
Saturdays event took place at the famous Bandimere Speedway in Morrison Colorado. After the gloomy, rainy weather of Friday at Diesels on the Mountain we were hoping for a clear day on Saturday. Our wish was granted and we rewarded with a perfect day for drag racing. The weather turned out to be so perfect that it allowed 2 new NHRDA speed records to happen even though we were a mile up. Jarid Vollmer and the Bully Dog drag truck set a new speed record in Pro Street with a speed of 160mph. Rob Coddens and his 02 LB7 set a new record in Super Street with a speed of 152.37.
Join XDP on June 27th in Madison Illinois for the NHRDA Midwest Truckin Nationals taking place at the Gateway Motorsports Park.
30 May 2015 Denver, CO – Final Results & Event Recap for the 2015 NHRDA Diesels On The Mountain Presented by BD Diesel Performance at Bandimere Speedway in Denver, Colorado…
Final Results
Event Name
Diesels On The Mountain
Date
05/30/15
Track Name
Bandimere Speedway
Location
Denver, CO
MBRP Performance Exhaust – Diesel Drag Racing Results
Class
Vehicle
Name
City
State
ET
MPH
RT
Pro Stock Winner
2006 Chevy
Brian Spooner
Lloydminster
AB
10.35
134.95
0.489
Pro Stock R/U
1941 Willys
Jarid Vollmer
Chubbuck
ID
11.86
125.00
0.725
Pro Stock #1 Qual
2006 Chevy
Brian Spooner
Lloydminster
AB
10.16
138.41
Pro Stock Low ET
2006 Chevy
Brian Spooner
Lloydminster
AB
10.16
Pro Stock Top Speed
2006 Chevy
Brian Spooner
Lloydminster
AB
138.41
Pro Street Wiiner
2005 Ford
Matt Kubik
Newkirk
OK
9.55
145.48
0.182
Pro Sreet R/U
2006 Dodge
Jarid Vollmer
Chubbuck
ID
29.87
39.34
0.549
Pro Street #1 Qual
2006 Dodge
Jarid Vollmer
Chubbuck
ID
8.77
160.00
Pro Street Low ET
2006 Dodge
Jarid Vollmer
Chubbuck
ID
8.77
Pro Street Top Speed
2006 Dodge
Jarid Vollmer
Chubbuck
ID
152..37
Super Street Winner
2002 GMC
Rob Coddens
Eagle
ID
9.52
145.54
0.236
Super Street R/U
2006 Dodge
Derek Rose
Casco
MI
9.73
146.75
0.205
Super Street #1 Qualify
2006 Dodge
Derek Rose
Casco
MI
9.41
149.65
Super Street Low ET
2002 GMC
Rob Coddens
Eagle
ID
9.36
Super Street Top Speed
2002 GMC
Rob Coddens
Eagle
ID
152.37
Dial
ET
RT
MPH
10.90 Index Winner
2006 Dodge
Phillip Franklin
San Antonio
TX
10.90
11.45
0.316
109.32
10.90 Index R/U
2004 Dodge
Jon Jacobs
Arvada
CO
10.90
13.31
0.170
107.21
10.90 Index #1 Qualifier
1997 Dodge
Dustin Johnson
Piedmont
SD
11.18
Dial
ET
RT
MPH
Super Diesel Winner
1948 Ford
Kevin Larson
Keenesburg
CO
11.90
11.98
0.267
111.69
Super Diesel R/U
2003 Chevy
Dan Madden
Worland
WY
11.90
11.84
0.359
113.46
Super Diesel #1 Qualifier
2006 GMC
Verlon Southwick
Shoshone
ID
11.90
11.93
Dial
ET
RT
MPH
Sportsman Winner
1994 Dodge
Arik Frost
Lakewood
CO
12.55
12.56
0.043
105.12
Sportsman R/U
2006 Dodge
Phillip Stiers
Lakewood
CO
12.03
12.07
-0.005
114.36
#1 Qualifier
2010 Volkswagen
Trey Sikes
Hamlet
NC
0.014
NHRDA Sled Pulling Series Results
Class
Vehicle
Name
City
State
Distance
Super Stock Winner
2003 Dodge
Jason Stott
Rock Springs
WY
277.10
Super Stock 2nd Place
1997 Ford
Rocky Horn
Ft. Lupton
CO
238.24
Super Stock 3rd Place
2003 GMC
Aaron Jones
Henderson
CO
226.96
3.0 Class Winner
2005 Dodge
Tom Hansen
Stansbury Park
UT
276.10
3.0 Class 2nd Place
2002 Chevy
Rick Engler
Brighton
CO
250.10
3.0 Class 3rd Place
2001 Ford
Adam Quain
Grand Junction
CO
232.12
2.6 Class Winner
1995 Dodge
Jared Patterson
Colorado Springs
CO
282.78
2.6 Class 2nd Place
1979 Ford
Rocky Horn
Ft. Lupton
CO
277.92
2.6 Class 3rd Place
2000 Dodge
Weylin Richards
Mt. Sterling
UT
262.90
2.5 Class Winner
2002 Chevy
Justin Doyle
Thornton
CO
276.88
2.5 Class 2nd Place
2007 Dodge
Tony Gonzales
Alliance
NE
274.98
2.5 Class 3rd Place
2002 Chevy
Josh Creason
Lakewood
CO
269.38
Burnout Contests and Show n Shine Winners
Vehicle
Name
City
State
Burnout Contest
1999 Dodge
Calvin Bowers
Greeley
CO
Show n Shine Semi
2006 Peterbilt
Jeremy Reuter
Brighton
CO
Show n Shine Pick Up
1946 Chevy
Grant Decker
Colorado Springs
CO
Show n Shine Work Class
2006 Peterbilt
Wilton Washington
Denver
CO