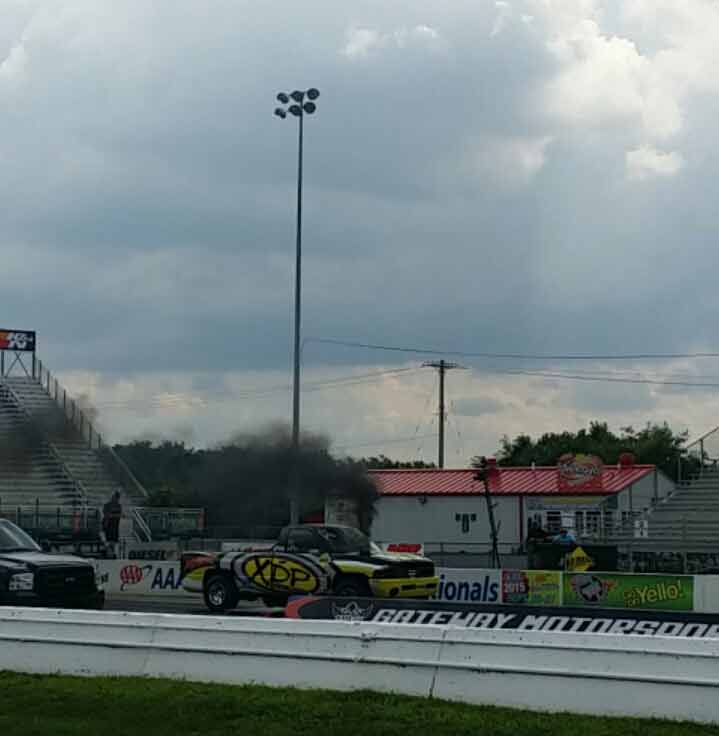 One of the multiple events XDP attended this weekend was the NHRDA Midwest Truckin Nationals. The event was held at the Gateway Motorsports Park in Madison IL, right across the river from St. Louis, MO. Weather conditions were perfect for racing with a high of 80 and partly cloudy skies. This was a local event for Anthony Reams and the XDP drag truck, Anthony lives about an hour west of the track.
The day started off with high hopes, but those were quickly dashed when the race truck was pulled off the trailer and Anthony noticed coolant leaking in between the head and the block, an indication of a bad head gasket. Anthony did what he could to make the truck race ready by re-torquing the head and hoping the gasket would hold. The truck was able to qualify by taking a green light and then going back to the pits to wait for the actual racing to happen. Anthony was able to make one pass with the truck which he won, running 10.24, but unfortunately the motor gave out at the end of the track. Anthony will take the truck home and rebuild the motor to be stronger and more powerful than it was before and the XDP race truck will be back soon, and even faster.
The next NHRDA event will be the Pacific Coast Diesel Nationals taking place July 11th at the Woodburn Dragstrip in Woodburn, OR.
28 June 2015 St Louis, MO – Event Recap for Drag Racing, Sled Pull and Show Events for the 2015 NHRDA Midwest Truckin Nationals at Gateway Motorsports Park in Madison, Illinois:
Event Name
Mid West Truckin Nationals
Date
06/28/15
Track Name
Gateway Motorsports Park
Location
Madison, IL
MBRP Performance Exhaust – Diesel Drag Racing Results
Class
Vehicle
Name
City
State
ET
MPH
RT
Top Diesel Winner
Dragster
Marty Thacker
Robinson
IL
7.01
199.11
Top Diesel #1 Qual
Dragster
Marty Thacker
Robinson
IL
7.08
199.35
Top Diesel Low ET
Dragster
Marty Thacker
Robinson
IL
7.01
Top Diesel Top Speed
Dragster
Marty Thacker
Robinson
IL
199.43
Super Street Winner
2006 Chevy
Wade Minter
Maypearl
TX
9.93
139.62
0.441
Super Street R/U
1995 Dodge
Anthony Reams
Leslie
MO
broke
Super Street #1 Qualify
2006 Chevy
Wade Minter
Maypearl
TX
9.51
146.04
Super Street Low ET
2006 Chevy
Wade Minter
Maypearl
TX
9.51
Super Street Top Speed
2006 Chevy
Wade Minter
Maypearl
TX
146.04
Dial
ET
RT
MPH
Super Diesel Winner
2007 GMC
Dan Zelten
Eagle River
WI
11.90
12.16
0.208
110.34
Super Diesel R/U
2006 Dodge
Edward Godat
Yellville
AR
11.90
11.93
0.456
111.96
Super Diesel #1 Qualifier
2006 Dodge
Edward Godat
Yellville
AR
11.90
12.00
Dial
ET
RT
MPH
Sportsman Winner
1997 Dodge
James Calhoun
Kent
WA
13.45
13.74
0.075
83.70
Sportsman R/U
1997 Ford
Nathan Terrel
N. Manchester
IN
15.00
15.21
0.312
88.37
#1 Qualifier
2008 Chevy
Scott McKinstry
Keller
TX
0.008
NHRDA Sled Pulling Series Results
Class
Vehicle
Name
City
State
Distance
3.0 Class Winner
1994 Dodge
Jim Greenway
Nixa
MO
339.02
3.0 Class 2nd Place
1998 Dodge
Kevin Cole
Pacific
MO
270.10
2.6 Class Winner
2007 Dodge
Jim Greenway
Nixa
MO
332.07
2.6 Class 2nd Place
2001 Dodge
Dustin Smith
De Soto
MO
329.07
2.6 Class 3rd Place
2001 Dodge
Aaron Powell
West Plains
MO
327.07
Work Stock Class Winner
2006 Dodge
Kyle Dowson
Auburn
IL
318.03
Work Stock 2nd Place
1997 Dodge
Drew Declerck
Moro
IL
313.03
Work Stock 3rd Place
2005 Dodge
Eric Loy
Brighton
IL
308.09
Burnout Contests and Show n Shine Winners
Vehicle
Name
City
State
Burnout Contest
1986 Chevy
Brandon Hooper
Warrenton
MO
Show n Shine Pick Up
2013 Dodge
Travis Lane
Clever
MO