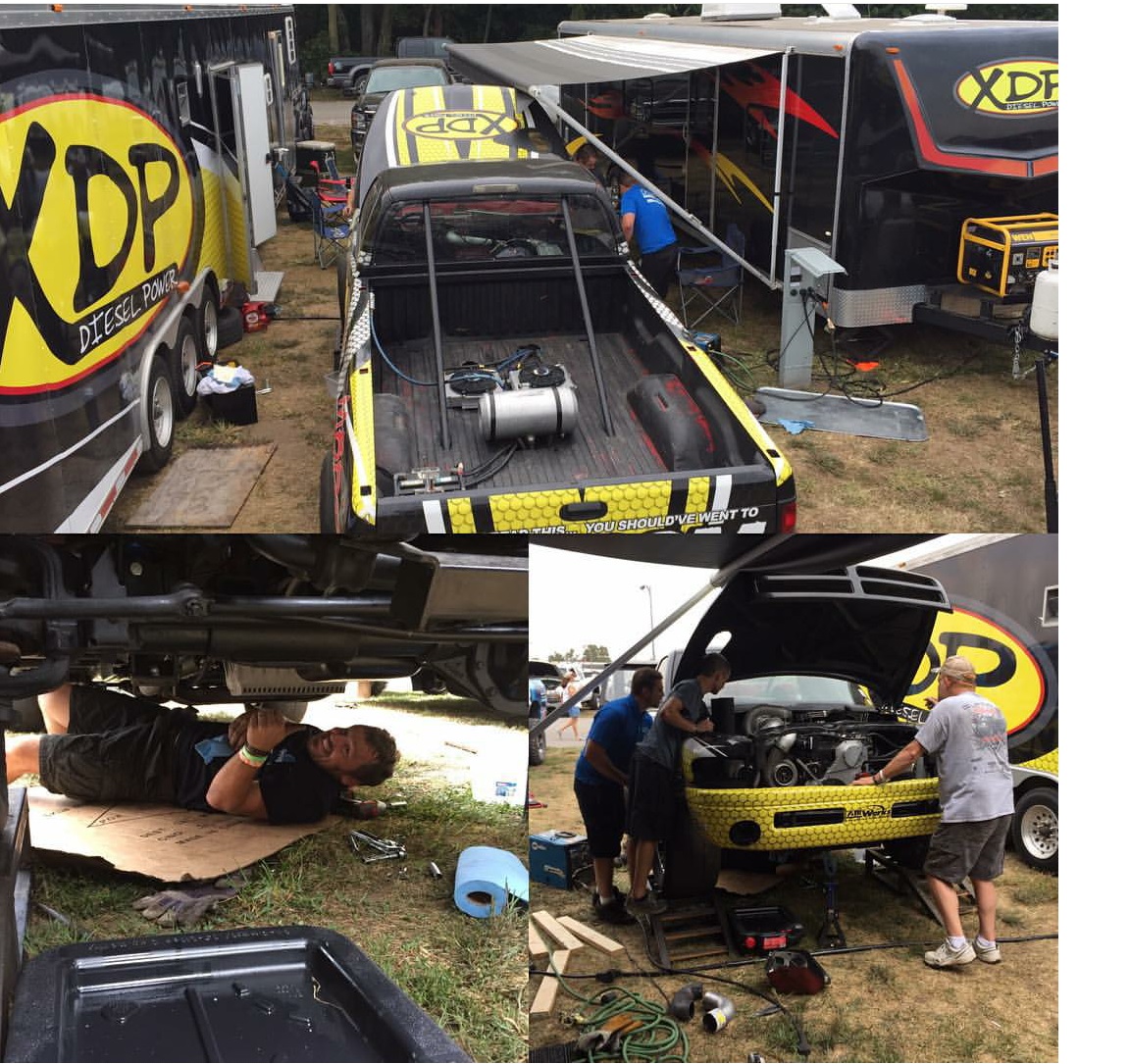 This past weekend we headed to Terre Haute, Indiana for the 19th annual Scheid Diesel Extravaganza. This was the 5th of 6 events in the Outlaw Diesel Super Series. This was also our first time attending the event, and we were certainly not disappointed! The event was packed with an attendance in excess of 15,000 people.
The event started on Friday with qualifying sled pulls and test and tune drag racing. The XDP drag truck was there with a brand new motor and a freshly wrapped XDP trailer. Unfortunately, the XDP truck blew its torque converter on the first pass and was done for the day. Anthony and the rest of the XDP race team were up until 1 am pulling the transmission and getting the old converter out.
Saturday's events included Sled pull finals and drag racing qualifying. Anthony and the XDP race crew started working on the truck early in the morning trying to get it ready for racing. After many hours of work they were able to get the truck up and running. The truck was able to race, but the transmission would not shift properly and the XDP crew decided to call it a day. The XDP Crew will work on the truck in the upcoming weeks so it will be 100% ready for the XDP Open House on September 19th and 20th in New Jersey.
Sundays events included drag racing elimination and a burnout contest. XDP went home Sunday morning because we were eliminated from drag racing and all had long journeys ahead of us to get home.
XDP is very happy we got to attend the event this year and look forward to returning next year! A big thanks to Scheid Diesel for allowing us to set up at their event and for putting on such an awesome show!
Join XDP next for the Oklahoma Diesel Nationals at Tulsa Raceway in Tulsa, OK on 9/12. We will also be in Ogden, Utah for Edge Products' Weekend on the Edge event. That event also takes place on September 12th and will have a dyno event at Edge's facility and then sled pulls after the dyno at the Ogden Pioneer Stadium.
Don't forget to come to the XDP Open House and U.S. Diesel Truckin' Nationals on September 19th and 20th. September 19th will offer drag racing and a truck show and the Old Bridge Township Raceway Park in Englishtown, NJ. September 20th will be XDP's Open House at XDPs facility in Wall Township, NJ. The event will offer a dyno event and customer appreciation day.
Join XDP for the final event of the Outlaw Diesel Super Series on October 9th for Rudy's Fall Truck Jam at Piedmont Dragway in Julian, NC.