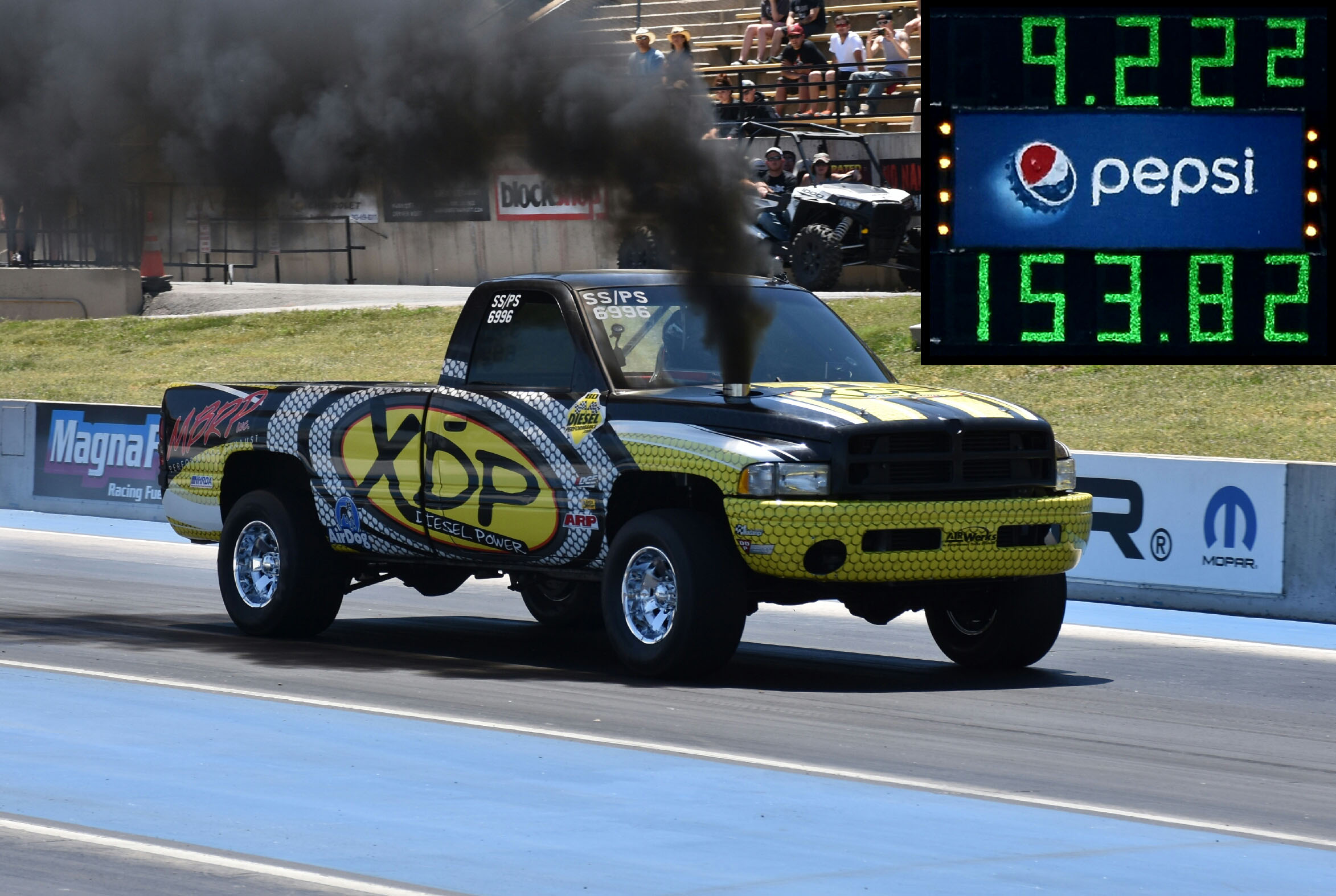 Team XDP's work in the off-season yielded big results three weeks ago in Tulsa. Anthony Ream's first pass in Tulsa saw him eclipse the current Super Street ET and MPH record with a 9.14-second pass at 153.89 MPH. The only hurdle was backing it up to make things official, and with track officials making clear a parachute was needed on the truck, along with some other challenges in later rounds, the team didn't make the record official. They made it to finals, however, coming up just short of the win in Tulsa.
But Team XDP knew they were closing in on a possible win and potential new World Record heading into the next NHRDA race at Bandimere Speedway. Before heading to Colorado the team equipped the XDP drag truck with the required parachute to slow the 1995 Dodge down after their passes, loaded up, and headed west to Denver with hopes of a victory in the mountains.
Before the race in Denver, we asked Team XDP driver Anthony Reams if he was surprised by the Tulsa pass and the fast progress after the big off-season changes.
"Well, we knew the truck had the power in it. But with so many changes you just don't know how long it may take to dial it in to prove that we had it. So to come out the first pass and do what we did was very exciting for all of us."
Anthony, Tulsa Raceway is situated at 619 feet, but Bandimere sits at an elevation of 5,800 feet. The Denver track is notoriously challenging on engine setups for racers given its elevation. With the truck's new engine setup still being very new to you, what setup challenges did you and Team XDP face going into Bandimere?
"The altitude was the big question leading up to things. Ben Shadday and I went back and forth numerous times trying to put our heads together on a setup. We came to the conclusion to change nothing at all. We felt we had a setup that was proven to be fast and we knew we had more in it. So we decided to leave everything alone. Which was a good decision. We didn't find the altitude to give us any spooling issues at all at the line. We didn't add any nitrous to assist or anything. Stuck with a plan that had worked a couple of weeks before and continued our focus on the suspension setup."
Team XDP seemed to relish the challenge of the mountains. Their first pass Saturday was a tire spinning mess off the line, the truck's front tires fighting to find traction as the Dodge violently darted left and right leaving the line. But the pass was good enough to move them onto the next round where Anthony found enough traction to flash their record beating speed again with a pass of 9.22 and 153 MPH. After that pass, the team knew the mile-high thin air might not present much of a challenge to them, and while a record would be nice, the team had come to Denver focused on securing an NHRDA win along with the $5,000 check that would go to the winner.
Anthony walk us through how the team managed the race Saturday and ultimately made it into the finals.
"It wasn't easy. We worked like crazy from start to finish. We had a lot of little nagging issues throughout the day. We stayed focused in between qualifiers and rounds to get what we needed done to get to the lanes for our next call. Then when it came time to race. We stuck to keeping things simple and going A to B each time. We know we have power, we know we can go fast. But the key is to be able to do it consistently. And many times that calls for staying calm and not trying to set the world on fire. We had a national record in our hands and we wanted it BAD! But we also had a big goal to come to Denver and leave Kings of the Mountain. And that's what we did. We settled in and just ran our race. No big boost launches, no eye-popping et or mph numbers. Just nice and smooth but fast enough to win the race."
The finals saw Anthony line up against Phillip Franklin and while both trucks again struggled with traction off the line, Anthony was able to stay in the throttle and power the Team XDP drag truck to victory with a pass of 9.39 at 149.98 MPH. Congratulations to Anthony Reams and the XDP Race Team on the victory, securing the big check in Denver, and keeping race fans on the edge of their seat as they continue to flirt with setting a new super street World Record.
The team's win elevates them in points as they prepare for what some might say is a homecoming for Anthony in Madison IL near St. Louis.  Be sure to follow all the news about Team XDP and our progress this season at www.XDP.com and we invite everyone to the next round of NHRDA to see Anthony and The XDP Race Team in action on July 9th for the NHRDA Midwest Truckin Nationals at Gateway Motorsports Park in Madison, IL.