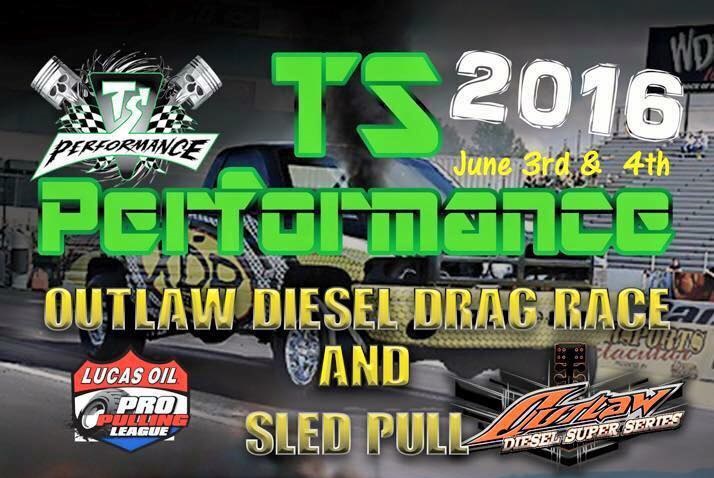 This past weekend XDP had the opportunity to attend the 2016 TS Performance Outlaw Diesel Drag Race and Sled Pull in the great state of Kentucky. Every year the TS Performance show draws in a huge crowd and this year was no exception. This event is both an Outlaw Diesel Super Series (ODSS) and Lucas Oil Pro Pulling League (PPL) stop which equates to an action packed weekend of pure diesel fun!
The event began Friday with gorgeous weather, bright skies and no rain in the forecast. Spectators piled into the stands to enjoy some high horsepower drag racing at Beech Bend Raceway. In addition to drag racing, vendors from around the country were on display to show off new products, talk technical with customers and enjoy the day.
However, in comparison to Friday, Saturday was not so pleasant due to the on and off again rain throughout the day. Jim Roberts park (where the second part of the event was held) was flooded in numerous places and the pulling track was unable to be salvaged even with the best track preparation guys in the country. What was surprising was the turnout on Saturday. Even though the event was rained out, the ground saturated and muddy, and the pulls canceled, die-hard fans STILL came out to enjoy the day and make the best of the situation.
Overall, we at XDP had a great time this past weekend and we would like to thank everyone for coming out, stopping by the booth and showing their support. Moreover, we would also like to thank TS Performance for the excellent show they put on each and every year, even though the pulls got rained out on Saturday they made the best of the situation and the event as a whole turned out well.
Look for us at our next event in Mechanicsville, MD for the 22nd Annual XDP Truck Mania held on June 11th.