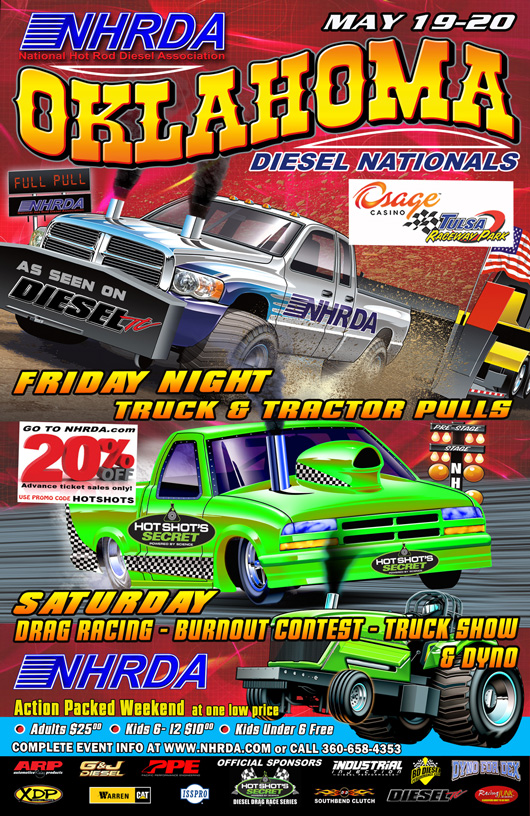 On May 19th and 20th, XDP headed to Tulsa, Oklahoma for the annual Oklahoma Diesel Nationals at Tulsa Raceway Park. This was supposed to be a 2 day event, with sled pulls on Friday, and racing on Saturday. Unfortunately, due to severe storms and tornadoes in the area, the Friday sled pull had too be cancelled. Thankfully, everything cleared up on Saturday and was warm, sunny, and with a slight breeze. Which was desperately needed to dry out the mud pit of a sled pull track.
Saturday's drag racing event went off without a hitch with several records being broken that day.  Lavon Miller from Firepunk Diesel ran a 7.993et at 174.75mph in Pro Street qualifying. Both would be new records if he was able to back them up within 1% on his next race. Unfortunately, he was unable to back up the 7.993et to make it the record, but did set a new record at 8.121et. He did set the new record for MPH at 174.75 though, because his next race his MPH was within 1% of that.
 Due to the sunshine and breeze, the track crew for the sled pulls was able to dry out the track enough to run the sled pull event on Saturday Night.
XDP thanks the NHRDA and all it's sponsors for another great Oklahoma Diesel Nationals event and we look forward to going back next year.
EVENT RECAP –
Event Name
Oklahoma Diesel Nationals
May 19-20th, 2017
Track Name
Tulsa Raceway Park
Location: Tulsa, Oklahoma
HOT SHOT'S SECRET DIESEL DRAG RACING RESULTS
Class
Name
Vehicle
City
ST
ET
MPH
RT
Pro Street Winner
Jarid Vollmer
1941 Willys
Idaho Falls
ID
9.141
148.82
Pro Street R/U
Richard Mead
1932 Bantam
Sturgeon County
AB
Broke
Pro Street #1 Qual
Richard Mead
1932 Bantam
Sturgeon County
AB
7.855
176.47
Pro Street Low ET
Richard Mead
1932 Bantam
Sturgeon County
AB
7.855
Pro Street Top Speed
Richard Mead
1932 Bantam
Sturgeon County
AB
176.47
Pro Street Winner
Mike Skinner
2006 Dodge
Brighton
CO
22.196
62.33
Pro Street R/U
Jon Jacobs
2006 Dodge
Arvada
CO
Broke
Pro Street #1 Qual
Jon Jacobs
2006 Dodge
Arvada
CO
9.845
140.71
Pro Street Low ET
Jon Jacobs
2006 Dodge
Arvada
CO
9.845
Pro Street Top Speed
Jon Jacobs
2006 Dodge
Arvada
CO
140.71
Super Street Winner
Phillip Franklin
2006 Chevy
San Antonio
TX
9.349
144.19
Super Street R/U
Chris Buhidar
2000 Ford
San Antonio
TX
9.752
141.49
Super Street #1 Qualify
Phillip Franklin
2006 Dodge
San Antonio
TX
9.207
149.95
Super Street Low ET
Phillip Franklin
2006 Dodge
San Antonio
TX
9.207
Super Street Top Speed
Phillip Franklin
2006 Dodge
San Antonio
TX
149.95
Dial
ET
MPH
RT
10.90 Index Winner
Ray Ross
2006 Chevy
San Antonio
TX
10.90
12.056
87.28
.243
10.90 Index R/U
Blake Copperund
2003 Dodge
Fort Collins
CO
10.90
12.281
112.43
.603
10.90 Index #1 Qual
Ray Ross
2006 Chevy
San Antonio
TX
10.927
Dial
ET
MPH
RT
Super Diesel Winner
Dan Zelten
2007 GMC
Eagle River
WI
11.90
12.587
88.33
Super Diesel R/U
Devin Ratliff
2005 Dodge
Cashion
OK
11.90
Broke
Super Diesel #1 Qual
Nate Morgan
2005 Chevy
Sun City
AZ
11.906
Dial
ET
MPH
RT
Sportsman Winner
Kolton Chadd
2008 Dodge
Grand Junction
CO
12.20
12.219
113.78
.112
Sportsman R/U
James Erwin
2008 GMC
Stanley
NM
14.21
14.289
94.31
.131
#1 Qualifier
Tommy Schneider
2002 Chevy
Platteville
CO
.004
Big Rig Bracket Winner
Jim Disher
1971 Kenworth
Denver
CO
15.645
92.71
Big Rig Bracket #1 Qual
Jim Disher
1971 Kenworth
Denver
CO
.289
NHRDA SLED PULLING SERIES RESULTS
Class
Name
Vehicle
City
State
Distance
Pro Stock Winner
Tom Hansen
The Hybrid
Grantsville
UT
320.88
Pro Stock R/U
Isaac Mcghghy
Hall's Diesel
Loma
CO
256.33
Limited Pro Stock Winner
Rocky Horn
Southern Cumferdt
Ft Lupton
CO
334.36
Limited Pro Stock 2nd Pl
Mike Schubert
Dirty Dodge
Valentine
NE
304.26
Limited Pro Stock 3rd Pl
Steve Durrant
Slightly Wild
Salt Lake City
UT
300.70
Limited Pro Stock 4th Pl
Chad Lipari
Dark Side of Nature
Greenley
CO
267.42
Limted Pro Stock 5th Pl
Jason Linnewaber
After Burner
Rapid City
SD
141.20
2.5 Class Winner
Eric Whitmarsh
Strictly Business
Ft Lupton
CO
308.84
2.5 Class 2nd Place
Cindy Johnston
Cimmaron
Erie
CO
281.85
2.5 Class 3rd Place
Rowdy Bydalek
Red Heifer
Keenesburg
CO
259.28
Work Stock Class Winner
Seth Baladez
La Salle
CO
392.53
Work Stock 2nd Place
Joseph Lhotka
Blacked Out
Colorado Springs
CO
286.11
Work Stock 3rd Place
Nehemiah Eby
JAX 2.0
Colorado Springs
CO
254.64
BURNOUT CONTESTS & SHOW n SHINE WINNERS
Name
Vehicle
City
State
Show N Shine Best Combo
Jeremy Teuter
2006 Peterbuilt
Brighton
CO
Show N Shine Best Bobtail
Kelly Meisman
2001 Kenworth
Peyton
CO
Show N Shine
Luis Chavez
2016 Chevy 2500
Hudson
CO
Burnout Contest
Joseph Lopez
2009 Dodge
P. West
CO
NATIONAL SPONSORS
EVENT SPONSORS
Hot Shot's Secret
ARP
BD Power
G&J Diesel
Industrial Injection
ISSPRO Guages
PPE
Racing Junk
Randy's Offroad
Southbend Clutch
XDP