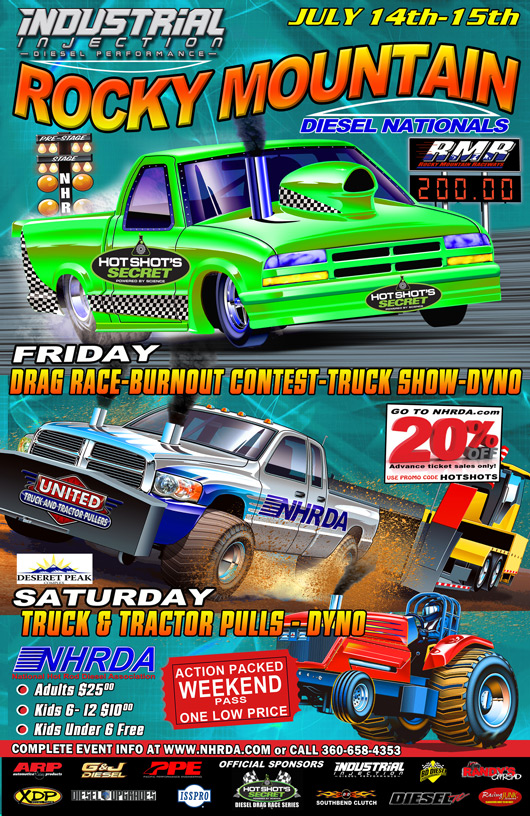 This past weekend XDP headed to Salt Lake City Utah for the NHRDA Rocky Mountain Diesel Nationals sponsored by Industrial Injection. This was a 2 day event with drag racing taking place on Friday night and sled pulls taking place on Saturday night. This event was unusual in the fact that drag racing took place and Friday and both events were at night. Usually the events are either 1 day, with everything taking place on Saturday. Drag racing during the day and sled pulls at night, or sled pulls on Friday night and drag racing during the day on Saturday.
Fridays event took us to Rocky Mountain Raceways in West Valley City UT for some night time drag racing. Big news from this event is that Jared Delekta was able to set a new Super Street MPH world record at 164.68 MPH in the Industrial Injection sponsored Duramax.
Saturday took us to Deseret Peak Complex in Tooele Utah for the some night time sled pull action.
EVENT RECAP –
Event Name
Rocky Mountain Diesel Nationals Presented by Industrial Injection
July 14 & 15th, 2017
Track Name
Rocky Mountain Raceways
Location: Salt Lake City, Utah
HOT SHOT'S SECRET DIESEL DRAG RACING RESULTS
Class
Name
Vehicle
City
ST
ET
MPH
RT
Top Diesel Winner
Dawna Kraus
Dragster
Great Falls
MT
8.512
152.82
Top Diesel #1 Qual
Dawna Kraus
Dragster
Great Falls
MT
8.401
167.09
Top Diesel Low ET
Dawna Kraus
Dragster
Great Falls
MT
8.401
Top Diesel Top Speed
Dawna Kraus
Dragster
Great Falls
MT
167.09
Pro Stock Winner
Jarid Vollmer
1941 Willys
Idaho Falls
ID
28.00
Pro Stock #1 Qual
Jarid Vollmer
1941 Willys
Idaho Falls
ID
8.980
171.13
Pro Stock Low ET
Jarid Vollmer
1941 Willys
Idaho Falls
ID
8.980
Pro Stock Top Speed
Jarid Vollmer
1941 Willys
Idaho Falls
ID
171.13
Pro Street Winner
Shawn Baca
2006 Dodge
Salt Lake City
UT
Broke
Pro Street #1 Qual
Shawn Baca
2006 Dodge
Salt Lake City
UT
28.00
Super Street Winner
Jared Delekta
2001 Chevy
West Haven
UT
8.936
161.60
Super Street R/U
Phillip Franklin
2006 Dodge
San Antonio
TX
Broke
Super Street #1 Qualify
Jared Delekta
2001 Chevy
West Haven
UT
8.859
164.68
Super Street Low ET
Jared Delekta
2001 Chevy
West Haven
UT
8.859
Super Street Top Speed
Jared Delekta
2001 Chevy
West Haven
UT
164.68
Dial
ET
MPH
RT
10.90 Index Winner
William Terry
1995 Dodge
Cedar City
UT
10.90
11.020
98.03
.021
10.90 Index R/U
Verlon Southwick
2006 GMC
Shoshone
ID
10.90
11.439
122.39
-.003
10.90 Index #1 Qual
Verlon Southwick
2006 GMC
Shoshone
ID
11.374
Dial
ET
MPH
RT
Super Diesel Winner
Verlon Southwick
2006 GMC
Shoshone
ID
11.90
12.120
97.23
.151
Super Diesel R/U
Daniel Lee
2008 Dodge
Brighton
CO
11.90
12.296
115.77
.170
Super Diesel #1 Qual
Verlon Southwick
2006 GMC
Shoshone
ID
11.920
Dial
ET
MPH
RT
Sportsman Winner
Coy Maughan
2004 Chevy
Benson
UT
13.10
13.460
95.56
.098
Sportsman R/U
Cameron Mangum
2001 GMC
Apache Junction
AZ
15.69
16.071
95.26
.274
#1 Qualifier
Eric Bledsoe
2012 Dodge
Troy
MO
.015
Big Rig Bracket Winner
Charnie Disher
1952 Kenworth
Denver
CO
18.51
17.40
83.19
Big Rig Bracket R/U
Jim Disher
1971 Kenworth
Commerce City
CO
Broke
Big Rig Bracket #1 Qual
Charnie Disher
1952 Kenworth
Denver
CO
.687
NHRDA SLED PULLING SERIES RESULTS
Class
Name
Vehicle
City
State
Distance
Super Stock Winner
Jason Stott
Addicted
Rock Springs
WY
349.18
Super Stock 2nd Place
Shawn Baca
Master Shredder
Salt Lake City
UT
332.08
Super Stock 3rd Place
Kortney Nieffenegger
Get You Some
Ogden
UT
323.47
Super Stock 4th Place
Jesse Gillespie
Cheaper Than My Ex
Glendive
MT
191.25
Pro Stock Winner
Trevor Larkin
Up In Smoke
Coalville
UT
350.18
Pro Stock 2nd Place
Jesse Gillespie
Cheaper Than My Ex
Glendive
MT
339.88
Pro Stock 3rd Place
Trevor Nieffenegger
Bad Intentions
Bringham
UT
338.06
Pro Stock 4th Place
Tom Hansen
The Hybrid
Grantsville
UT
333.48
Pro Stock 5th Place
Kaleab Hales
Gone Broke
Thatcher
UT
319.79
Limited Pro Stock Winner
Steve Durrant
Slightly Wild
Salt Lake City
UT
348.20
Limited Pro Stock 2nd Pl
Jason Scheffer
Knight Train
Missoula
MT
322.17
2.5 Class Winner
Kylee Nieffenegger
Problem Child
Bringham
UT
335.46
2.5 Class 2nd Place
Colby Swanson
Wild Anytime
Orem
UT
316.38
2.5 Class 3rd Place
Bryant Evans
Show N Go
Bringham
UT
293.50
2.5 Class 4th Place
William Richards
Always Behind
Heber
UT
289.18
Work Stock Class Winner
Austin Elmore
The Yeti
Franklin
ID
295.38
Work Stock 2nd Place
Jesse Leavitt
Black Magic
Hurricane
UT
268.83
Work Stock 3rd Place
Nate Merrill
Maximus
Hurricane
UT
258.14
Work Stock 4th Place
Dalton Klingler
Clifford
Rexburg
ID
247.80
Work Stock 5th Place
Kord Whiting
Black D
Inkom
ID
201.35
BURNOUT CONTESTS & SHOW n SHINE WINNERS
Name
Vehicle
City
State
Show N Shine
Cody Baker
2015 Chevy
Spring Creek
UT
Burnout Contest
Charnie Disher
1952 Kenworth
Denver
CO