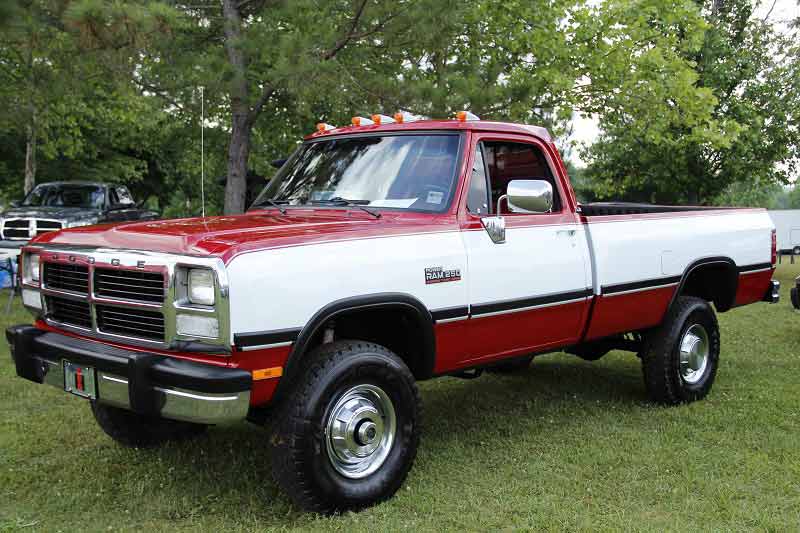 History/General Info
If you are familiar with diesel trucks, you have probably heard of the first-generation Cummins. When Dodge introduced the 5.9L 12-Valve '6BT' Cummins engine it helped create a new standard for OEM diesel performance and completely revitalized their truck lineup.
The Dodge AD platform originally debuted in 1972 and was used all the way up to 1993. Beginning in 1989, Chrysler partnered with Cummins to offer the 5.9L Inline 6 Cylinder Turbodiesel in their 3/4 and 1-ton Dodge pickups. The 12v Cummins quickly became a popular alternative to Dodge's V-8 gas engines, as the diesel offered nearly double the torque at low engine speeds. The 5.9L Cummins had some unique features never seen on a diesel pickup truck before, including a turbocharger and direct fuel injection. It was revolutionary for the time and had a huge impact on drivability and towing capability.
Turbocharger
A turbocharger uses the exhaust gas and converts this energy into compressed air. This condensed air is forced into the engine which helps translate into more power, improved fuel economy, and better towing performance, especially at higher altitudes. The Cummins vaulted Dodge's aging D250/350 & W250/350 (Ram) platforms to a best-in-class torque rating of 400 lb-ft. General Motors & Ford were still utilizing naturally aspirated diesel engines with GM's Detroit Diesel 6.2L offering 240 lb-ft of torque, while Ford's International Harvester 7.3L IDI was rated at 338 lb-ft of torque.
Now 160 horsepower and 400 lb-ft of torque might not seem that impressive by today's standards, especially when you compare it to many of the later model diesel offerings. Fortunately, you can crank up the horsepower and torque numbers on the 6BT relatively easily. Aftermarket upgrades are available that drastically raise the factory ratings and really help wake it up. Best of all, since the 6BT was originally designed for commercial and agricultural applications, the robust design is more than capable of handling the bump in power without needing to completely tear it down.
1989-1991 Model Years
Like most full-size pickups Ram trucks were available in three series, which designate payload: 150-series (1/2-ton), 250-series (3/4-ton), and 350-series (1-ton). Two-wheel drive Rams got a "D" prefix, while four-wheel drive Rams were designated with a "W".
The base engine in 1989 was a 3.9-liter V6, with optional 5.2L and 5.9-liter gas V8's available, but the big milestone was the arrival of the 5.9L Cummins in the 3/4 and 1-ton trucks. The Cummins was initially only available with a regular cab and a long bed. The club cab (extended cab) debuted with the diesel on the D250/W250 in 1990 and on the D350/W350 in 1992.
1991.5-1993 Model Upgrades
During the 1991 model year, the biggest highlight was when Dodge added an air-to-air intercooler to the diesel trucks. The hot compressed air that exited the turbocharger now traveled through an intercooler and was cooled down before entering the engine. A cooler and denser air charge helps to produce a more efficient combustion process and typically results in lower EGTs, improved fuel economy, and more power. Also in 1991, the automatic transmission was upgraded from the 3-speed A727 Torqueflite to the 4-speed A518 (46RH), which aided in improved fuel economy. These additions make the 1991.5-1993 model years slightly more desirable than 1989-1991 trucks for many buyers.
Killer Dowel Pin (KDP)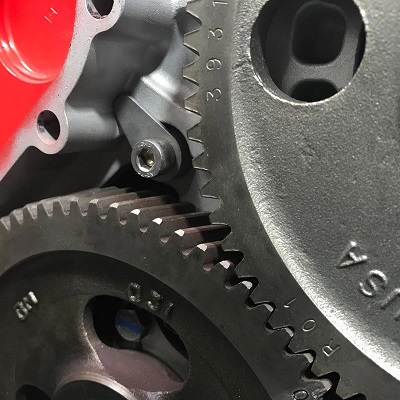 Although many consider the 12v Cummins to be one of the most reliable engines ever manufactured, it is not without its faults. One popular issue to be aware of is the Killer Dowel Pin or KDP. The term refers to a dowel pin failure inside any 1989-2002 12-valve or 24-valve 5.9L Cummins engine's timing gear housing. This problem has the potential to "kill" an engine sometimes causing damage so severe that it cannot be repaired.
The 6BT Cummins features a steel pin that is pressed into the block and aligns the aluminum timing gear housing to the engine. It is positioned above the cam gear and next to the injection pump gear. From the factory, the pin is not secured and over time due to engine vibration and other factors, the dowel can become dislodged from its bore. If the pin comes out it can possibly work its way down without doing any harm or, if you are not so lucky, all sorts of damage can ensue.
There are plenty of kits available for this issue and are relatively inexpensive. The most common fix involves bolting on a teardrop-shaped steel retainer that secures the pin in its bore. This retainer prevents the pin from backing out and falling into the engine. Installing a KDP kit is cheap insurance.
What To Look For When Purchasing
Like any older pickup truck, rust can be common. This is even more prevalent if you live in an area that gets snow, where salt and brine solutions are used on the roads during the winter. Check the bottom sides of the bed, the cab corners, rocker panels, and the floor for metal that might need replacing. Water getting through the vent windows or worn-out weather-stripping can also lead to rust in the doors.
Trucks with higher mileage or hard miles will most likely need to have the suspension components gone thru. These trucks utilize kingpins that tend to wear out over time. The automatic transmissions were not particularly the stoutest and might need to be rebuilt or upgraded, especially if you have plans to raise the power levels of the 6BT. Finally, as in many older vehicles, electrical gremlins can be present or begin to appear over time.
Pros/Cons
Pros
Classic Styling
Simple & Reliable Engine
Great Investment Potential
Cons
Killer Dowel Pin
Weak Automatic Transmissions
Typical Rust Issues (Especially in the Snow Belt)
Horsepower/Torque Levels are Inferior to Modern Trucks
Review
With the classic styling and the 6BT Cummins engine under the hood, the 1989-1993 Dodge trucks can be considered a modern-day classic with very good investment potential. Rust is probably the biggest consideration when shopping for a D250/350 or W250/350. Locating a solid rust-free truck from a dry arid climate like the southwest region of the US can be beneficial, rather than having to perform extensive rust and metal repairs.
160 hp and 400 lb-ft of torque might have been impressive in 1989, but it pales to the power levels of a late-model diesel truck. Luckily the 6BT really responds well to modifications and it can help close the gap quite considerably. Whether you are looking for upgraded performance or more power for towing, these are some popular upgrades.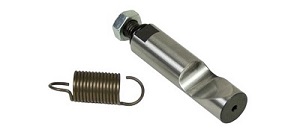 This new governor spring allows you to rev the 5.9L up to 3,200 RPM, from the factory 2,500 RPM. The additional 700 RPM really helps improve the drivability. A revised fuel pin increases the volume of fuel to the engine, this simple mod can net you up to 40 hp and 100 lb-ft of torque. These are two of the best bang-for-the-buck modifications you can do to wake up the 6BT.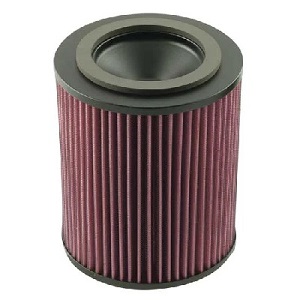 An engine is basically a big air pump. The more air that flows in and out, the more power you will make. A less restrictive air filter helps your engine breathe better.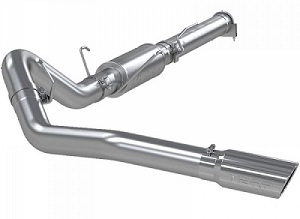 Mandrel bends and larger diameter piping will help free up some additional power in your rig. An exhaust system is always one of the most popular modifications in any vehicle (diesel or gas).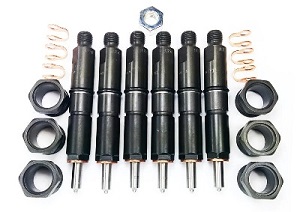 Replacing worn fuel injectors will help restore power in your truck.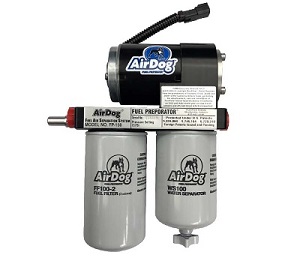 A high-performance diesel engine demands higher fuel flows. The best way to do this and prevent air/vapor in the fuel system is with a quality Air/Fuel Separation System such as one from Air Dog or FASS.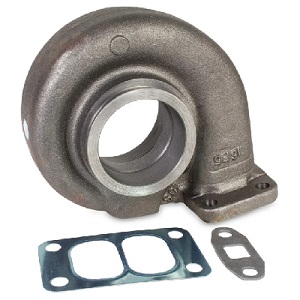 An upgraded turbocharger or turbo housing can give you more boost, or simply help to reduce turbo lag.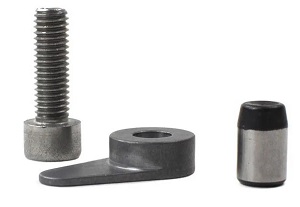 As previously mentioned the (KDP) Killer Dowel Pin Kit is cheap insurance for your 5.9L Cummins.
1989-1993 Dodge Cummins 5.9L 12V (6BT) Specifications
Production Years:
1989, 1990, 1991, 1992, 1993
Model Availability:
D250, D350, W250, W350
Common Names:
5.9, 5.9L, Cummins, 6BT, 12V,
12 Valve, 1st Generation, 1st Gen
Configuration:
Inline 6 cylinder
Displacement:
359 cubic inches, 5.9 liters
Bore:
4.02″ (102mm)
Stroke:
4.72″ (120mm)
Cylinder Head:
Cast Iron
Engine Block:
Cast Iron w/ 6 Head Bolts Per Cylinder
Firing Order:
1-5-3-6-2-4
Compression Ratio:
17.0 : 1
Crankshaft:
Forged Steel, 7 Main Bearings
Pistons:
Cast Aluminum
Connecting Rods:
Forged-Steel, I-Beam
Intake Manifold:
Cast Aluminum
Injectors:
Bosch
Injection:
Direct Injection (DI), Mechanical Injection Pump, Mechanical Fuel Injectors
Fuel Pump:
Bosch VE44 Rotary Injection Pump
Aspiration:
1989 – 1991
Holset H1C Turbocharger, Non-Intercooled
1991.5 – 1993
Holset H1C Turbocharger, Air-To-Air Intercooler
Valvetrain:
OHV, 2 Valves Per Cylinder, Solid Lifter Camshaft
Valve Lash (Clearance):
Exhaust Valve:
0.020″ (Engine Cold)
Intake Valve:
0.010″ (Engine Cold)
Weight:
Approx. 1,100 lbs (Dry)
Oil Capacity:
12 qts w/ Filter (11.4L)
Governed Speed:
2,700 rpm
Horsepower:
160 @ 2,500 rpm
Torque:
400 @ 1,600 rpm
Battery:
Group Size 34
Transmissions:
1989-1993
Getrag 360 5-Speed Manual
1989-1991
Torqueflite A727 3-Speed Automatic
1991.5-1993
A518 (46RH) 4-Speed Automatic with Overdrive
Fluid Specifications & Capacities
Engine Oil:
15W-40
Ambient Temperature > 10° F
12.0 Qts Capacity w/ Oil Filter (11.35L)
10W-30
Ambient Temperature 0 – 30° F w/o Block Heater, < 0° F W/ Block Heater
12.0 Qts Capacity w/ Oil Filter (11.35L)
5W-30
Ambient Temperature < 0° F w/o Block Heater
12.0 Qts Capacity w/ Oil Filter (11.35L)
Engine Coolant:
50/50 Ethylene Glycol Coolant, Distilled Water
24.0 – 26.0 qts Capacity
(~6 gallons)
Automatic Transmission Fluid:
Torqueflite A727 3-Speed
Dexron III or ATF+3
8-9 qts Service Refill Capacity
12-15 qts Dry Fill Capacity
Automatic Transmission Fluid:
A518 (46RH) 4-Speed
ATF+4
4.0 qts Service Refill Capacity
14.5 – 16.5 qts Dry Fill Capacity
Manual Transmission Fluid:
Getrag G360
5W-30 Motor Oil
3.5 qts
Transfer Case Fluid:
NV231/NV231HD
ATF+4
1.25 qts
NV241
ATF+4
2.4 qts
NV241HD
ATF+4
3.25 qts
Front Differential Fluid:
Dana 60
SAE 75W-140
3.15 qts
Rear Differential Fluid:
Dana 70 2WD
SAE 75W-140
3.5 qts
Dana 70 4WD
SAE 75W-140
3.9 qts
Dana 80 2WD
SAE 75W-140
3.2 qts
Dana 80 4WD
SAE 75W-140
4.8 qts
Maintenance Schedule
Service Procedure
Interval
Replace Engine Oil & Filter:
6,000 miles/6 months under normal driving conditions
3,000 miles/3 months under severe driving conditions
Replace Fuel Filter:
12,000 miles/12 months under normal driving conditions
6,000 miles/6 months under severe driving conditions
Replace Air Filter:
24,000 miles/24 months
Engine Cooling System:
24,000 miles/24 months
Check/Adjust Valve Lash:
24,000 miles/24 months
Adjust Automatic
Transmission Bands:
24,000 miles/24 months
Replace Automatic Transmission Fluid & Filter:
30,000 miles
Replace Manual
Transmission Fluid:
60,000 miles
Replace Transfer Case Fluid:
120,000 miles