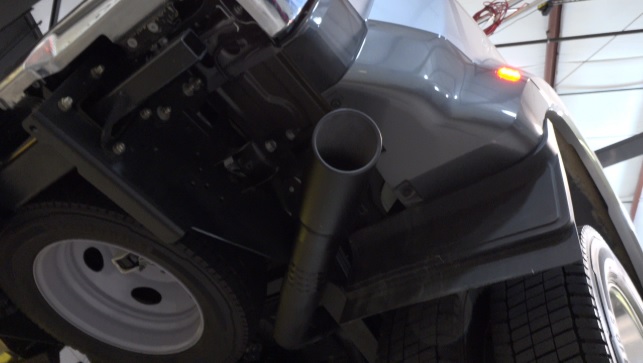 If you're like most diesel truck owners, one of the first modifications you'll make is an aftermarket exhaust system. Along with an air intake system and a tuner/programmer, replacing the restrictive stock exhaust with a higher-flowing system is usually atop every diesel enthusiast's list of go-to modifications. There are a lot of choices when choosing an exhaust for your diesel-powered truck. It can be difficult trying to select the correct pipe diameter, construction, and even the style of exhaust with all the options available on the market. Follow along as we answer some of the most popular questions when choosing an exhaust.
4″ or 5″ Diameter
In the early days of diesel performance, many were under the belief that a 5″ exhaust should only be used on high horsepower trucks. Over the years many enthusiasts have disagreed with that rule and the 5″ exhaust has since become more popular on many trucks. What it typically comes down to is noise and how much that end-user wants to hear their truck. On an early model truck, a 5″ exhaust system will be the loudest option. Most customers choosing the 5″ simply want the additional sound.
Exhaust Construction
When you start shopping for an exhaust you will notice multiple construction options and price ranges. Many manufacturers offer exhaust systems constructed in either aluminized steel or stainless steel. There typically is no difference in performance or sound between the different metals.
Aluminized Steel
Aluminized steel is steel that has been hot-dip coated with a layer of corrosion-resistant aluminum-silicon alloy. Unfortunately, when this coating gets scratched or damaged it can become prone to corrosion and rust. Once the rust starts it can continually deteriorate until it has completely rotted through. The biggest advantage of aluminized steel is the material is significantly less expensive than stainless steel.
Stainless Steel
Stainless steel is more expensive than aluminized steel, but you can expect a significantly longer lifespan. The two most common types of stainless steel used on automotive exhausts are T409 and T304. ss steel is more expensive than aluminized steel, but you can expect a significantly longer lifespan.T409 is less expensive and easier to manufacture compared to T304. Although T409 can display a slight discoloration and even moderate surface rust, it will typically last much longer than aluminized steel.
T304 is more corrosion resistant than 409 and can also be polished to a chrome-like finish. T304 is significantly more expensive, so it does increase the cost of the exhaust system. Many times exhausts will feature mufflers or tips constructed of T304, with the rest of the exhaust constructed from T409. The easiest way to tell if a part is made of T409 or T304 is by testing it with a magnet. 409 stainless is magnetic, so a magnet will stick to it, while 304 is non-magnetic.
The region of the country where you live can be the most important factor in choosing an exhaust. If you live in a warm and dry region aluminized steel can give you years of trouble-free enjoyment. Upgrading to stainless steel can be a worthwhile investment. This is especially true if you live in an area that gets snow accumulations during the winter months and is routinely subjected to road salt. For that reason, the overall climate and road conditions should be one of the deciding factors as to what exhaust you select.
Muffler or No Muffler
Choosing between an exhaust system with a muffler or no muffler typically comes down to personal preference. Most modern high-flow mufflers are very efficient even at Wide Open Throttle (WOT). With that being the case, a system with the muffler deleted most likely won't show much improvement in performance. A muffler on the other hand will help keep it a little quieter and help to eliminate some of the drone inside the cab. This can be especially important if you do a lot of driving.
Exhaust Style
Exhausts for diesel trucks are available in a variety of styles, including Cat-Back, Turbo-Back, and DPF-Filter Back. This will many times depend on the truck itself. By law, if your vehicle is equipped with a catalytic converter or diesel particulate filter (DPF) from the factory, it needs to stay on the vehicle. On a later model truck, choosing a cat-back or DPF-back exhaust is the most popular choice. On older trucks, a turbo-back exhaust is another option. A turbo-back exhaust typically supplies new pipes all the way from the turbo or downpipe to the exhaust tip.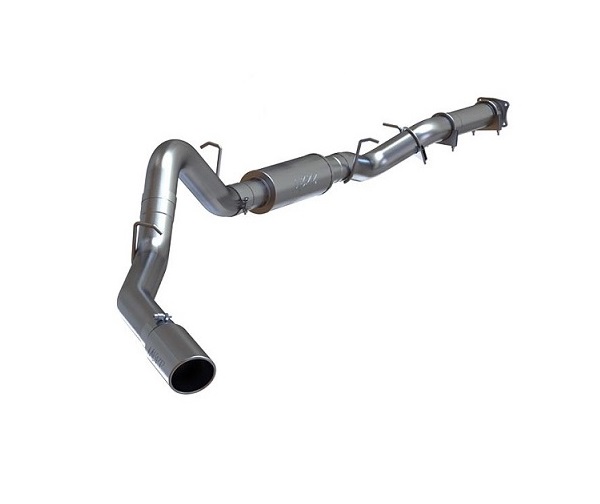 Single or Dual Exhaust
Exhaust systems can be offered in a single or dual exit configuration, depending on the manufacturer. With a single exhaust, the exhaust exits in the original location, behind the right-hand (passenger-side) rear wheel. A dual exhaust places an exhaust tip behind each rear wheel. The dual setup is not a true dual exhaust in the sense, where it is two separate pipes running the full length of the vehicle. It normally consists of a 'Y' pipe which branches out at the end, simply for aesthetics or styling purposes, and will not add any performance gains. Dual exhausts typically will not work with 5th wheels or in-bed hitches.
Finally, another consideration is that some exhausts systems include an exhaust tip, and some do not. A tip is not technically required but can be added at any time for additional styling. Exhaust tips are available separately in a variety of sizes and finishes.
XDP carries all the top exhaust manufacturers such as MBRP, Magnaflow, Banks Power, & AFE. Contact an XDP Performance Specialist today at 888-DIESEL-4 with any questions or for help choosing the correct exhaust for your application.
MBRP Exhaust Install
Click on the video below to see the installation of a MBRP S6289BLK 4" XP Series Filter Back Dual Exhaust on a 2021 Ford 6.7L Powerstroke.