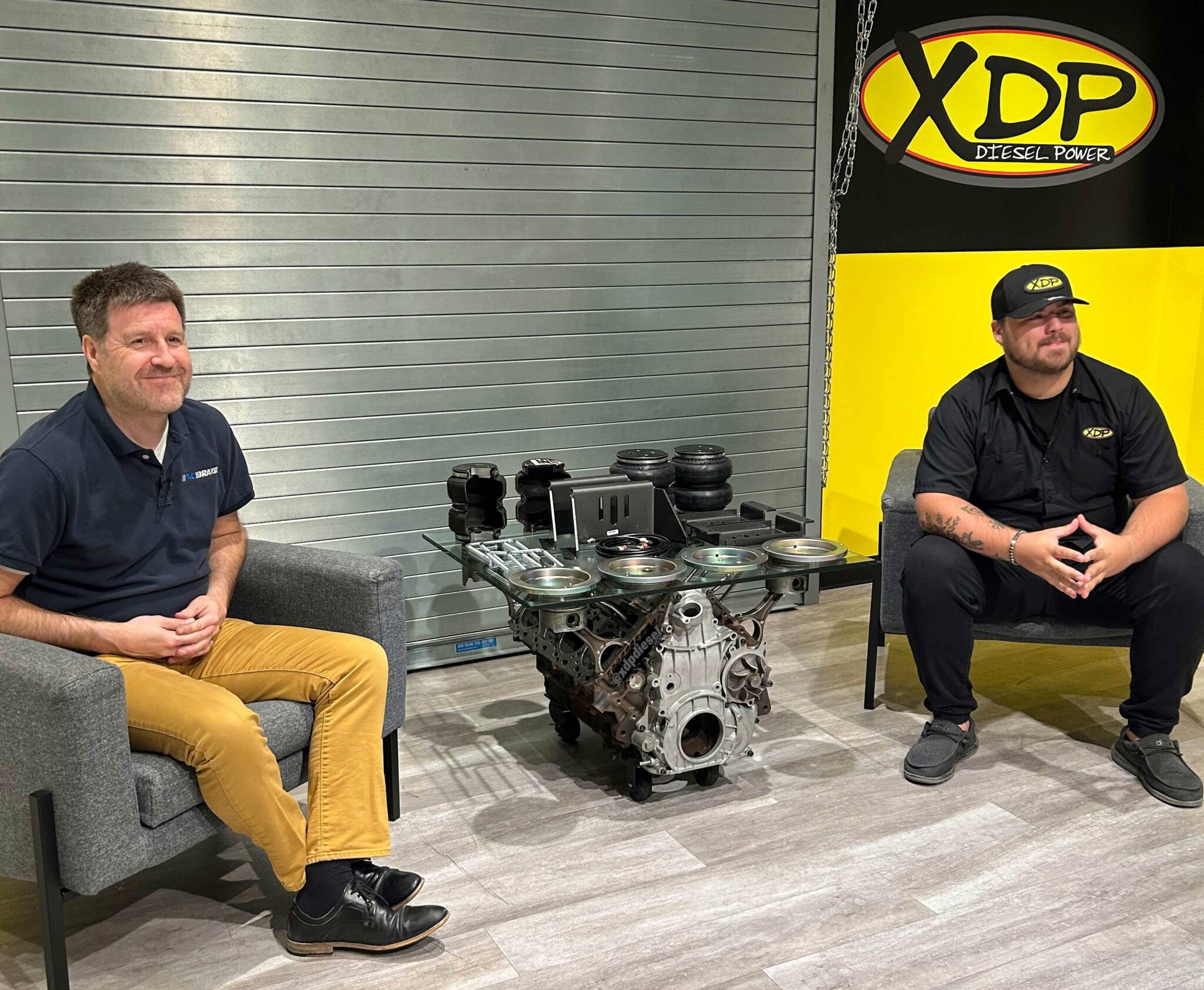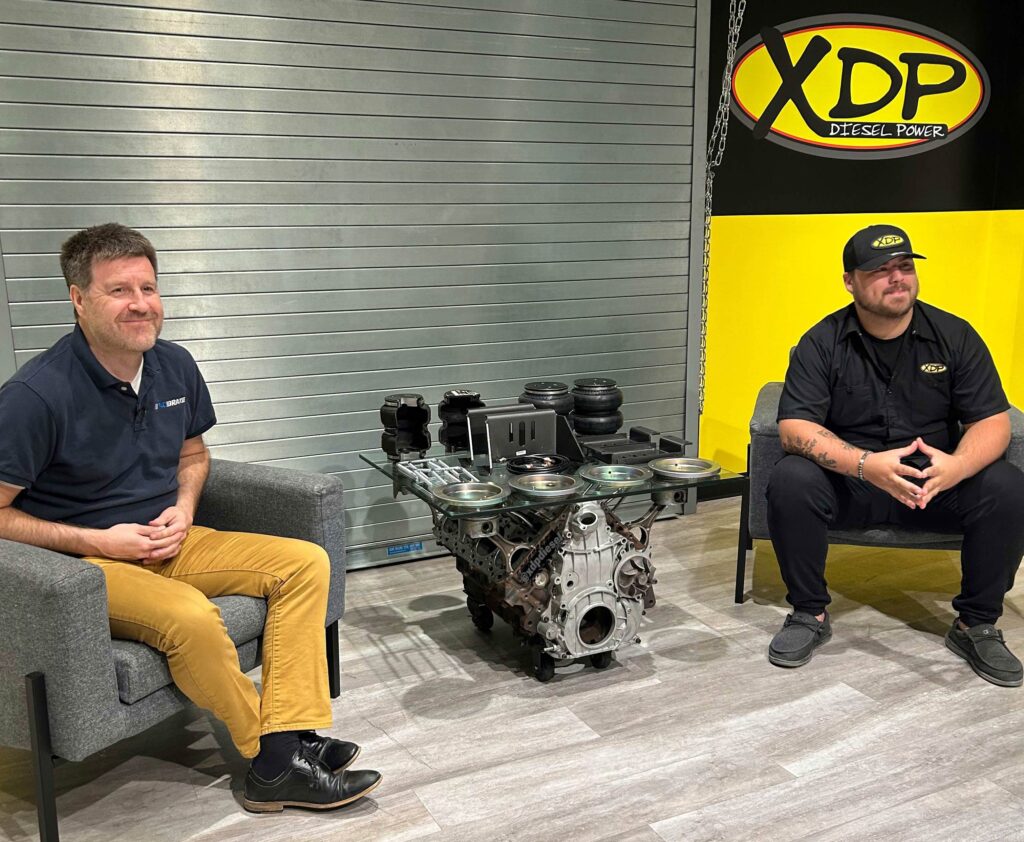 Pacbrake has been an industry leader specializing in braking solutions since 1961. Aran from Pacbrake recently visited XDP headquarters to meet the team and provide training on their product line. With many items in their product lineup, they brought some of their flagship products such as the PRXB Exhaust Brakes and their Air Spring Kits.
About Pacbrake
From their beginning, Pacbrake's claim to fame was exhaust and engine brakes for big-rigs and military vehicles. They've always strived for quality and durability, as the lives of the hard-working men and women who use their products depend on it. Pacbrake began expanding their product offering with suspension air bag kits as well as air management solutions such as air tanks, air compressors, and wireless air controls. Today, Pacbrake offers a growing line of aftermarket accessories. From leveling kits and air horns to recovery gear and ropes, Pacbrake continues to expand, and there is a lot in store for the future. Per Aran, "We want people to come to Pacbrake and XDP for more than just one product. We want them to be able to outfit their entire truck from us."
PRXB Exhaust Brakes
All vehicles come standard from the factory with service brakes consisting of disc and/or drum style brakes. One popular modification for diesel truck owners that tow or haul heavy loads is a supplemental brake system such as an exhaust brake. An exhaust brake acts as an engine retarder by restricting the flow of exhaust from the engine. By doing so, the backpressure adds additional stopping power to help slow your vehicle down during braking. Exhaust brakes have several key benefits. First, they take a significant load away from your truck's primary service brakes, which help reduce maintenance intervals. Second, they reduce the chance of pads and rotors from overheating during extended heavy braking, particularly with a load. Third, they help to safely control downhill vehicle speed and deceleration. Lastly, they make less noise and are less expensive compared to other supplementary braking systems like engine brakes found in HD applications.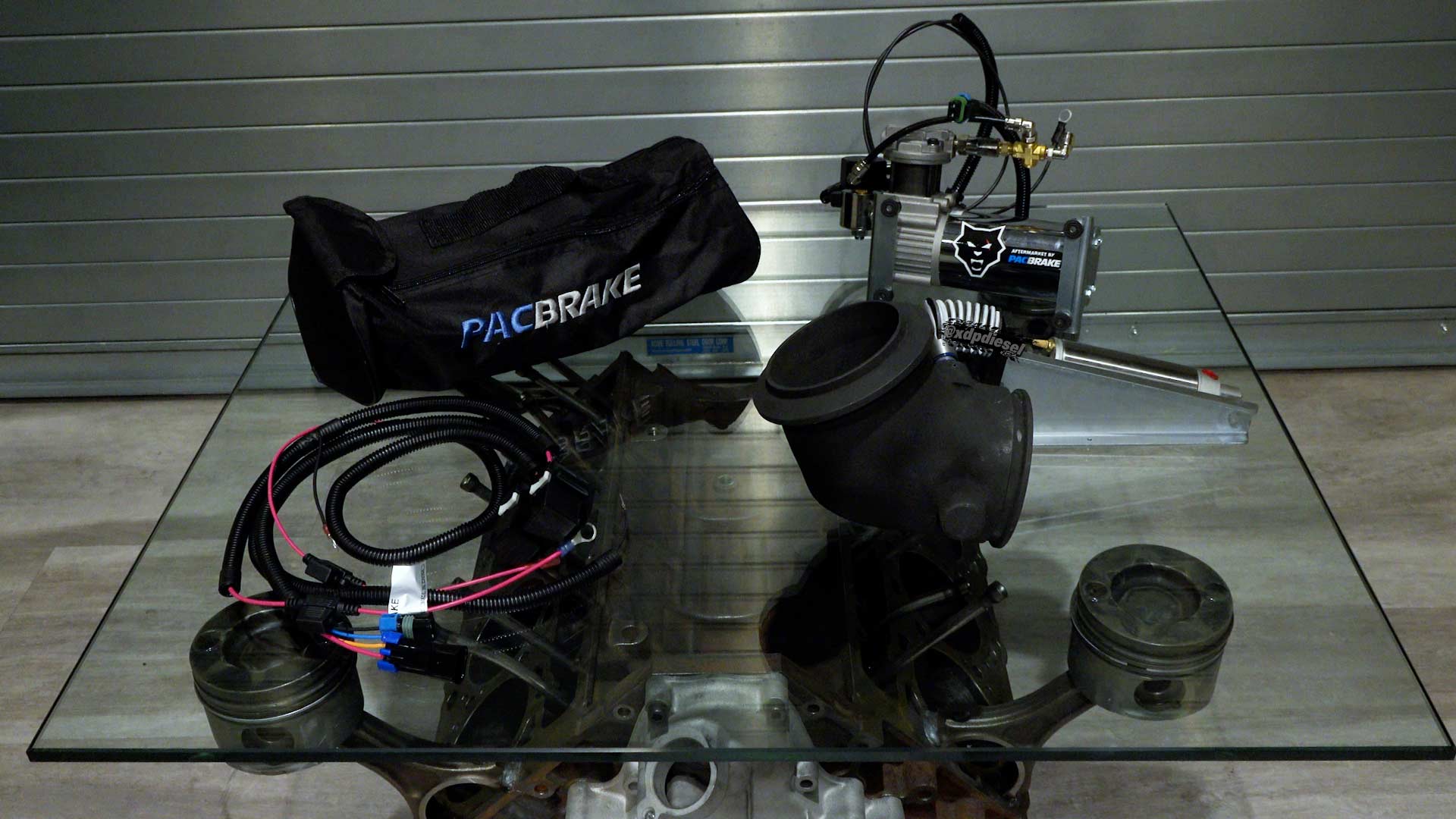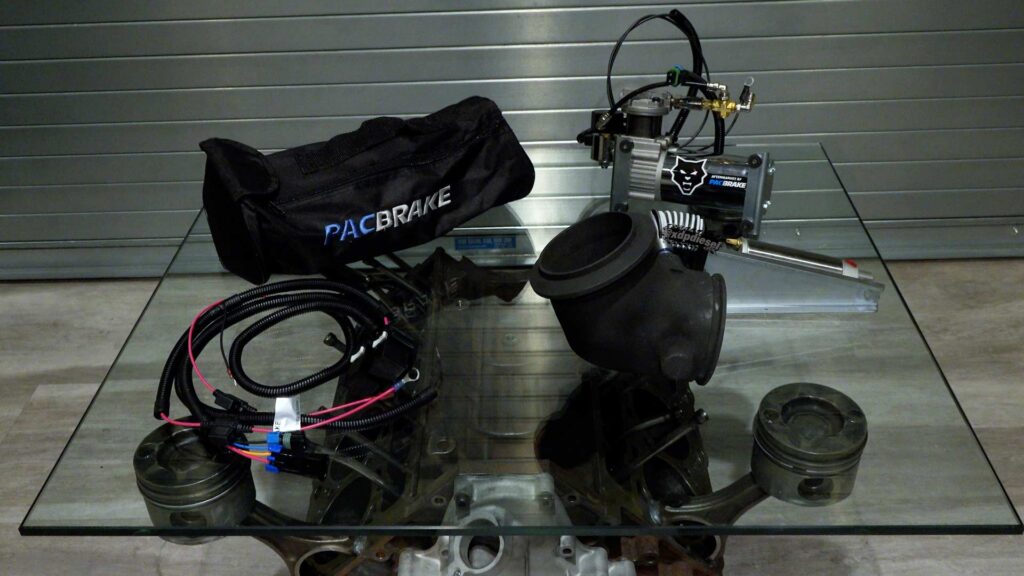 The Pacbrake PRXB Exhaust Brake has been a flagship product for Pacbrake since its inception. This pressure regulator exhaust brake sets itself apart from other exhaust brakes in the industry in several ways. First, per Aran "It is different because it maintains backpressure throughout your whole RPM range, even at really low RPMs." Unlike typical exhaust brakes, the PRXB delivers constant braking power as early as 1200 RPM through to the maximum allowable RPM. Its patented design incorporates an additional waste gate on the butterfly valve that regulates the amount of exhaust flow. Featuring a master ON/OFF switch, this whisper-quiet supplemental brake can be left on all the time. Whether you're navigating city streets or conquering steep downhill grades, the PRXB is a perfect choice to save money on brake jobs in the long run. These exhaust brakes are available for your Ford Super Duty, Dodge Ram, or GM Silverado/Sierra.
Air Spring Kits
When towing a heavy load or pulling a trailer, your truck is susceptible to excessive bounce, sagging ride height, and instability. This can cause weight to transfer from the front to the rear making front end steering, handling, and braking less effective. This can also result in rear suspension fatigue. The Pacbrake Air Spring Kit is designed to provide a level stance, a comfortable ride, and confident handling while towing. It accomplishes this by supporting the rear of your truck, preventing it from bottoming out, and distributing the weight evenly across your vehicle. Some key features that distinguish these air spring kits from others on the market are their one-inch aluminum end caps, support wires that wrap around the center of the bag, and two-ply rubber construction. Pacbrake offers a wide selection of Air Spring Kits for your Ford Super Duty, Dodge Ram, or GM Silverado/Sierra.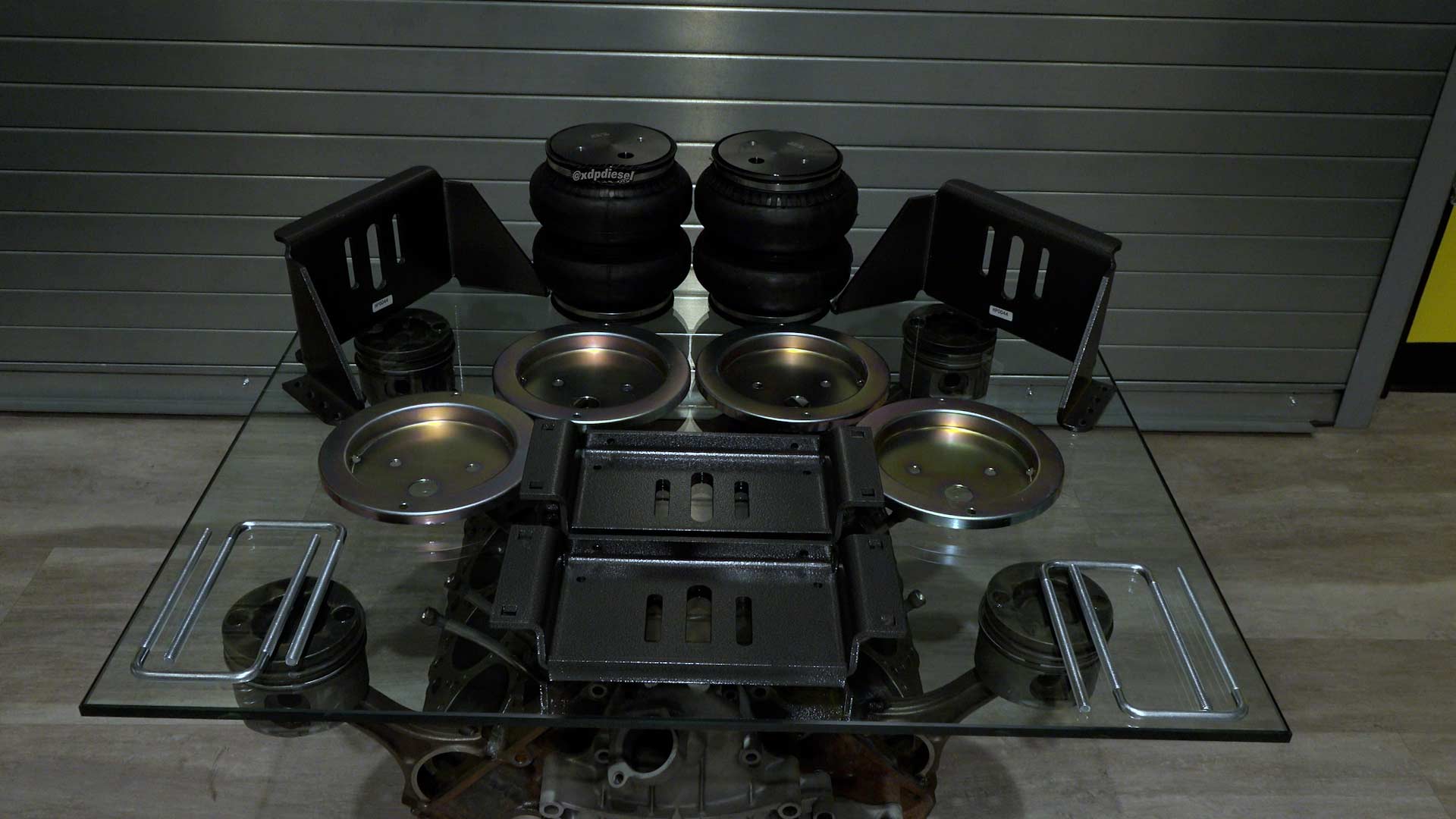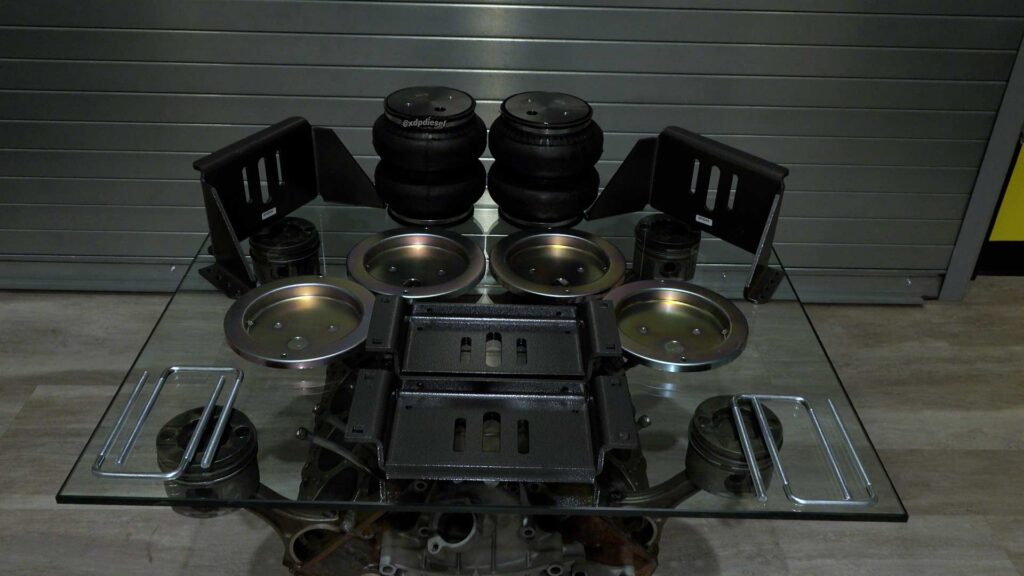 With over 60 years as an industry leader in exhaust brakes, air spring kits, and pneumatic accessories, XDP is proud to be a distributor of Pacbrake products. Shop all things Pacbrake today at XDP.com! To watch the full PacBrake Q&A videos check out the XDP YouTube channel.