The factory CP4 high-pressure fuel injection pump can occasionally fail without warning, resulting in a sudden loss of power or leaving you stranded on the side of the road. Even worse, it can possibly take out your expensive high-pressure fuel system in the process. This has left many truck owners facing fuel system repairs that can cost thousands of dollars.
CP4 Pump Failures
If you have recently purchased a diesel-powered 2011-2019 Ford F-250/350/450/550 Super Duty, or have not followed the situation closely, you can read up more on the CP4 in our previous article, What is a CP4 Pump and Why Does it Fail?. There are basically a few theories as to why the CP4 pump can fail. From ultra-low sulfur diesel (ULSD) and the lack of adequate lubrication to a roller lifter rotating 90 degrees and cutting into the main shaft. All these potential issues can result in accelerated wear and metal particles in your fuel system.
Ultimately if debris or shavings get distributed throughout the fuel system it typically ends in catastrophic failure. Up until now the only products available in the aftermarket to address CP4 failures in the Ford 6.7 Powerstroke were Disaster Prevention Bypass Kits. These kits helped to protect the fuel system from complete contamination but did not address the actual issue at hand.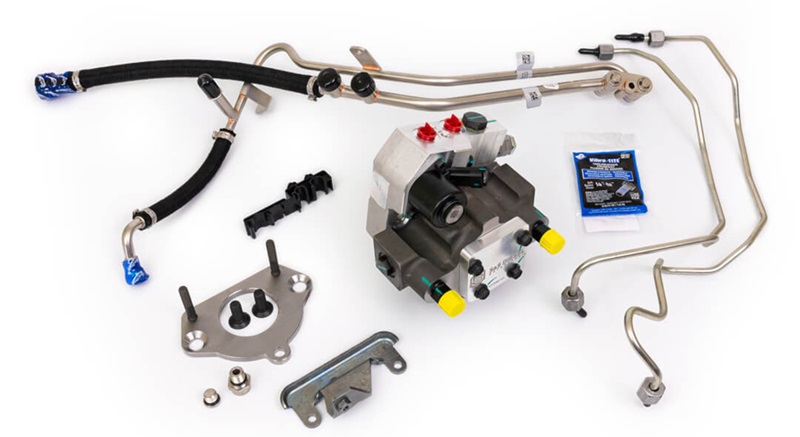 Image courtesy of S&S Diesel
The Long Awaited CP4 Solution
S&S Diesel Motorsport, the common rail diesel injection experts, teamed up with PurePower Technologies, Inc., the aftermarket division of fuel system manufacturer Stanadyne. Together, they figured out an alternative to the CP4 high-pressure fuel pump. Owners of a 2011 or later Ford Super Duty with a 6.7L Powerstroke diesel engine now have another option.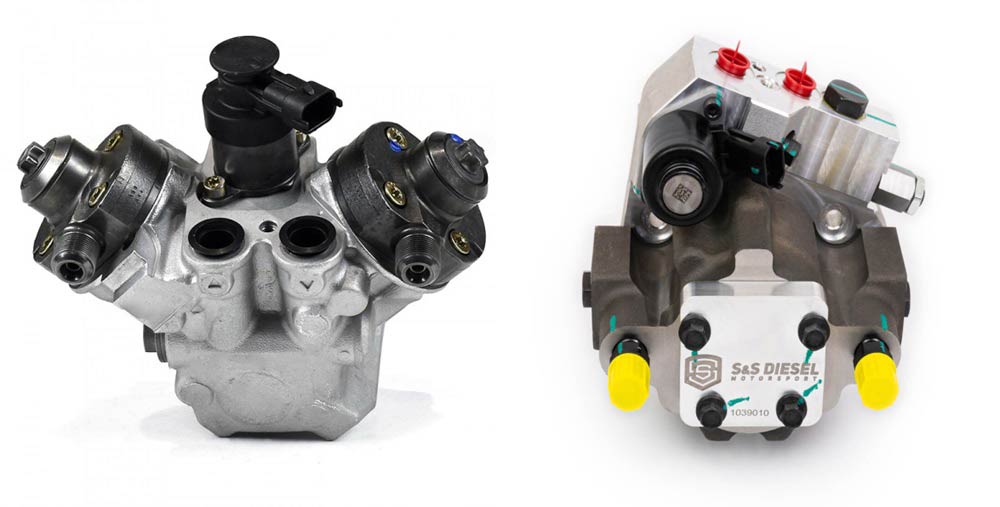 Drop-In CP4 Pump Replacement
Developing a durable plug-and-play CP4 replacement with OE fit and function was a real challenge. Per Luke from S&S Diesel, "The Ford is unique in that it's a V8 but the valley of the V and the space where the pump sits is tight. So, there hasn't been a solution for the Fords for years because there hasn't been room for anything other than a CP4 to fit because it's very compact."
Beginning with a proven Stanadyne Diesel Common Rail (DCR) fuel pump design, a team of engineers started extensive R&D. They spent countless hours on the test bench to create a new variant. This new fuel injection pump was specifically created for the Ford 6.7L Powerstroke. It was designed to match the CP4 output curve and does not require any tuning or calibration changes. To make it a direct-fit installation, the S&S Diesel 6.7F-DCR CP4 To DCR Conversion kit also includes OE-grade braided hose and steel fuel lines.
Image courtesy of S&S Diesel
DCR High-Pressure Fuel Pump
This two-piston DCR pump features a compact and modular design for easy integration, ultra-fast response times, along with low hydraulic and acoustical noise. In addition, it is biofuel and low-lubricity fuel compatible. This helps ensure it will not be as susceptible to damage when exposed to poor fuel quality. The DCR uses a patented eccentric drive pumping technology, with pressure-lubricated cam and bushings.
The DCR provides a max fuel delivery displacement of 1,250 mm3 per revolution (25% more than a CP4.2). This produces plenty of flow for worn injectors with higher return rates and will also likely support trucks with moderate injector nozzle upgrades. It is constructed with corrosion resistant components to offer superior durability and longevity. This helps safeguard against water and dirty fuel which can significantly reduce the life of the valve and the pump. In addition, the Volume Control Valve (VCV) incorporates proprietary features to prevent large debris from entering in case of a pump failure.
DCR Fuel Pump Features:
Ultra-Fast Response Times
Low Hydraulic And Acoustical Noise
Plug-And-Play Installation Configuration
Biofuel And Low-Lubricity Fuel Compatible
Compact, Modular Design For Easy Integration
Provides Up To 2,200 Bar Of Pressure With Fuel Delivery Of 1,250 mm3 Per Revolution
Patented Eccentric Drive Pumping Technology For Increased Performance, Efficiency, And Benchmark Durability
When To Purchase A DCR Conversion Kit
The S&S Diesel CP4 To DCR Fuel Pump Conversion Kit can be installed before or after a CP4 fuel injection pump failure. Switching over to a DCR fuel pump before a possible CP4 failure, can help protect your fuel system and your wallet. Unfortunately, waiting until the CP4 has failed requires many other expensive components in the fuel system to be replaced. So this kit can also be seen as preventative maintenance as it eliminates the CP4 pump from the system.
The S&S DCR Conversion Kit is also a great starting point after a CP4 failure. When combined with a fuel contamination kit, you can now replace all the essential fuel system components that have been affected. XDP Fuel Contamination Kits (Without CP4 Pump) are the perfect addition to help you get your truck back up and running while switching to a DCR Fuel Pump in the process.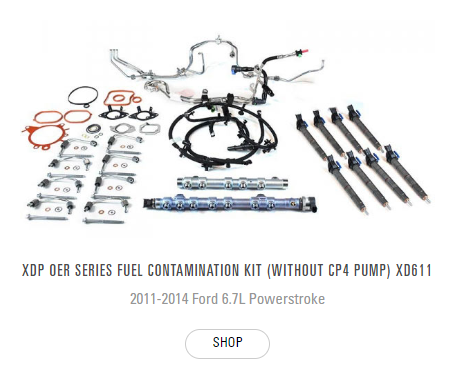 Learn more about the S&S Diesel 6.7F-DCR CP4 To DCR Pump Conversion at XDP and upgrade your 2011-2019 Ford 6.7L Powerstroke today.
Watch as we install the S&S CP4 To DCR Conversion Kit in a 2011 Ford Super Duty –
Diesel Common Rail (DCR) Fuel Pump Specifications
| | |
| --- | --- |
| Features | Specifications |
| Pump Pressure | 2200 Bar |
| Fuel Delivery | 1250mm3/pump rev |
| Max Pump Speed | 5000 PRPM |
| Engine Size | Up to 11L @ 1.67 Drive Ratio (PRPM/ERPM) |
| Engine Power Range | 74 – 335 kW / 100 – 450 HP |
| Operation | Eccentric Roller |
| Emissions Compliance | Tier IV+ |
| Fuel Metering | Electronic (Inlet Control) |
| Operating Temperature | (-)40 – 100 degrees C |
| Lift Pump | None, Geroter or Gear Type |
Specifications Courtesy of Stanadayne
LLC