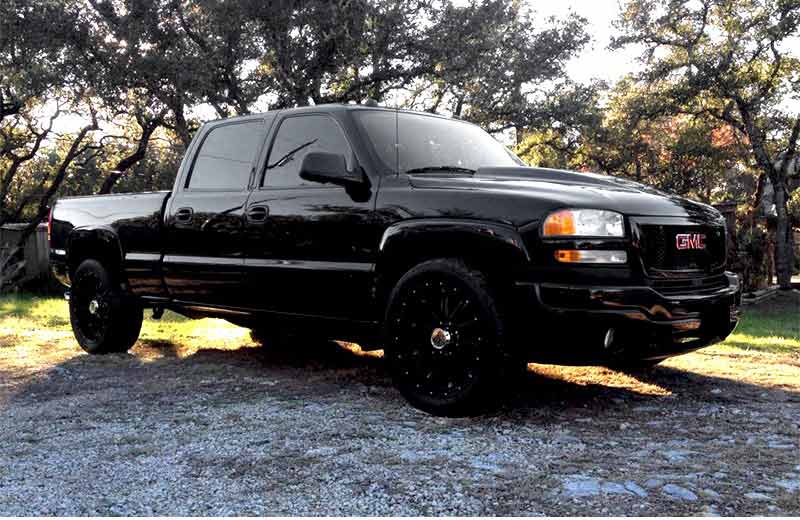 History/General Info
Halfway through the 2004 model year, the second generation of the Duramax diesel engine was introduced in the Chevy Silverado and GMC Sierra 2500HD/3500HD pickups. Since the carryover LB7 and new LLY engines were both available in the same year, the LLY is unofficially referred to as the 2004.5 model year by the diesel aftermarket and enthusiasts alike. The LLY continued to utilize several components from the first generation Duramax (LB7), but also included some new components that increased performance.
Carried over from the LB7 Duramax to the LLY was the same basic short block featuring a cast-iron block with aluminum heads. In addition, the high-pressure common-rail fuel system with a Bosch CP3 injection pump that debuted in 2001 was still utilized. To avoid similar injector issues that plagued the LB7, new externally serviceable fuel injectors were now added.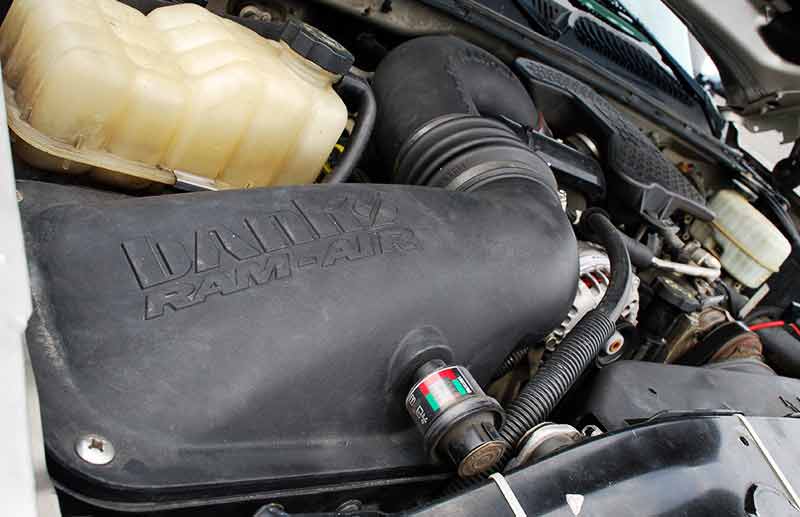 LLY Upgrades
The biggest upgrade, literally, from the LB7 Duramax was the new Variable-Vane Turbocharger (VVT). It was the largest version of the factory Garrett GT3788VA used in a Duramax from 2001-2016. Featuring a 62.6mm inducer compressor wheel and the tallest turbine vane height (15mm) of any GT3788VA, it offers enough flow to support up to 530hp. The VVT style turbocharger also provided better throttle response throughout the entire RPM range. Between 2004.5-2005 the Duramax LLY was rated at 310 hp and 520 lb-ft of torque, which was only a 10hp increase over the 2004 LB7, but the power levels were now produced at a lower rpm, which aided in towing and hauling heavy loads.
Drivetrain & Suspension
Paired with the Duramax LLY engine was a choice of either a ZF S6-650 6-speed manual transmission or the heavy-duty Allison 5-speed automatic transmission. The 2500HD/3500HD suspension and axles were the same as the previous generation. The front consisted of an independent long-arm and short-arm setup with torsion bars and an AAM 9.25″ assembly. The rear setup kept the GM 11.5″ solid axle (also known as the AAM 11.5″) with multi-leaf springs.
Models & Availability
The Duramax LLY was offered in the Chevrolet Silverado HD and GMC Sierra HD as well as the Chevrolet Kodiak, and GMC TopKick models. The Silverado/Sierra continued to ride on the GMT800/880 platform and was used up until 2007 when the new GMT900/910 debuted. Thus, the Chevy Silverado went relatively unchanged from 2003-2007, with the GMC Sierra receiving very few changes since its release in 1999 all the way through 2007.
What To Look For When Purchasing
Just like the previous years, the 2004.5-2005 GM 2500HD/3500HD models came equipped standard with a Vortec 6.0L gas engine and offered two optional engine choices, the 8.1L big block or the 6.6L Duramax LLY. As always, the Duramax diesel is the most desirable drivetrain and will command a premium over the two gas-powered choices. The Duramax is the superior option for towing and should also provide the best fuel economy of the three choices.
With any older pickup, they are especially prone to rust. If the truck spent any time in a region that gets snow thoroughly examine the frame for rust/rot. The bedsides, rocker panels, and bed cross members/floor supports are also common areas for rust. Also, both the brake and fuel lines are also known to get rusty over time and can rupture or leak. If leaks occur it can cause a potential safety hazard.
LLY Issues
A common issue with the LLY was overheating, especially when towing. This is due to a combination of a restrictive turbo mouthpiece, an undersized radiator, or even a dirty coolant stack (radiator, intercooler, condenser, and transmission cooler) blocking airflow. It's not completely unusual to see coolant temps surpass 230 degrees in an LLY Duramax truck. Overheating for an extended period can potentially lead to head gasket issues, so make sure to do your due diligence before purchasing a truck.
Common issues that carried over from the 2001-2004 model trucks include the weak stock tie rods which have been known to potentially bend or break in some extreme conditions. Upgraded tie rod ends or sleeves (to reinforce the factory tie rods) are available to fix this issue. Finally, the dowel pin that locates the harmonic balancer on the crankshaft can shear off, allowing the balancer to spin on the snout and possibly result in damage to the engine. A crankshaft pin kit is an easy way to secure the balancer in place and make sure it does not move.
Pros/Cons
Pros
Allison Automatic Transmission
IFS Provides a Smooth & Comfortable Ride
Common Rail Fuel System with CP3 Pump
Large Garrett GT3788VA Turbocharger
Cons
Body/Frame Rust
Weak Tie Rod Ends
Brake/Fuel Lines Prone to Rust
Overheating Issues Especially While Towing
Factory Dowel Pin that Holds the Harmonic Balancer can Shear Off
Review
The 2004.5-2005 Silverado/Sierra 2500HD/3500HD trucks should be relatively dependable if all the proper maintenance has been performed and any overheating issues were addressed in a timely manner. Buying a truck without rust issues can be difficult, depending on your location. If you purchase a truck with rust issues a plethora of repair panels are available in the aftermarket. As with the earlier LB7, the LLY Duramax can be a good choice for someone looking to get into a heavy-duty diesel truck at a slightly more affordable price tag.
Popular Aftermarket Upgrades
The LLY Duramax responds well to aftermarket modifications, especially with the factory Garrett GV3788VA turbocharger. The GV3788VA can support significant power gains before requiring an upgrade. Whether you are looking for upgraded performance, want to add more power for towing, or just looking to maintain your truck, these are some popular LLY upgrades.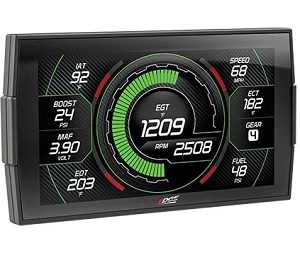 Besides increasing horsepower and torque many Programmers/Tuners can also act as a complete gauge package and monitor your vital engine and transmission data in real-time.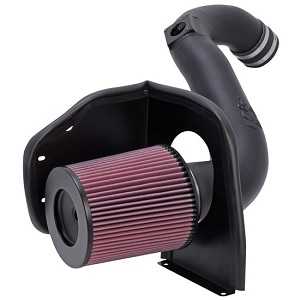 Aftermarket Air Intake Systems are designed to dramatically reduce intake restriction by providing a smoother and straighter airflow. This allows your vehicle's engine to inhale a larger volume of air than the restrictive factory air filter assembly. More air means more usable power and acceleration throughout the engine's RPM range.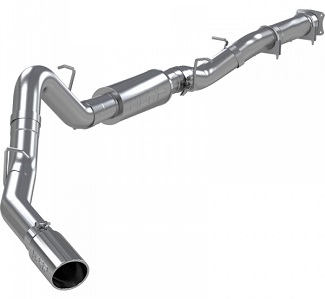 Upgrade your exhaust with mandrel bent 4″ tubing for maximum flow, increased horsepower & torque, plus lower EGT's. Choose Aluminized Steel or Stainless Steel depending on your location and budget.
4. Lift Pump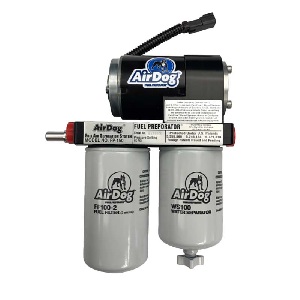 The LLY Duramax doesn't have a lift pump to supply the engine with fuel, as the CP3 pump does double duty and has to pull fuel from the tank. This not only adds excessive wear to the CP3 pump but also fails to supply adequate fuel to a modified engine.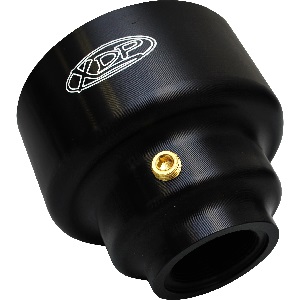 A fuel filter delete is a must-have for any 6.6L Duramax with a modified fuel system. Installs in place of your factory fuel filter when using aftermarket fuel systems such as an Airdog, FASS, or custom applications where your factory fuel filter is no longer needed.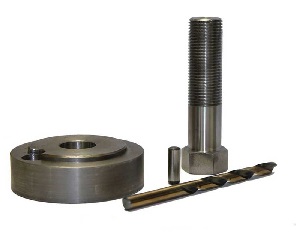 The factory dowel pin is known to shear easily causing the balancer to spin on the snout of the crankshaft. When the balancer spins, it can throw off the balance of the engine and create harsh vibrations. Continued operation in these conditions will likely result in serious engine damage such as a broken crankshaft. Pin your crankshaft so the balancer stays in place and eliminates the risk of damage.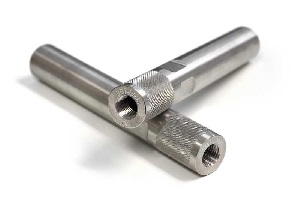 Tie Rod Sleeves or Upgraded Tie Rods are a must for your high-performance Duramax. Support Sleeves keep the factory tie rods from bending under the added stress of lifted torsion bars, increased horsepower and torque, and aggressive tires.
7. Turbo Inlet/Intake Mouthpiece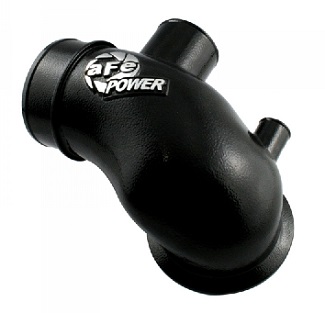 A Turbo Inlet/Intake Mouthpiece will increase throttle response and help lower your engine's EGTs keeping your engine running at cooler temperatures.
8. Drivers Side High-Flow Exhaust Manifold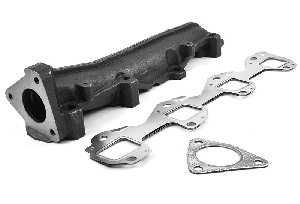 Ditch the restrictive factory driver's side exhaust manifold and improve the exhaust flow with a high-flow exhaust manifold.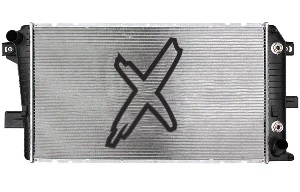 With the age of these trucks, there is a good chance the radiator will need replacing sooner rather than later. The fact these trucks had cooling issues from the get-go is another reason to make sure your cooling system is at operating at its peak performance.
2004.5-2005 GM 6.6L Duramax LLY Specifications
Production Years:
2004.5, 2005
Model Availability:
Chevrolet Silverado 2500HD, 3500HD
GMC Sierra 2500HD, 3500HD
VIN Code:
2 (8th digit of VIN)
Common Names:
LLY, Duramax
Configuration:
V8
Displacement:
403 cubic inches, 6.6 liters
Bore:
4.055″ (103 mm)
Stroke:
3.897″ (99 mm)
Cylinder Heads:
Aluminum
Engine Block:
Cast Iron
Firing Order:
1-2-7-8-4-5-6-3
Compression Ratio:
17.5 : 1
Pistons:
Cast Aluminum
Connecting Rods:
Forged Steel w/ Cracked Cap Design
Aspiration:
Turbocharged & Intercooled
Injection:
High-Pressure Common Rail Direct Injection
Fuel Pump:
Bosch CP3 Injection Pump
Turbocharger:
Garrett GT3788VA – Variable Vane Turbocharger (VVT)
Valvetrain:
OHV, 4 Valves Per Cylinder
Idle Speed:
680 rpm
Max Engine Speed:
3,250 (rev limiter)
Weight:
Approx. 835 lbs (Dry)
Oil Capacity:
10 qts w/ Filter (9.46L)
Horsepower:
310 hp @ 3,000 rpm
Torque:
520 lb-ft @ 1,600 rpm
Battery:

Group Size 78

Transmissions:
ZF S6-650 (6-Speed Manual)
Allison 1000 (5-Speed Automatic)
Fluid Specifications & Capacities
Engine Oil:
15W-40
Preferred viscosity, ambient temp > 0° F
10.0 qts Capacity w/ Oil Filter (9.46L)
5W-40
Preferred viscosity, ambient temp < 0° F, acceptable in all temps
10.0 qts Capacity w/ Oil Filter (9.46L)
Engine Coolant:
50/50 Dex-Cool Engine Coolant, Distilled Water
22.0 – 31.4 quarts (5.5 – 7.85 gallons)
Refer to owner's manual for application-specific coolant capacity
Automatic Transmission Fluid:
Allison 1000 (5-Speed)
Dexron III Automatic Trans Fluid
7.4 qts service refill
12.7 qts total capacity
Manual Transmission Fluid:
ZF S6-650 (6-Speed)
GM TranSynd Full Synthetic
5.8 qts
Transfer Case Fluid:
Manual Shift
Dexron III Automatic Trans Fluid
2.0 qts
Automatic Shift
AUTO-TRAK II
2.0 qts
Front Differential Fluid:
9.25″ IFS (14 Bolt)
SAE 80W-90
1.8 qts
Rear Differential Fluid:
AAM 11.5″ (14 Bolt)
SAE 75W-90
3.2 – 4.3 qts (Varies by Model Year)
Maintenance Schedule
Service Procedure
Interval
Replace Engine Oil & Filter:
10,000 miles or when "change engine oil" message is displayed by the oil life monitoring system
Replace Fuel Filter:
15,000 miles
Replace Air Filter:
Check filter condition every oil change and replace as necessary; replace at 45,000 miles regardless
Flush Engine Cooling System:
150,000 miles
Replace Automatic Transmission Fluid & Filter:
50,000 miles (normal conditions)
25,000 miles (severe duty conditions)
Replace Manual
Transmission Fluid:
GM originally advised that the ZF S6-650 6 speed manual transmission does not require service. Consider replacing the fluid at 60,000 mile intervals, especially if usage meets any of the severe duty conditions.
Replace Transfer Case Fluid:
50,000 miles