Why You Should Upgrade Your Exhaust Manifold
Aftermarket exhaust manifolds can give your truck the performance you've been looking for and can help you get the most out of your Cummins Turbo Diesel. Increasing exhaust flow and lowering exhaust temps can greatly improve the performance of the vehicle. Keeping temps low can not only help with performance but also allows your truck to run more efficiently. Aftermarket manifolds can also serve as upgraded replacements in the event your stock exhaust manifold has developed cracks or leaks. Over countless heat cycles, years, and miles, these cracks and leaks can result in loss of power, and increased exhaust gas temperatures that can lead to overheating, and damage to vital engine components.
One-Piece vs Multi-Piece Manifolds
The majority of stock and stock replacement manifolds are traditional one-piece designs like the original manifold on your Cummins. The one-piece design is easy and cost-effective to manufacture and provides ample flow in a stock configuration. There are still upgraded one-piece manifolds that feature upgraded structural integrity with thicker casting and supports. The downside to the stock Cummins exhaust manifold construction is the lack of room for expansion and contraction. Multi-piece designed manifolds are exactly as described; multiple pieces. This design innovation gives the manifold the room it needs to expand and contract without cracking as you put your truck through its paces. Upgraded manifolds allow for more exhaust flow to get all that exhaust through your turbo quickly and efficiently, meaning you'll be able to push the performance of your truck.
When considering what's right for your Cummins, you always have to take turbo setup into consideration. Often times upgraded manifolds can have design features that allow for various mounting locations based on design or flange positions. This can give a lot of freedom when setting up a new or custom turbo setup. So, make sure the turbo and manifold are compatible before you tear into your engine.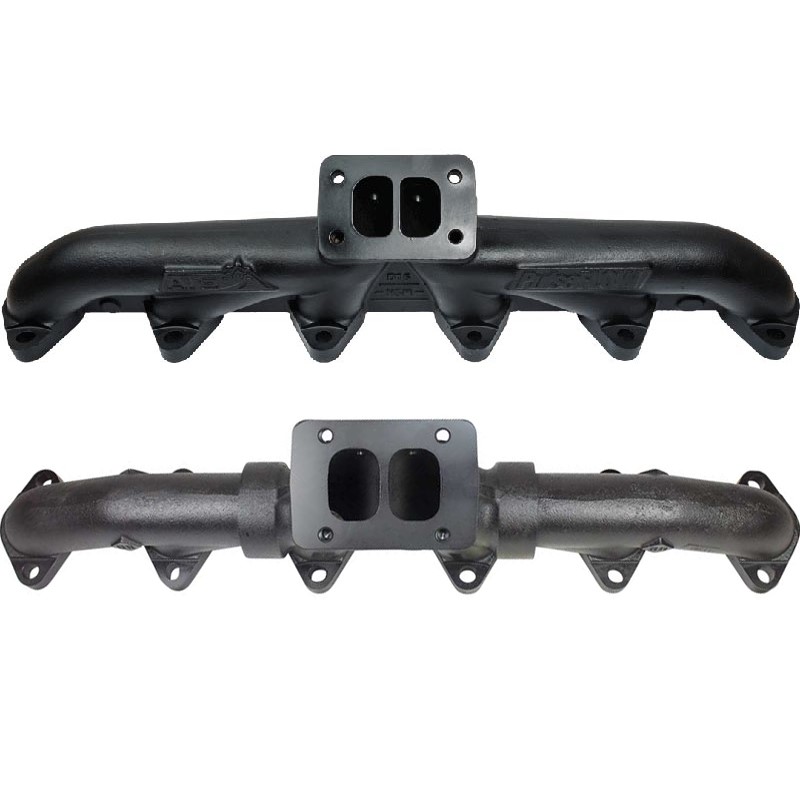 Size Matters
Depending on what turbocharger you are looking to upgrade to in the future, you may need a manifold that has a different turbo flange or can accommodate a turbo flange adapter. Odds are, if you're looking to upgrade, you're looking for a bigger turbo. What does that mean? It means matching the flange on the turbo to the manifold is necessary to make it all fit. Most turbos are fitted with either T3 or T4 flanges, and your manifold will need to match to ensure proper fitment. Beyond T3 and T4, various T flanges are available and will vary in size. Knowing the flange type, whether stock or aftermarket, is crucial when choosing an upgraded exhaust manifold for your Cummins.
Taking these points into consideration when searching for your next exhaust manifold can be a tall task. Purchasing the correct manifold for your Cummins can be quick and easy by using search filters on XDP.com! Still not sure what will work best for your truck? Our performance specialists are here to help you with whatever fitment and performance questions you may have!