Las Vegas, NV, Nov. 1st-4th, 2022 —
The most anticipated event in the aftermarket automotive industry took place at the Las Vegas Convention Center this past week. As in years before, team XDP was there to take in the show. The 2022 Specialty Equipment Manufacturing Association (SEMA) Show spanned every inch of the Las Vegas Convention Center. The show featured manufacturers from every corner of the automotive industry. An event like no other, SEMA is not only designed to be an opportunity for business to be conducted but also to display new products. As well as an opportunity to highlight what the aftermarket vehicle lifestyle is all about. Get a recap of our entire week in this Sema 2022 Recap.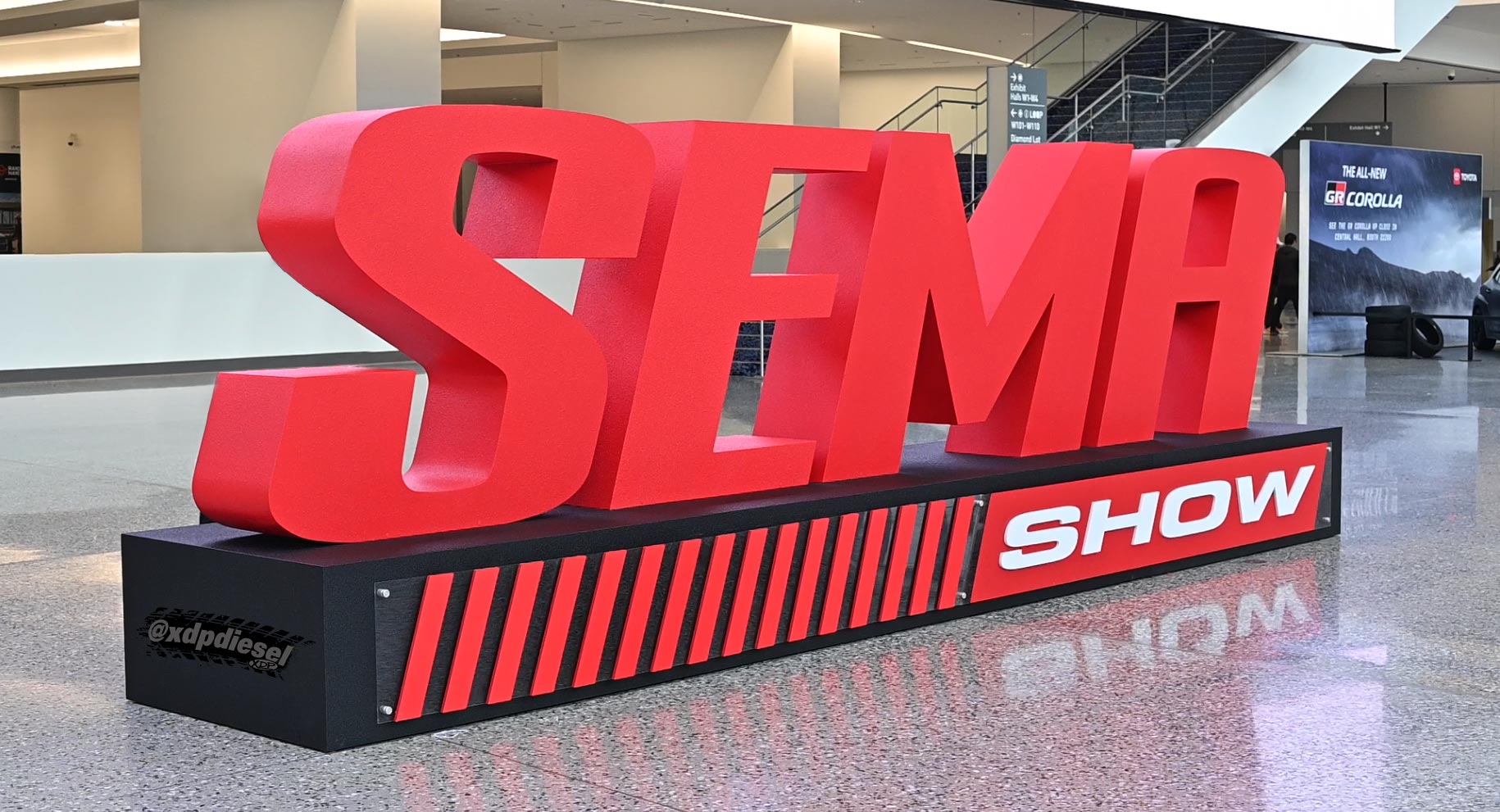 Day 1
Day 1 of SEMA began as we walked through the outdoor lots and the convention center. Booths were set up with products and vehicles already on display. Making our way into Central Hall, vehicles and spectators lined the street and sidewalk, ready to get the week started. Once inside, as far as the eye could see, top manufacturers were prepared to show off their product offerings as well as unveil new parts.
Outside in the Silver lot, a line of trucks stretched between Central and South Halls from notable builders and social media influencers alike. A stone's throw away, manufacturers like Dually Design Company (DDC), BDS Suspension, FOX, and more were set to display their products! The star of the show in Silver Lot quickly became apparent as the smoke rose from the Hoonigan burnyard. The "burnyard' gave builders and competitors a chance to show off their builds and slay sets of tires in a burnout competition for the ages!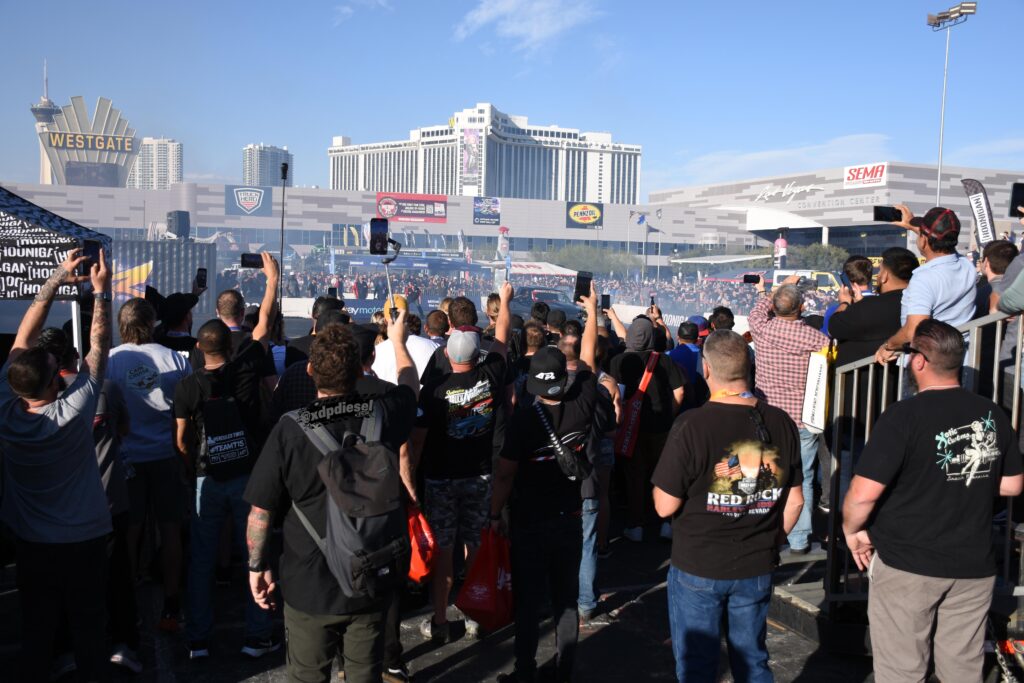 SEMA Central
As the smoke cleared, we headed back inside. With thousands of other showgoers to see what was new with the manufacturers you know and love. Walking through SEMA Central we had the chance to see racing royalty like Tony Stewart and featured builds from influencers like TJ Hunt.
Finally entering Central Hall, we stopped to see our friends from Anzo. We got a look at their GMC and RAM booth vehicles. In addition to the lights you've seen from Anzo in the past, these vehicles featured the most recent lighting solutions from Anzo to hit the aftermarket. Their unique darkened display gave us the opportunity to see the new lighting designs up close and personal.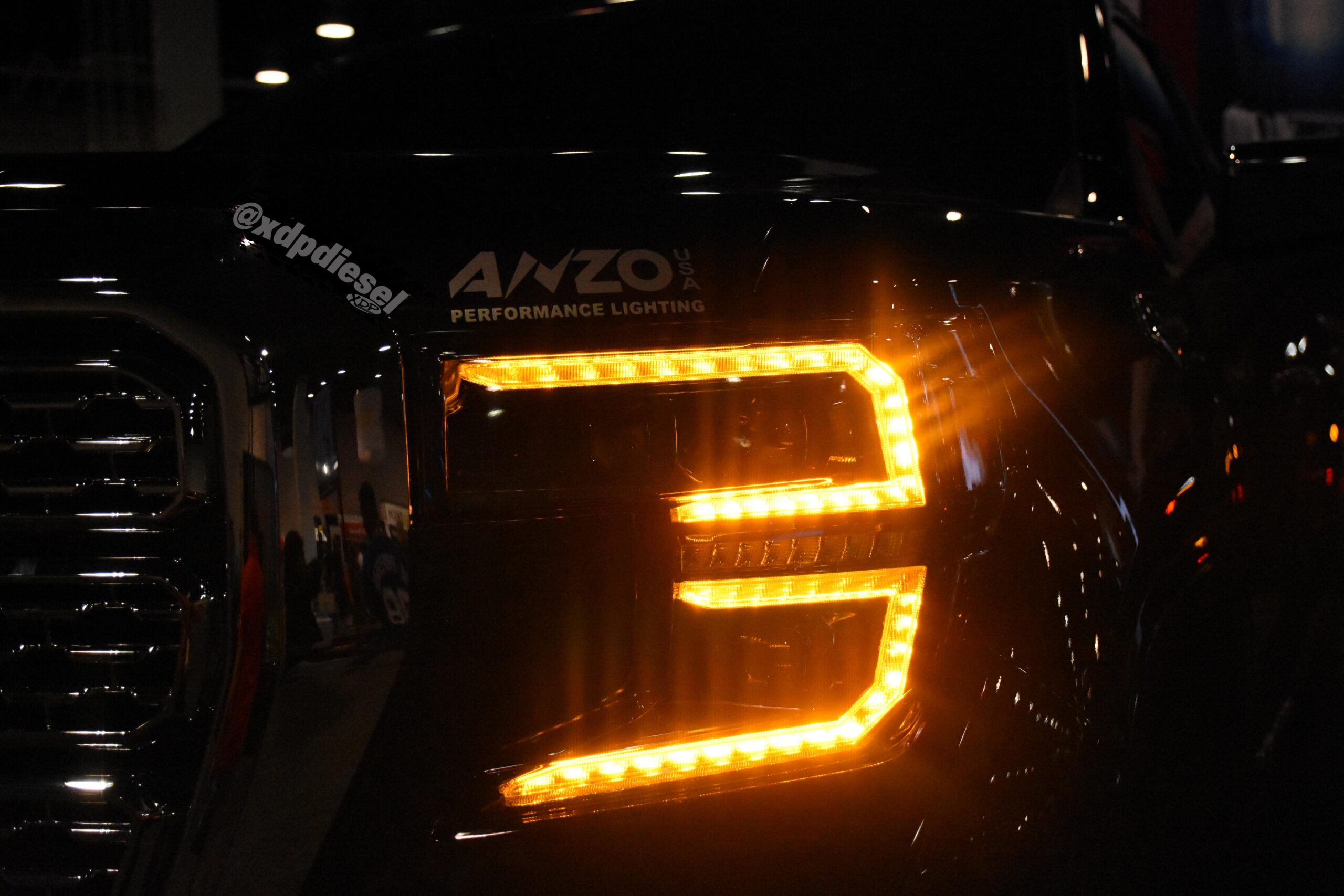 We hit the brakes on Anzo and made our way over to BD Diesel to find out more about what BD had up its sleeve for SEMA 2022. Releasing a new product at this year's show, BD unveiled an Electronic Exhaust Brake for 2007.5-2017 6.7L Cummins applications. This exhaust brake is unique in that it does not require an air compressor or air lines to activate. This innovation is responsible for adding reliability and making for a simple installation process!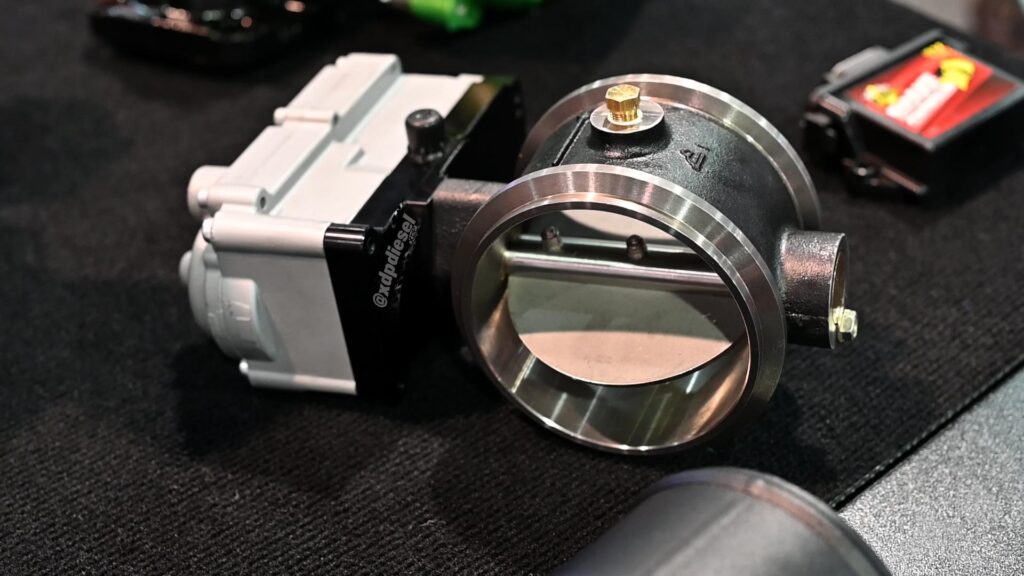 More Power…
In a search for more power, we went on to visit Bully Dog and SCT in their joint booth with the Bully Dog mascot making an appearance at the show!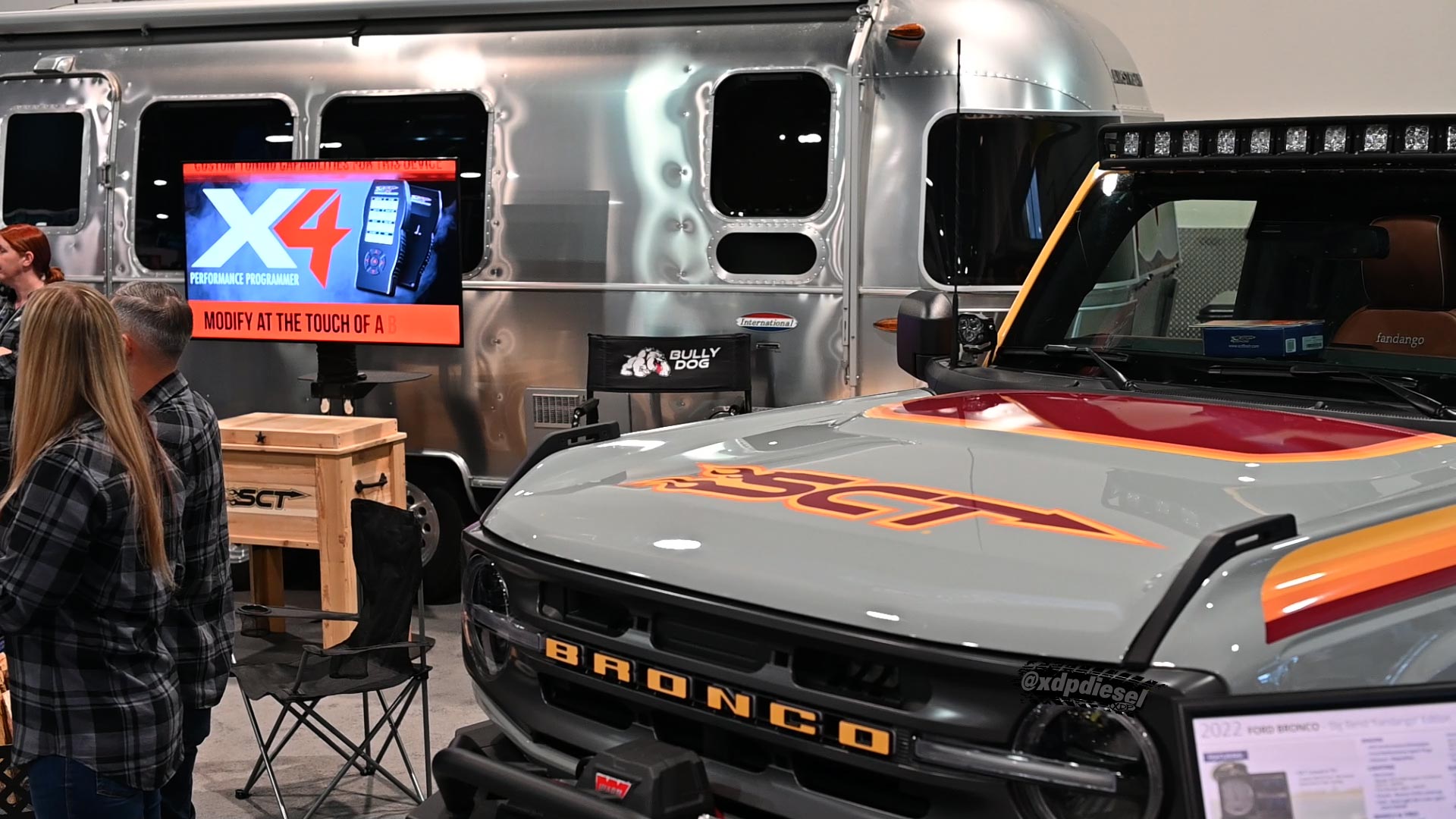 With new programmers and tuners for both gas and diesel vehicles, SCT and Bully Dog didn't disappoint. Featured products like the Bully Dog "Big Rig" and the show-stopping SCT Bronco build gave showgoers a lot to talk about as they passed through the booth. Not only was the SCT Bronco in attendance but the booth also featured an airstream camper meeting room, complete with a bed where the teams from SCT and Bully Dog called home for the week.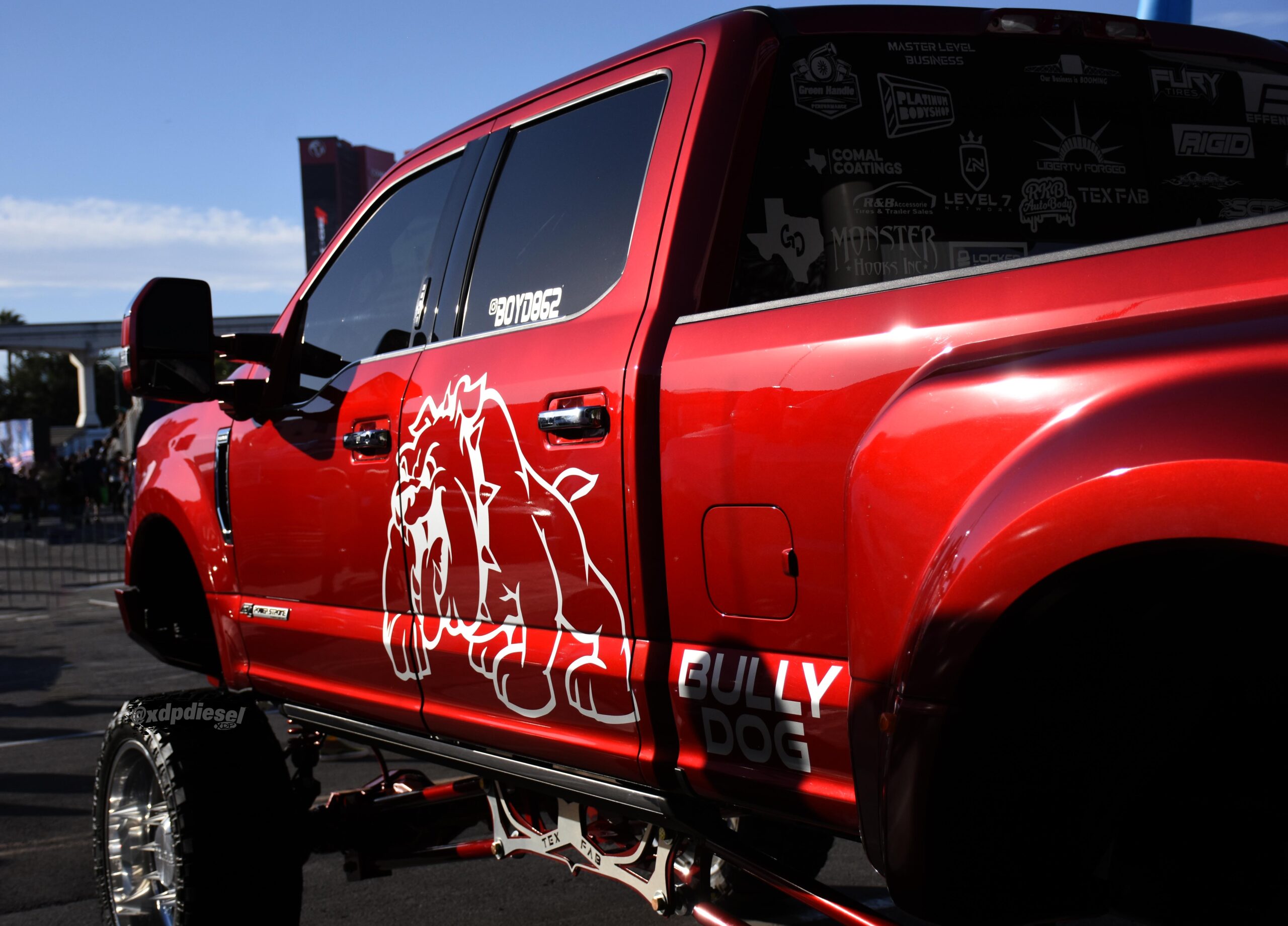 Seeking some more stability, we rolled over to Bilstein to take in their Baja-inspired booth. Bilstein recalled their US roots with their SEMA booth, featuring a Mercedes Benz Unimog, a campfire with beach chairs. They also offered a unique twist on some refreshing Bilstein beers. Assuming they can be enjoyed on the beach after a long day of racing out in the desert. The booth paid homage to Bilstein's journey to the United States. Being introduced in the 1970s as an aftermarket solution to racers in the Baja rally series. Since then, Bilstein has become a household name for car and truck suspension solutions. Highly regarded in providing both high-quality replacement and suspension upgrade parts.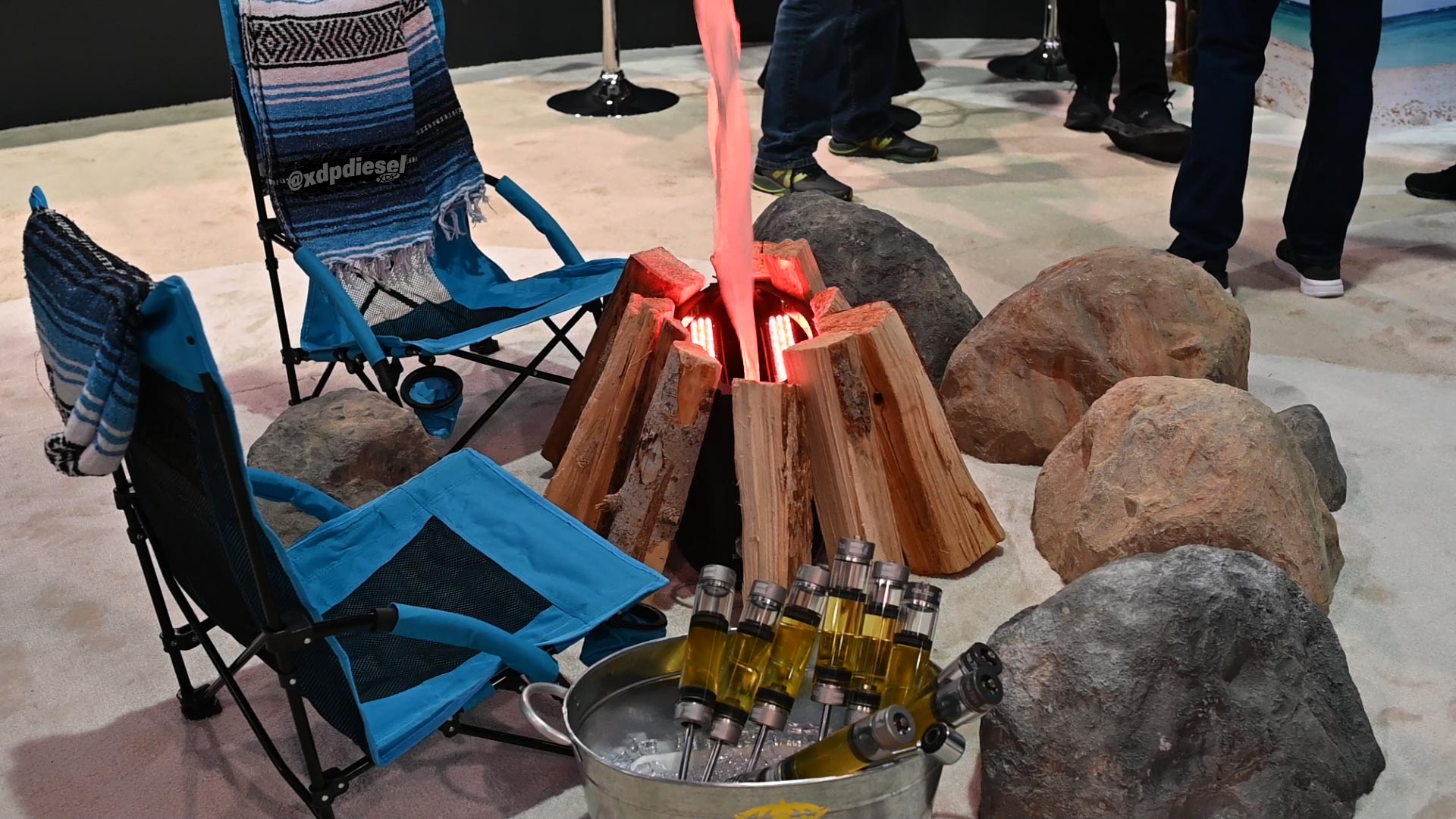 Our feet, knees and hips started talking to us as we wrapped up our day and headed for the exits. Totaling just under 7 miles walked, the Tesla Loop that took us back to the hotel was an oasis in our SEMA desert.
Day 2
The sun rose on day 2, and with a new day came a new area of the SEMA show to explore. We found ourselves spending the day in West Hall. Here the SEMA Overland Experience was housed along with manufacturers of everything (and anything) off-road you could imagine.
We started the day at Gen-Y Hitches. Getting hands-on with the lineup of towing accessories that have put the company on the map. In the booth, we saw the traditional Gen-Y hitches you may have on your vehicle, as well as a few new products. Get a sneak peek and find out more about Gen-Y's latest towing innovations by checking out the full SEMA recap video in this blog and on our YouTube channel.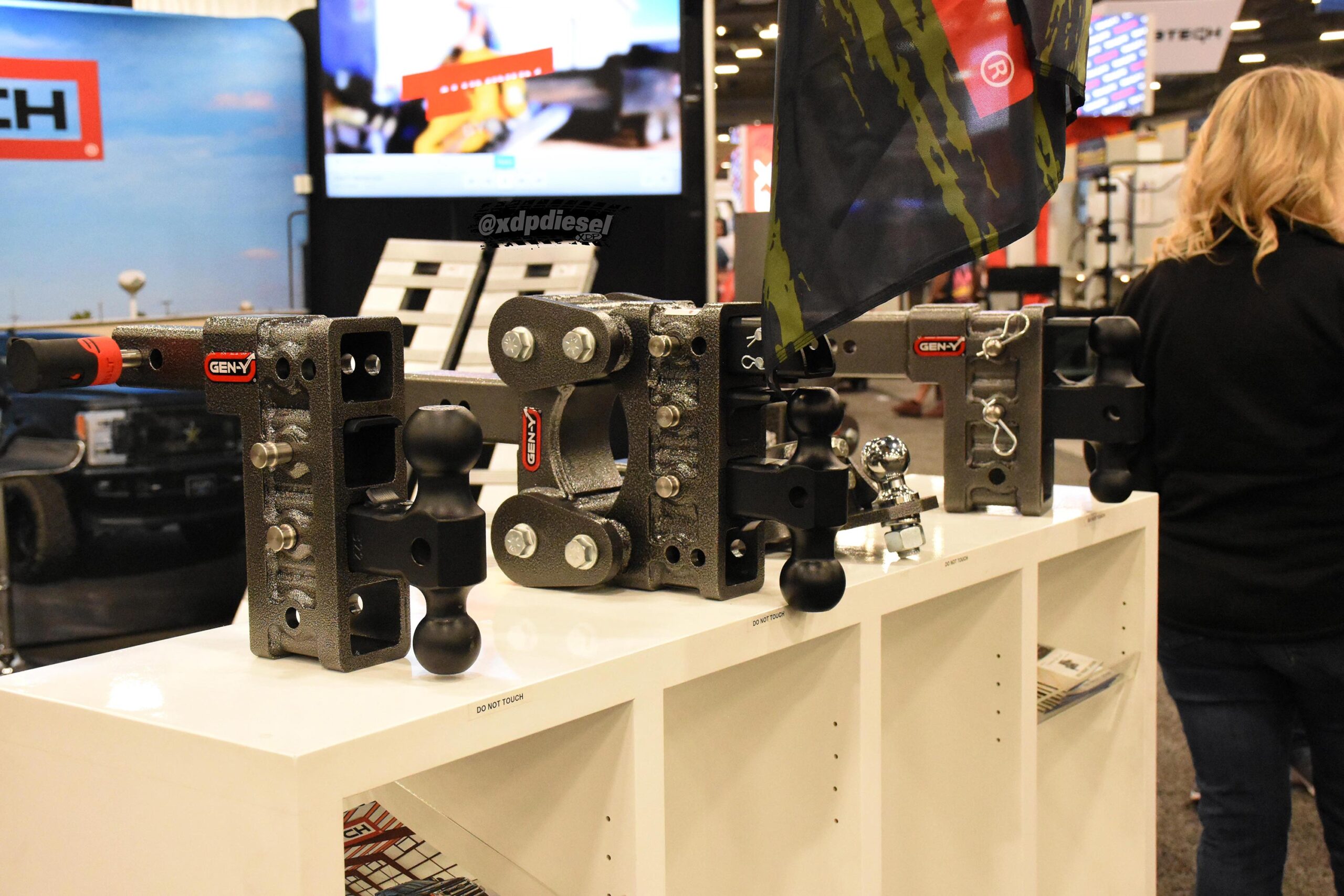 Going the Distance with Titan
A short distance away, we found a company that's no stranger to long-distance travel. Titan Fuel Tanks came to SEMA prepared, giving showgoers a visual of just how much distance their products can provide firsthand. A cutaway tank showed off Titan's commitment to reliability with its new, bigger, and thicker fuel tank design. We also had the chance to see the now-announced Duramax 3.0L Titan Fuel Tank and get some more details on future projects that are making their way through Titan's Research and Development program.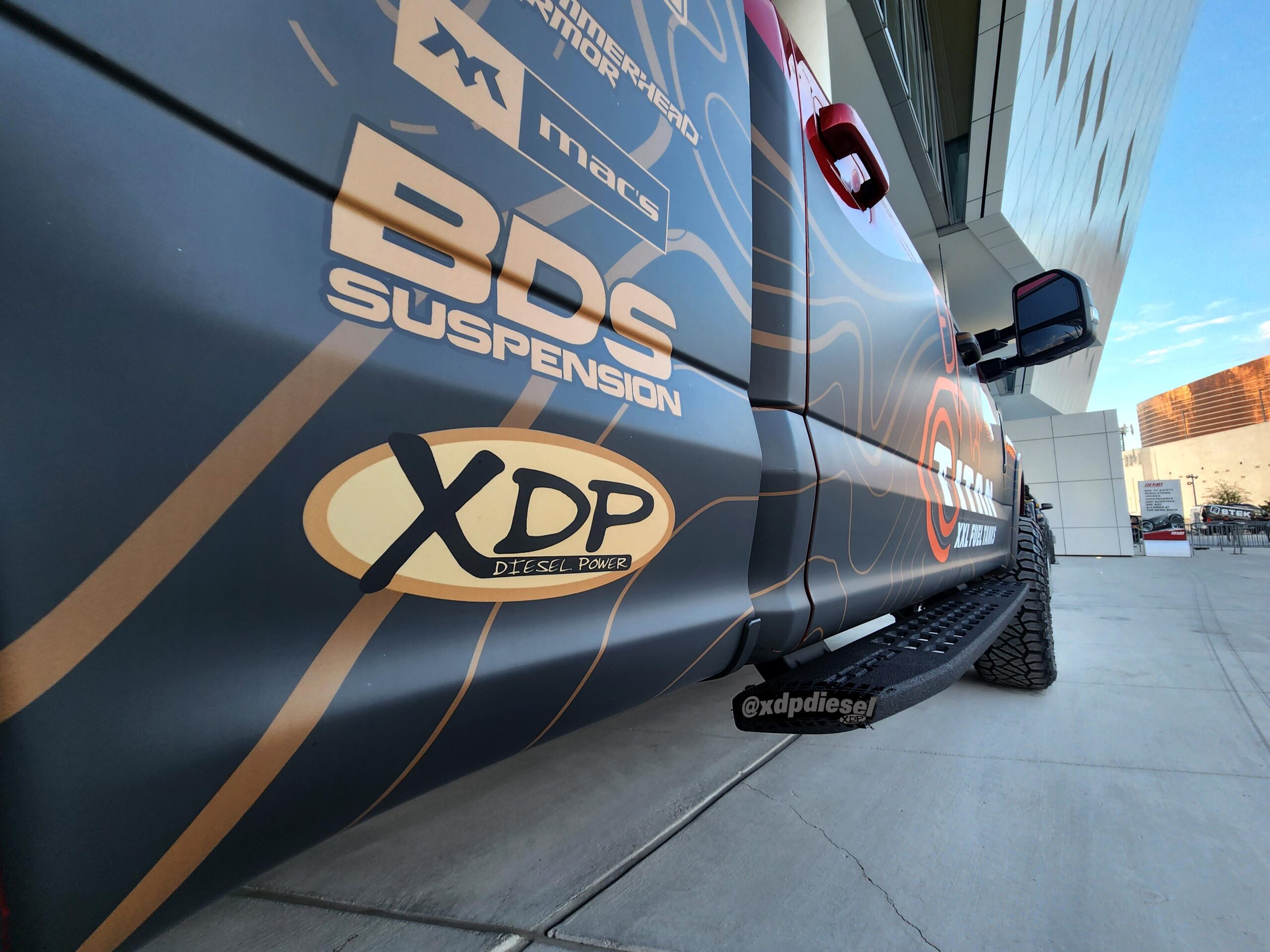 Prepared to squeeze everything we could out of the day, we checked in with Super Springs International and got a hands-on look at their suspension solutions. Bursting onto the scene in 1996, Super Springs International initially offered the "super spring," a bolt-on steel helper spring that was designed to be an add-a-leaf alternative. More recently, Super Springs has offered micellular polyurethane helper springs for a variety of applications. The Sumo Springs line of helper springs assists in reducing body roll, sag, and helps keep control of your truck under load.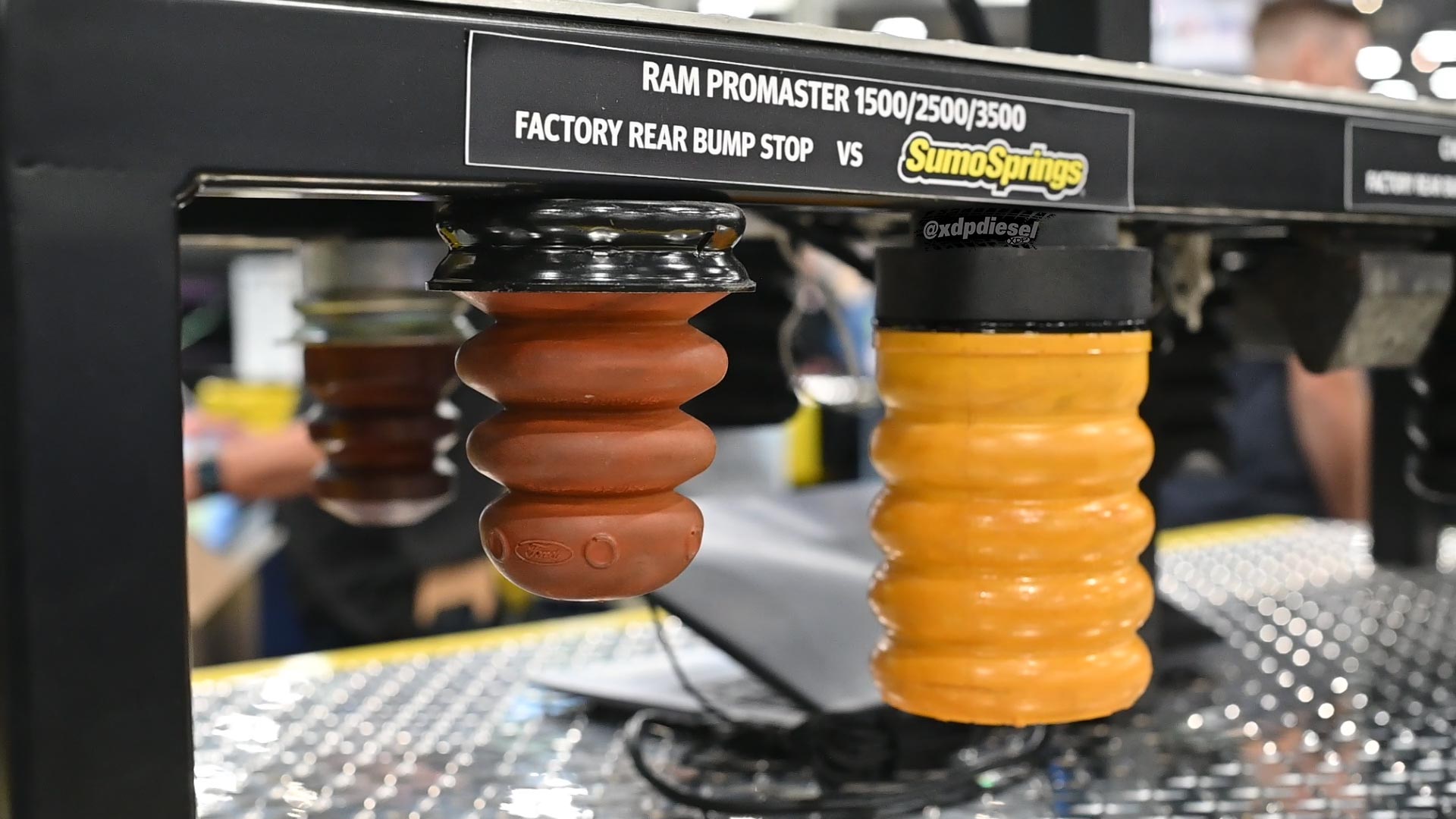 With a variety of spring rates, their suspension solutions can be the answer you've been searching for when towing. Their interactive hands-on display gave us the opportunity to see just how much force it takes to compress these springs. Making me realize it's probably time to get back to the gym.
Lighting up the Strip with AlphaRex
As the day wrapped up, we had to shine some light on one more booth in West Hall, AlphaRex. These performance headlights have become a feature on many of the trucks we've seen on the road and at a variety of shows this season. The diversity of their products is part of what makes AlphaRex a unique manufacturer in the aftermarket lighting space. With three series of lights based on customer needs, the Nova, Luxx, and Pro series headlights each have unique capabilities. Each serves a different function based on the look and application of the vehicle. We had the opportunity to see these differences up close with a unique display housed in their booth that showed beam patterns between the series of headlights.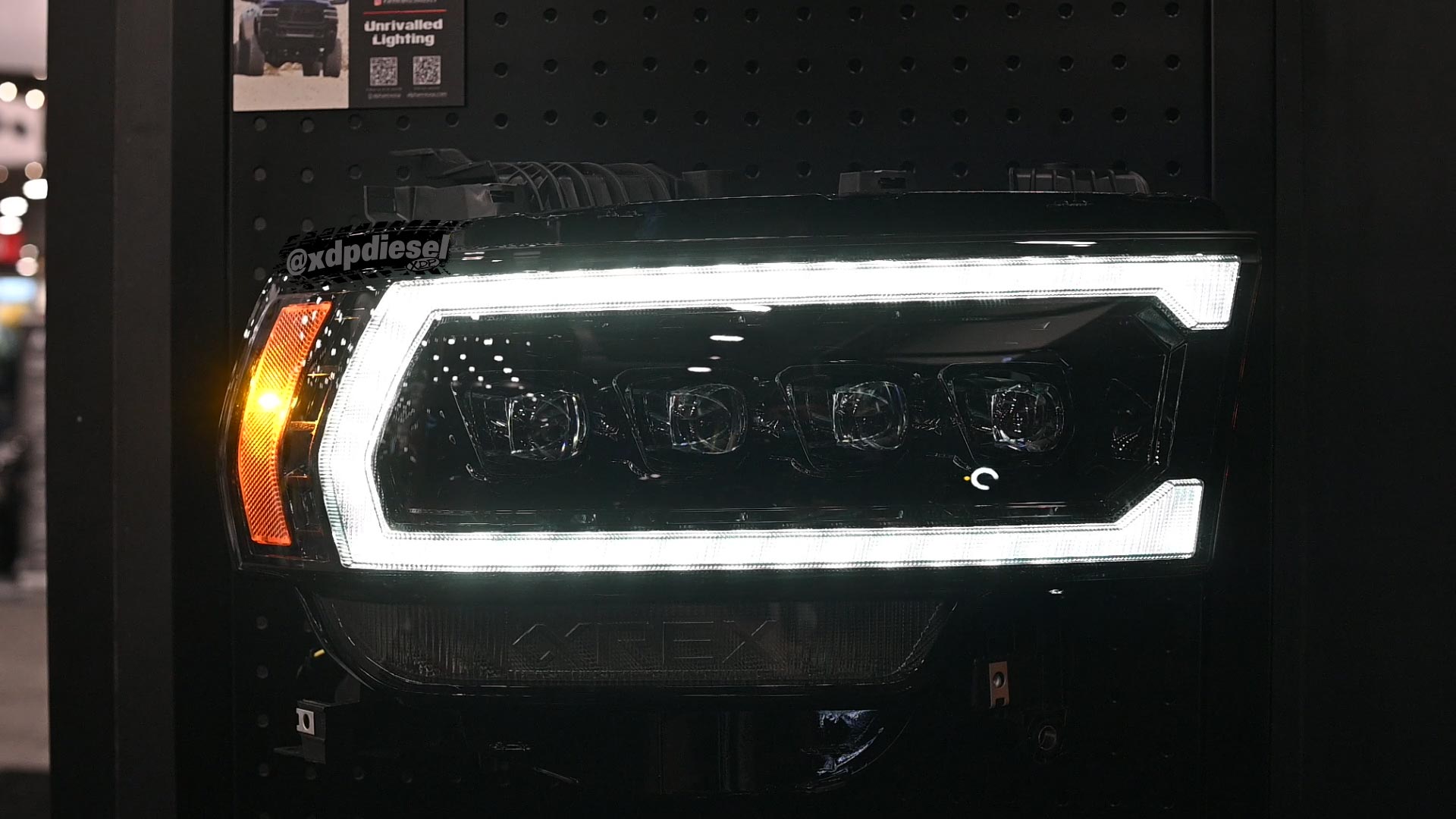 As the lights dimmed and we finished out day 2. We took a detour through the massive TIS Wheels exhibition area. Complete with a burnout pit of their own, TIS had vehicles of all shapes and sizes featured. From a slammed 5th gen Cummins, to lifted Powerstrokes and everything in between. As the sounds of burnouts and the smell of rubber faded in the distance, we headed back to the hotel to collect ourselves for the following day at SEMA.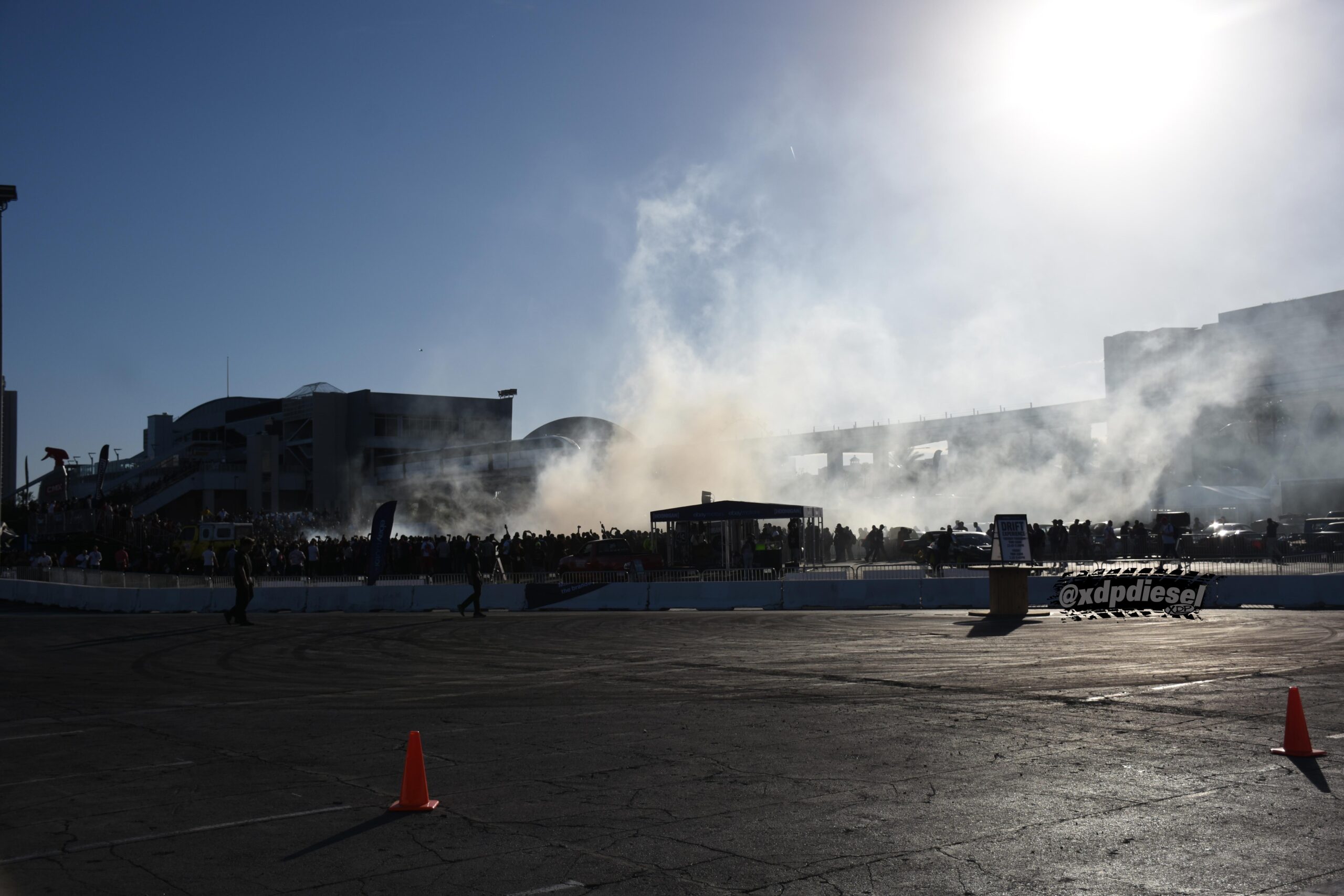 We even experienced some unexpected action on the Las Vegas strip that night. F1 cars from Red Bull, McLaren, and more flew up and down the strip. In promotion of the inaugural Las Vegas Grand Prix that would take place over the weekend. No better sound to put us to sleep after a long day at SEMA than the sound of race-tuned engines echoing up and down the strip.
Day 3
Our final day at SEMA was spent back in Central Hall collecting content for our SEMA Show 2022 Recap video! If you've been keeping up to date with our regular YouTube uploads, be sure to check out the SEMA Recap on the XDP YouTube Channel!
The party in and around Central Hall had only heated up since day 1. The Skip Barber Racing School started the day wheeling a series of Toyota Supras on a figure 8 track. Beyond figure 8's, the Hoonigan burnyard had grown. The line of cars ready to make some smoke extended throughout the eBay Motors Experience space. Across the way, truck builds from the likes of Gabe Farrell, thatgirlwiththebigtruck, Hunter Clark, and more lined the street. Showgoers eager to get a closer look and express their opinions on what they saw.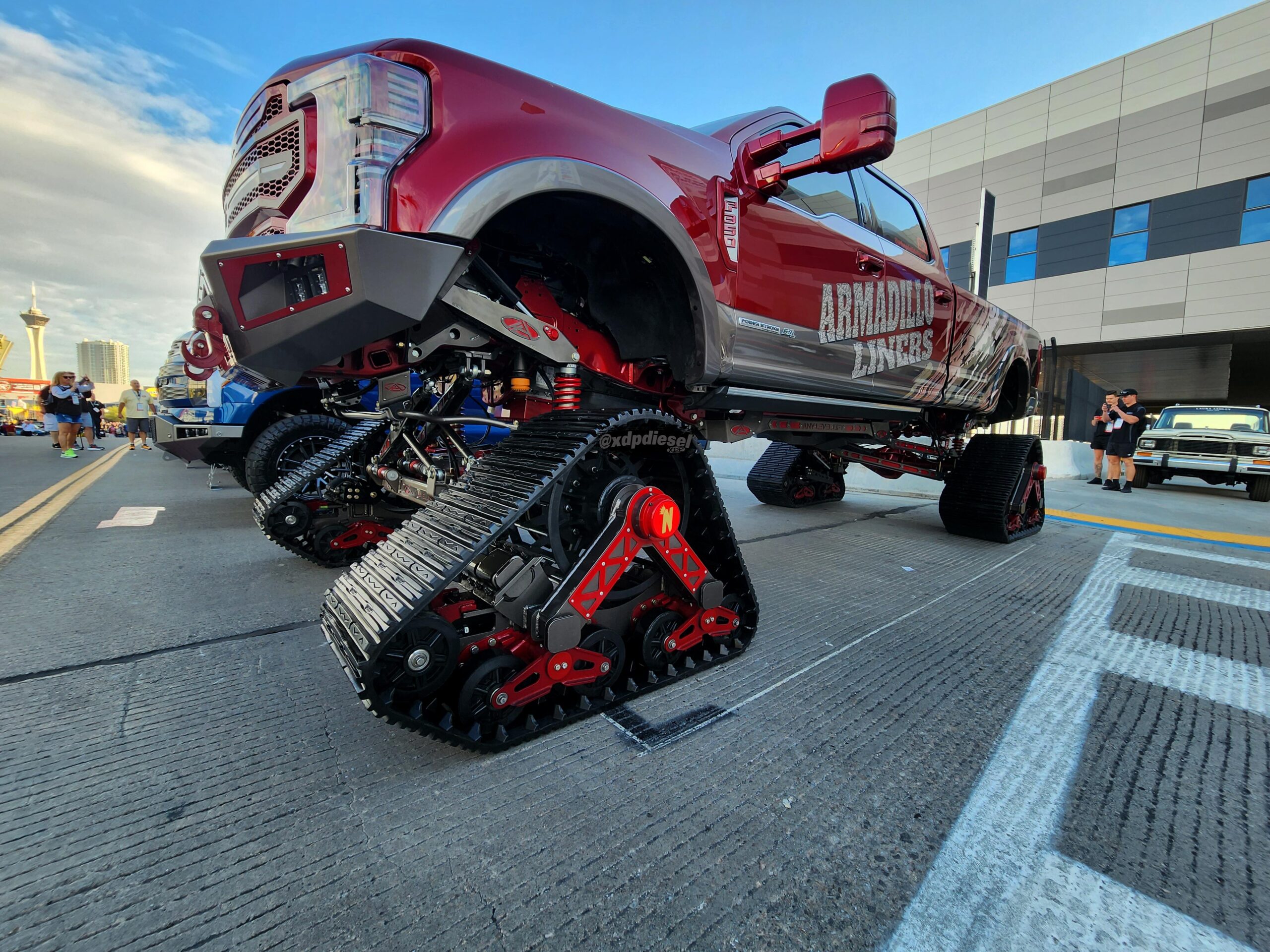 BDS and FOX…
…set up shop outside, showing off their next generation of suspension innovations. The centerpiece of the booth was the now well-known BDS Bronco. Modeled around a fire truck and revealed at SEMA 2021 in the Ford booth. In addition, BDS and Fox products were featured as part of new Ford F-150 and Chevy Silverado builds. BDS and Fox doubled down on their commitment to giving customers the best products by providing consistent comfort and reliability. Especially when using their suspension components and upgrades on your vehicle.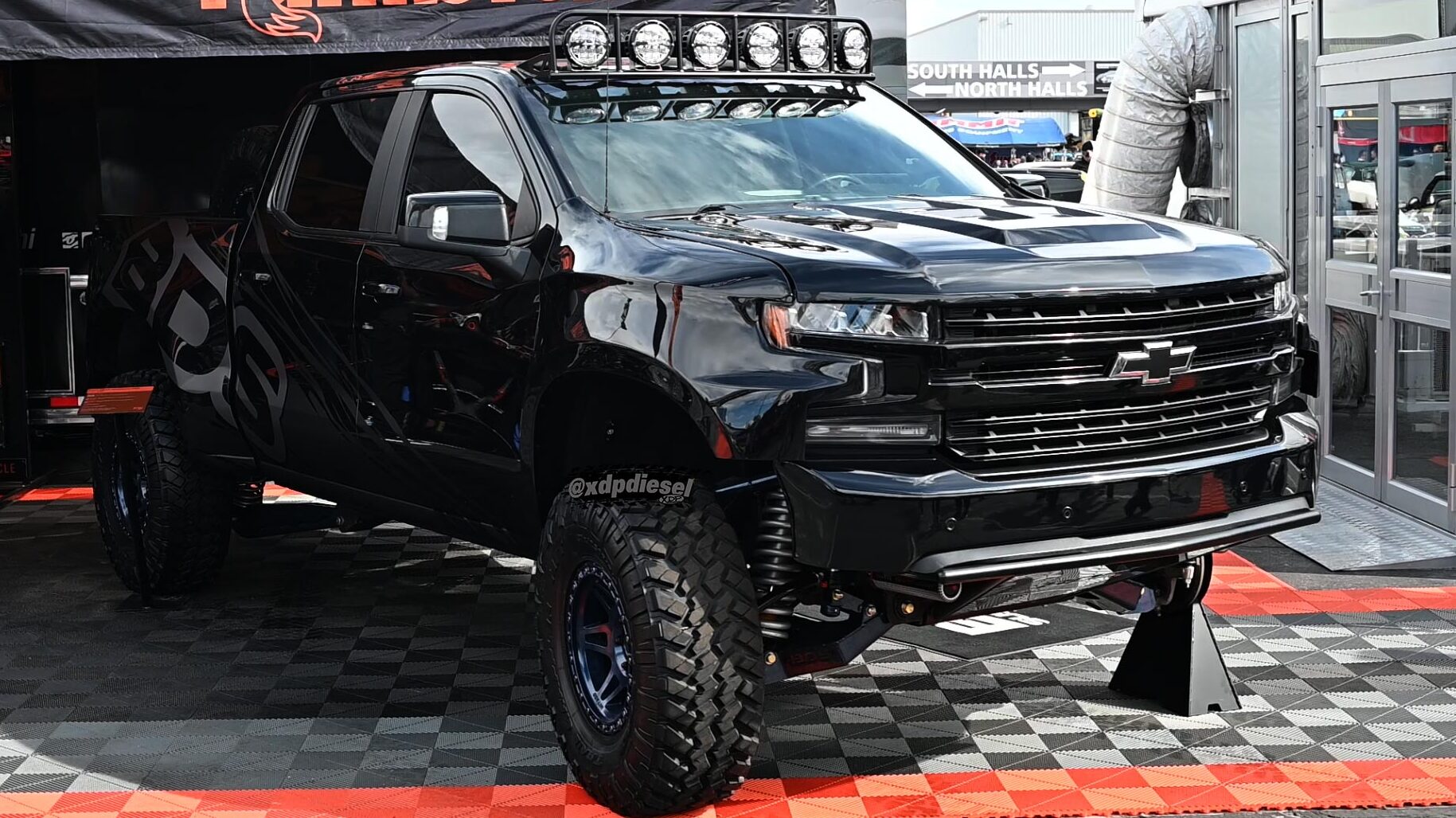 Back indoors we took a final lap to see the new (and somewhat controversial) Dodge Charger EV, complete with electronically generated exhaust noise. Dodge was showing off the horsepower they're famous for with Hellephant, Hellcat, and other high horsepower engine builds on display. You could feel the speed with a hands-on virtual drag strip in the Hellcat simulator. Showgoers competed against each other for supremacy on the leaderboards with the best quarter-mile times.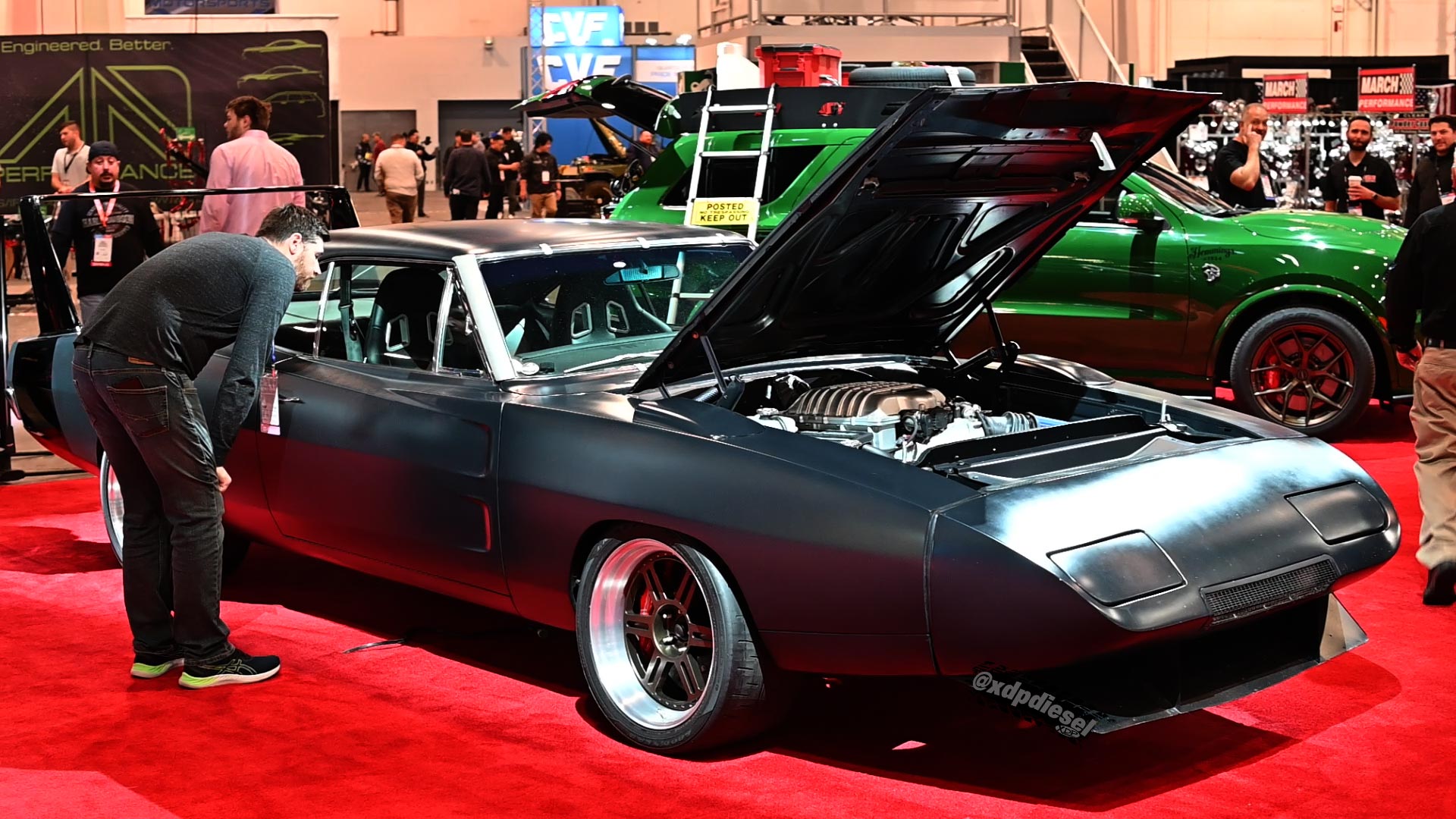 Diesel Record Holder
The day flew by and the 'chutes deployed as we began to head for the exits. Our trek back to SEMA Central gave us the opportunity to stop and take in the sights along the way. We slowed our roll to check out Scott Birdsall's Pike's Peak record-breaking Cummins-powered '49 Ford F1. Scott's record-breaking time of 11:24.065 in the 2020 hill climb event made him the fastest diesel on the course. The rest is history.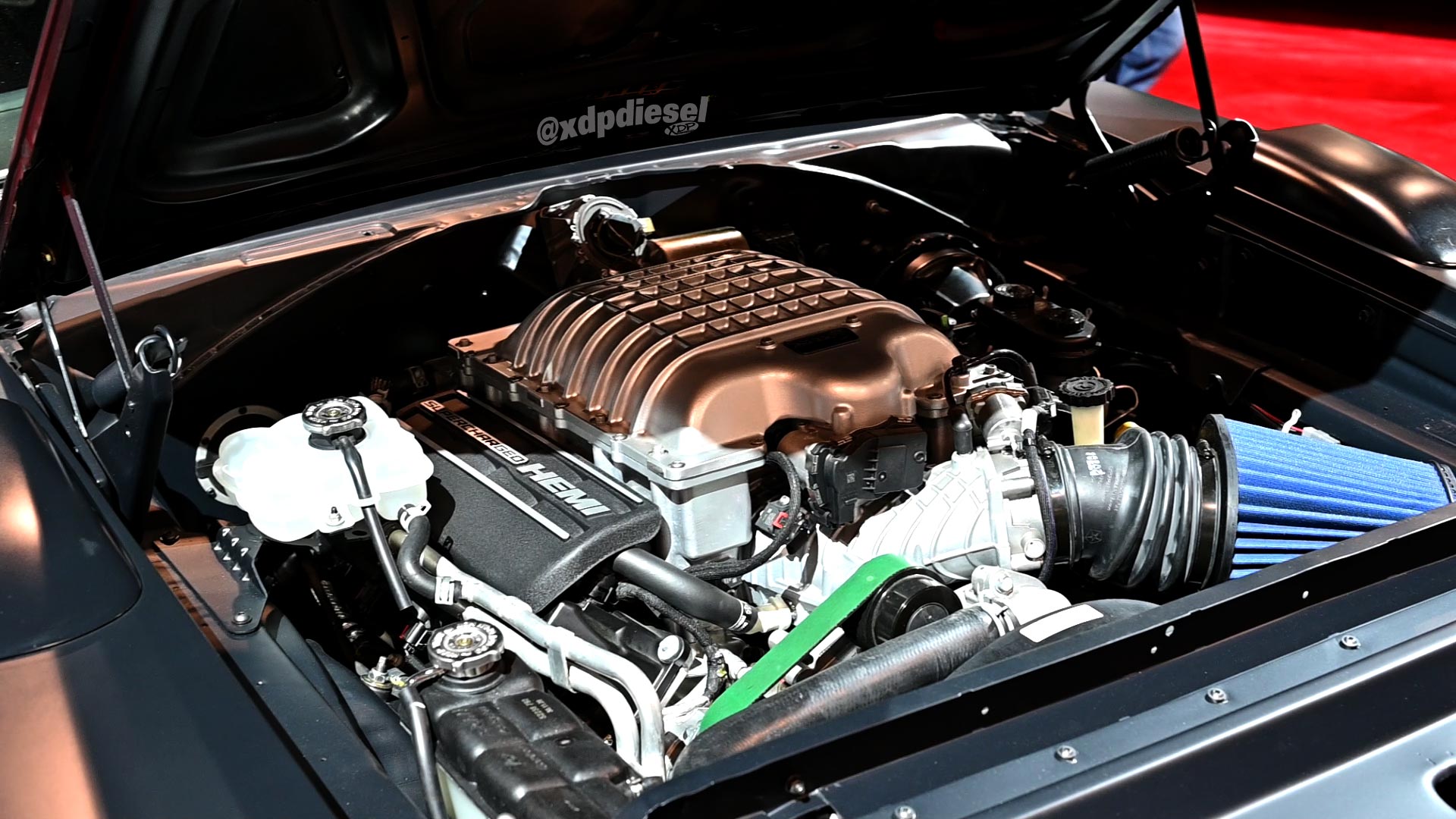 YouTuber Rich Rebuilds one-of-a-kind V8-swapped Tesla, was something to see in the Magnuson Superchargers booth. Rich's ambitious endeavor to take the all-electric Tesla and give it a fire-breathing powerplant was no small undertaking. His journey with the car is well cataloged on his YouTube Channel. Considering all the obstacles faced is nothing short of an engineering marvel. Last but not least, we caught a glimpse of the many Ford Broncos that had been in a multitude of booths. The stampede of Broncos was most prominently featured at the Bestop booth. Complete with unique bronco builds from each generation of the vehicle. These themed builds even included a 1980s Miami Vice-inspired Bronco, that would have Don Johnson ready to trade in his Ferrari.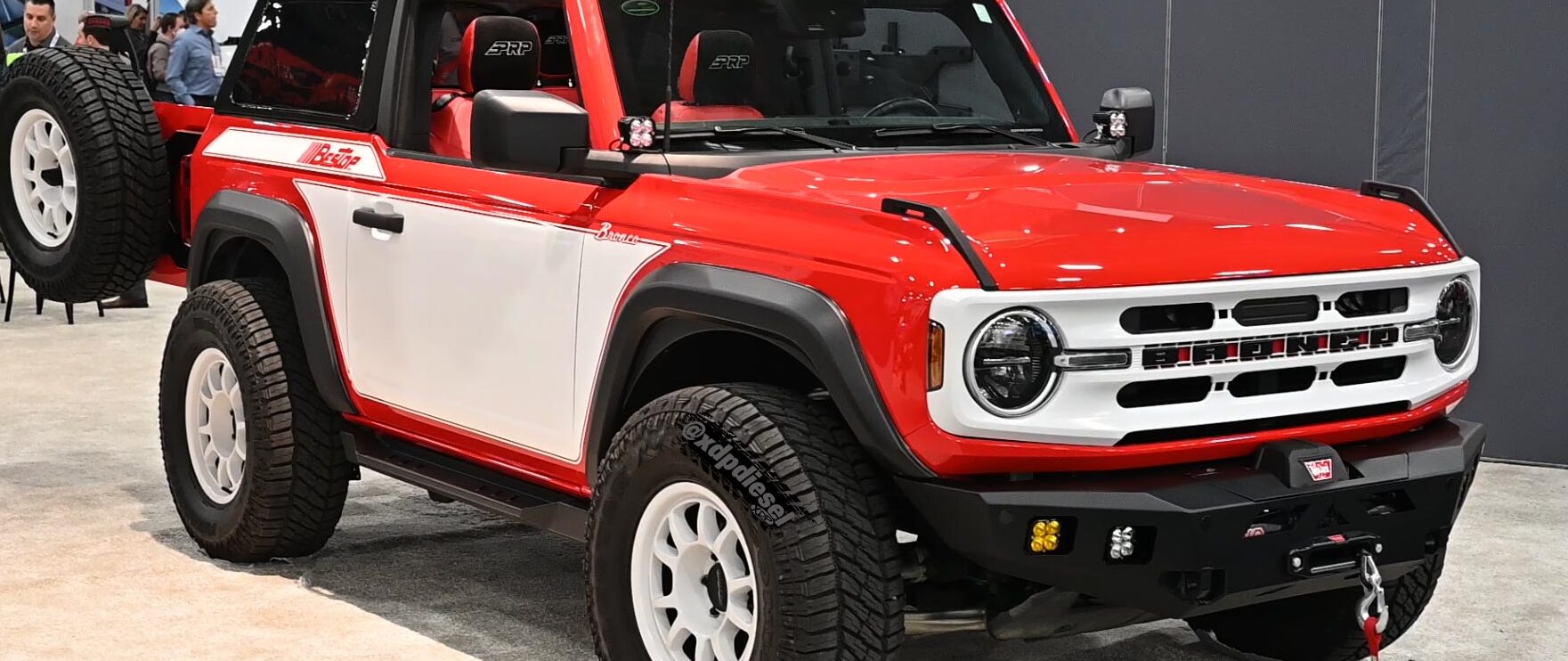 Just as soon as we had gotten to the SEMA show, our whirlwind week was coming to a close. One last walk through West Lot, a quick merch haul, and a short trip through the Tesla Loop and we would find ourselves back at the hotel. The SEMA show is truly a one-of-a-kind event that puts the best of the automotive aftermarket on the world's biggest stage.
What will the SEMA Show look like in the future?
On the final night of the SEMA show at the closing ceremonies, an announcement was made for a five-year expansion of the show. This new plan sets to encompass the entire city of Las Vegas. Dubbed "SEMA Week" this new experience coming in 2023 will still include the trade-only show at the Las Vegas Convention Center. As well as expand to the Las Vegas Fair Grounds, with an all-new "SEMA Fest." The festival to be held the weekend prior to the trade show week will combine the popular SEMA Ignited event. As well as incorporate automotive enthusiast-inspired events throughout the weekend.
This new strategy from SEMA hopes to bring together automotive enthusiasts in a must-see-to-believe car culture experience. This includes the SEMA Ignited Cruise, Live Musical Guests, VIP Experiences, Motorsports Exhibitions, and other automotive culture-inspired events. The SEMA Auction will also be a new feature of the week. Putting a spotlight on builds from throughout the entire industry.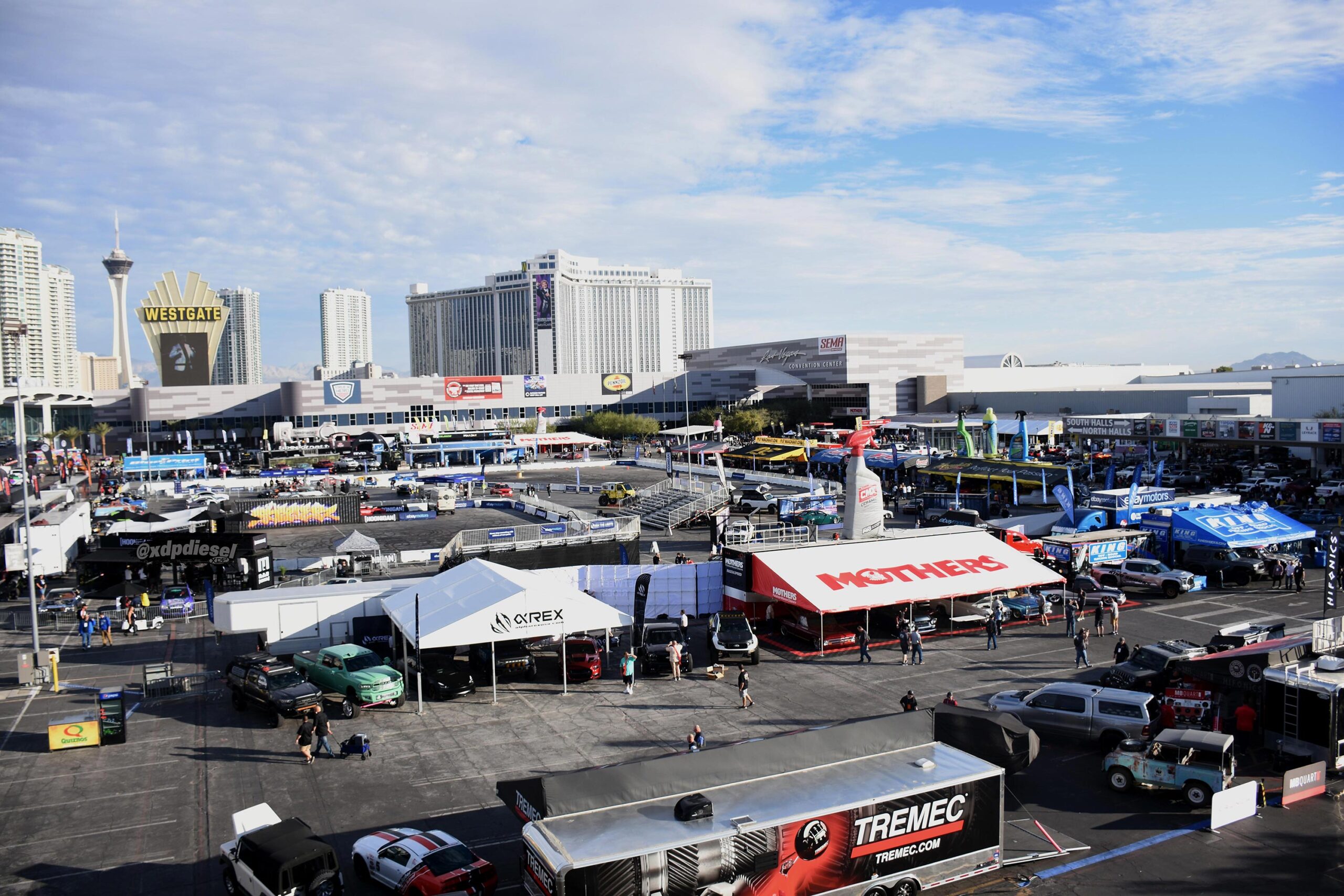 With all these new experiences coming in 2023, and even more that have yet to be announced. The excitement for next year's show is already mounting!