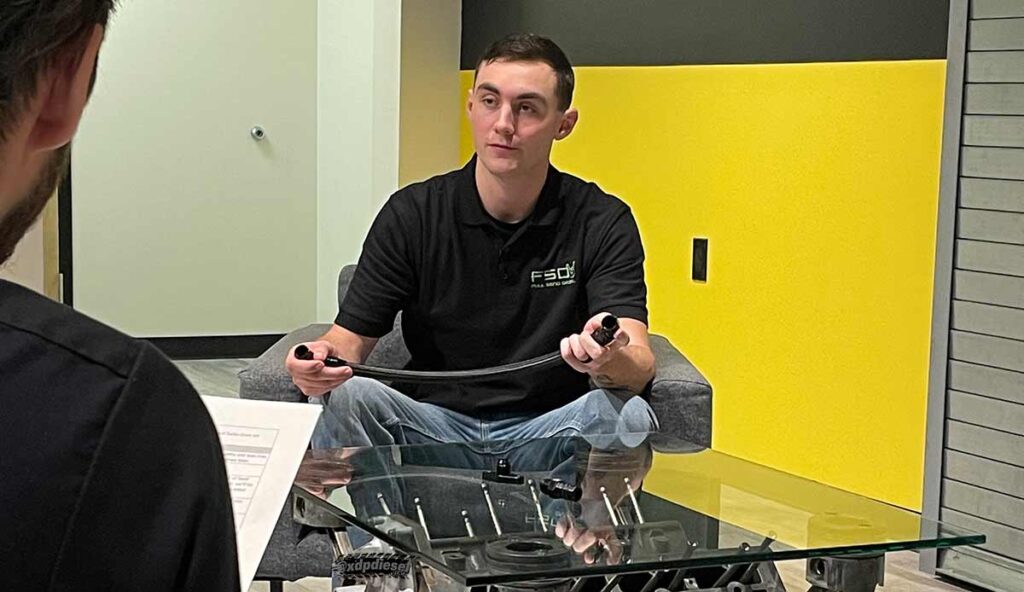 Starting in 2018, Full Send Diesel was founded by a diesel enthusiast for diesel enthusiasts. Beginning as a small operation, Full Send Diesel has become a well-recognized name in the industry. Kevin Kubinak, the owner of Full Send Diesel, recently stopped by XDP's Headquarters to meet the crew, and show off their specialty products like braided transmission cooler lines and turbo drain lines.
How It All Started
Around the age of 19, Kevin was an active-duty United States Marine, as well as a diesel enthusiast. He decided to start designing and manufacturing his own parts when he became unsatisfied with some of the products on the market for his truck. In his words, he "accidentally" started his own business and quickly began offering his product line to the public.
The "accidental" business has grown immensely over the past five years. The explanation for their growth has been through supplying the diesel aftermarket with high quality products, as well as making custom builds. Full Send Diesel specializes in heavy-duty braided replacement lines, and Kevin was enthusiastic to discuss them in detail during his visit.
Braided Transmission Cooler Lines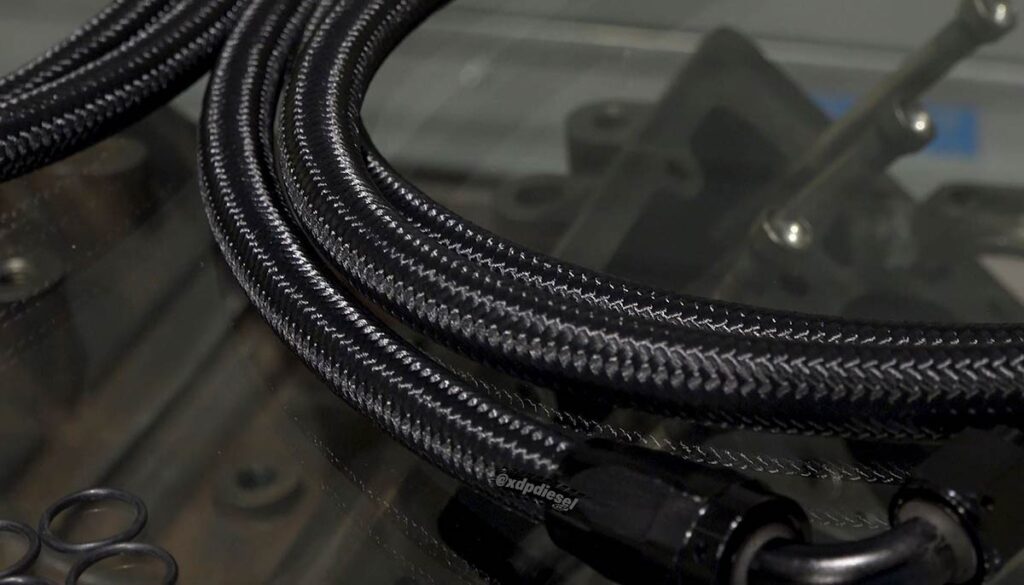 Full Send Diesel's Braided Transmission Cooler Line Kits provide a durable replacement over the leak prone factory transmission cooler lines. These lines are constructed of a high-quality black nylon braided hose and utilize billet AN fittings. In addition, they are corrosion resistant which also helps solve the common problem of lines leaking due to rust. Everything needed to install these line kits is included, such as the braided lines and necessary fittings. These easy to install kits are compatible with factory coolers along with drop-in aftermarket coolers.
Braided Turbo Drain Kits
If you're replacing your turbocharger, but don't want to reinstall the old, rusted drain line, replace it with the Full Send Braided Turbo Drain Kit. Each Turbo Drain Kit features a black nylon braided hose and AN fittings for both durability and a custom look. The drain flange and block fittings have less restriction due to a larger bore. This also helps to increase the oil flow out of the turbocharger. Each kit comes ready to install and is backed with a lifetime workmanship warranty.
Full Send Diesel has primarily specialized in Dodge Cummins products, but they are now expanding their line to cover Powerstroke and Duramax applications. The future's looking bright for Full Send Diesel, and we are proud to be a part of that future. Shop Full Send Diesel at XDP.com today!