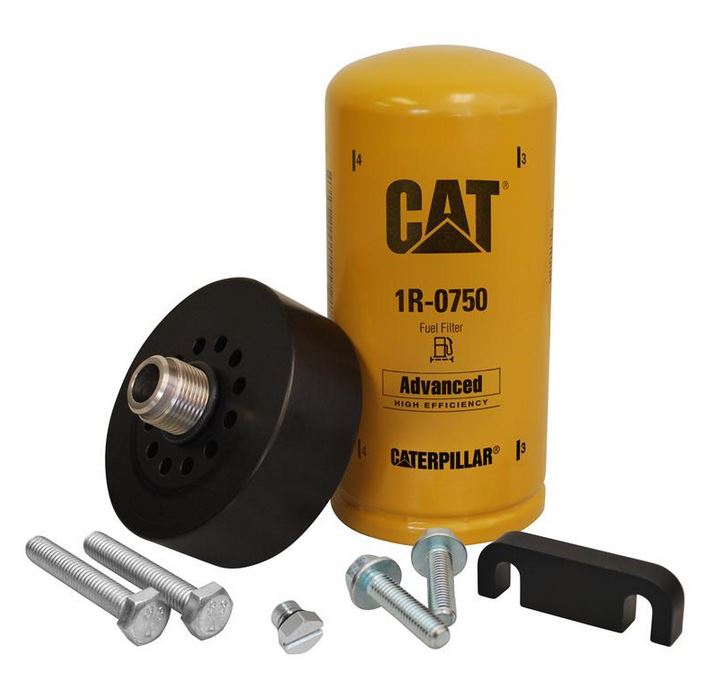 The XDP Duramax CAT Adapter with 1R-0750 Filter, Bleeder Screw & Spacer is an easy way to upgrade the factory fuel filter on your 2001-2016 GM 6.6L Duramax. The durable anodized filter adapter simply threads on to the OEM Filter Head and allows you run the more efficient and less expensive CAT Filter on your truck. For an even easier filter change, we also include a filter head spacer to give you more clearance for filter changes, along with an aluminum bleeder screw to replace the factory supplied plastic version that is commonly damaged during routine maintenance.
Step 1: If equipped, disconnect the factory fuel filter heater wire on the top of the factory fuel filter head.
Step 2: Unplug your Water in Filter (WIF) sensor at the bottom of your factory filter. This sensor can be saved or discarded as it will not be re-installed. (Removal of the WIF sensor will not trigger a check engine light.)
Step 3: Drain and remove your factory fuel filter.
Step 4: Disconnect the factory filter head by removing the (2) bolts securing the filter head to the mounting bracket.

Step 5: Reattach the filter head to the using the supplied 3/8" spacer and bolts. (2011+ applications will use the longer 45mm spacer bolts.)
Step 6: Lubricate the O-rings and thread the XDP filter adapter onto the factory filter head and hand tighten.
Step 7: If equipped, reconnect the factory fuel filter heater wire.
Step 8: Lubricate the CAT filter seal and hand tighten onto the adapter.
Step 9: Replace the plastic factory air bleeder screw with the new aluminum bleeder screw. (Fully tightening the new bleeder screw, prime the filter by depressing the priming pump 4-5 times and loosen the screw to bleed off the air. You may have to do this a few times until all air is completely out of the system.)

Step 10: Tighten your air bleeder screw, start the engine and check for any leaks. (If you have issues holding a prime, remove the adapter/filter and re-lube the O-ring/seal to ensure you have a good seal.)
Suggested Filter Service Intervals:
Used as the primary fuel filter – 10,000 Miles
Used as the secondary filter along with an aftermarket fuel filtration systems (Airdog, FASS, Fuelab, Etc.) – 50,000 Miles
Purchase the XDP CAT Fuel Filter Adapter Kit – Click Here!