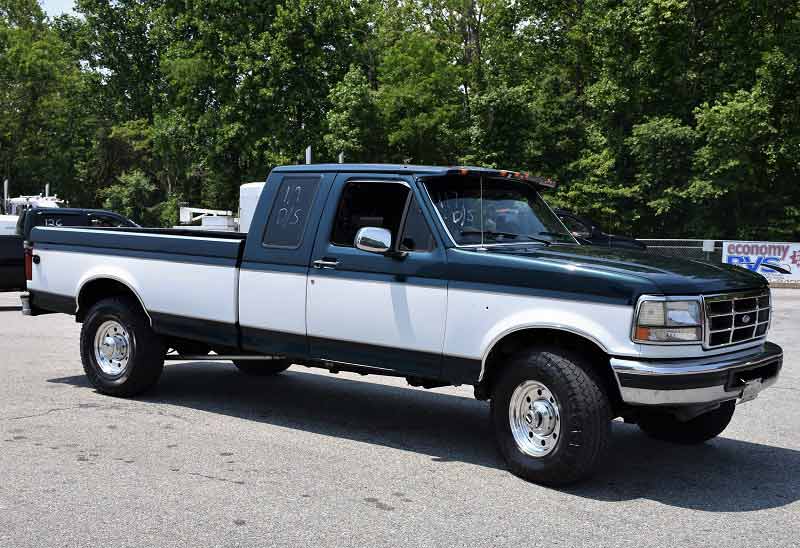 History/General Info
Nicknamed OBS for "Old Body Style" the 1992-1997 Ford F-Series are well known for their simplicity, reliability, and of course classic styling. One option that really raises the overall desirability and value is the 7.3L Powerstroke diesel engine. Introduced during the 1994 model year, the 7.3L Powerstroke is still one of the most sought-after Ford powerplants ever produced.
With Dodge and Cummins partnering up in 1989, it changed the entire landscape of the heavy-duty truck market and forced Ford and GM to play catch up. The 6.9L/7.3L diesel offerings by Ford were reliable engines but the power levels paled compared to the 6BT Cummins. Five years after Dodge sent shockwaves through the industry by putting a Cummins under the hood, Ford countered with the Powerstroke.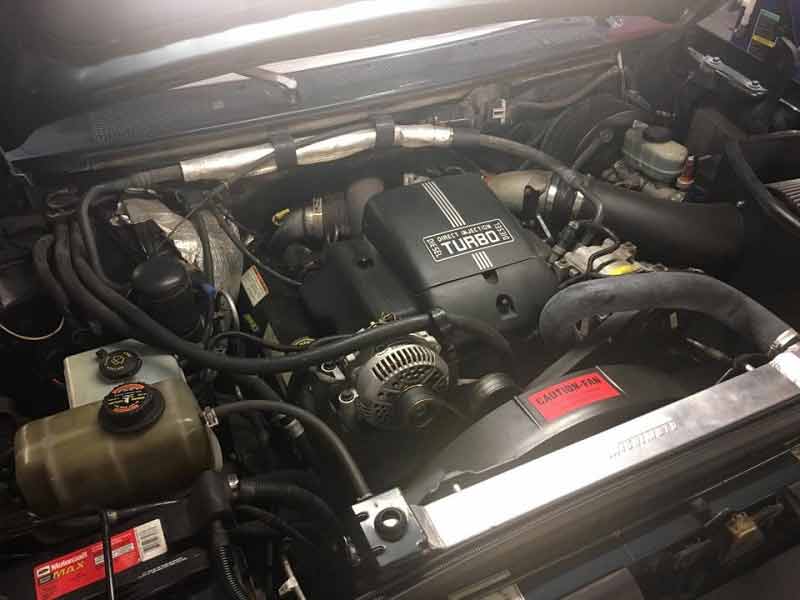 Not to be confused with the earlier 7.3L International Harvester IDI, the new 7.3L Powerstroke varied greatly from its predecessor with the bore and stroke being the only thing they had in common. The Powerstroke was manufactured by Navistar International and based on their T444E engine. The acronym T444E stands for Turbocharged, 444 cubic inch displacement, Electronically Controlled. Although the Powerstroke was based on the T444E there were some slight variances specific to Ford applications, with the Powerstroke using a different PCM (powertrain control module) and turbocharger, as well as some other small differences. The T444E was the first engine to be marketed under the Ford Powerstroke name.
Some of the biggest highlights of the 7.3L Powerstroke turbodiesel were Direct Injection and the HEUI (hydraulic electric unit injector) injection system. HEUI uses highly pressurized engine oil to create fuel pressure directly in the injector body, as opposed to requiring a typical injection pump. The HEUI offered improved performance and better fuel economy compared to the prior mechanical injection system.
7.3L Horsepower/Torque
Power levels in the 7.3L Powerstroke started out at 215 hp and 425 lb-ft of torque for the 1994.5-1995 model years and were bumped up to 225 hp and 450 lb-ft for 1996-1997. It is no coincidence that these numbers were slightly higher than the 6BT Cummins of the same era. The diesel power wars were heating up and we are still enjoying the benefits to this day as manufacturers continue to battle it out for the torque crown (all while making diesel engines cleaner and more efficient than ever before).
The 7.3L Powerstroke diesel was available in 3/4-ton (F-250) and 1-ton (F-350) models. Overall, the F-250 and F-350 shared a lot of commonalities. One of the biggest differences was F-250 models came equipped with a Dana 50 Front Axle and used Ford's TTB (twin-traction beam) independent front suspension. The F-350 models on the other hand were equipped with the stouter Dana 60 solid front axle.
Cab and Bed Length options varied slightly by year and depending on the model type as well. If you are looking for a Crew Cab Short Bed, that was only available in a 1996-1997 F250. If you want a Crew Cab and a Dana 60 Front Axle you will have to go with an F-350 long bed or do an axle swap on an F-250 CCSB. Another F-250 exclusive setup was a Super Cab with 4WD.
What To Look For When Purchasing a 7.3L
As with any older pickup truck, rust issues can be common (especially depending on your region). Camshaft position sensor (CMP) failures can occur over time, but luckily it is a DIY repair and inexpensive to replace. The turbocharger up-pipes are another common problem, with the pipes beginning to develop leaks over time. Leaks cause the engine to lose boost and the Exhaust Gas Temperatures (EGT's) to increase. The TTB Dana 50 front end (F-250) can be wear-prone and is typically not as desirable as the Dana 60 found in the F-350. These are just some of the common cosmetic and mechanical issues associated with these trucks.
Pros/Cons
Pros
Reliable
Classic Styling
Respectable Fuel Economy
Forged Steel Connecting Rods
400,000+ mile Longevity with Proper Maintenance
Cons
No Factory Intercooler
Camshaft Position Sensor (CMP) Failures
Prone to Typical Pickup Truck Rust Issues
Dana 50 Twin Traction Beam (TTB) on F-250 4WD Models
Weak Automatic Transmission
Review
The 7.3L Powerstrokes are known to easily last 400,000+ miles if they are well maintained, with plenty of trucks joining the exclusive million-mile club. Like most diesel engines they can be easily tuned/modified, producing a substantial increase in horsepower/torque. The E4OD automatic transmissions that backed these engines were adequate at best, fortunately, there are many upgrades available for potential buyers that plan on upping the power levels.
210 hp and 425 lb-ft of torque might have been impressive in 1994, but it pales to the power levels of a late-model diesel truck. Luckily the 7.3L Powerstroke really responds well to modifications and it can help close the gap quite considerably. Whether you are looking for upgraded performance or more power for towing, these are some popular upgrades.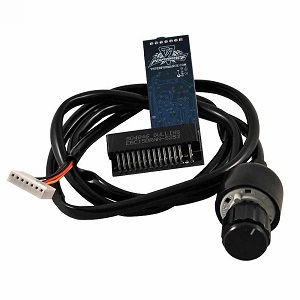 Easily add 50-140 HP to your 7.3L Powerstroke with a chip or programmer. They are a very easy installation and offer some of the best bang for your buck.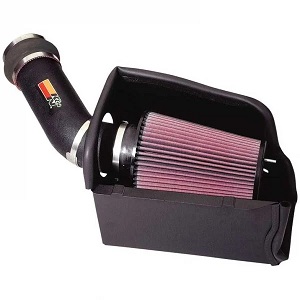 Air Intake Systems are one of the most common and least expensive performance modifications available. Increasing airflow leads to quicker turbo spool-up, improved fuel mileage, and more power.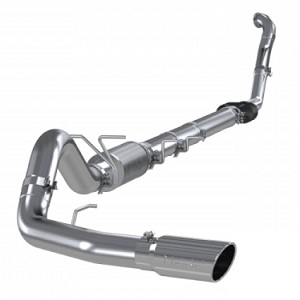 The benefits of increased exhaust flow are reduced EGT's (exhaust gas temperature), increased horsepower/torque, fuel mileage gains, and a deep throaty sound.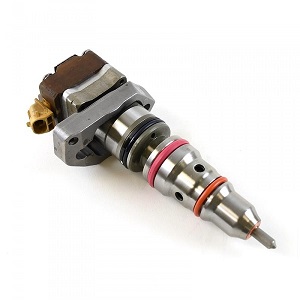 The average 7.3L fuel injector needs rebuilding at around 125K miles, replacing or rebuilding the fuel injectors will help restore power in your truck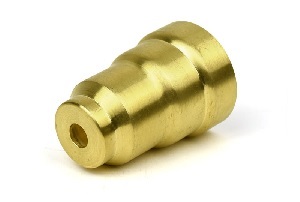 As your 7.3L Powerstroke engine ages in time and mileage, you may begin to encounter Injector Sleeve failure. When an Injector Sleeve fails it usually splits or cracks which allows fuel to enter into your cooling system.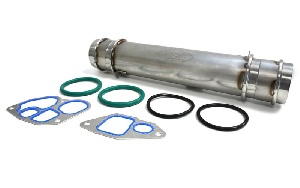 A failing oil cooler can cause leaks and elevated temperatures which can lead to catastrophic engine damage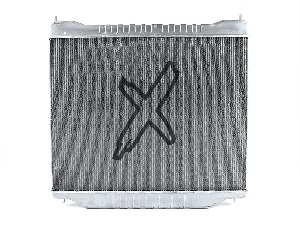 Over time, sediment and other contaminants can clog your factory radiator hindering its ability to properly cool your engine. This can lead to the damage of other vital components when the engine coolant isn't flowing like it should.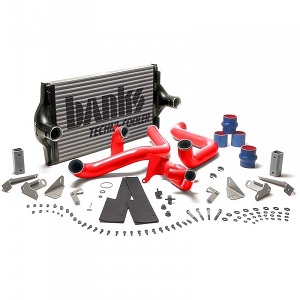 Adding an intercooler can help give your engine a continual supply of cool, dense, oxygen-rich air which helps improve the combustion as well as engine efficiency.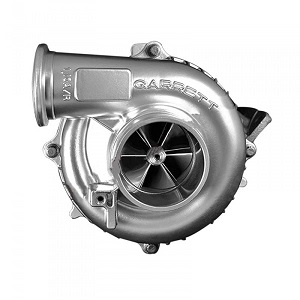 How can we list popular turbo diesel upgrades and NOT include turbochargers? There are plenty of benefits to upgrading such as faster spool-up and reduced EGT's.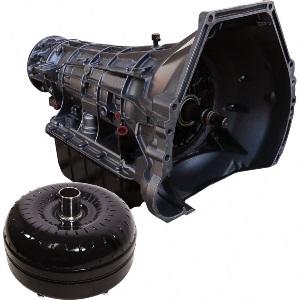 If you plan on adding significant power to your 7.3L, you will eventually need to upgrade the E40D Transmission.
1994-1997 Ford 7.3L Powerstroke Specifications
| | | |
| --- | --- | --- |
| Production Years: | 1994, 1995, 1996, 1997 | |
| Model Availability: | F250, F350, E250, E350, E450 | |
| Common Names: | 7.3, 7.3L, Powerstroke, Navistar T444E | |
| Configuration: | V8 | |
| Displacement: | 444 cubic inches, 7.3 liters | |
| Bore: | 4.11″ (104.4mm) | |
| Stroke: | 4.18″ (106.2mm) | |
| Cylinder Head: | Cast Iron w/ 6 Head Bolts Per Cylinder | |
| Engine Block: | Cast Iron | |
| Firing Order: | 1-2-7-3-4-5-6-8 | |
| Compression Ratio: | 17.5 : 1 | |
| Pistons: | Cast Aluminum | |
| Injection: | Direct Injection with Hydraulic Electronic Unit Injection (HEUI) Injectors | |
| Fuel Pump: | Cam-Driven Mechanical Lift Pump | |
| Turbocharger: | 1994 – 1997 | Garrett TP38 Fixed Geometry |
| Valvetrain: | OHV, 2 Valves Per Cylinder, Hydraulic Lifter Camshaft | |
| Weight: | Approx. 920 lbs (Dry) | |
| Oil Capacity: | 15 qts w/ Filter (14.2L) | (Original Ford spec for 1994 was 12 quarts. The dipstick was changed in the 1995 to indicate a full crankcase at 14 quarts) |
| Horsepower: | 1994-1995 | 210 Horsepower |
| | 1996 | 215 Horsepower |
| | 1997 | 225 Horsepower |
| Torque: | 1994-1995 | 425 lb-ft of Torque |
| | 1996-1997 | 450 lb-ft of Torque |
| Battery: | Group Size 65 | |
| Transmissions: | ZF S5-47 5-Speed Manual | |
| | E40D 4-Speed Automatic | |
Fluid Specifications & Capacities
Engine Oil:
15W-40
Acceptable viscosity in ambient temps > 10° F
Preferred viscosity in ambient temps > 30° F
15.0 qts Capacity w/ Oil Filter (14.2L)
10W-30
Acceptable viscosity in ambient temps -10 to 90° F
Preferred viscosity in ambient temps -10 to 30° F
15.0 qts Capacity w/ Oil Filter (14.2L)
5W-30
Acceptable viscosity in ambient temps < 30° F
15.0 qts Capacity w/ Oil Filter (14.2L)
0W-30
Acceptable viscosity in ambient temps < 0° F
15.0 qts Capacity w/ Oil Filter (14.2L)
Engine Coolant:
50/50 Ethylene Glycol Coolant, Distilled Water
29 Qt Capacity
(7.24 Gallons)
Automatic Transmission Fluid:
E40D 4-Speed
Mercon V ATF
4X2 15.7 qts
4X4 16.2 qts
Manual Transmission Fluid:
ZF S5-47 5-Speed
Mercon V ATF
3.4 qts
Transfer Case Fluid:
BW1356
Mercon V ATF
2.0 qts
Front Differential Fluid:
Dana 50 IFS
SAE 80W-90
1.9 qts
Dana 60 Front
SAE 80W-90
2.9 qts
Rear Differential Fluid:
Sterling 10.25″ Rear
SAE 75W-140
3.75 qts
Sterling 10.50″ Rear
SAE 75W-140 or SAE 90 Hypoid Gear Oil
3.45 qts
Dana 80 Rear
SAE 75W-90
4.15 qts
Dana 135 Rear
SAE 80W-90
12.25 qts (F-550 Super Duty Only)
Maintenance Schedule
Service Procedure
Interval
Replace Engine Oil & Filter:
5,000 miles/6 months under normal driving conditions
3,000 miles/3 months under severe driving conditions
Replace Fuel Filter:
15,000 miles
Replace Air Filter:
30,000 miles/30 months
Engine Cooling System:
30,000 miles/36 months
Replace Automatic Transmission Fluid & Filter:
30,000 miles
Replace Manual
Transmission Fluid:
60,000 miles
Replace Transfer Case Fluid:
60,000 miles
7.3L Powerstroke Fuel Injector Codes
Application(s)
Injector Code
Type
Max Flowrate
Notes
1994 – 1996 (All)
1997 Non-CARB
AA
Single Shot
98 cc
1997 Model year engines designed to meet California emission standards (CARB certification) feature AB split shot injectors, NOT AA.
1997 CARB
All Early 1999
AB
Split Shot
130 cc
1997 Model year engines sold outside California featured AA single shot injectors, NOT AB.
International T444E
(high torque models)
AC
Single Shot
160 cc
AC injectors are similar to AB injectors, but are a single shot design with a higher flow-rate. They are found in International T444E engines, but were never used in Powerstroke models.
Late 1999 – 2003
AD
Split Shot
140 cc
Used in all 1999+ 7.3L Powerstroke and International T444E engines.
Late 1999 – 2003
AE/AF
Split Shot
140 cc
Based on an AD injector, used in the number 8 cylinder from the factory. These are long lead injectors.