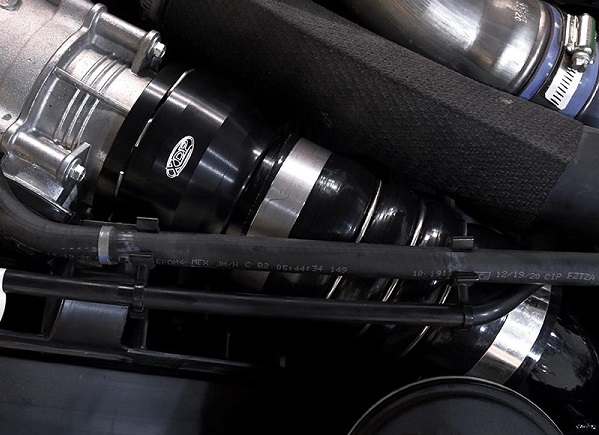 The factory plastic cold-side intercooler pipe on the 2017-2021 Ford 6.7L Powerstroke is not only prone to cracking as they get older, but they can also fail under high load conditions such as towing or hauling heavy loads. Don't wait until your intercooler pipe leaves you stranded on the side of the road. Upgrade and eliminate the weak point in your Powerstroke with the XDP 6.7L Intercooler Pipe Upgrade XD364.
Along with many other components in the engine compartment, your intercooler plumbing is subject to extreme heat, harsh conditions, and countless heat cycles. As it ages, the plastic will naturally become brittle and eventually split or crack. Many stock intercooler pipes have been known to fail with less than 100K miles on the odometer. Unfortunately, the intercooler pipe never fails while your truck is parked on the driveway. It's usually an unexpected failure at the worst time, while you're pulling a heavy load or driving long-distance.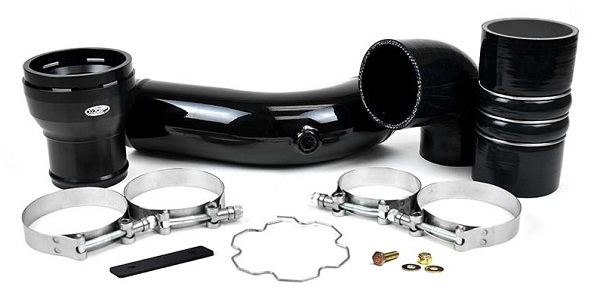 3″ Mandrel-Bent Steel Tubing
The XD364 Intercooler Pipe Upgrade replaces the weak plastic tubing with a 3″ mandrel-bent steel pipe for long-lasting durability. Not only is the XD364 a great addition for your stock truck, but it is also preventative maintenance if you have performed other modifications to your vehicle. The plastic intercooler pipe is barely capable of handling the stock power levels, never mind a 6.7L that has seen a significant increase in power.
Billet Aluminum Adapter and Reinforced Silicone Couplers
One of the key areas that is prone to cracking on the stock setup is the plastic adapter. To further improve on the factory design, the XD364 Intercooler Pipe Upgrade utilizes a billet aluminum adapter. As with the stock setup, it still snaps into the OEM location to keep this a simple bolt-on installation. Also included are reinforced silicone couplers for increased strength and reliability. Best of all, this upgrade does not require aftermarket tuning or modifications for installation.