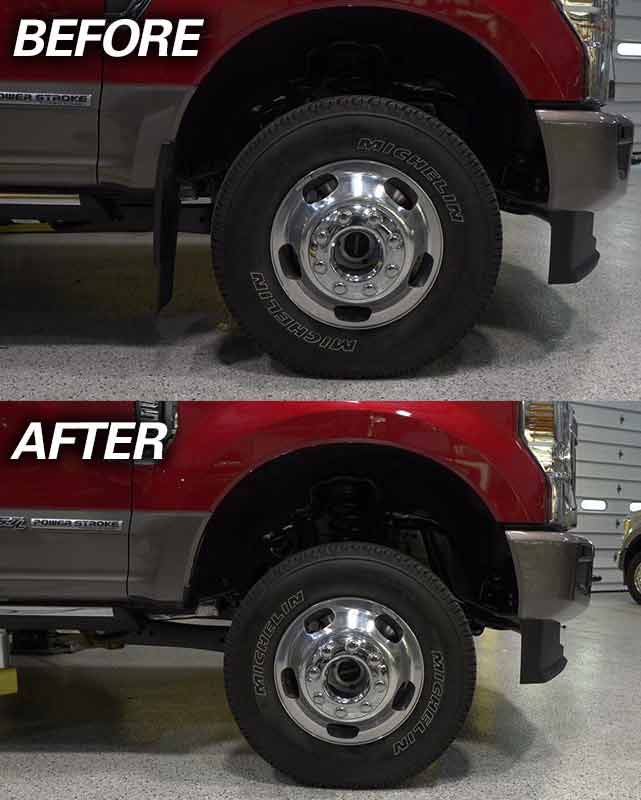 What is a Leveling Kit?
A leveling kit is designed to level out the front of your vehicle to match the rear ride height. Most trucks, SUVs, and Jeeps come from the factory with a slight rake. Rake is the term to describe when the rear of the vehicle sits a little higher than the front. Manufacturers typically incorporate some rake to allow the vehicle to level out once weight is added to the rear. This can be useful when hauling heavy loads or towing. When weight is added, the rear suspension will compress and level out (or sit even lower than the front).
Benefits of a Leveling Kit
Manufacturers have their reasons for incorporating some rake into the vehicle when they design it, but many enthusiasts prefer to eliminate the nose-down look. Raising the front of the vehicle to match the rear ride height increases ground clearance which provides a more capable vehicle off-road. In addition, leveling the front can also be beneficial when installing heavy front-end equipment such as a snowplow. Finally, and one of the most important reasons is it allows for slightly larger tires. If you cannot fit a larger tire under the front with the factory suspension, sometimes a leveling kit is all that is needed for proper clearance.
What type of Leveling Kits are there?
Different types of leveling kits are available for the wide variety of front suspension setups used in modern vehicles. Common front suspensions include Leaf Springs, Coil Springs, Torsion Bars, and Struts. Below we take a closer look at some of the leveling kits available at XDP for each suspension type.
Leaf Springs
Mini Leaf Spring Packs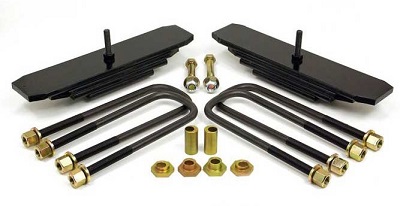 Mini leaf spring packs are designed specifically for vehicles with front leaf springs. The main principle is inserting a leaf spring mini pack to push the axle down. A leaf spring mini pack typically does not alter the spring rate, for those that wish to retain the factory ride. New, longer U-bolts may be required and are often included in many kits.
Add-A-Leaf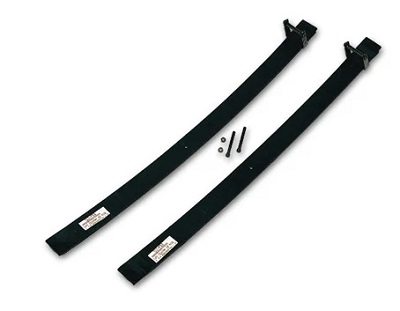 Add-A-Leafs are another alternative for trucks that utilize leaf springs. Although they are commonly used in the rear suspension, kits are also offered that are designed specifically for front leaf springs. Adding another leaf spring to the front leaf pack is another method of leveling a truck. Similar to upgrading the leaf springs, this will also increase the spring capacity. In addition, this can help cure the spring fatigue that is common on older vehicles. Add-A-Leafs can also be quite beneficial for those running a front-mounted winch or snowplow.
Shackles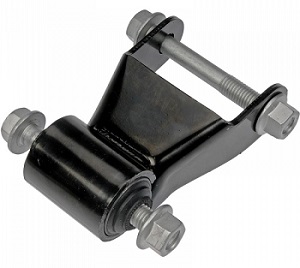 Another way to get a little extra height out of a truck with leaf springs is to replace the shackles. Changing the shackle length can move the axle down further and raise the body up. Like the leaf spring packs or blocks, this option will retain stock ride and handling characteristics. Reverse leveling kits are also available that lower the rear of the vehicle.
Coil Springs
Coil Spring Spacers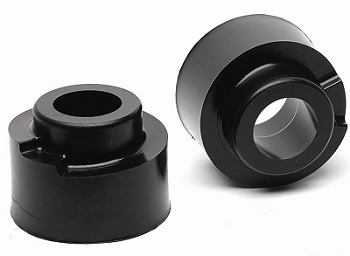 Spacers are offered in many different shapes, sizes, and materials. They are typically placed above or below the coil spring to raise the front of the vehicle. They are less expensive in cost compared to installing brand new coil springs. Another benefit is that spacers are known for maintaining the factory ride since the springs are not being replaced.
Coil Springs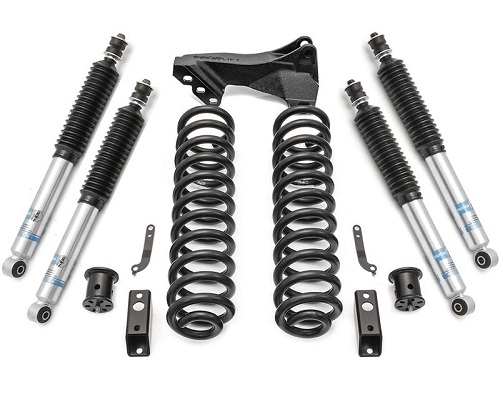 Leveling kits are also available consisting of longer coil springs to raise the front ride height. The benefits of a new coil spring can be new progressive rate springs that can upgrade the ride and handling. Many coil spring leveling kits also include new front shocks as well as any necessary extension/relocation brackets.
Torsion Bars
Torsion Keys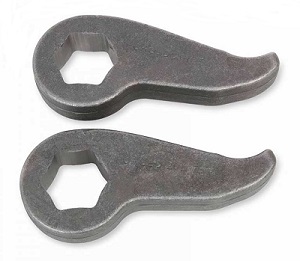 For vehicles with a front torsion bar suspension, aftermarket torsion leveling keys are available that re-index (or re-clock) the key. These torsion keys are designed to mimic the factory keys in shape and function but rotate the hexagonal hole in the key a few degrees. This slight change can result in up to an additional 2.5″ of lift. As an added benefit, many aftermarket leveling torsion bar keys can also feature stronger construction than the stock keys.
Struts
Strut Extensions/Spacers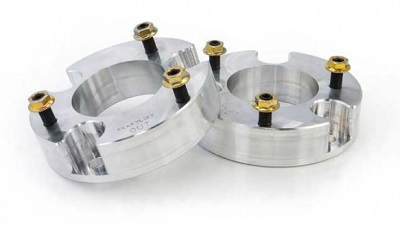 Strut extension or spacers leveling kits are available for vehicles that utilize a front strut or a coil-over assembly. These extensions or spacers are bolted in place on top of the strut. This can help raise the vehicle's ride height to the desired level. Strut extensions are a quick and inexpensive way of leveling your vehicle.
Selecting a Leveling Kit
When choosing a leveling kit for your vehicle there are plenty of cheap alternatives available through the usual channels. Remember the old saying, "you get what you pay for" before making that purchase. Saving a few dollars can cost you a lot more money in the long run. If they break you will need to purchase replacements and then install them a second time. This doesn't even take into consideration how much damage can occur to the vehicle or the passengers if something fails while you are driving. Sticking with parts from reputable name-brand manufacturers such as Cognito Motorsports, ReadyLift, Daystar, Tuff Country, No Limit Fabrication, Bilstein, CST Performance Suspension, PacBrake, Performance Accessories, Moog, & Nitro Gear is always recommended.
Installation
Leveling kits are typically considered a DIY install. Installation is usually a straightforward bolt-on procedure and can be performed right in your driveway. If you are not comfortable tackling this installation yourself, the vehicle can be taken to a local shop/garage to have the leveling kit installed for you.
Make sure to follow the manufacturer's installation instructions. Depending on the leveling kit, other parts may be required, such as new front shocks or a track bar. Adjusting the headlights after installation is also highly recommended. Finally, anytime you install a leveling kit or make a change to the suspension in general, an alignment may need to be performed before you start putting some miles on the vehicle.
If you have any questions on a leveling kit for your truck, contact the Performance Specialists at XDP (888-Diesel-4).
Shop Leveling Kit Manufacturers –