The Bosch CP4 high-pressure fuel injection pump debuted in 2011 in the Ford 6.7L Powerstroke and GM 6.6L Duramax engines. Since its introduction, it has been subject to unusually high failure rates and warranty claims, often leading to expensive repair bills. There are many theories on why the CP4 pumps are so failure prone. From a lack of lubricity in the ultra-low sulfur diesel (USLD) fuel available today to the lifters rotating. If a lifter turns sideways it can begin to cut into the cam. These metal shavings are then circulated through the fuel system damaging components such as the fuel rails, high-pressure lines, injectors, return lines, and more.
What Can You Do After a CP4 Failure?
In the event your truck's fuel system becomes compromised, finding all the right parts you need in one location can be tricky. Getting your truck back on the road is a top priority when dealing with a CP4 failure. XDP Fuel Contamination Kits for 2011-2019 6.7L Powerstroke and 2011-2016 6.6L LML or LGH Duramax applications help offset the time it takes to source parts individually.
You can trust that the XDP Contamination Kits include the necessary OE-style replacement parts in these kits. These kits include high-quality parts such as:
Fuel Rails
Injector Lines
Fuel Return Lines
Remanufactured injectors
Pump Installation Kit with Fuel Line
Remanufactured CP4 Injection Pump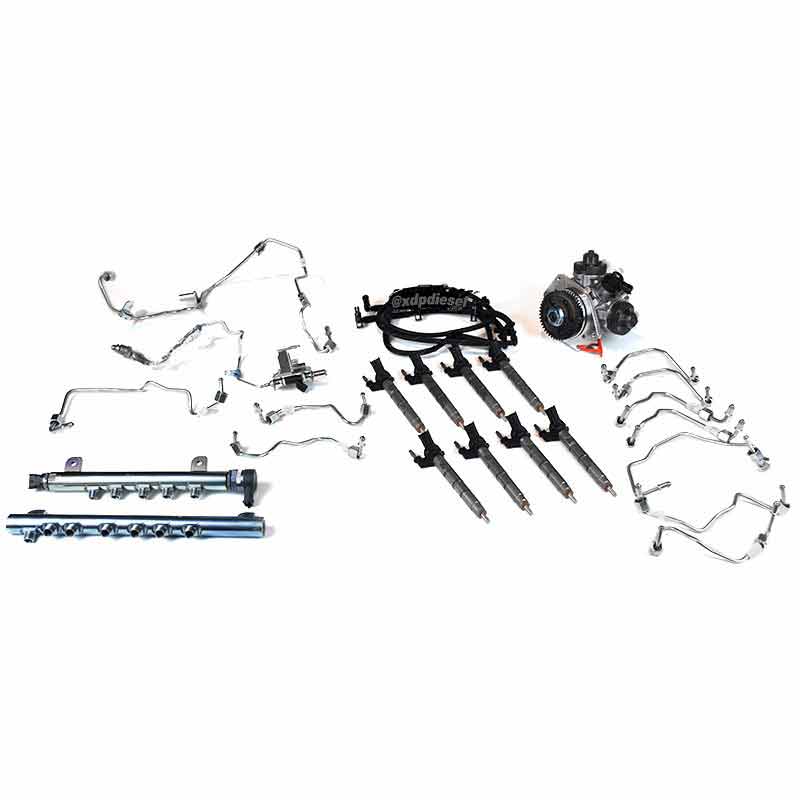 Photos by Andrew Russo
In addition to convenience and reliability, XDP has detailed, informative videos that can be beneficial when shopping and installing these kits on your vehicle.
Fuel Contamination Kits Q&A
This installation of a contamination kit is no small project. Based on skill level and familiarity with the engine platform. This type of project is a very involved installation and can take significant time for even the most skilled do-it-yourselfer. If you do choose to tackle this project at home, keep in mind some injectors require the input of an Injector Quantity Adjustment (IQA) or trim code to the ECM. These codes tell the ECM how much fuel is being injected into each cylinder.
When reusing fuel system components make sure your tank, lines, lift pump and other components have been cleared of contaminants. All this cleaning helps avoid recirculating contaminants through your new fuel system components and damaging new parts.
So, if your truck has experienced a CP4 failure and your fuel system has your truck sidelined. Get what you need to get back on the road all in one place. Shop XDP.com for all the parts you need to get your truck back up and running after a CP4 failure!