Seaside Boardwalk, Seaside NJ, September 10th, 2022—
Entrants, spectators, and beachgoers alike flooded the streets and the boardwalk for an awesome event in Seaside on Saturday morning. Anticipation for the Seaside Truck Show had been growing since it was postponed back in May due to rain. Thankfully, on this rescheduled day in September, there wasn't a cloud in the sky. Trucks were parked in the lot adjacent to the Sawmill Café since the night before, waiting for the show to begin. Many traveling from the broader tri-state area to enjoy the weekend.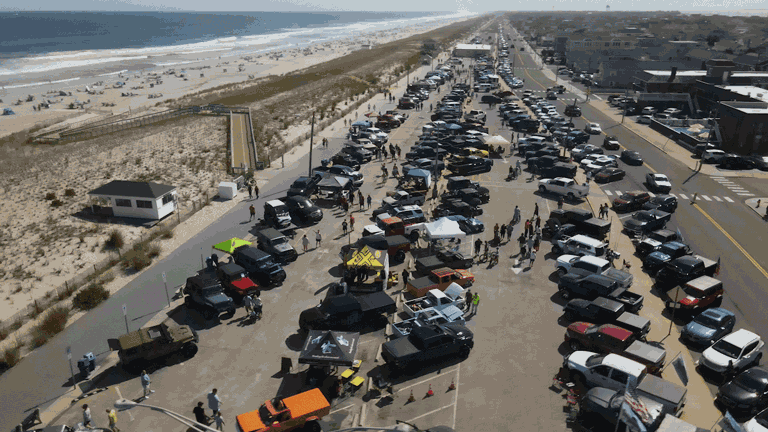 The crowd grew and bystanders watched as some of the most unique trucks, hot rods, Jeeps, and more began to roll in.
The Seaside Truck Show is different from other, more diesel-specific events we've covered in the past. Here, vehicles of all shapes and sizes would compete for over one hundred different prizes and awards. Including a cash prize in the pizza-eating contest.
---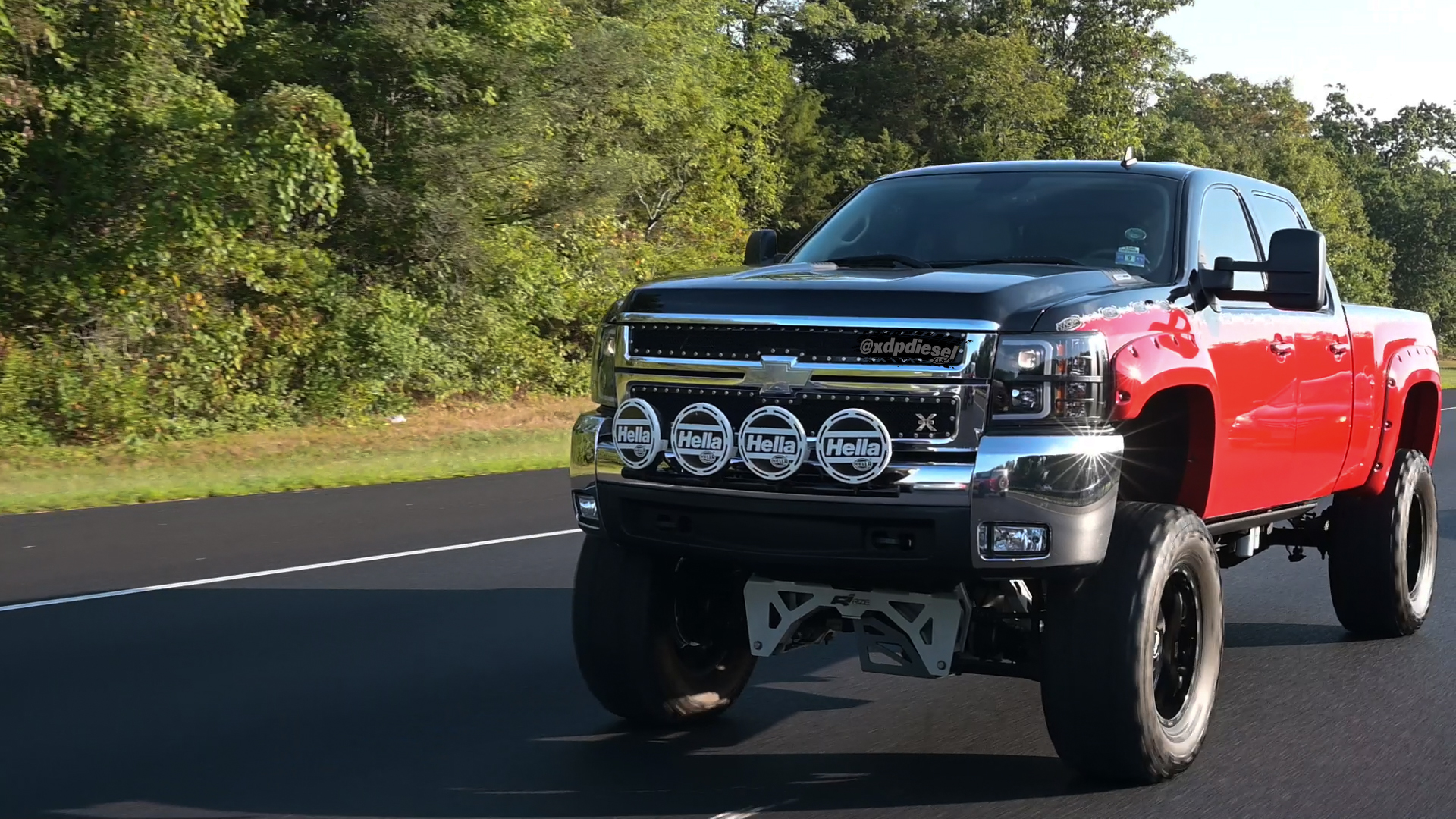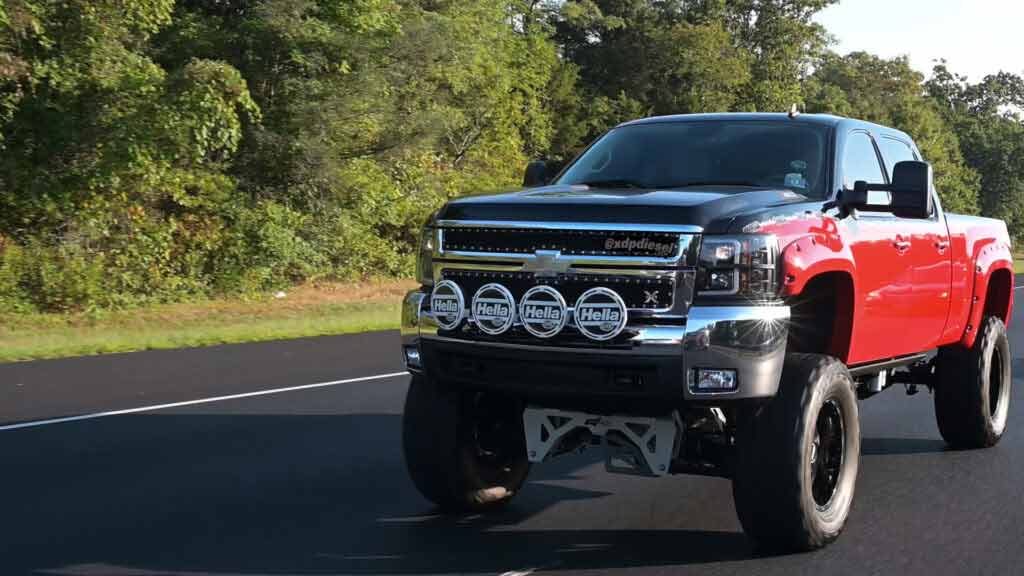 It was a big day for the team at XDP. This would be the first event the XDP Duramax would attend this season. Maybe you've seen it before, the 2007.5 Red and Black XDP Chevy Silverado Duramax. Originally built to be displayed at SEMA 2010, this truck has been seen by millions of people on social media, in XDP marketing material, and at events.
XDP Booth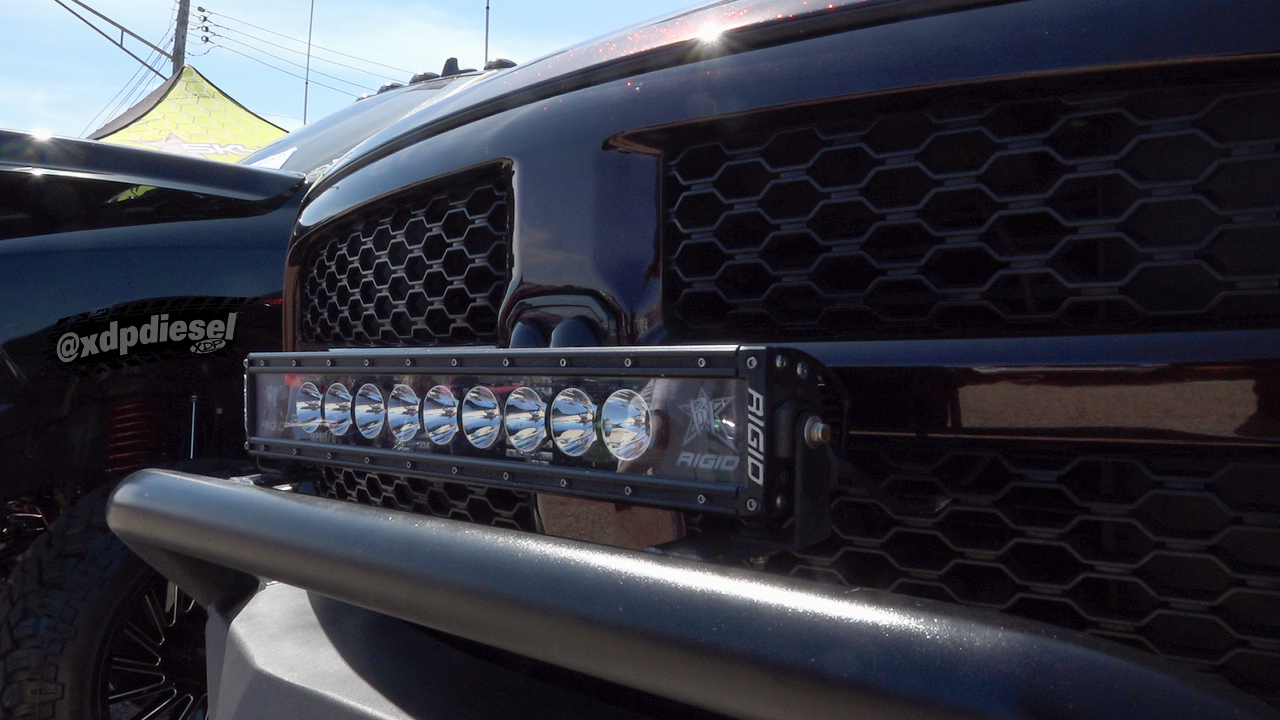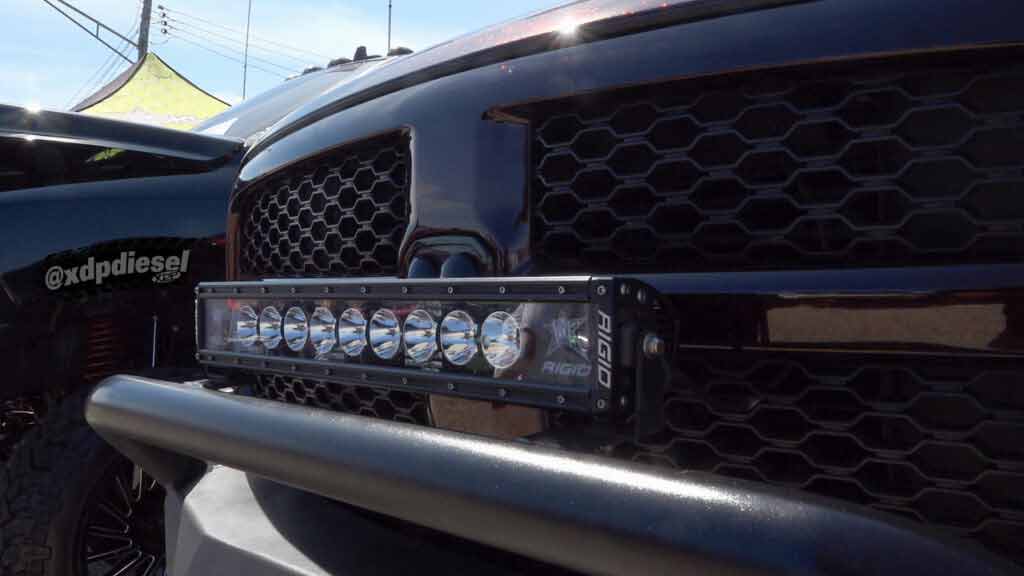 We decided it was high time for the Duramax to get out and stretch its legs. Recently updated with a fresh set of Anzo Headlights, this truck was the centerpiece of the XDP booth. Its attendance garnered a lot of attention from spectators at the show and on the boardwalk.
---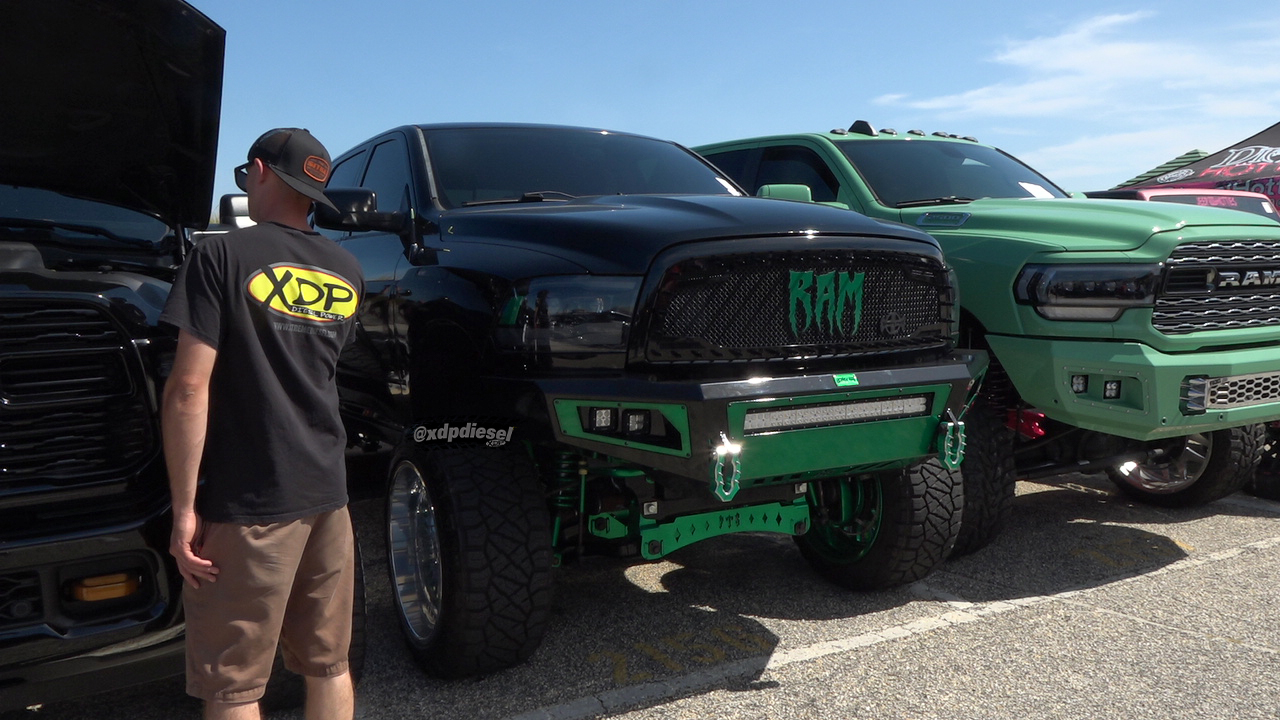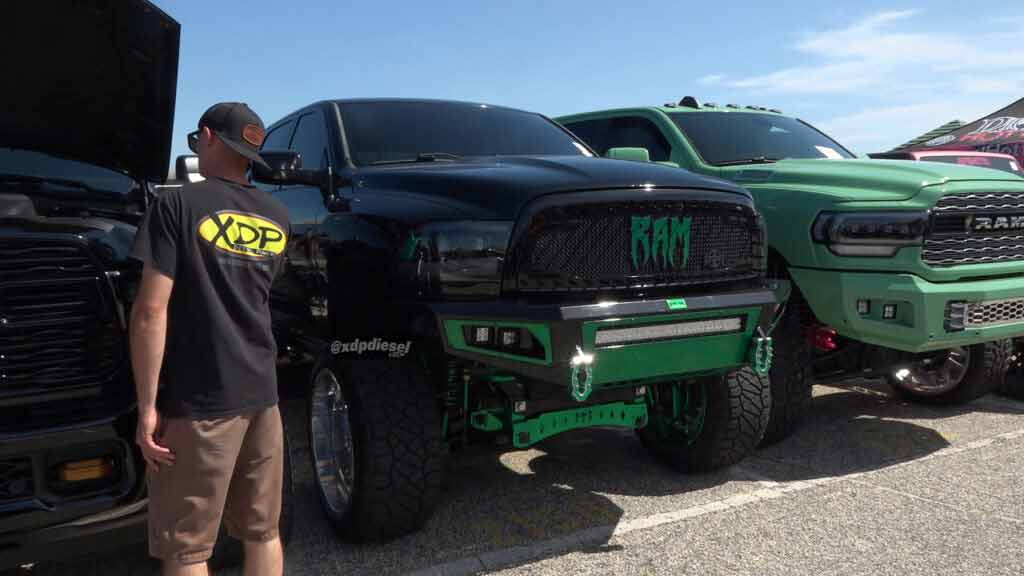 Alongside other vendors, the XDP booth featured the XDP line of HD Alternators, Starters, Fuel Sumps, Billet Battery Hold Downs, popular apparel, and more! A huge thanks to everyone who stopped by the booth to talk with the guys and pick up some merch! XDP was well represented at the show, with hats, shirts, decals, and parts alike.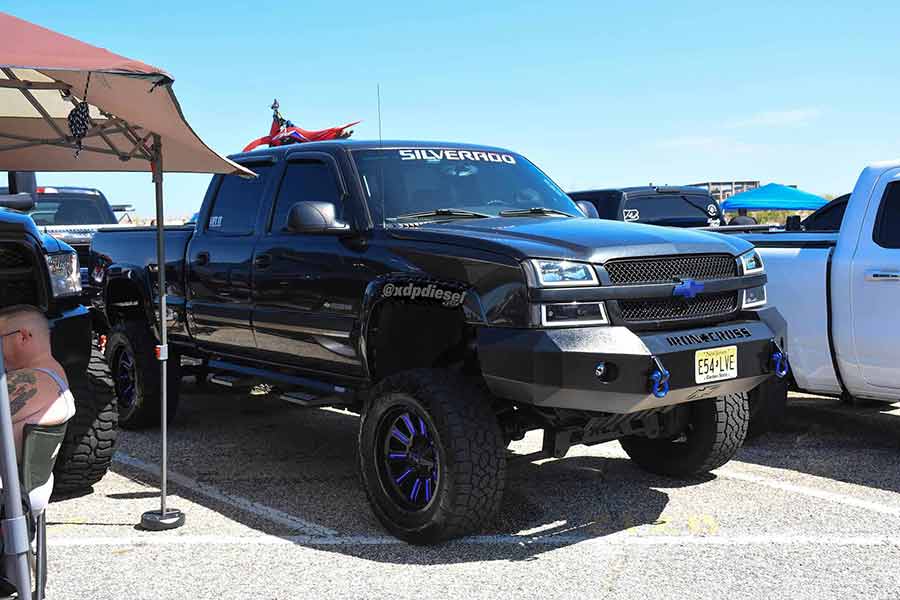 ---
Seaside Truck Show & Shine
With such a diverse show field at the Seaside Truck Show, we had the opportunity to take in some of the most unique vehicles in all shapes, stages, and styles. We even got to see a few builds that were "in progress," and have recently been updated. For instance, Matteo and his 2017 F250 King Ranch wasn't just built to look good. This King Ranch is business up front and a party out back.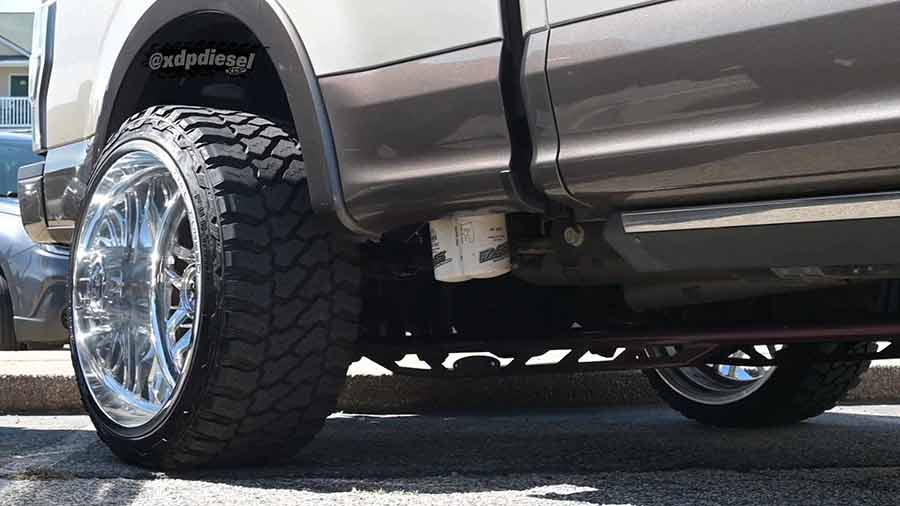 Matteo drives, hauls, and works with his truck daily. "We use it every day for work, I have my thirty-five-foot gooseneck hooked up to it 90% of the time. Whether it's towing machines or trucks and pallets of material, it gets used constantly." Its unmistakable two-tone paint, reverse leveling kit, paint-matched 4" cowl hood, Fuel wheels, and Air Lift Performance Leveling System make this King Ranch a real eye-catcher.
---
2021 SEMA GMC Denali 3500 HD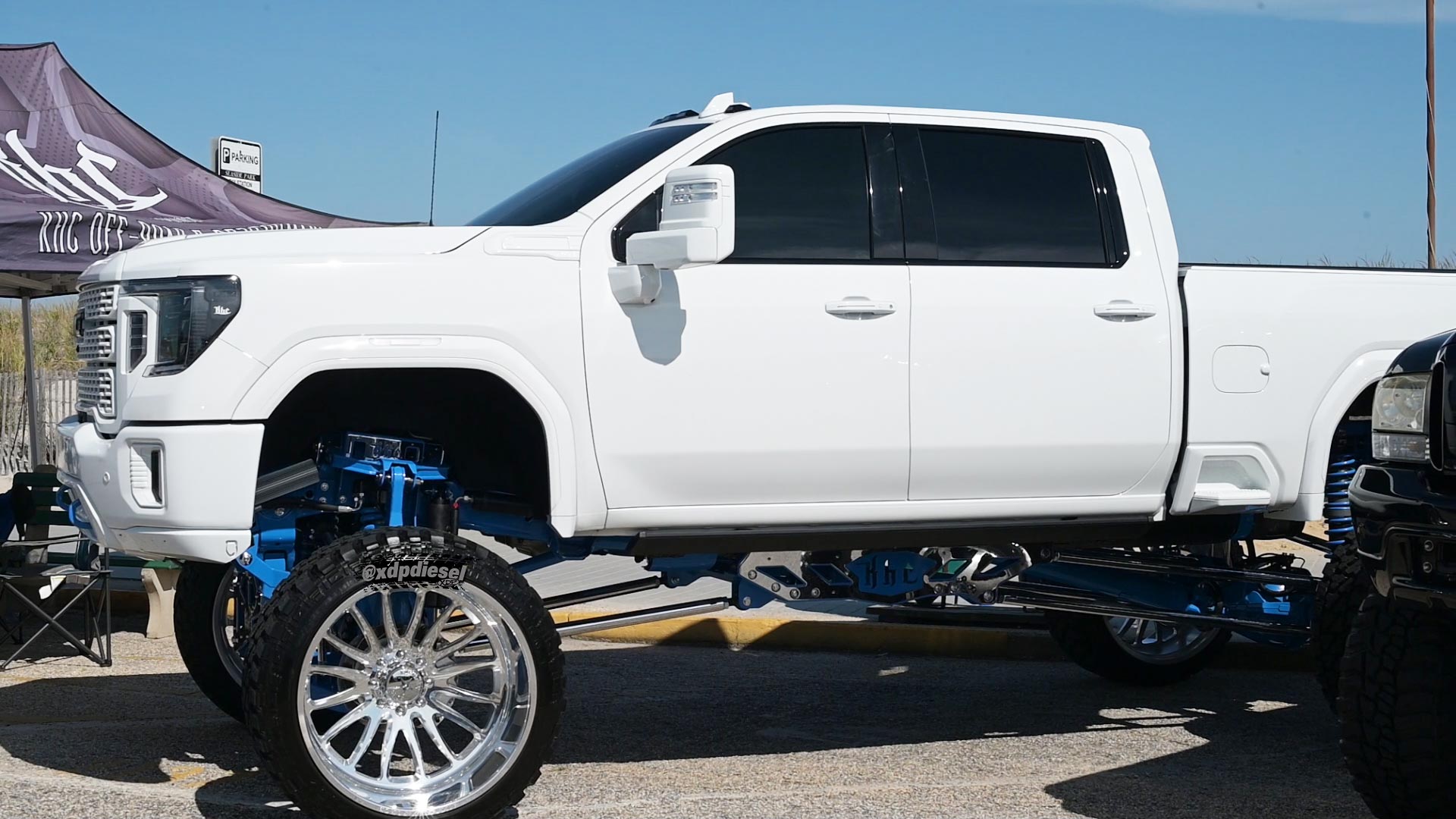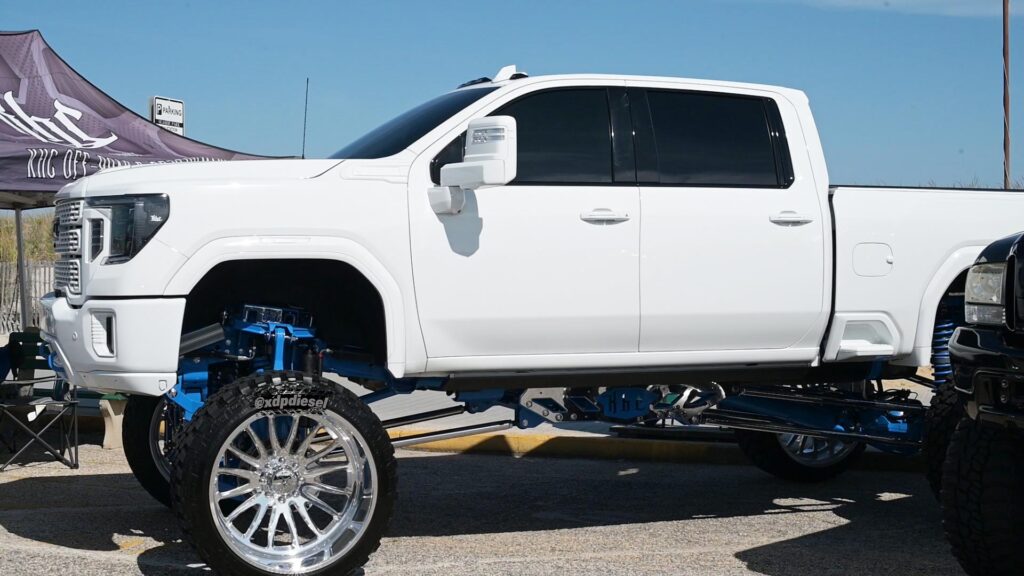 At any show, there's always that "one truck" that catches your eye and can steal the spotlight.
We caught up with Dave and his team from Monroe, NJ. Taking a closer look at their 2021 GMC Denali 3500 HD that looked to be stealing the show. "We took this truck off the lot, for this project specifically." After getting it back to the shop, Dave and the team tore the truck all the way down to the frame. "We started by smoothing the frame and a few other features we wanted to complete. On top of doing all the custom design work for the suspension parts."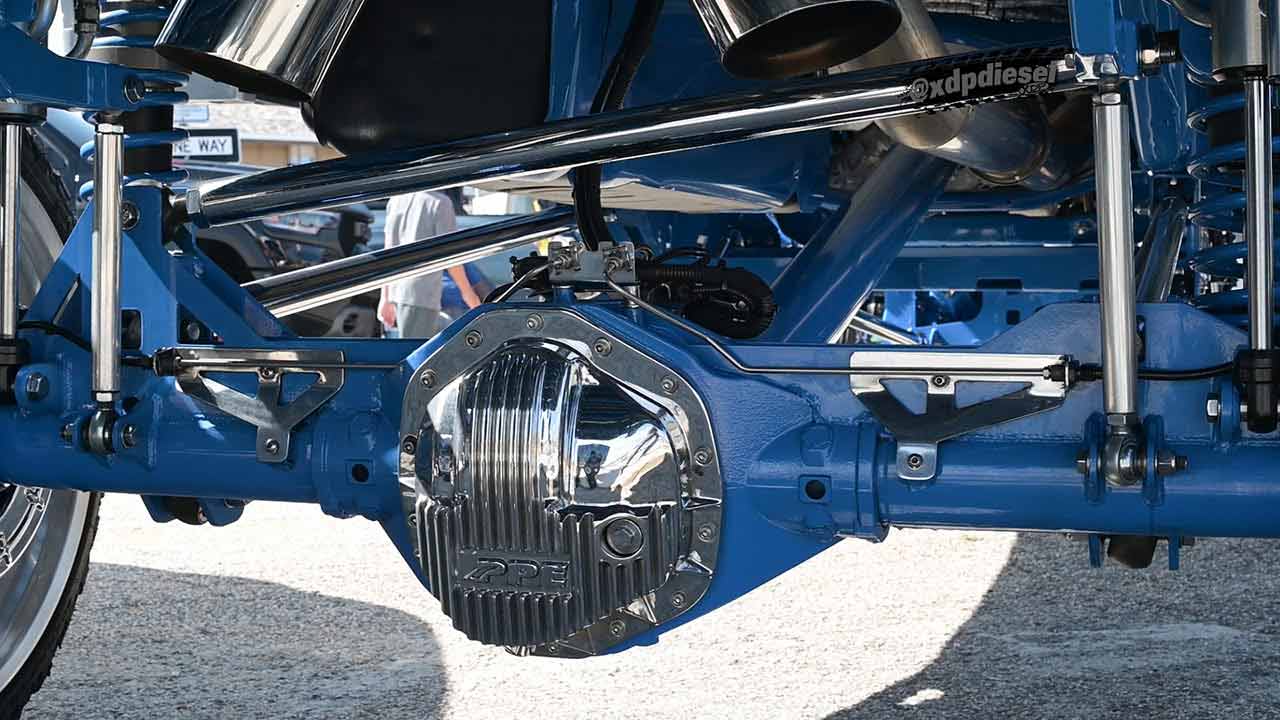 The rear of this Denali 3500 is a true 5-link, with coil-over conversion, bypass shocks, and a stock rear axle. In the front, a three-inch coil-over conversion, and as far as Dave knows, the only one of its kind. Custom control arms, knuckles, and everything necessary to make this truck drive "as close to stock" as possible. Dave chose to give this Denali a sweet set of shoes, running 28" custom wheels, and 40" tires for now, "but it's getting 42" tires with 30" custom wheels soon."
How soon? "We're still in the process of getting this ready for SEMA, that's our biggest goal." Despite the custom suspension parts and extreme lift, this truck is designed to be driven. "Our goal is to be able to drive it everywhere it goes and not have to tow it." So, if you see Dave and this Denali on the highway, be sure to keep your eyes on the road as it heads to the next show.
---
Sawmill Cafe Pizza Eating Contest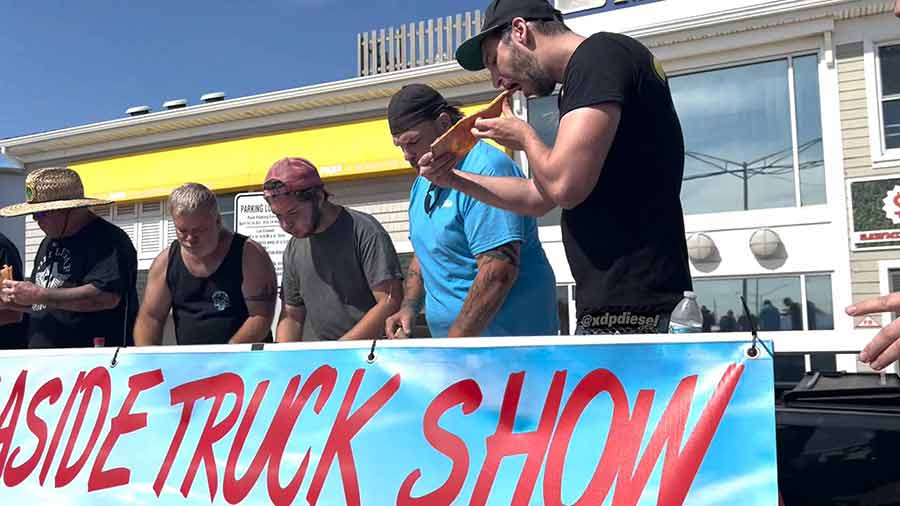 We took a break from the trucks as lunchtime rolled around. Justin was even hungrier than usual, and the smell of pizza was blowing down the boardwalk. The temptation was too great to overcome and led to his participation in the Sawmill Café's annual pizza-eating contest. While Justin put up a good fight, he was a crust short of victory. Now that he's been able to "size up" his competition, Justin is ready to go get the win for XDP next year!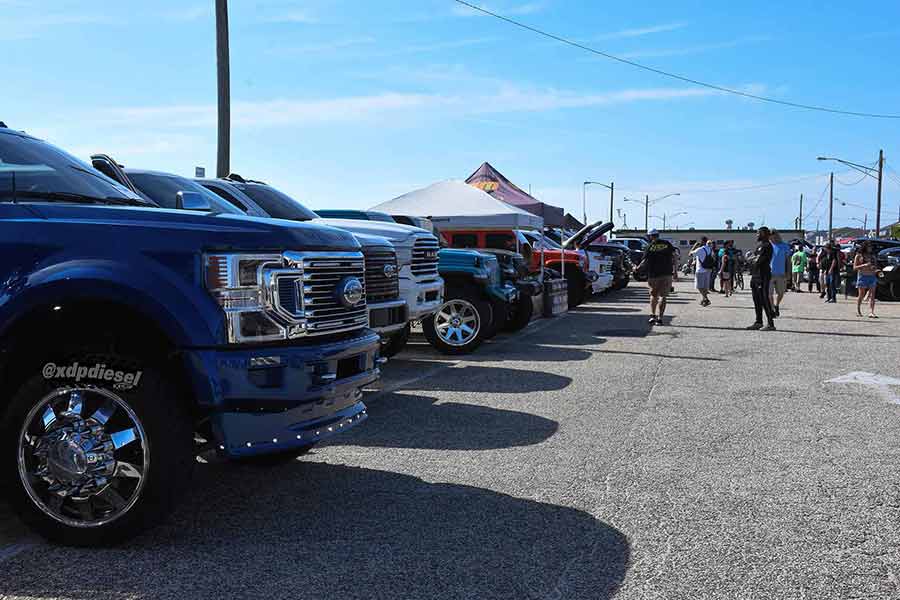 ---
Rich's 3rd Gen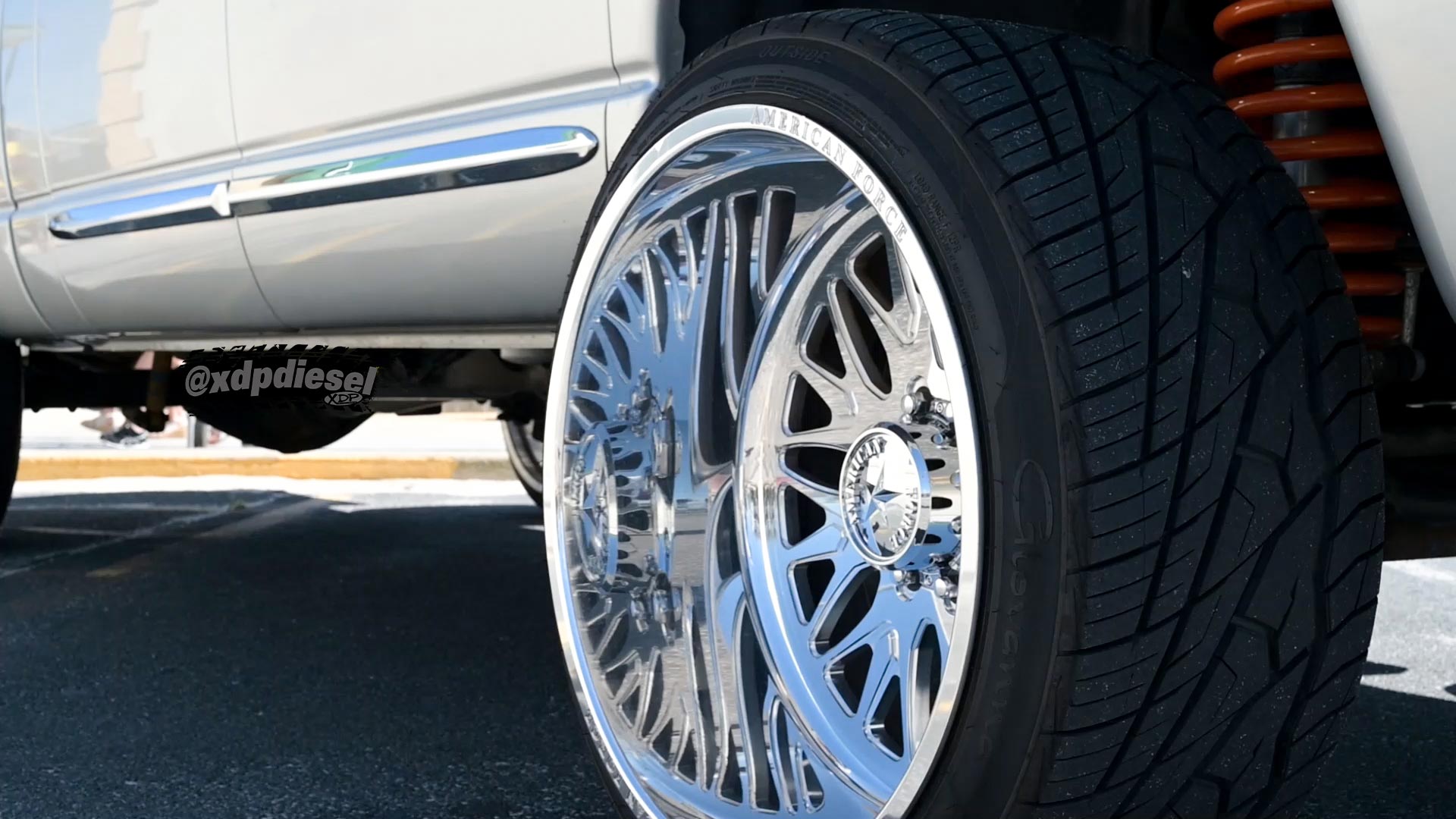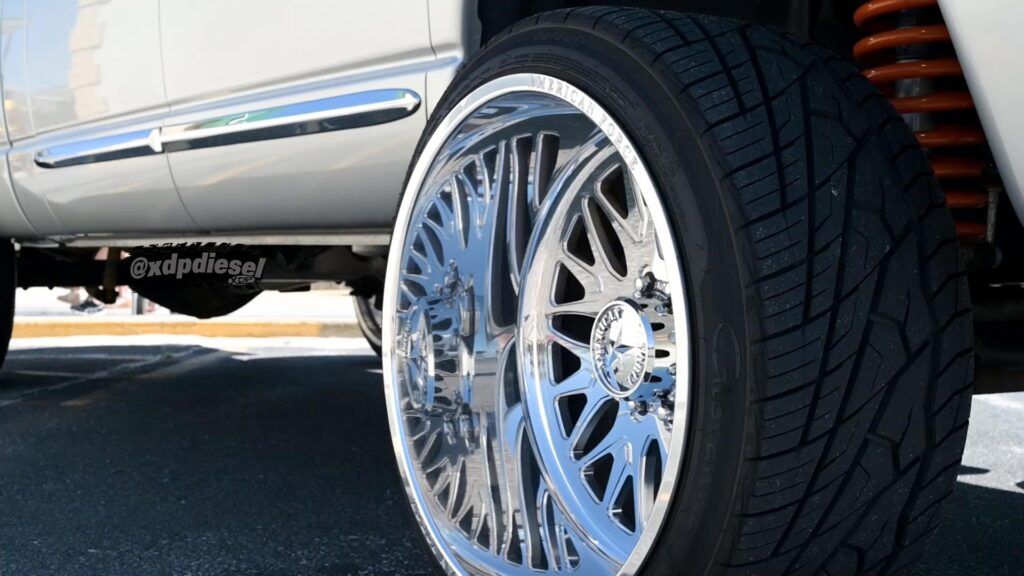 We decided to walk off our lunch by heading down the rows of trucks, admiring all the builds on display, inevitably coming across Rich and his 3rd gen Cummins. Rich uses this truck not only to break necks at shows but also to run his business. Despite its dual use, Rich has custom 24×14 wheels on 33×13.50×24 street tires. To get this truck to sit the way it does, Rich has 3" soft ride leveling coils to keep things even. The devil is in the details, and with paint-matched lighting, emblems, mirrors, and more, this truck is a bat out of hell.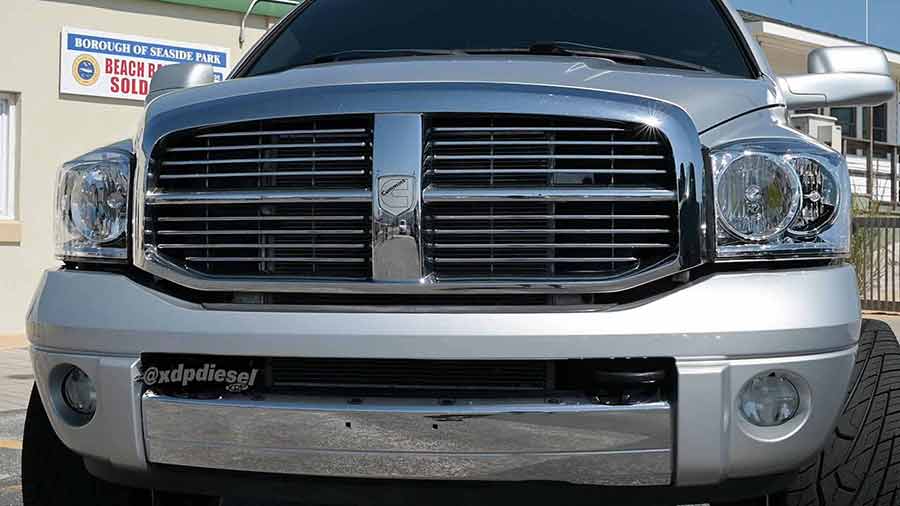 ---
3 in 1 Cummins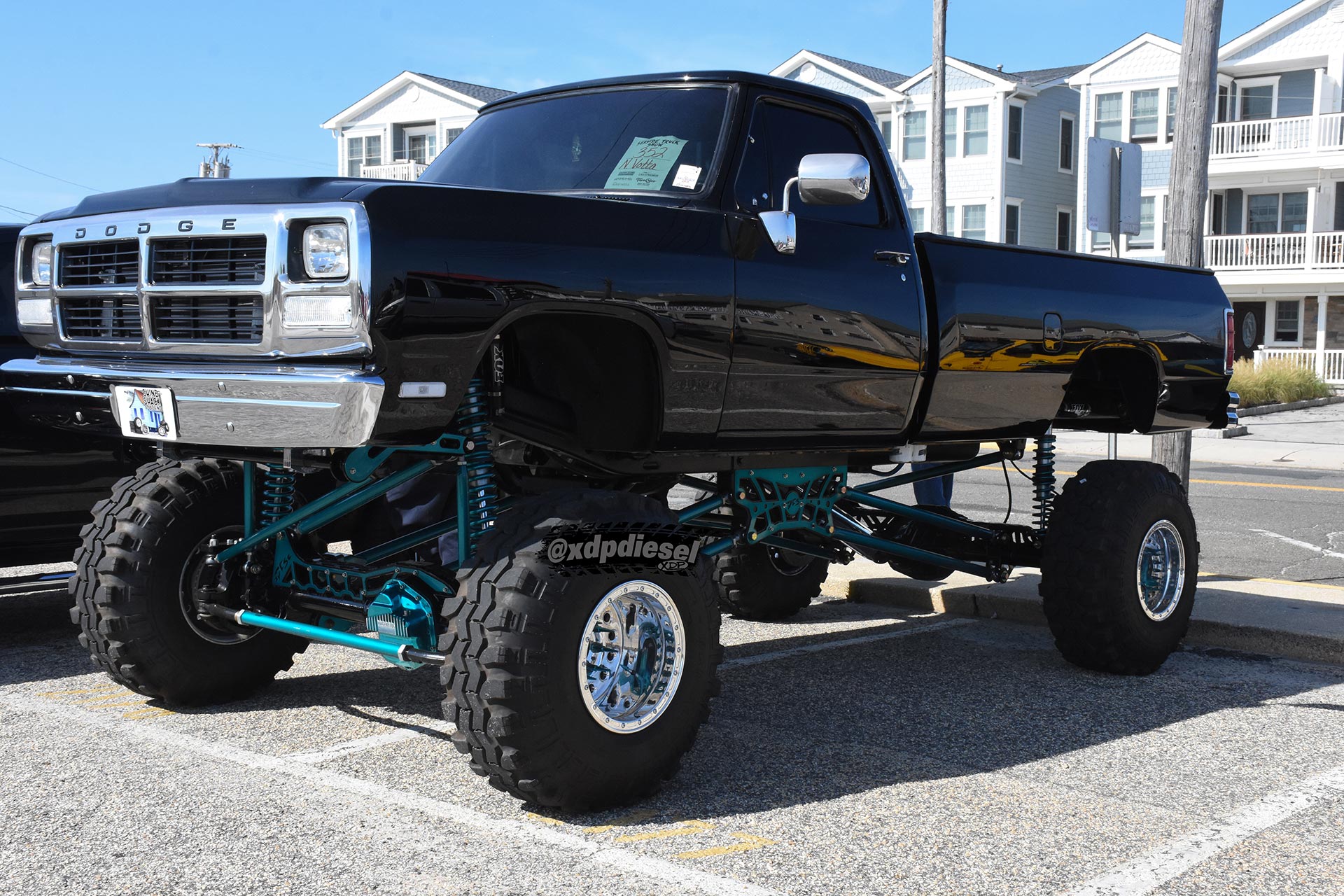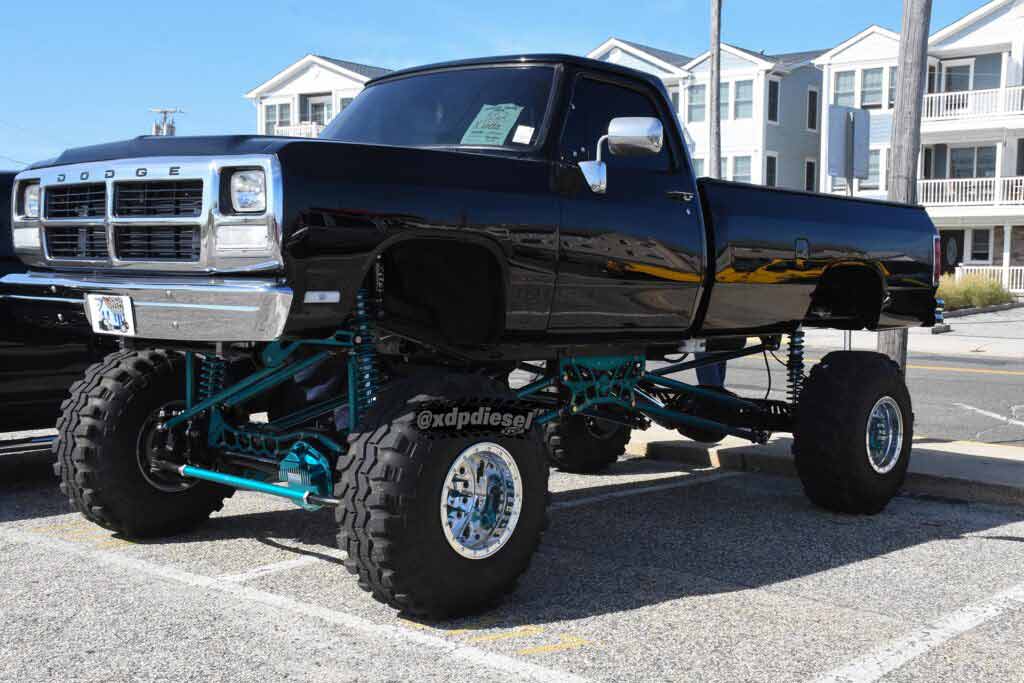 Like a lot of folks out there, a new truck might seem out of reach with inventory issues, wait-lists, and pricing. So, why buy a new truck when you could build your own? That's exactly what Nick thought too, inspiring him to build an incredible resto-mod 1st gen Cummins. This Cummins sits on a twenty-inch lift, with Fox coil overs, and a custom four-link Nick made himself.
One of the few competing trucks at the show with a different spin on custom wheels, Nick opted for a more traditional look. Going with 16.5×16 wheels knobby mud tires, and 3" spacers for an even more aggressive look. "It's basically just a couple different trucks that I put together." Including new parts on his old 1st gen, this truck is fitted with a 2013 g56 transmission, 2015 Ford axles, and "a lot, a lot, a lot of bodywork."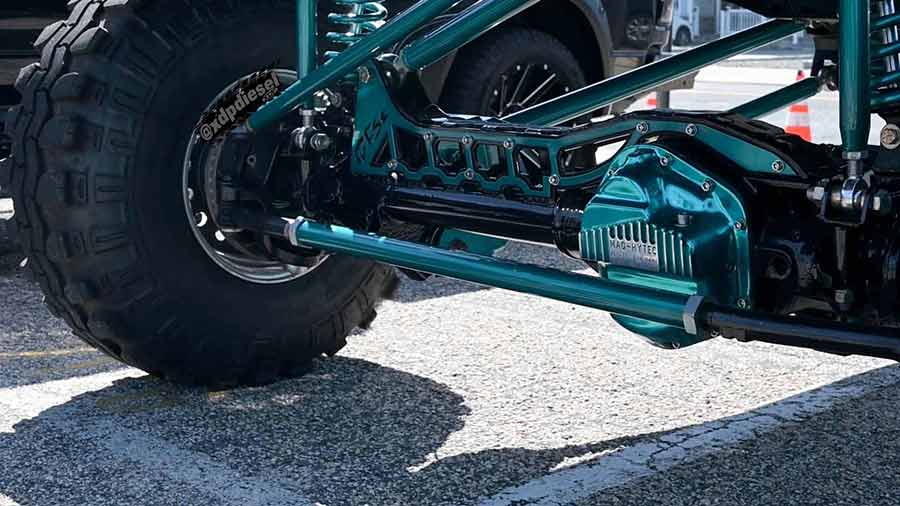 ---
As the day came to a close…
Trucks began to pull out of the lot. However, the lights of Casino Pier signaled the night was just getting started on the Seaside Boardwalk. The Seaside Truck Show was truly an all-encompassing event, we saw some of the most unique trucks, Jeeps, dune buggies, and more!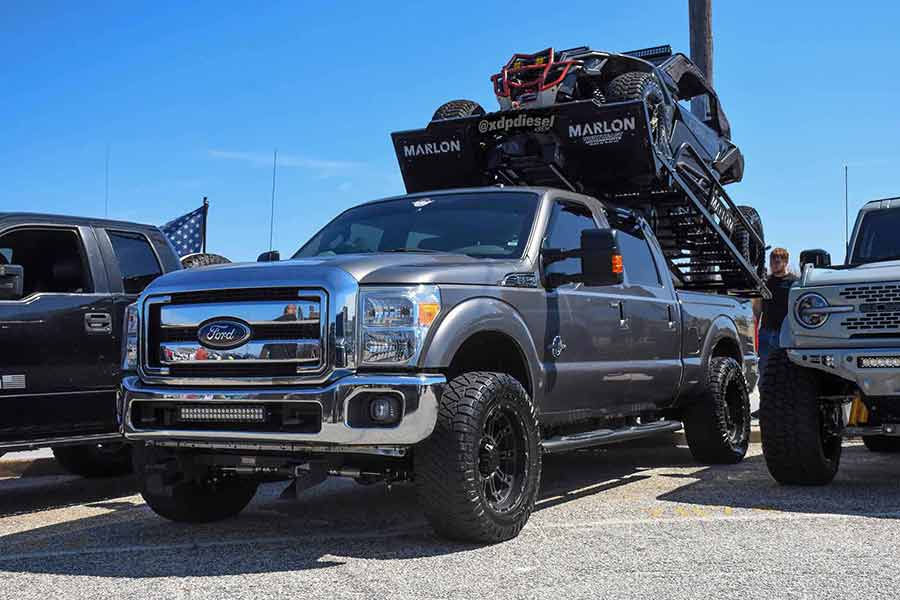 Taking in the sun, surf, and sand all day sure was hard work, but we'd recommend it to anyone who can get out and see the show next year! Want to get your truck show ready? Get everything you need to give your truck the award-winning look you've been after at XDP.com! Shop wheels, tires, suspension, under-the-hood upgrades, and more today!