September 27, 2022, Churchill Downs, KY —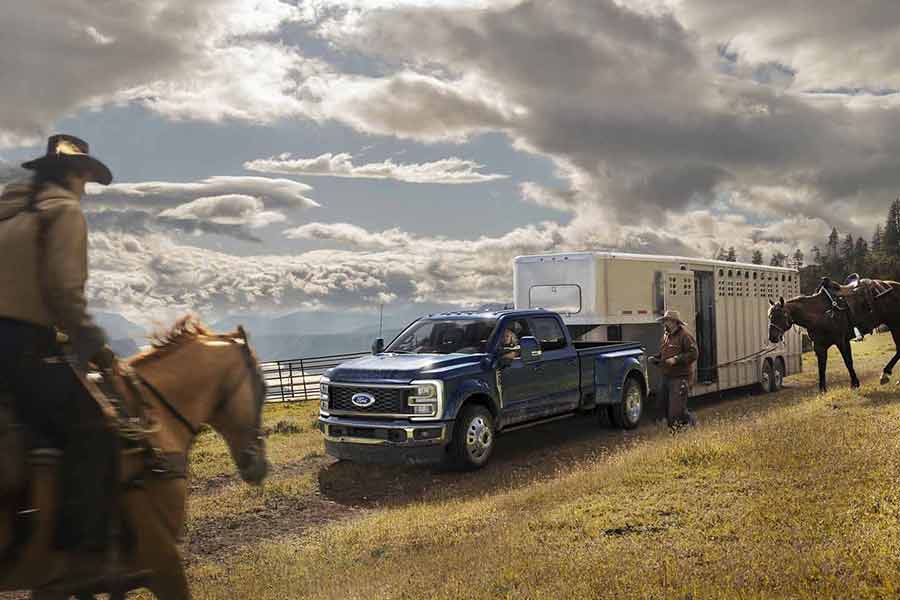 Ford announced the 2023 Super Duty on Ken-TRUCK-y Day at Churchill Downs, home of the Kentucky Derby. The brand new, redesigned Ford F-Series lineup is designed not just to be a tool in the American worker's toolbox, but the toolbox itself. Packed with new features, technology, and cloud-based services, the new F-Series was designed with efficiency in mind.
The new F-Series is "for the builders", said Jim Farley, Ford president and CEO. "Super Duty customers are builders – the backbone of our communities and our economy. We poured every ounce of know-how and ingenuity we have into developing the truck of their dreams. Smarter, more powerful, full of clever features and technology."1 Designed not only to be efficient, but this new Super Duty is built for those who build America every day.
Bed Features
The new power tailgate can be opened and closed with the touch of a button. Controlled from either inside or outside of the cab. In addition to a standard backup camera, when the tailgate is down, there is now a backup camera fitted on the top of the tailgate. This camera can assist when backing up to a trailer, loading up building materials, and more. New backup sensors give you a bigger picture of what's going on around your Super Duty. With front and reverse braking assist, these sensors can help avoid obstacles no matter what the worksite conditions.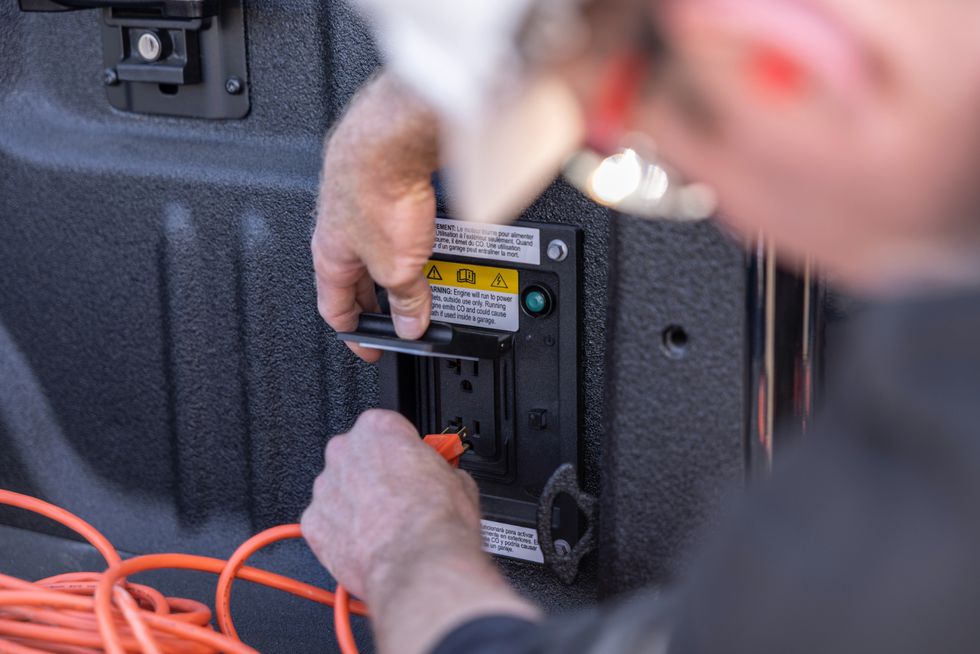 Images Courtesy of Ford
On the job site, finding a reliable power source can be a challenge. That's why Ford offers Pro Power Onboard. The Super Duty provides a built-in 2-kilowatt power source to plug into when you need power during your workday.
Don't play guessing games when it comes to the payload in your new Super Duty. Ford is offering optional onboard scales that can help you manage the load in your bed in real-time. Access to the bed is also made easier with box side steps, corner bumper steps, and a tailgate step with added extension.
Towing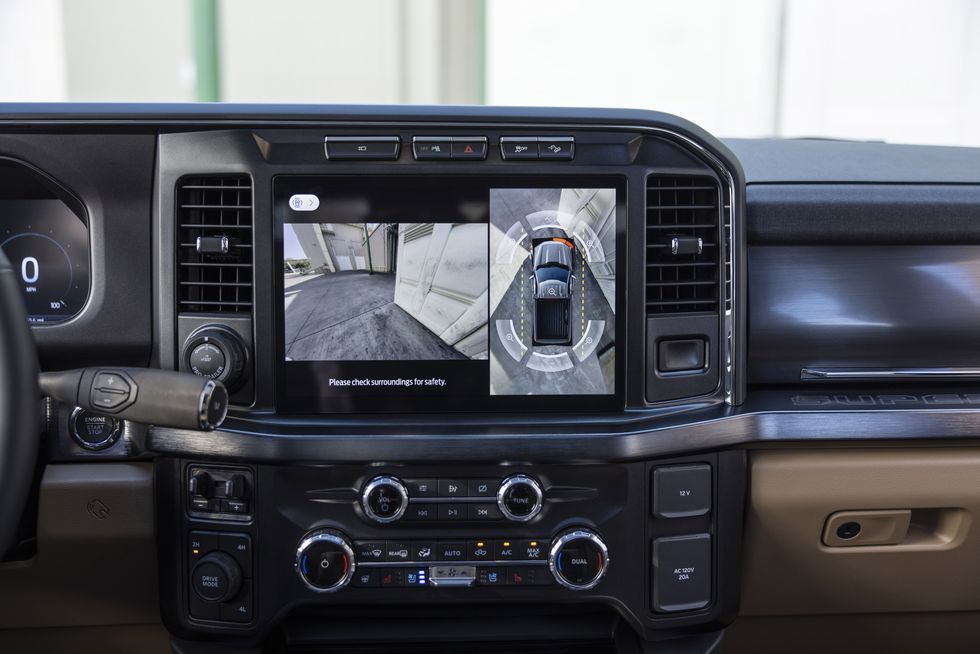 Images Courtesy of Ford
These trucks are decked out with all the bells and whistles you'd ever need when it comes time to tow even the heaviest loads. Pro trailer hitch assist technology makes backing up to your trailer as easy as ever. This feature automatically controls steering and braking when lining up to a trailer. Once you're hooked up 360-degree view cameras display in the cab combined with a dial that allows for precise maneuvering.
"Our goal was to leave drivers with zero blind spots, even when towing the longest trailers," said Andrew Kernahan, Ford Super Duty chief engineer. "Camera views provide every angle, from simulating a drone to making sure customers can see behind the truck even when the tailgate is down. Hitching and towing has never been easier."1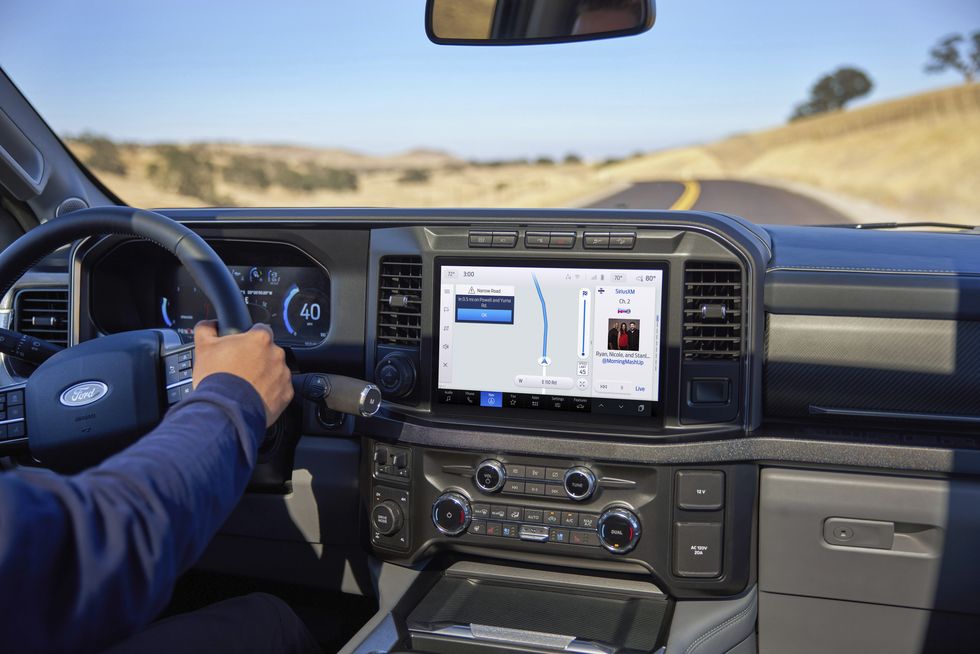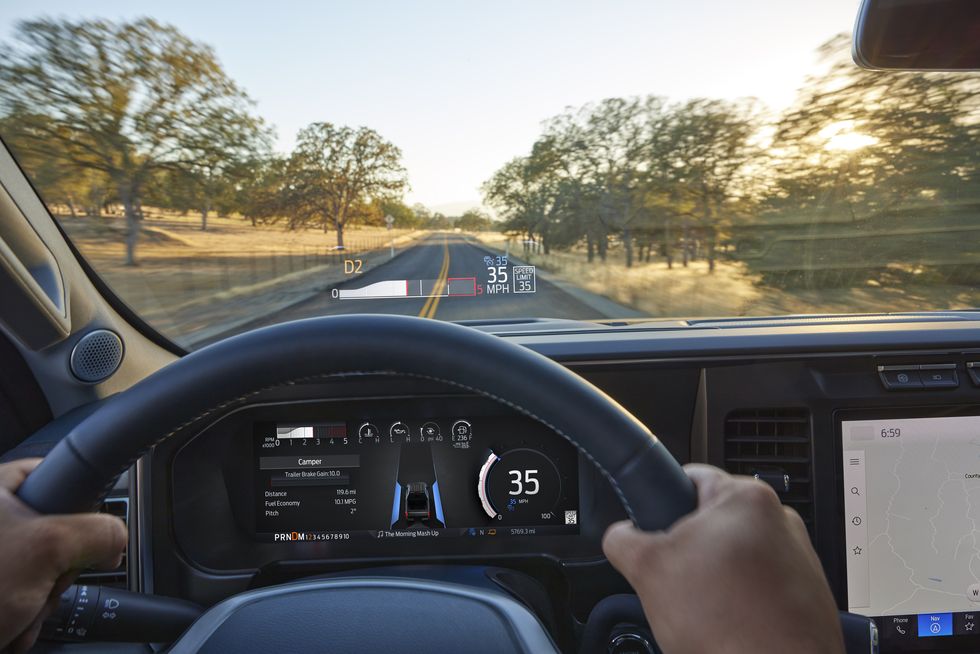 Images Courtesy of Ford
For long hauls, trailer navigation tools are available as part of the onboard GPS system. This trailer-specific navigation feature avoids low bridges and tight turns that could be a hazard or block your path. Navigation information is now conveniently displayed on the windshield, in the form of a heads-up display (HUD). The intuitive HUD ensures you get all the info you need including real-time trailer information and monitoring while keeping your eyes on the road.
Tech Innovation
Regarding the new tech in the new Super Duty, Ford president, and CEO Jim Farley said, "With state-of-the-art technology, including a 5G modem connected to a powerful ecosystem of productivity-boosting software and services, the all-new Super Duty can seamlessly shift from workhorse to office of the future."1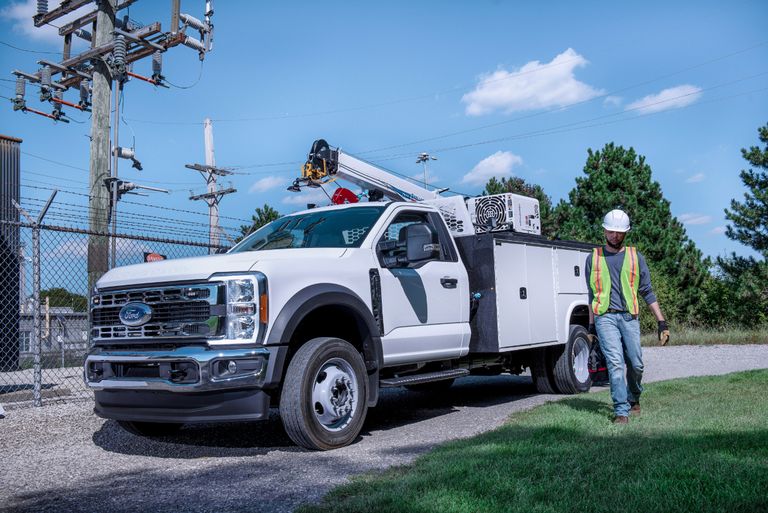 Images Courtesy of Ford
Automatic over-the-air software updates, optional 5G Wi-Fi and modem, and real-time vehicle data monitoring make this truck not just a workhorse, but an interconnected office space. Data tracking and monitoring allow business owners the ability to control a fleet of Super Duty trucks. Fleet managers can be prepared with maintenance info, driver behavior, fuel usage, and even control when fleet vehicles can be started and driven.
Ford Upfit Integration System
The Ford Upfit Integration System is the first of its type. This adds the ability to control special work equipment, including lights, cranes, snowplows, and more. The digital features of Upfit allow drivers to control equipment from inside the truck and help to keep the vehicle safe. So in theory, Upfit can even help prevent the truck from moving with an extended crane boom. However, this isn't a plug-and-play option but can be added by a system designer. Power options are fitted in the chassis of the truck to allow the operator to quickly connect or disconnect necessary equipment.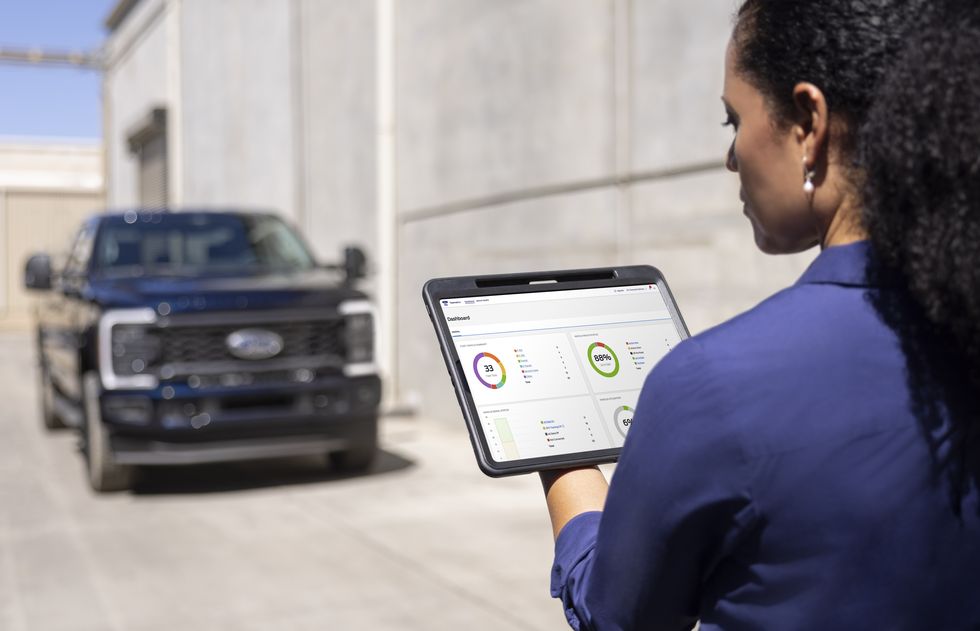 Images Courtesy of Ford
Engine Options
The latest variant of Super Duty is targeted best-in-class towing, payload torque, and horsepower for both gas and diesel engines. These engines will make this Ford the one you'll get the most out of.
Ford's suspected use of a hybrid powertrain in the 2023 Super Duty was squashed as it was announced the F-Series would come with a new gas 6.8L V8 or an upgraded high output 6.7L Power Stroke V8. These two new options will be available alongside the 7.3L gas V8 and standard 6.7L Power Stroke V8, giving you 4 power plant options to choose from.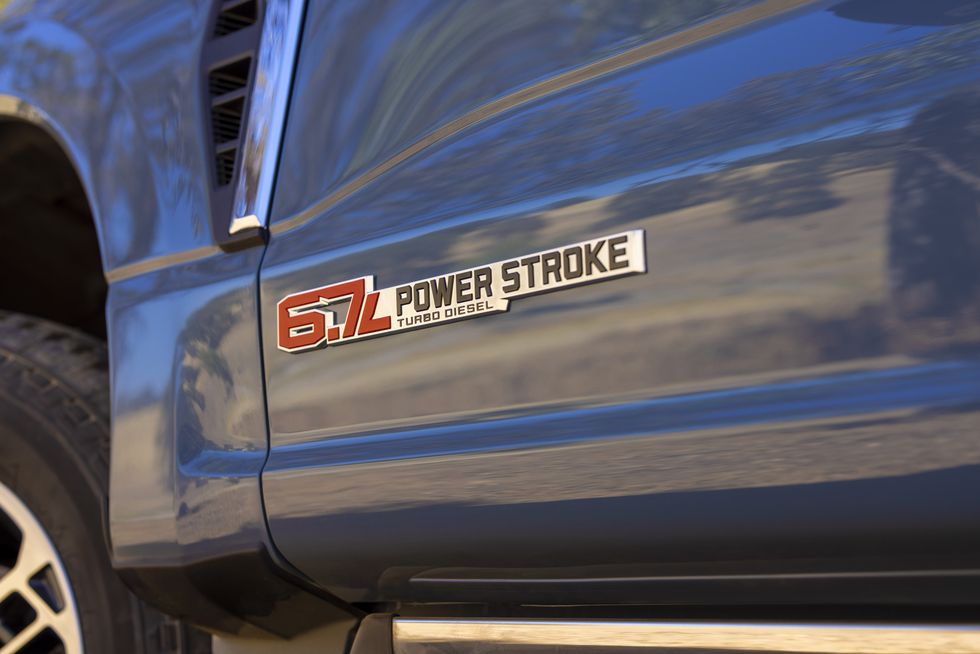 Images Courtesy of Ford
What makes the new engines special?
The new 6.8L V8 comes with port fuel injection, variable valve timing, in-block cam, cast crankshaft, and bowl-shaped pistons. This 6.8L is basically a de-stroked version of the 7.3L. This replaces the longtime 6.2L V8 that served as the base powerplant in past models.2
Ford's high-output 6.7-liter Power Stroke V8 diesel features a unique turbo, upgraded exhaust manifolds and unique tuning targeting the best horsepower and torque in the class.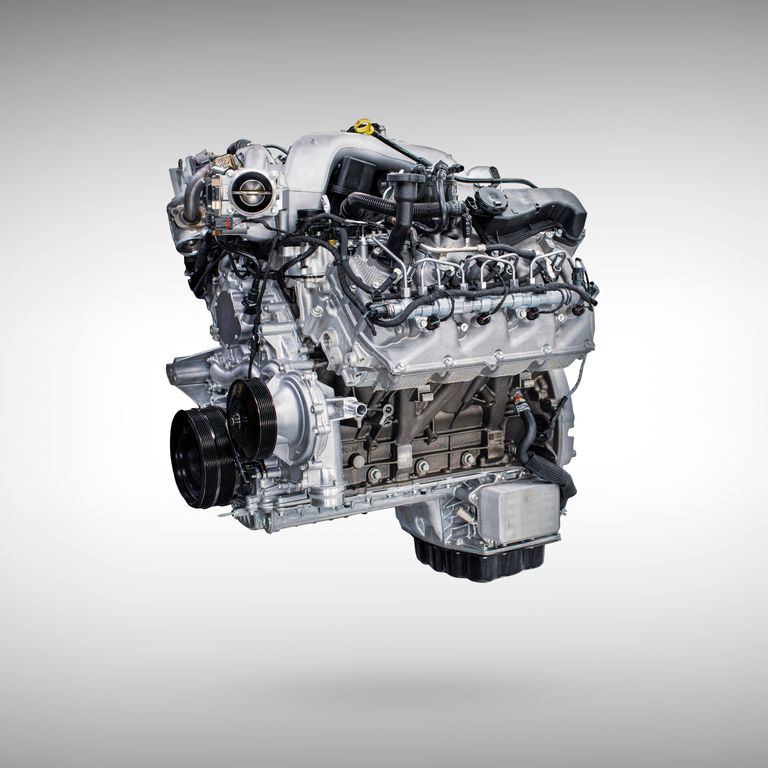 Images Courtesy of Ford
Everything about these new engines is designed with work in mind. Keeping the new Super Duty fleet on the road, working as harder for longer.
What about the transmission?
New 2023 Super Duty Trucks will come standard with 10-speed automatic transmissions and 4-wheel drive on XLT models and above.
Exterior Design
Built to improve how things will be built, the all-new 2023 Ford Super Duty also comes with redesigned visuals. Notably, the front end has been updated with Ford's "C-Clamp" lighting, giving a wider look to the front fascia. LED lighting is now standard on all Super Duty models as opposed to previous years being an optional feature. The front end comes complete with functional side vents that help reduce the underhood air pressure and assist with aerodynamics.
Interior
Spending time in the new Super Duty is easy, with an all-new redesigned interior that comes complete with an array of new features. This truck is as comfortable and smart as it is hard working. Convert your center console into a work surface to accommodate whatever tech you need. The interior work surface is perfect for sending a few emails from your laptop or enjoying lunch inside the truck. All while avoiding eating your sandwich off your shirt.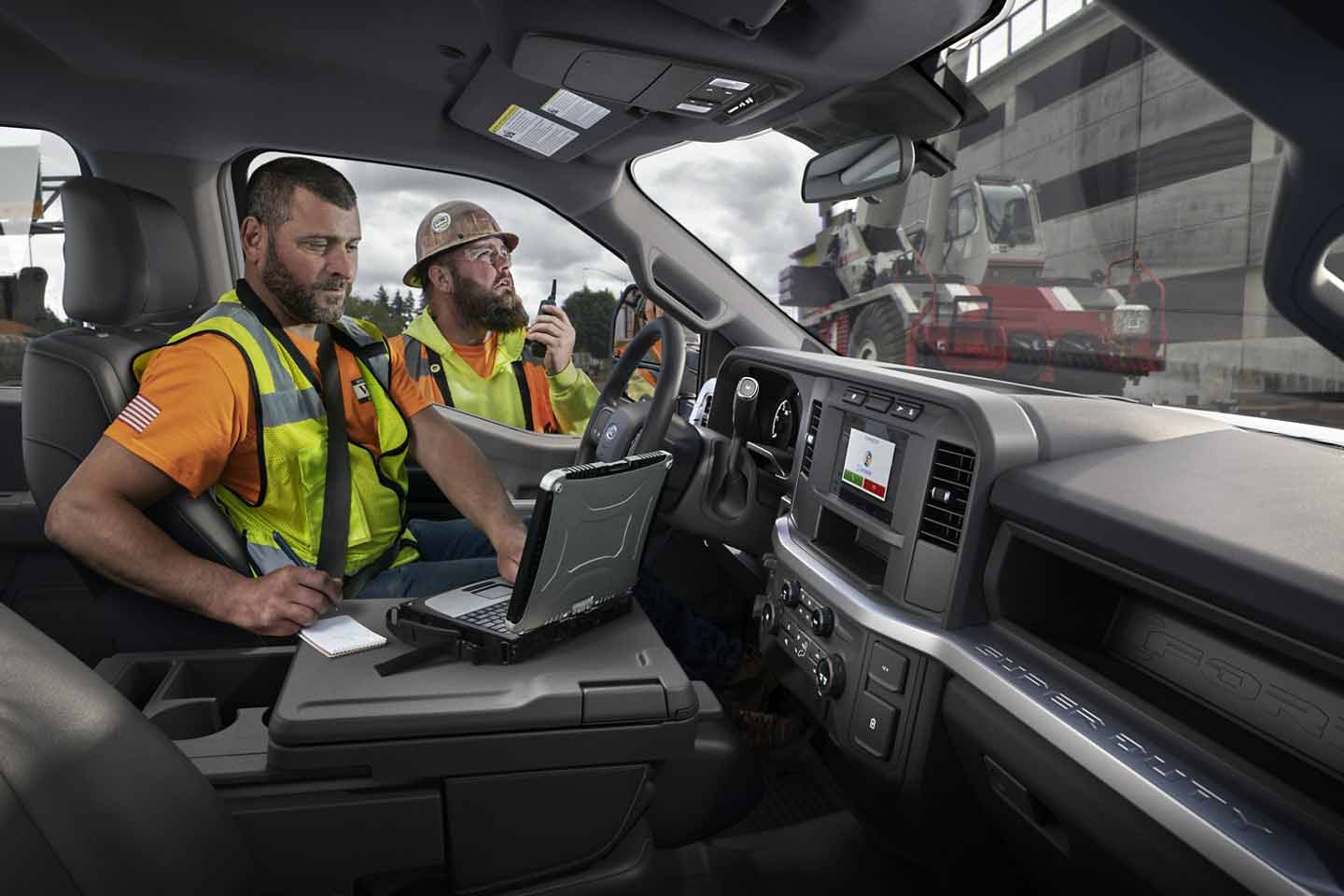 Images Courtesy of Ford
Sticking with the theme of comfort, the seats in the new Super Duty can recline back to a level similar to a business class airline seat. So, whether it means taking a break from a long day on the road or catching a few z's when you're waiting around at the job site, you can recharge and be ready for whatever the day throws at you.
The in-cabin experience is further enhanced with:
8-inch center display that comes standard on the XL model; and a 12-inch display standard with higher trim levels
Customizable 12-inch digital instrument cluster
Four USB power ports and an available wireless charging pad
Center console slot that holds a tablet upright to make using it easier when parked
Max Recline Seats that fold almost horizontal and lift the seat bottom up for a nearly flat surface to maximize comfort during downtime
640-watt, eight-speaker Bang & Olufsen Sound SystemTM or an optional 1,080-watt, 18-speaker B&O Unleashed Sound System by B&OTM for a fully immersive audio experience
Alexa Built-in hands-free experience with complimentary connectivity to Alexa for up to three years 1
Trim Packages and Off Road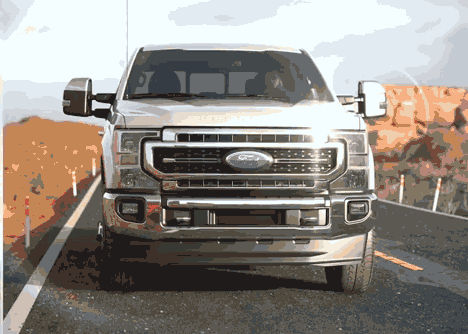 There are new trim packages for the 2023 Super Duty including the STX, Sport, and Black Appearance packages. These new packages will offer different rims and paint for added style.
Whether for work or play, Ford also has options for drivers who see dirt roads as often as the highway. The XL off-road package will be available for single rear wheel F-250 and F-350 4×4 models. These models are equipped with 33-inch tires, raised air dam, water-fording axle vent tubes, skid plates, and electronic locking rear differential.1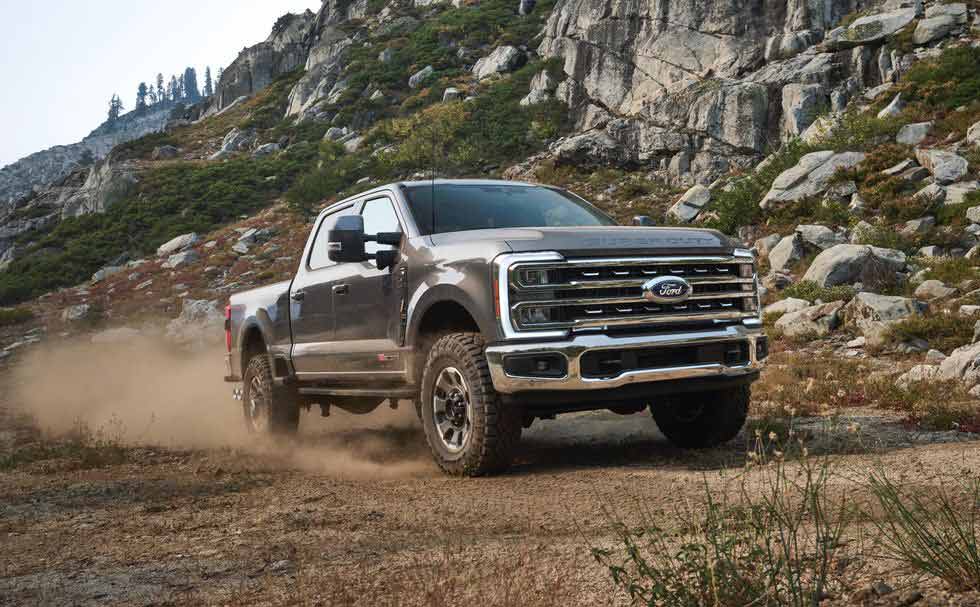 Images Courtesy of Ford
The Tremor package provides even more substantial ground clearance with a front-end lift and tuned suspension. This model features a Dana front axle with limited slip differential and axle vent tubes. As well as, 18" wheels with 35" tires, Trail Control, selectable driving modes, and Trail Turn Assist.
The newly redesigned Ford Super Duty is more than a truck. It's your office, toy hauler, work truck, and trail vehicle, all wrapped into one tough-as-nails machine. You can order yours on October 17th and production is set to begin in January 2023.
1https://media.ford.com/content/fordmedia/fna/us/en/news/2022/09/27/2023-ford-f-series-super-duty-reveal.html
2https://www.thedrive.com/news/the-2023-ford-super-dutys-new-6-8l-v8-is-a-destroked-godzilla