Cooling Components
Keeping your truck running at optimal temperatures when towing, hauling, or hitting the highway, can be tough. That's why it's so important to keep your cooling and forced induction systems from getting hot under the collar. Whether your truck is stock or has performance upgrades, there's one simple way to keep your systems in check. The OE+ lines of cooling components from CSF do just that.
What Does an Intercooler Do?
Intercoolers function by channeling and cooling hot air from your turbocharger before it makes its way into your engine. How do intercoolers go bad? In extreme performance applications, an intercooler may fail due to elevated boost pressures associated with turbochargers and fueling upgrades. In most cases though, front-end collisions, damage from road debris, and other road conditions contribute to a damaged or failed intercooler. Besides the obvious damage to the intercooler core, the end tanks are a common weak point that can also contribute to failure. In many OE applications, the end tanks are constructed from plastic and crimp to the core using a gasket and crimp strip. These OE crimped designs can be more failure prone than an aftermarket intercooler with reinforced, or stronger metal end tanks that are welded to the core.
How can you tell when your stock intercooler is failing?
Boost leaks, loss of power, high EGT's and other issues caused by malfunctioning cooling components can limit your vehicle. Visually, separation between the fins and the tube of the intercooler is also a signal that your intercooler is damaged and needs replacement. The CSF OE+ Intercoolers remedy these issues and improve upon the stock design, starting with the build quality. TIG welded aluminum-cast end tanks help eliminate issues before they happen, providing reliability and peace of mind.
Bar and Plate vs. Tube and Fin
When it comes time to replace your intercooler, why not replace your stock unit with something more robust? CSF's tube-and-fin configuration is designed for towing or performance applications and could be considered an upgrade. The bar-and-plate construction offers a unit with increased cooling capabilities than a more standard replacement tube-and-fin intercooler. So, when your truck needs the performance you demand, know that a CSF is up to the task.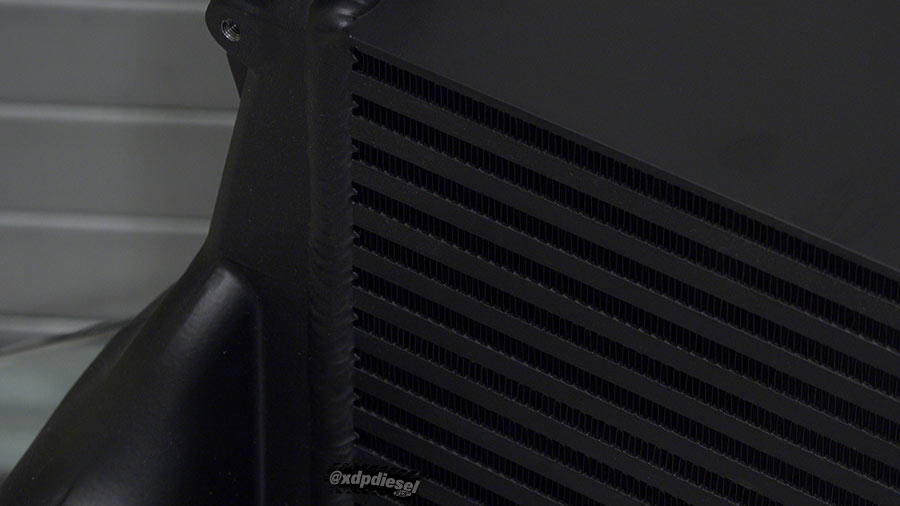 Tube & Fin
Lightweight Welded Tube
OEM Style
Aluminum Cast End Tanks or Crimped-On OE Style Plastic End Tanks
Bar & Plate
Heavy Duty Bar and Plate intercooler Core
Manufactured by hand in a Clean Room
Pressure Tested at 120 PSI
CSF Radiators
CSF's high-quality replacement radiators are designed to meet and exceed OE specifications. What makes these "high-quality" replacement radiators? The resin used in CSF radiators to construct the end tanks creates a stronger end tank than a stock unit. CSF also uses specially engineered "B-tubes" that are thinner, stronger, and lighter. B tube is formed and brazed over the radiators' seams to provide a better seal, as well as feature a larger core construction, giving CSF radiators more surface area. This provides improved airflow and cooling efficiency as opposed to O-tube. Improved cooling and airflow from your radiator can also help to keep other cooling processes functioning properly in your truck. 
Component Testing
As a true manufacturer, CSF has an in-house testing facility that allows for leak testing, thermal cycle testing, pressure testing, salt spray testing, and wind tunnel testing for all their products. Making sure their products perform out of the box is a priority, that's why CSF also has packaging testing. This unique testing ensures the radiator or intercooler is going to get to your front door and be ready for installation right away. These direct-fit replacements don't require any cutting, trimming, or modification to your vehicle, keeping the installation simple and getting your truck back on the road faster.
So, when it comes time to replace the cooling components on your truck, trust CSF to have the high-quality OE replacement parts you need. Shop all the cooling parts your truck needs from CSF at XDP and keep your truck running cooler for longer today!