Mechanicsville, MD, May 6th, 2023 – XDP was back on the road, this time as the title sponsor for the 29th Annual XDP Truck Mania at Maryland International Raceway. It was an action-packed event filled with many highlights. The event featured a Show N' Shine, Vendor Midway, Burnout Contest, Homewrecker Jet Truck, Daisy Duke Contest, and the Big Wheel and All-Truck Drag Races. There was a little something for all spectators to enjoy on this beautiful day in Maryland.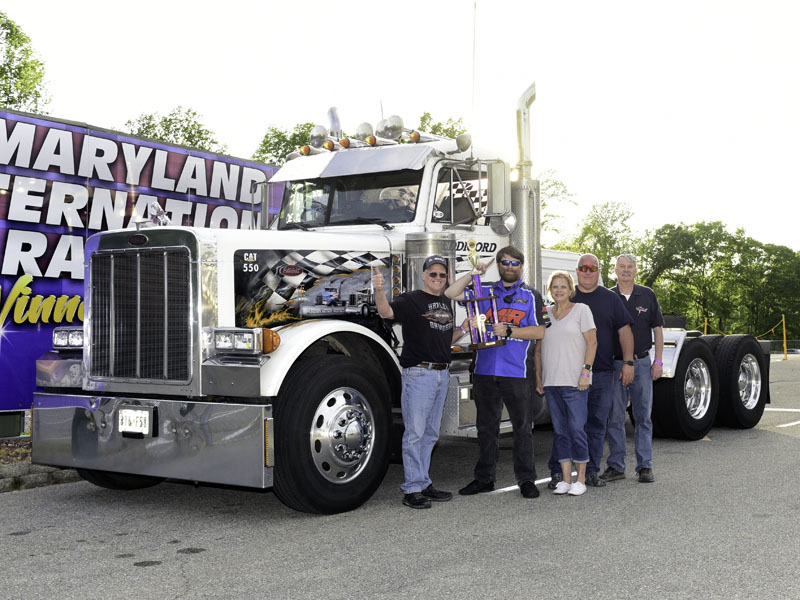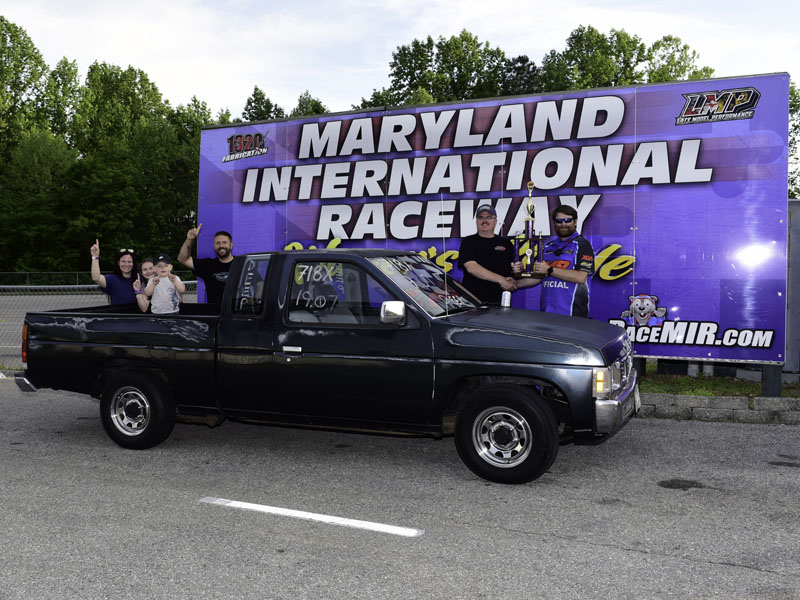 Race Results
As the gates opened at 10 am, pickups and big rigs came piling in throughout the day to be a part of the Show N' Shine and drag races. There were five ET bracket classes for the drag races. Wayne Smith took home the trophy for the Big Rig Quick 8 class. Jim Peddicord won the Great Mills Trading Post Big Rig class. The Hollyrock Customs Diesel Shootout class was won by Andrew Grant. Jake Milstead won the trophy for the Winegardner GMC of Prince Frederick Tuff Truck class. And finally, Troy Styron was the winner of the Race Truck class.
Show N' Shine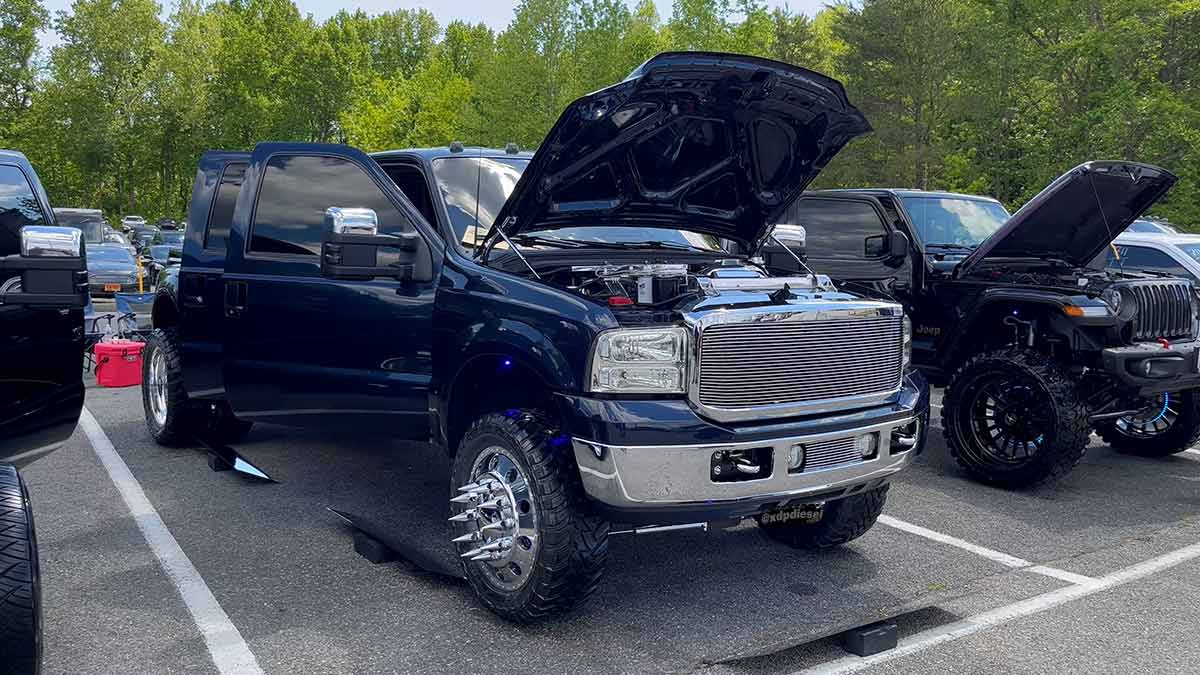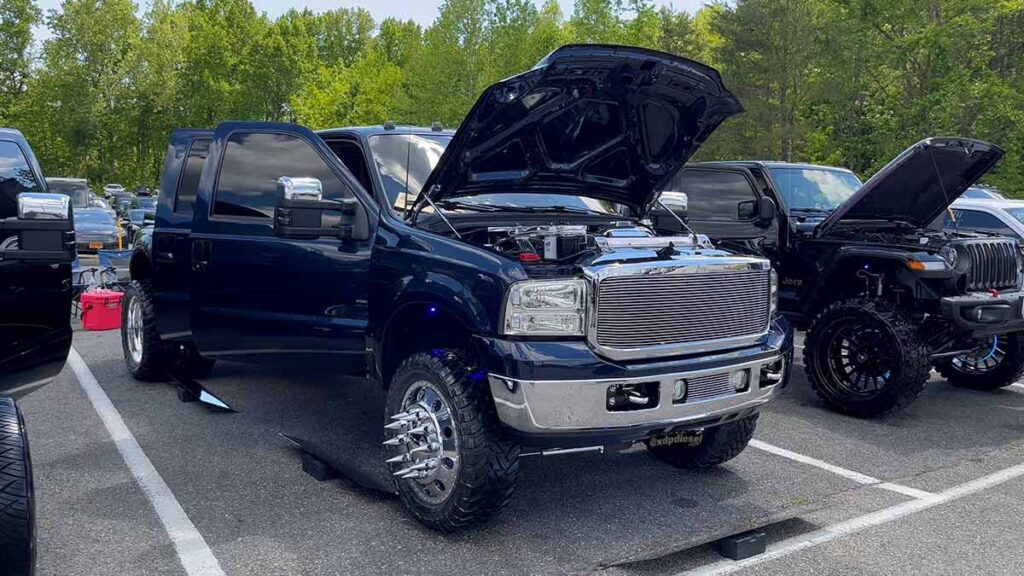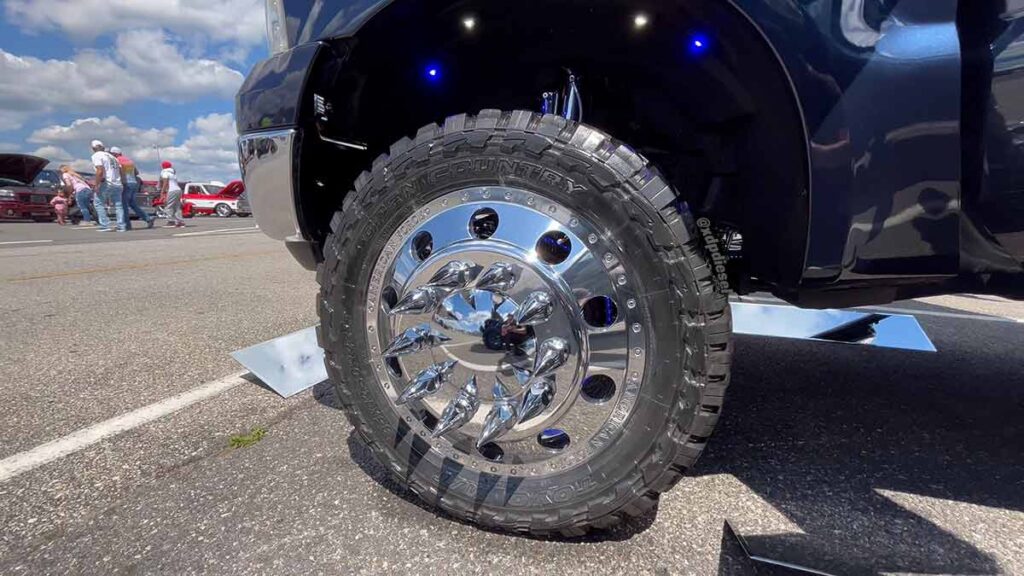 The parking lots at Maryland International Raceway were filled with trucks participating in the Show N' Shine. There were many awards given out to participants amongst 19 total categories. Two participants that entered the 4WD Modified category were Kenzie and Dave Ramsey. Dave's blue 2003 Ford F350 6.0L Powerstroke features a ton of chrome. Everything from the shocks, suspension bars, cross member plates, and more, are completely chrome. He also added chrome in the interior, as well as adding blue and white rock lights that really attract attention at night.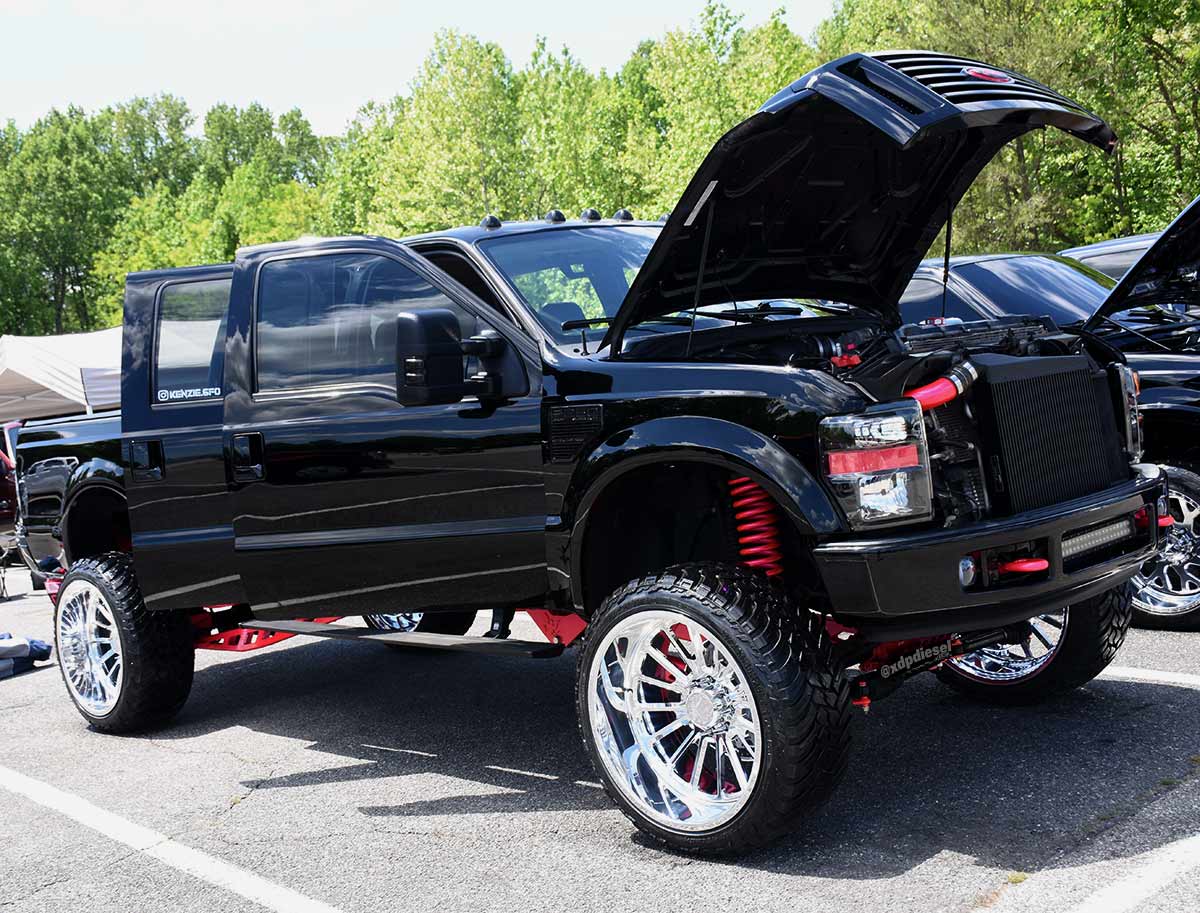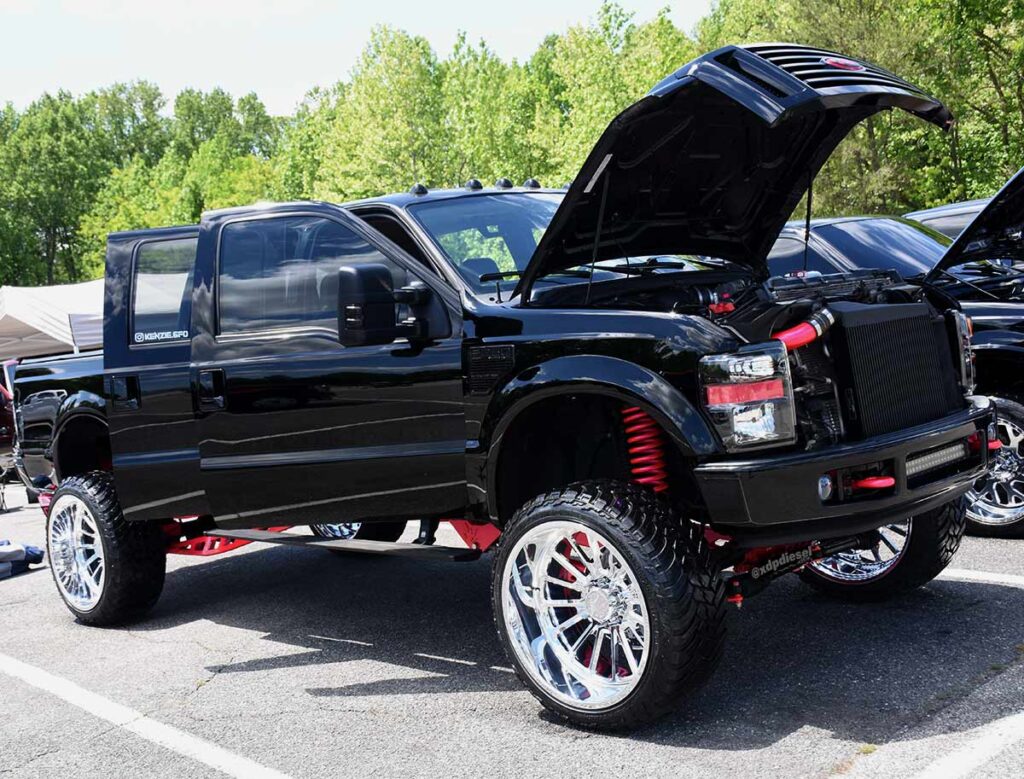 Dave's daughter Kenzie also competed in the Show N' Shine with her black 2008 Ford F250 6.4L Powerstroke. Although her family has owned multiple 6.0L Powerstrokes, Kenzie always wanted a 6.4L Powerstroke, saying it was her dream truck. This truck features a six-inch lift and 26 x 14-inch KG1 Forged Wheels. This rig featured many standout features like the custom pink components, such as suspension, badges, piping, and exhaust tip. Even the headlights and taillights had custom pink accents to make her truck stand out! She plans on getting even more suspension, interior, and engine bay parts paint-matched pink as well.
The SnoHulk at XDP Truck Mania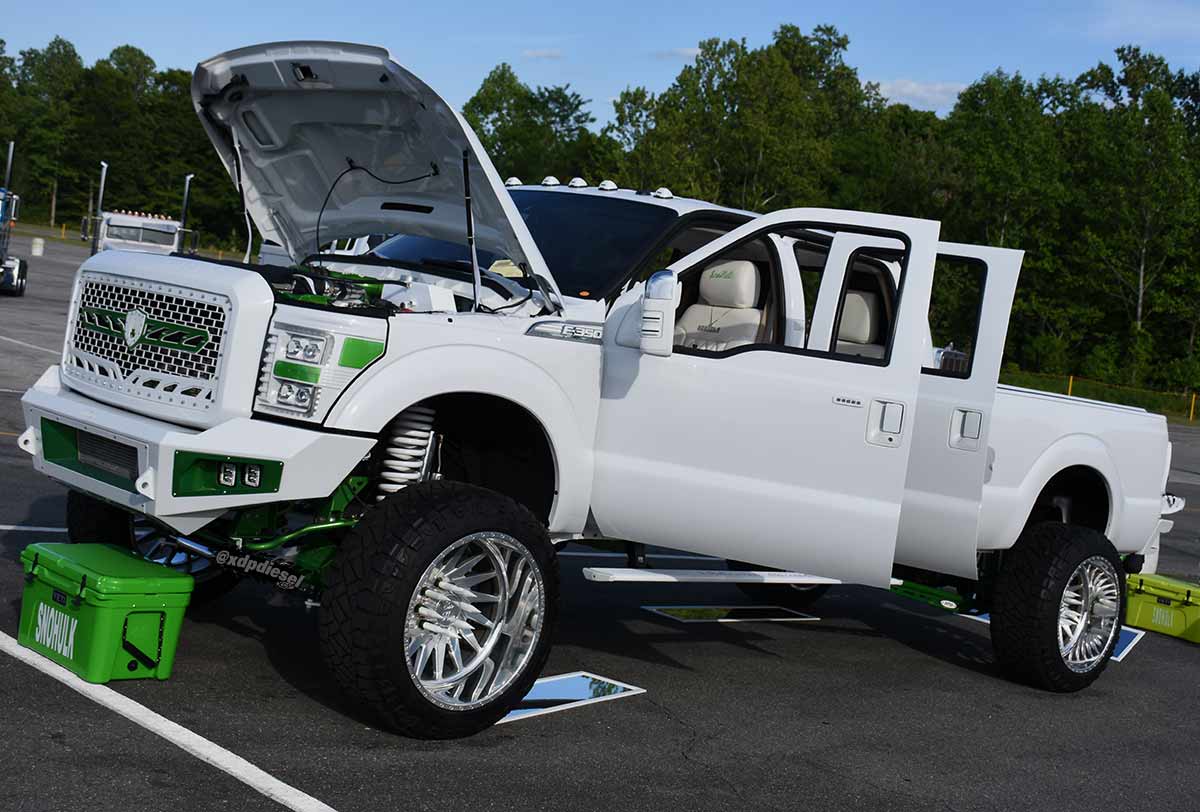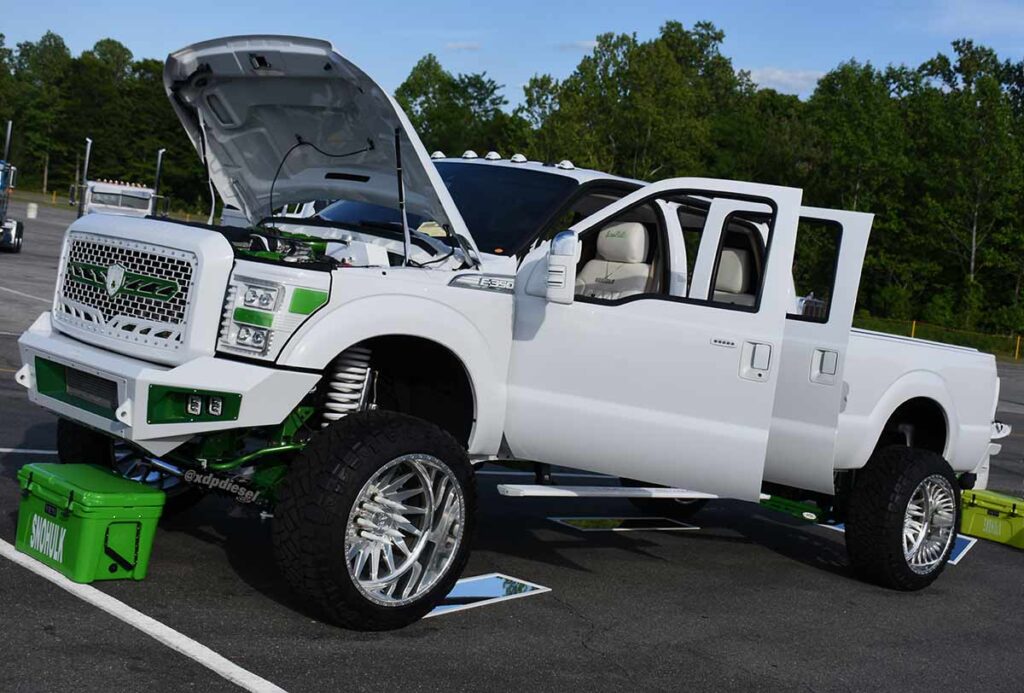 Another truck that caught our eye as well as the judges was Gerard Lloyd and his white 2016 Ford F350 6.7L Powerstroke. He bought it stock in 2016 with the idea of just making a few modifications, never thinking it would turn into the "SnoHulk" it is today. He started with a seven-inch lift as well as adding 24 x 14-inch wheels and 37 x 13.50-inch Nitto tires. The interior was also modified to match the exterior of the truck. The truck's color scheme, however, is what really makes it stand out. The frame, bumpers, and badging as well as the headlights and taillights, have green accents while the rest of the truck, including a large chunk of the interior, is paint-matched white. Gerard took home the Best in Show in the pickup truck class in the Show N' Shine.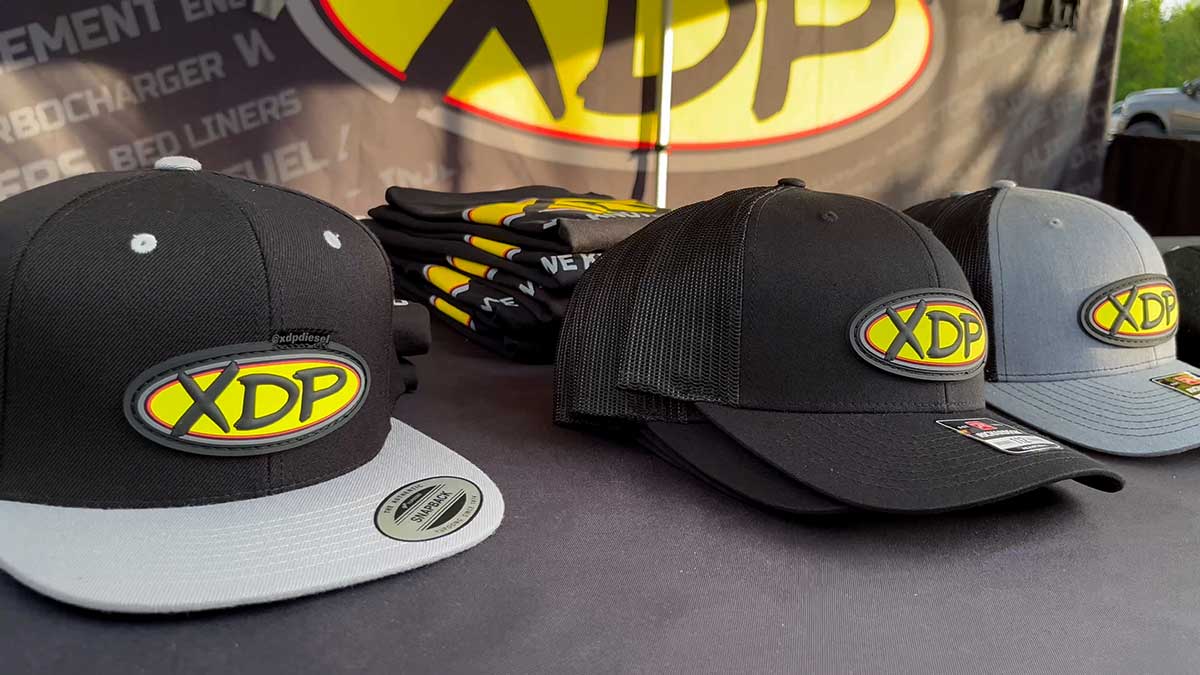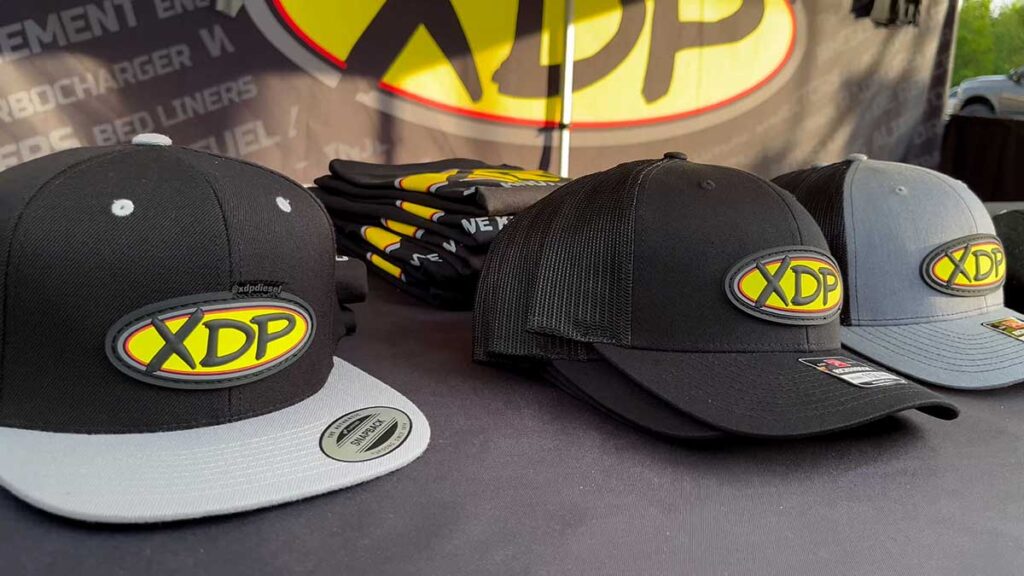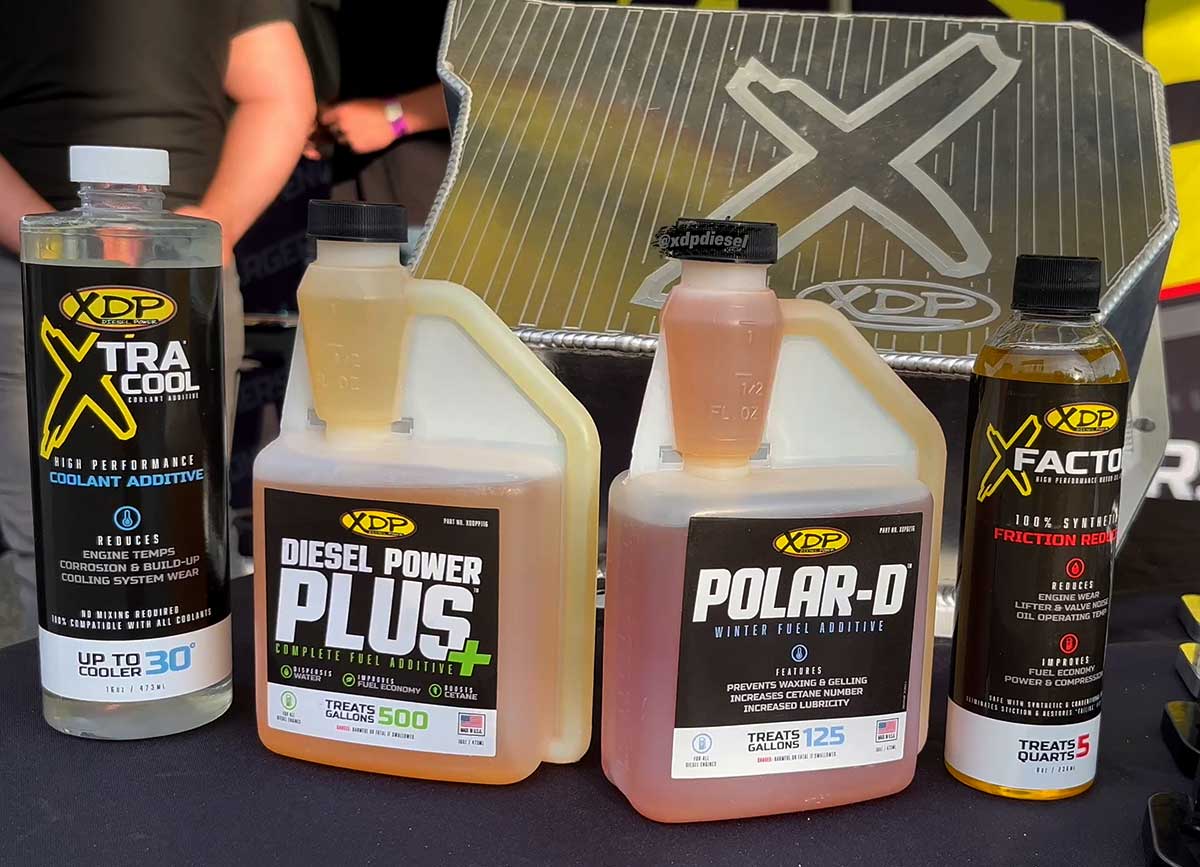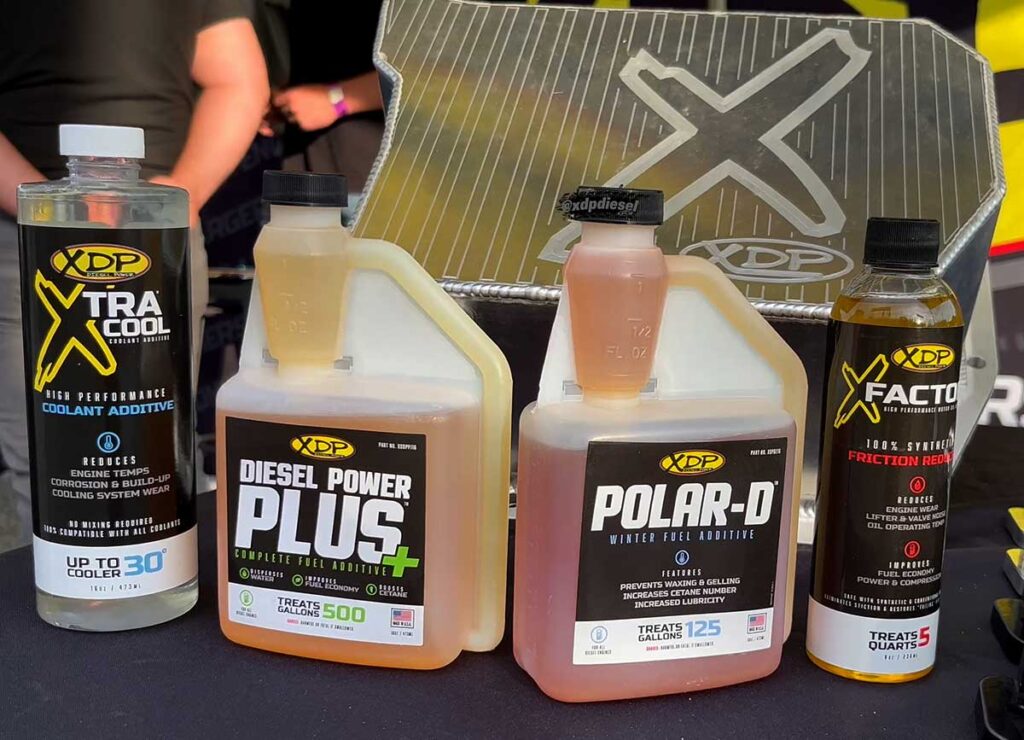 Vendor Midway
Several local vendors were featured at this year's Vendor Midway. XDP was also well represented, as we introduced some of our new apparel and had some of our featured products on display. At the booth we were proud to show off many new XDP parts such as the XDP HD Alternator, HD Starters, OER Series Fuel Injectors, X-TRA Deep Transmission Pans, Xpressor Turbochargers, and more! If you're interested in learning more about these products, check out XDP.com for more info!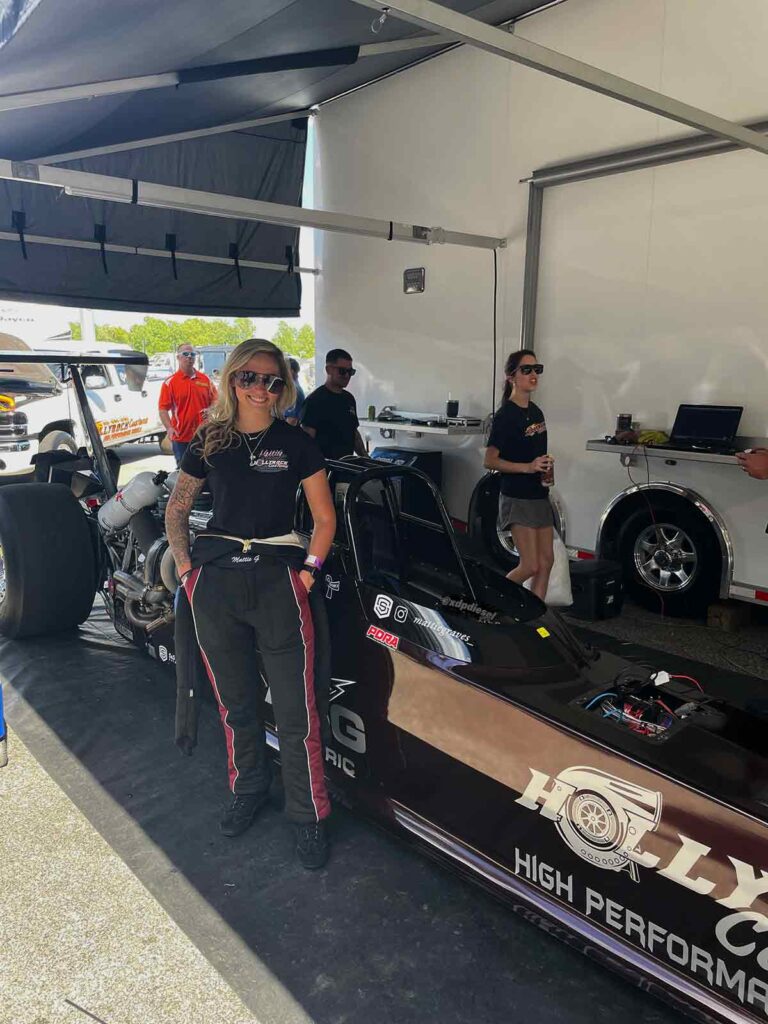 History at XDP Truck Mania
Another unexpected highlight of the day was Mattie Graves breaking her own diesel dragster record! We had the opportunity to interview Mattie before she hit the track to talk about the events she has raced at so far this year. She was very close to beating her 1/8-mile record of 3.963 at 187 mph at the World Series of Pro Mod in Brandenton, Florida in March with an ET of 3.965. The next race of the season was at Rudy's Spring Truck Jam in Rockingham, North Carolina in April. There she set the ODSS Pro Dragster record with an ET of 4.0406 at 189.87 mph!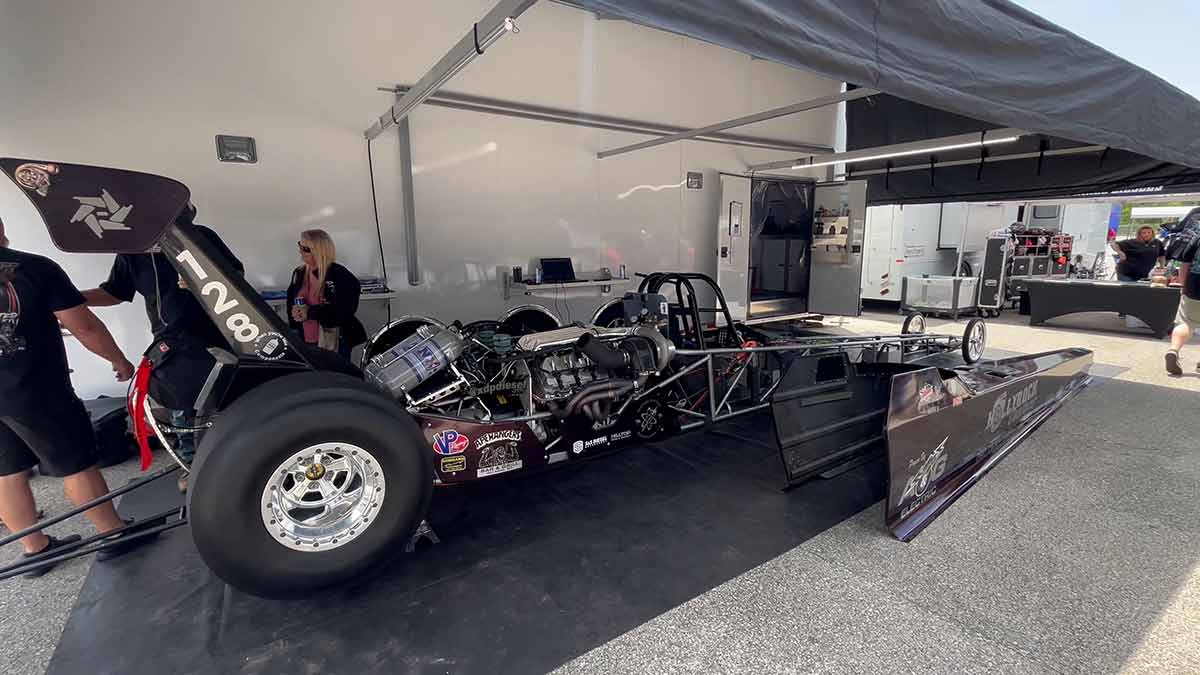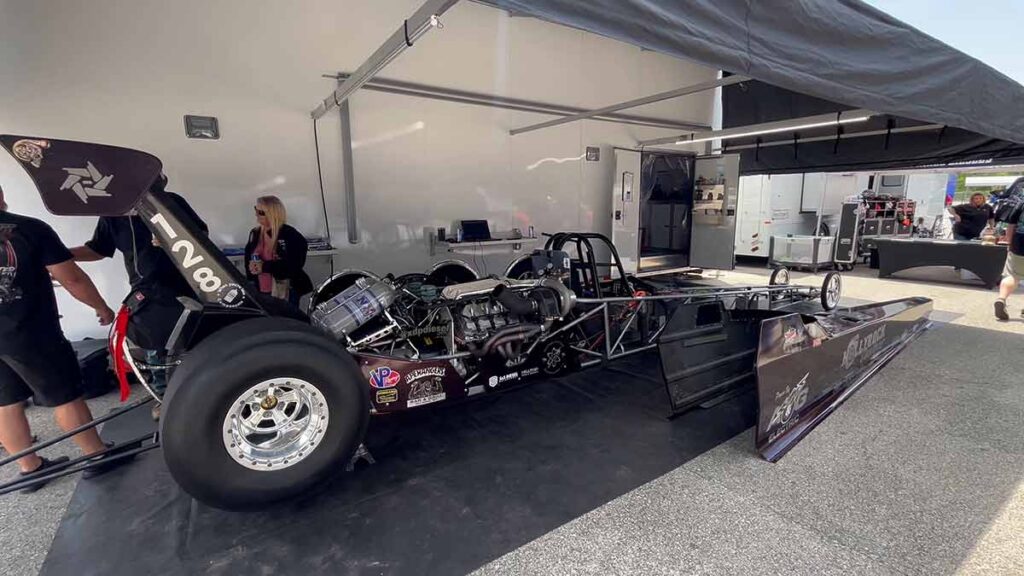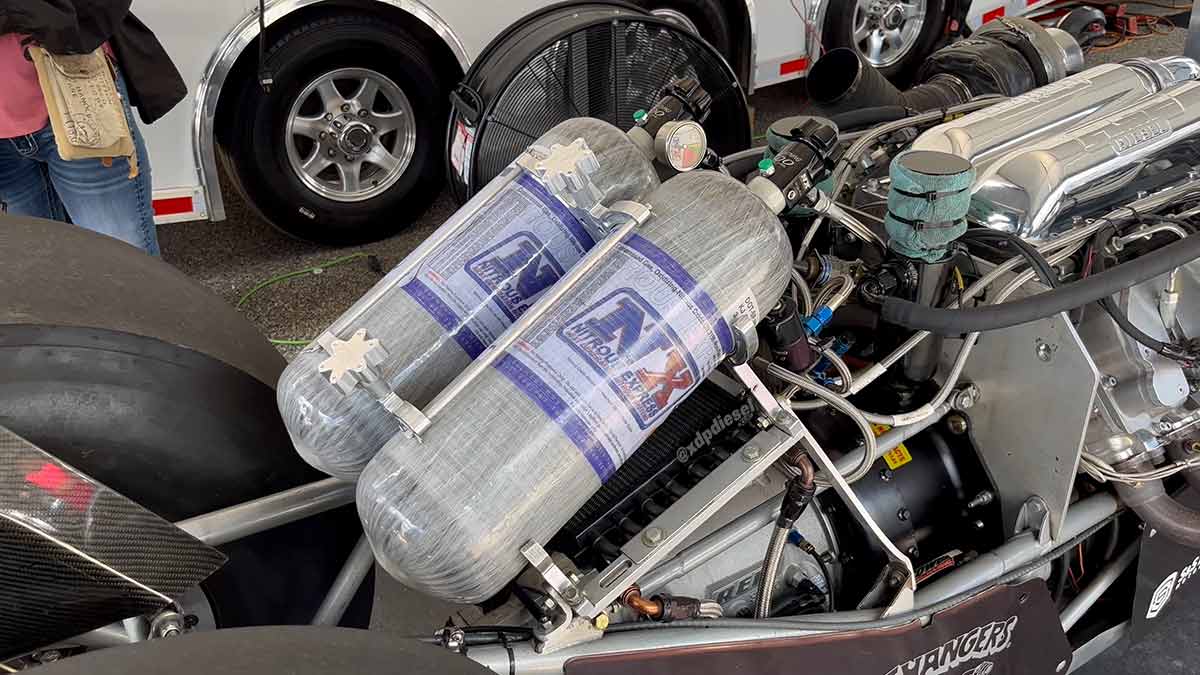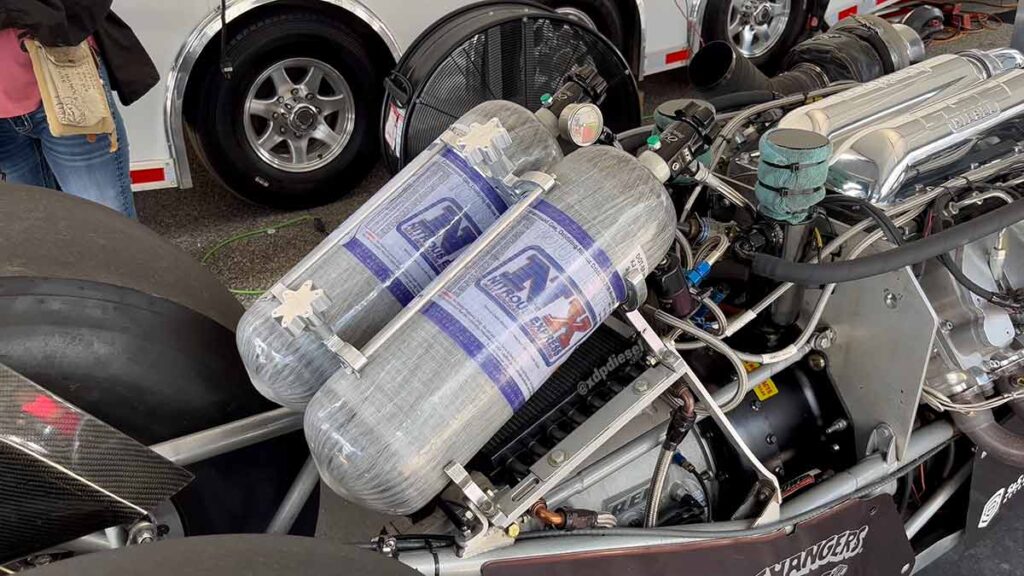 What's most impressive is that she has been able to set and hold these records without making any modifications to the dragster since last year. The dragster currently is a twin turbo LBZ Duramax diesel with a stock GM block. Additionally, it features a four-stage nitrous setup from Nitrous Express, as well as components from S&S Diesel and Wagler Competition Products. From the sounds of it, they're going to keep it the same. Per Mattie, "We got a pretty good grip on how it's running so we're just going to keep it consistent."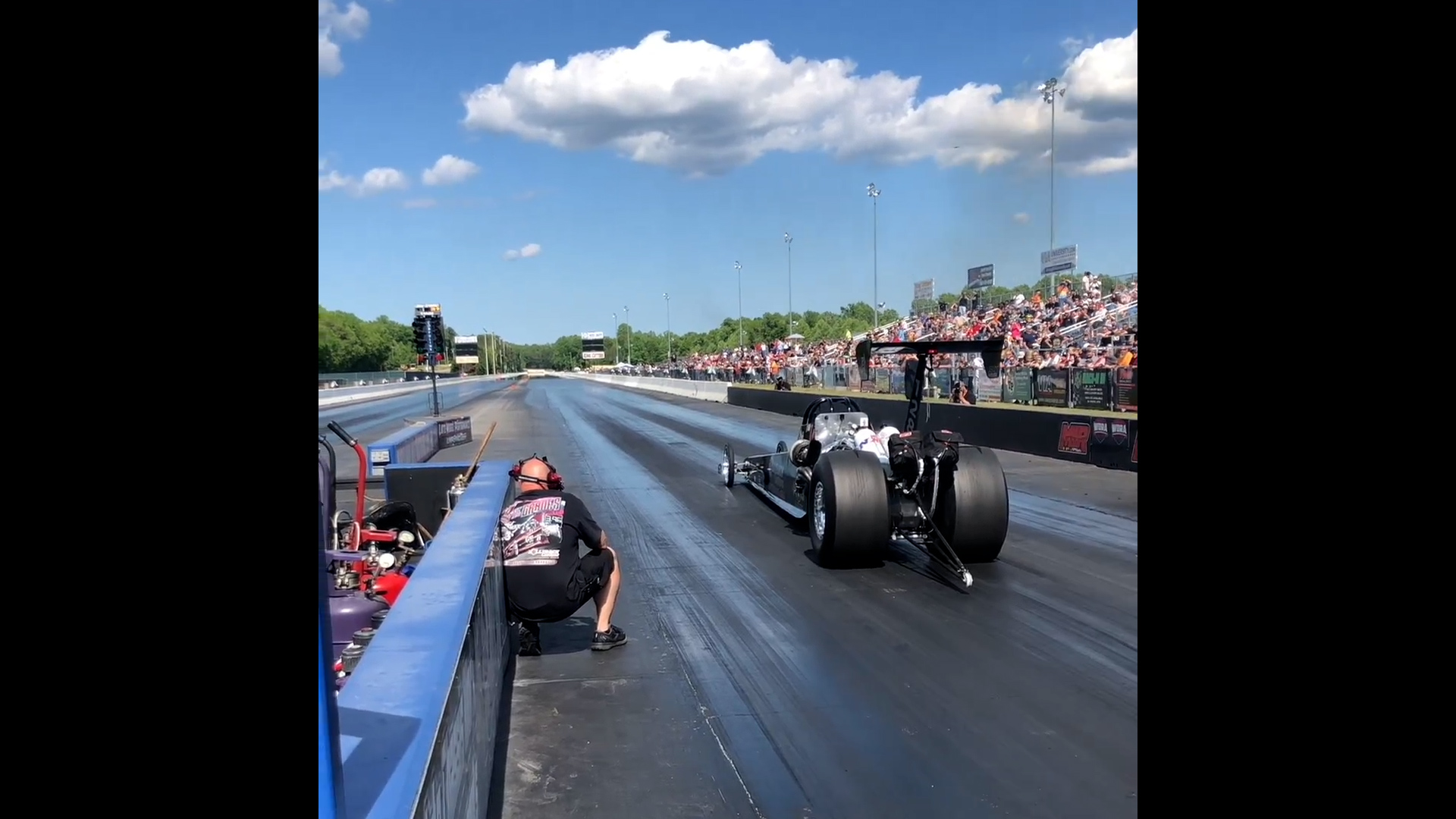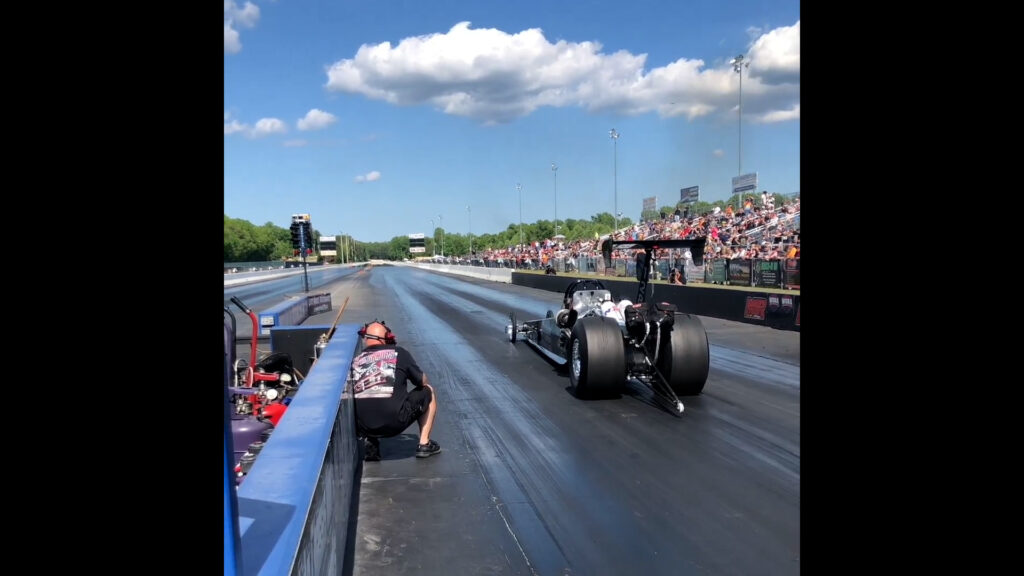 The New Diesel Dragster Record
Mattie was more than consistent on this day. She made her pass and hit an 1/8-mile ET of 3.941 at 190.19 mph, breaking her own record as well as the Duramax world record in the process! Everyone was in amazement, including her father Mike Graves, who we interviewed after she made her pass. "This means everything in the world to me. Aside from having my kids and my grandkids, this is the proudest moment of my life. A family that races together stays together; I couldn't be more proud."
Mike also brought with him their white LB7 Duramax, in which his oldest daughter Katlyn plans on racing with soon. The ultimate goal, per Mike, is to "keep diesels alive. We're going to take baby steps; she still has a lot to learn. But we are super happy with the turnout, and what a great day."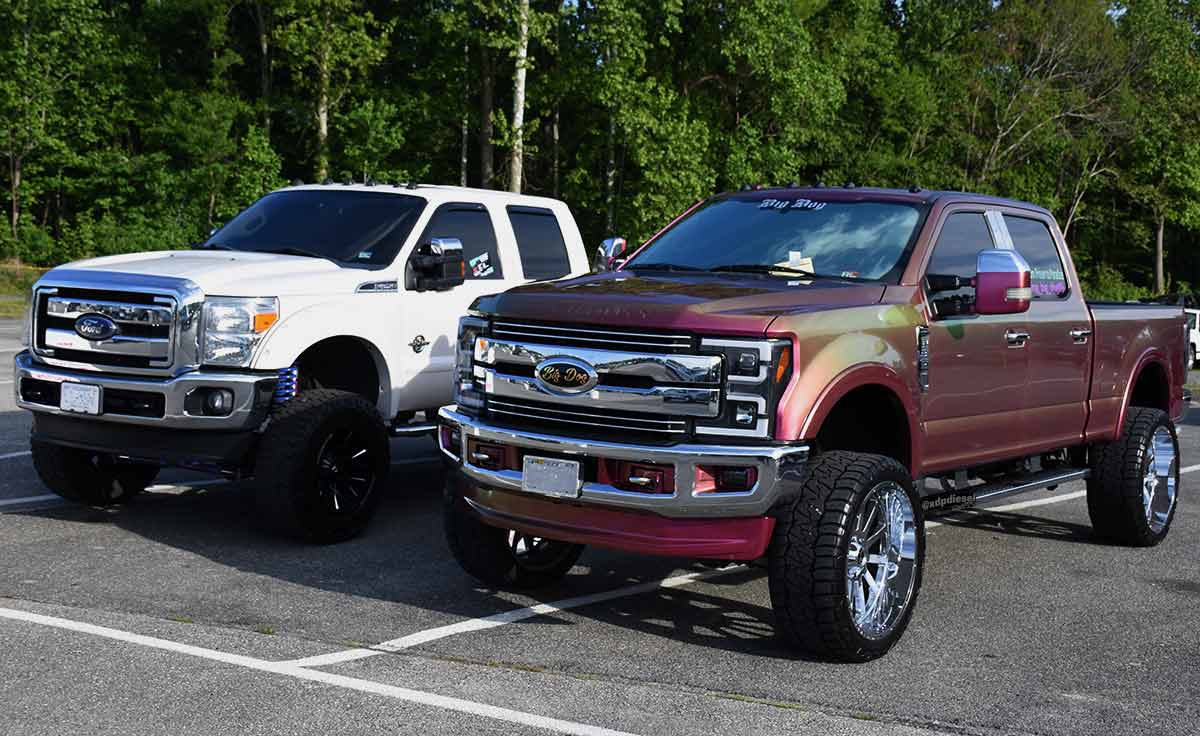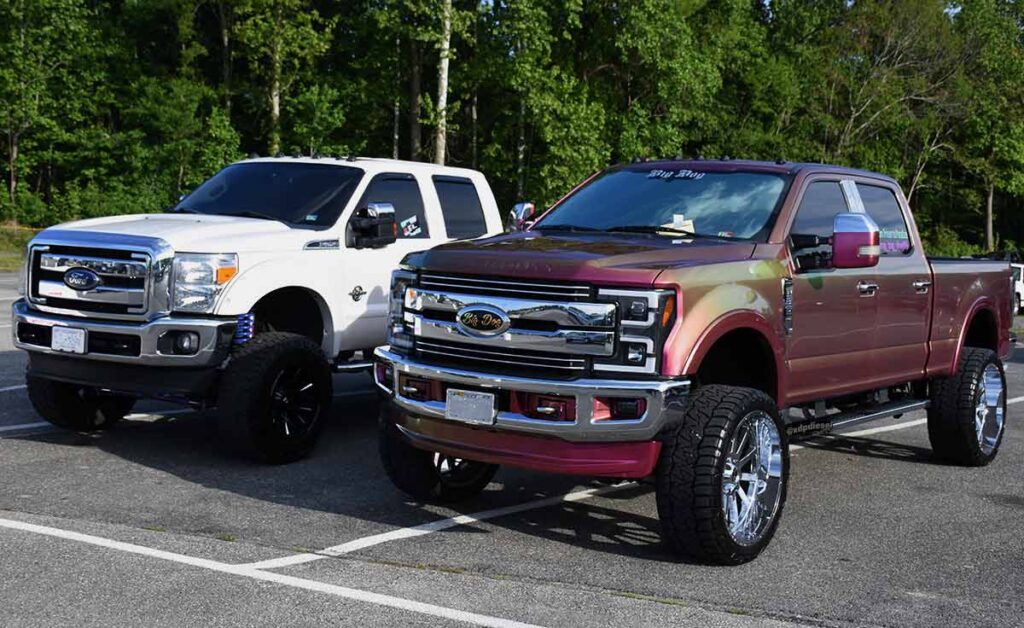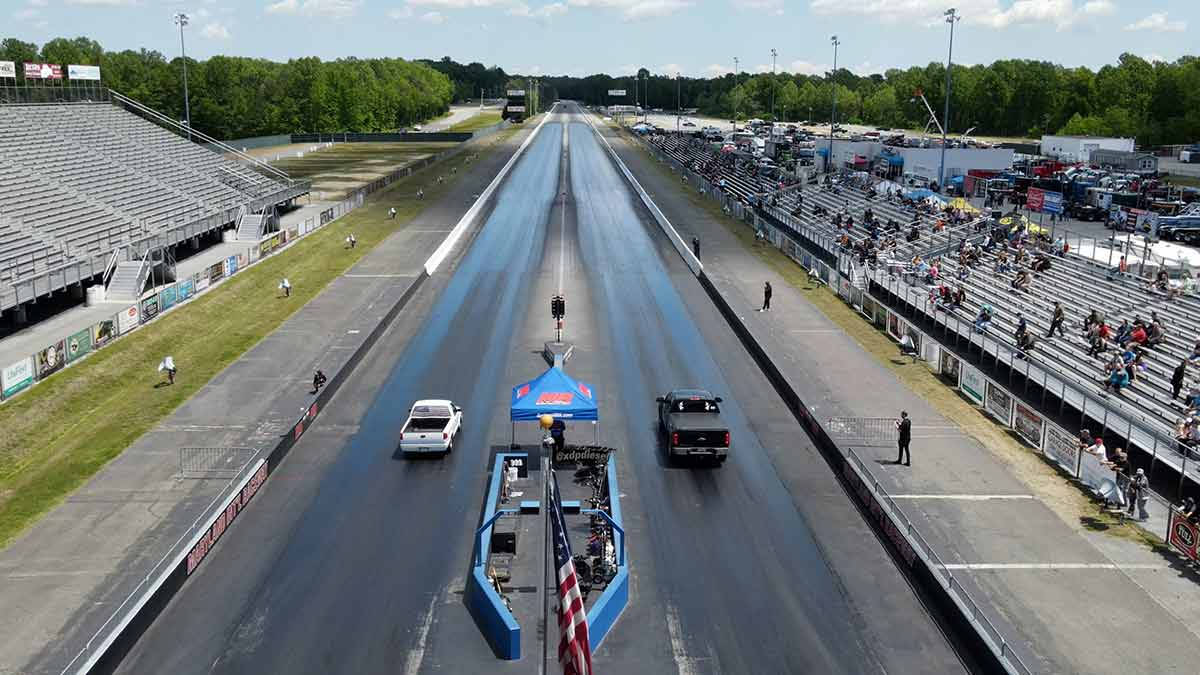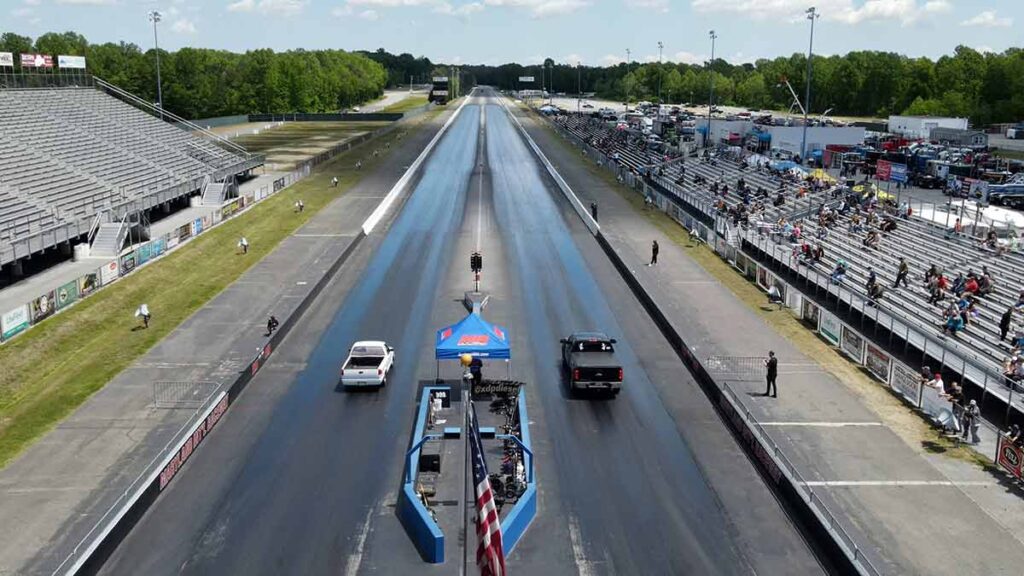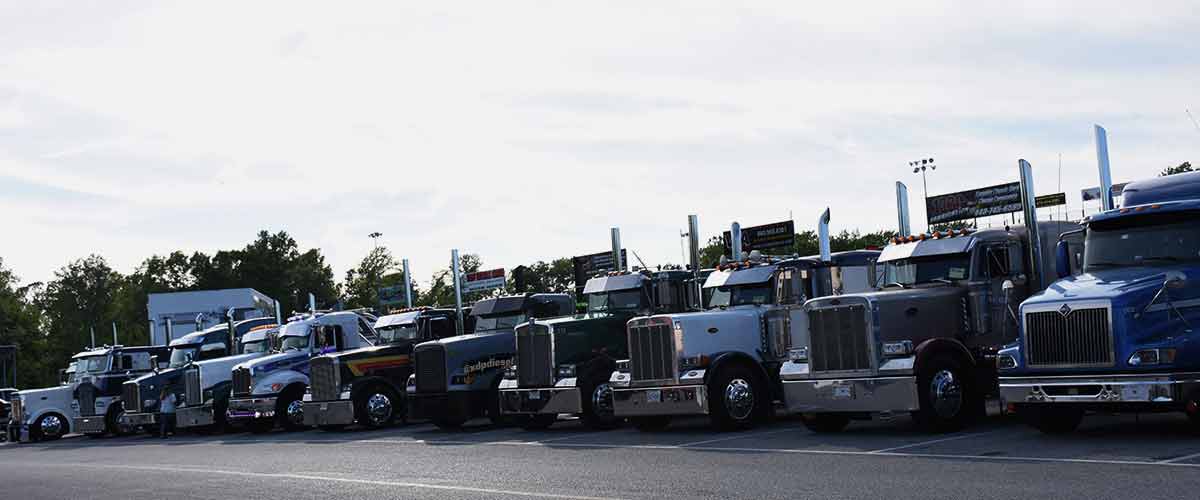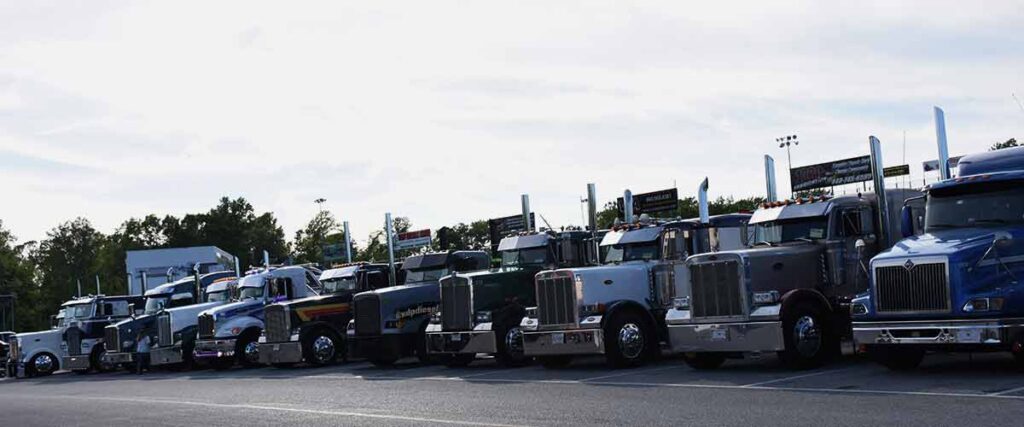 This event turned out to be an amazing day and we were sad to see it end. We couldn't be happier with the turnout and all the excitement that the event brought. Next year's XDP Truck Mania is sure to bring in even more great builds, thrilling races, and more. For this year's full XDP Truck Mania recap video, be sure to check out our YouTube channel.