Atlantic City, NJ, June 10th – 11th, 2023 – Truck owners from near and far came rolling in early onto Bader Field to spectate and participate in the Atlantic City Truck Meet 2023! This action-packed weekend has quickly turned into one of the North East's largest truck shows of the year. Featuring a Show and Shine, burnout pit, truck tug of war, bikini contest, monster truck rides, and more, there's a little something for everyone to enjoy.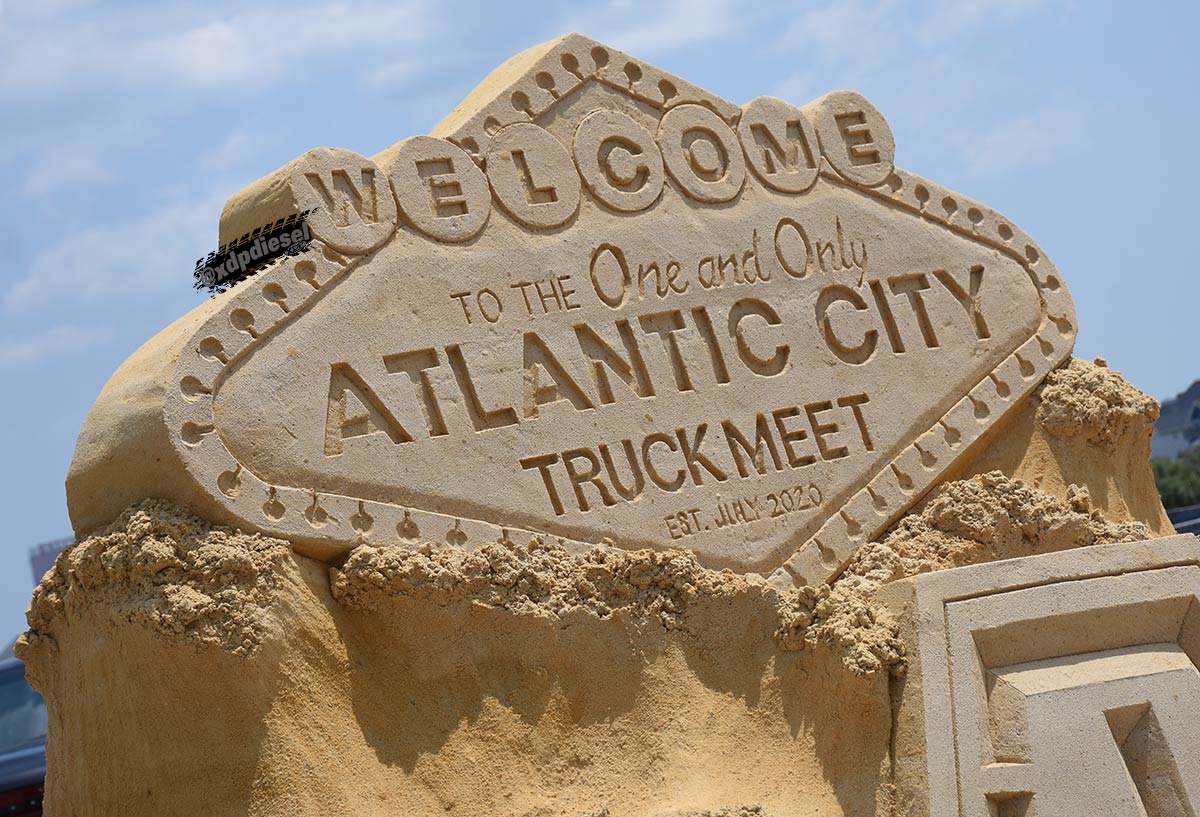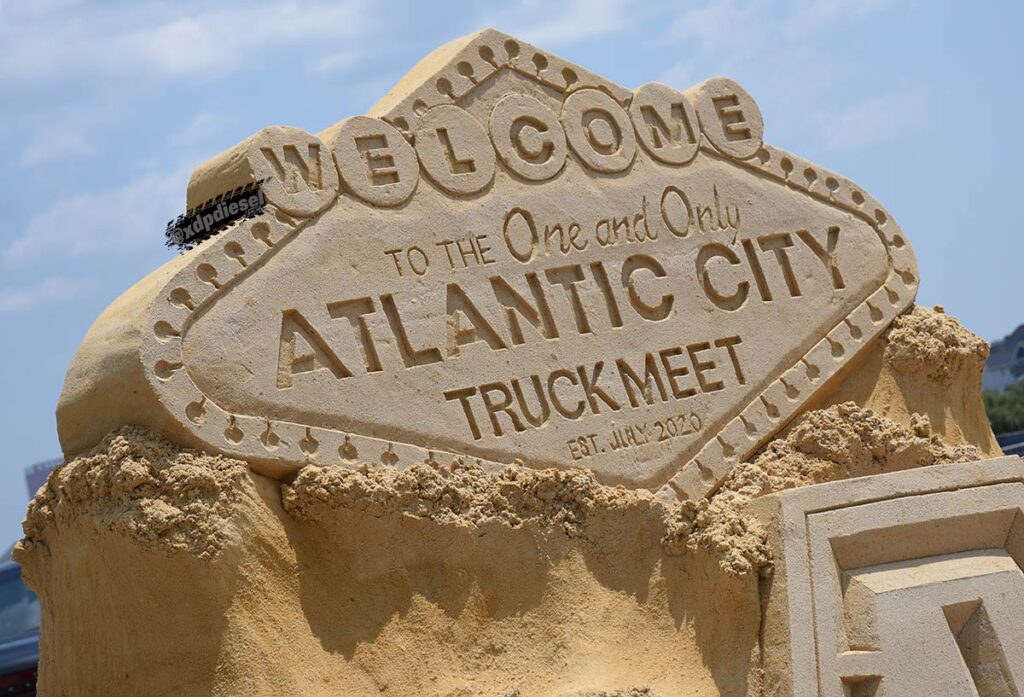 Atlantic City Truck Meet Vendor Row
As the event continues to grow, so does the number of vendors in attendance. Many vendors were on-site to showcase their builds and new products to give attendees ideas, insight, and motivation on how to make their truck unique.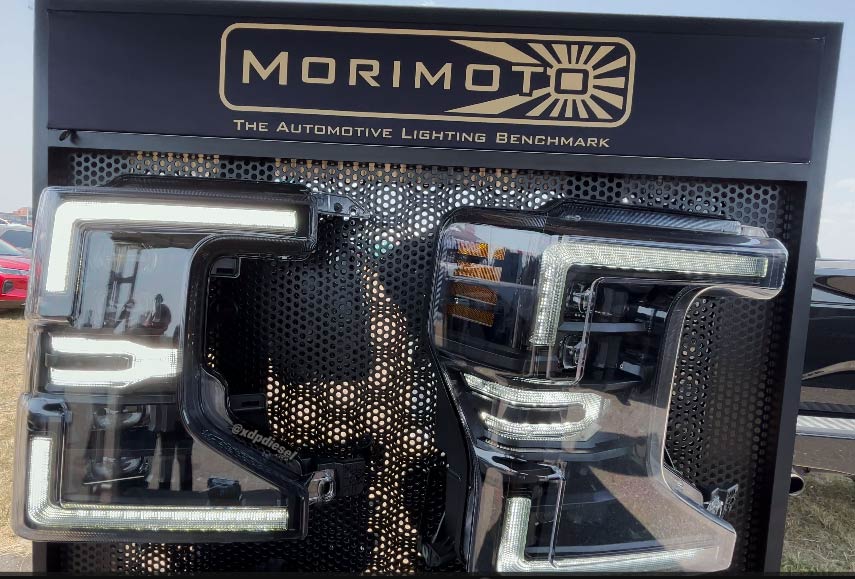 Morimoto
We stopped by our friends over at Morimoto, who were eager to show us their new 2017-2022 Super Duty Tail Lights. They also showcased their line of headlights and tail lights on their Ford F-350 King Ranch. From their headlight and tail light assemblies to their fog lights and A-pillar mounting kits and more, Morimoto offers a variety of high-quality lighting products that will transform the look of your truck and take it to the next level.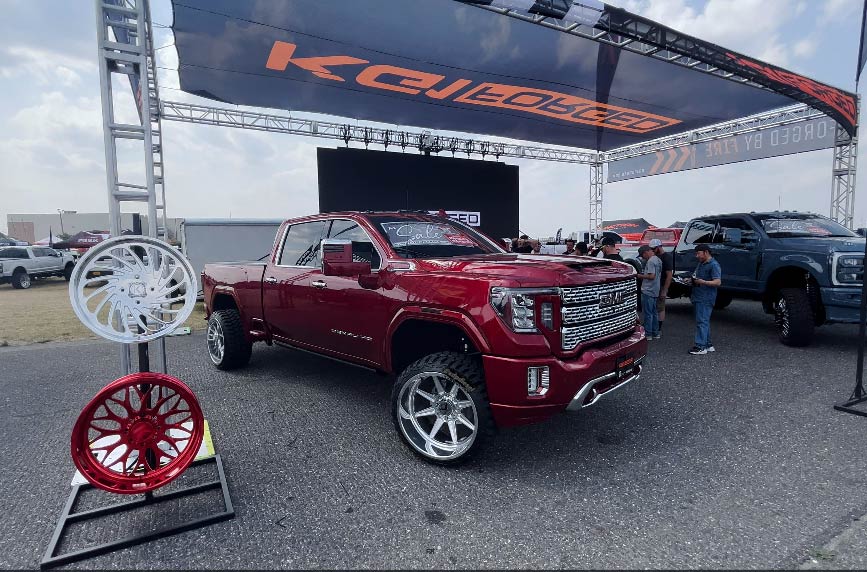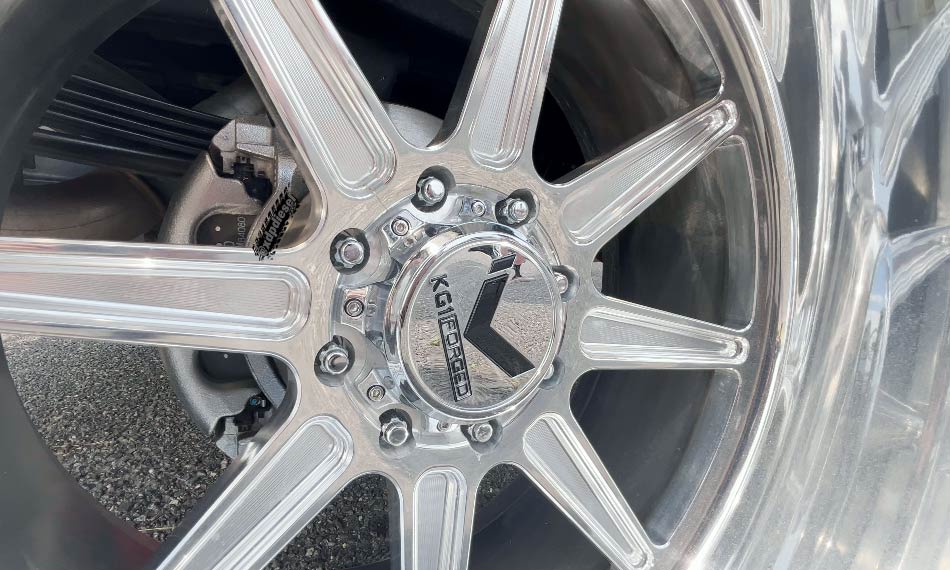 KG1 Forged
We visited our friends over at the KG1 Forged to see their latest products. KG1 Forged's motto is "Forged for Everyone," as they provide high-quality forged wheel options at some of the most affordable prices. At the booth was a 2023 Ford F-350 showcasing the KG1 Forged Trident Black/Milled Wheels, and a 2021 GMC Sierra Denali HD with KG1 Forged Scuffle Wheels. In addition, they announced their Contender Series Outburst Wheels as well as their Vegas Wheels should be available soon.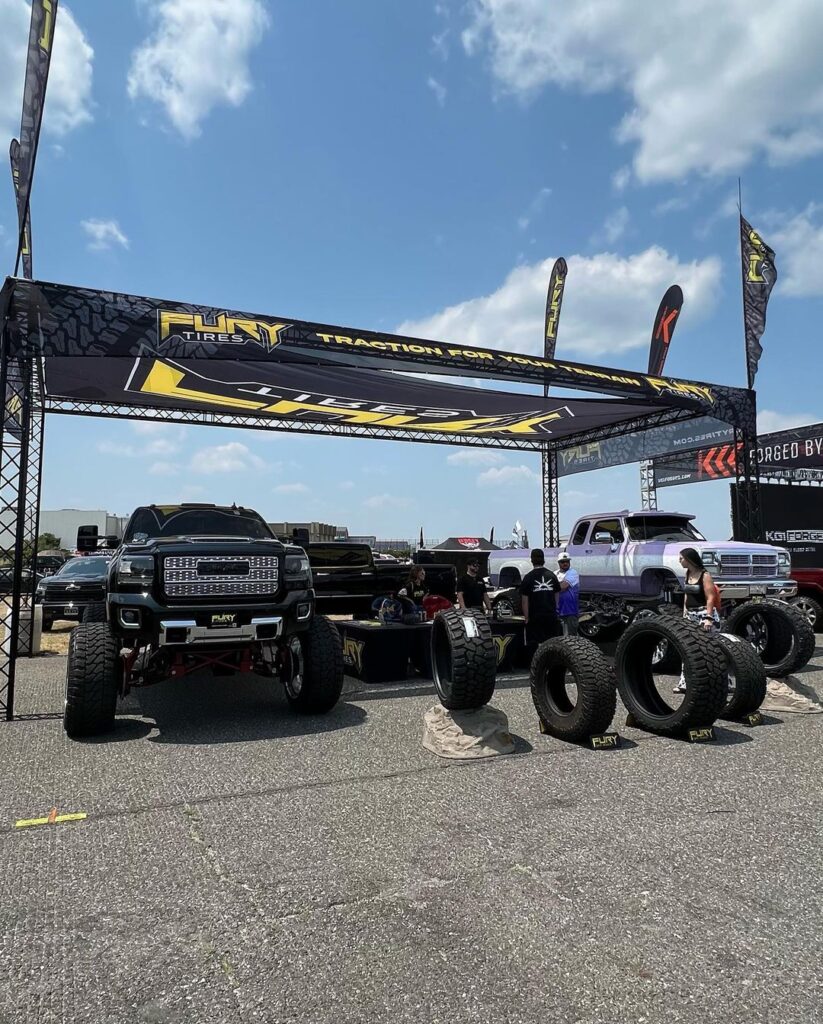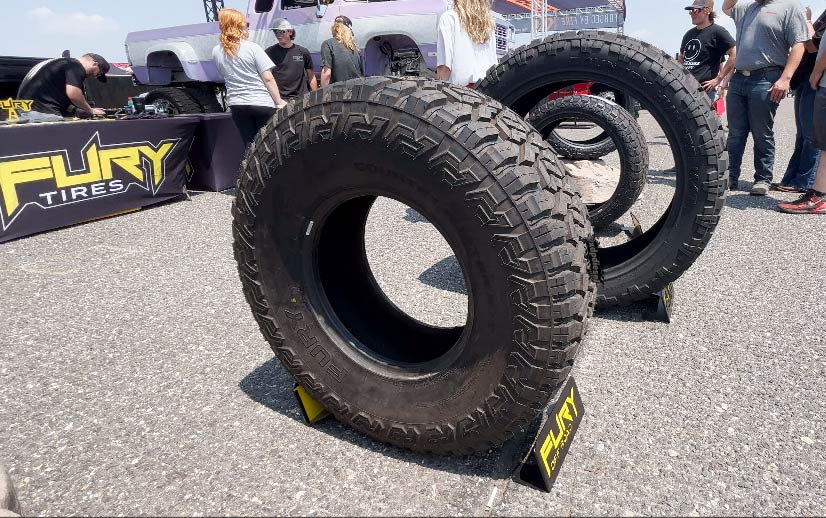 Fury Tires
Fury Tires featured a great booth with a lot of tires on display. Founded in 2015, Fury has already made a name for itself in the aftermarket producing tires that are optimal for both on and off-road driving. The two new tires they showcased were their 35×16.50R24 MTII and their 35×14.50R26 MTII. Fury Tires also had two featured trucks at their booth. A black GMC Sierra 2500 HD L5P owned by Don Purdy featured Fury's 42×15.50R26 MTs along with KG1 Forged Wheels.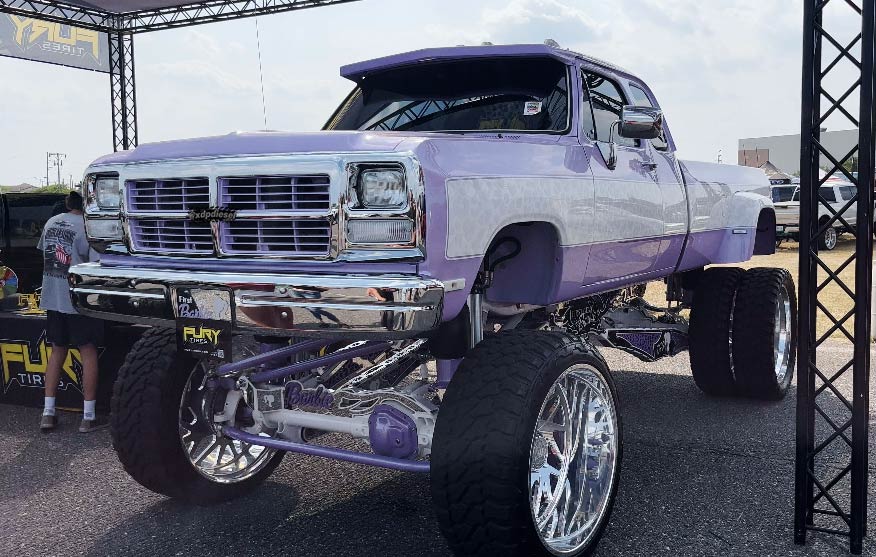 The First-Gen Barbie at Atlantic City Truck Meet
Also featured at the Fury Tires booth sporting 42-inch tires was the "First-Gen Barbie" owned by Madeline Logie. This gorgeous First-Gen features the original body down to the grill and bumper. Where this truck stands out, however, is with its color choice and the custom frame and suspension. Madeline wanted a Barbie feel but didn't want to overdo it with a pink color. So, she opted for purple with grey cheetah prints down the sides. The framework is all custom and powder-coated purple to match the paint, with Barbie emblems everywhere as well. As for the lift, she's not even sure how big it is. "I know it has 12 inches of travel, so I'm not really sure," said Madeline. "But my guess is about 20 inches."
In just a three-to-four-month timespan she had this truck transformed into what it is today, but still has some big plans. She plans on putting grille inserts that will be cheetah print, as well as new custom headlights and tail lights. In addition, she plans on powder coating the wheels, and completely gutting the interior. She also has another build in the works that we will have to wait until SEMA to check it out.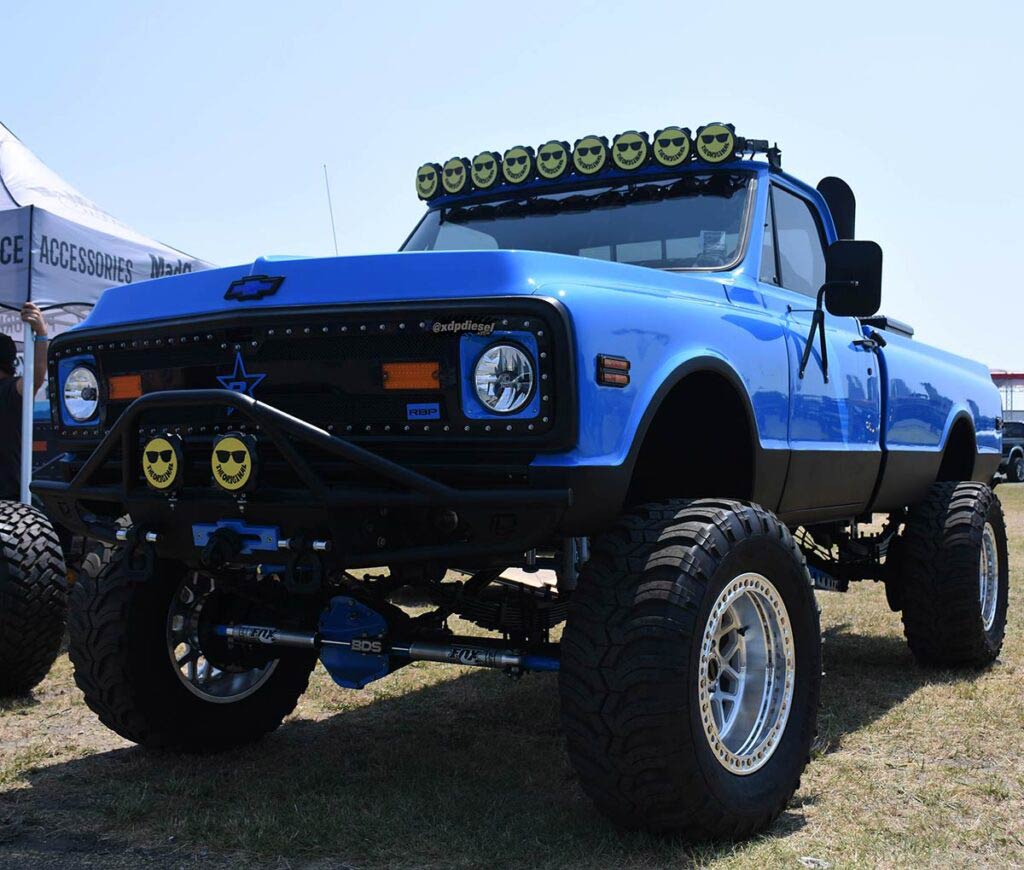 Atlantic City Truck Meet Show and Shine
This year's Show and Shine brought out many more unique builds that were on display. We were blown away by the trucks that entered this year. While we were able to catch up with some of our friends from years past, we also took the time to check out some new trucks.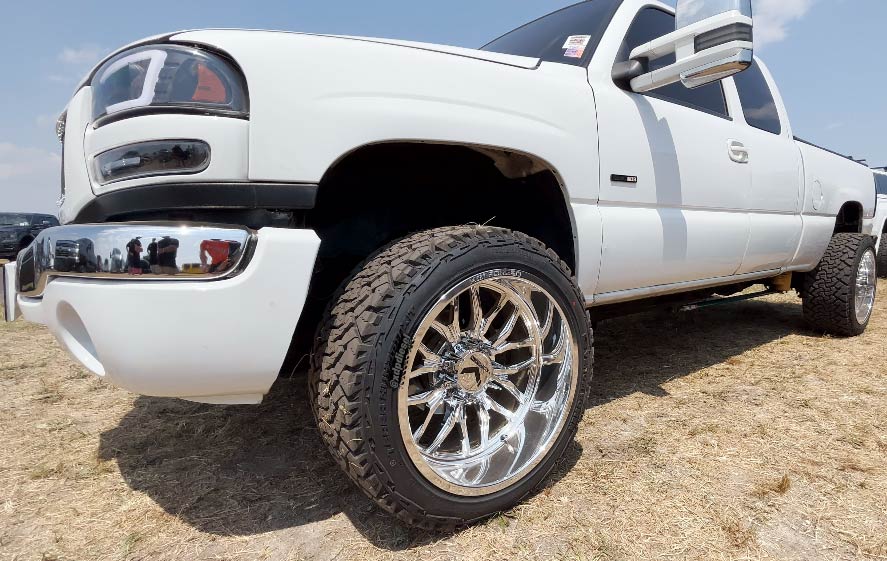 One new build we saw was David's white 2003 GMC Sierra LB7 Duramax. David's got a lot of work done to the truck, as he started by swapping out the old engine for a fresh rebuild. From there he added a built trans with billet components, as well as an upgraded turbocharger and fuel system. Additionally, it features a FASS 165GPH Fuel System with an XDP Fuel Tank Sump to go with it. The truck is also sitting on KG1 Forged Wheels. David is currently working on building a 2002 GMC LB7 Duramax the same way, only in black instead of white. As far as the future for David, he wants to get a 2015 or 2016 GMC LML Duramax. We can't wait to see the results of his future projects.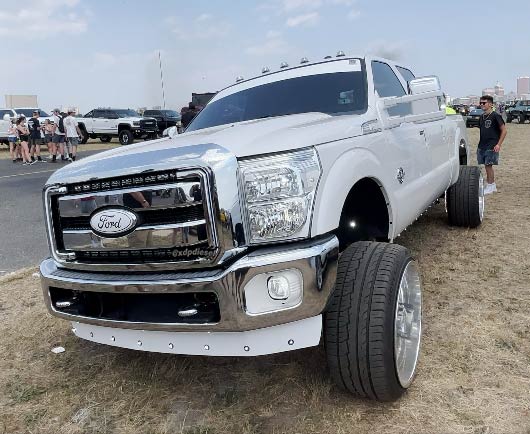 Another truck that caught our eye was Karl's white 2016 Ford F-350. Purchased two and a half years ago, he was using it as a plow truck in the winter. Karl decided to paint, and powder coat the chassis white to match the rest of the truck. Additionally, he added front air ride suspension which he uses to lower passenger side to give the truck a mean look. He also has custom rock lights, cab lights, and accent lights that match his headlights and tail lights. The wheels on the truck are KG1 Forged Bullets, which are extremely hard to find, but adds to the uniqueness of the vehicle.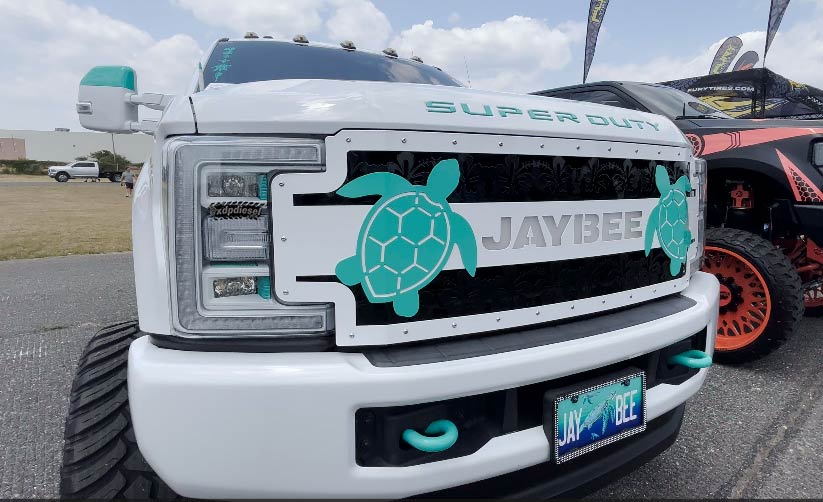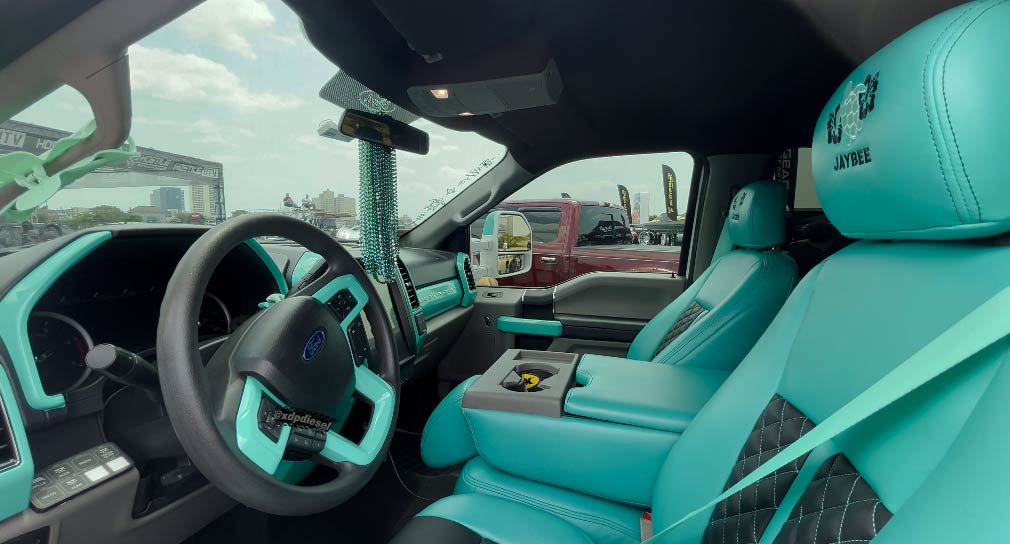 Jaybee's Journey
Last but not least, we talked to Jaylin and her white 2019 Ford F250 Super Duty. It's always amazing to talk to owners whose trucks have a special meaning behind them. The truck's name "Jaybee's Journey" and inspiration comes from a sea turtle which Jaylin adopted. The truck features custom teal badging, headlights, mirrors, suspension, bumper, and toolbox. The truck's custom wheels are a combination of white and teal with teal turtle accents. Teal turtle accents can be found on numerous parts of her truck, including the custom grille. The interior features custom teal seats with the truck's name embroidered in the headrests as well as a black and teal dashboard and, her favorite modification, teal seatbelts. She's extremely passionate about helping sea turtles, and the truck certainly reflects her passion.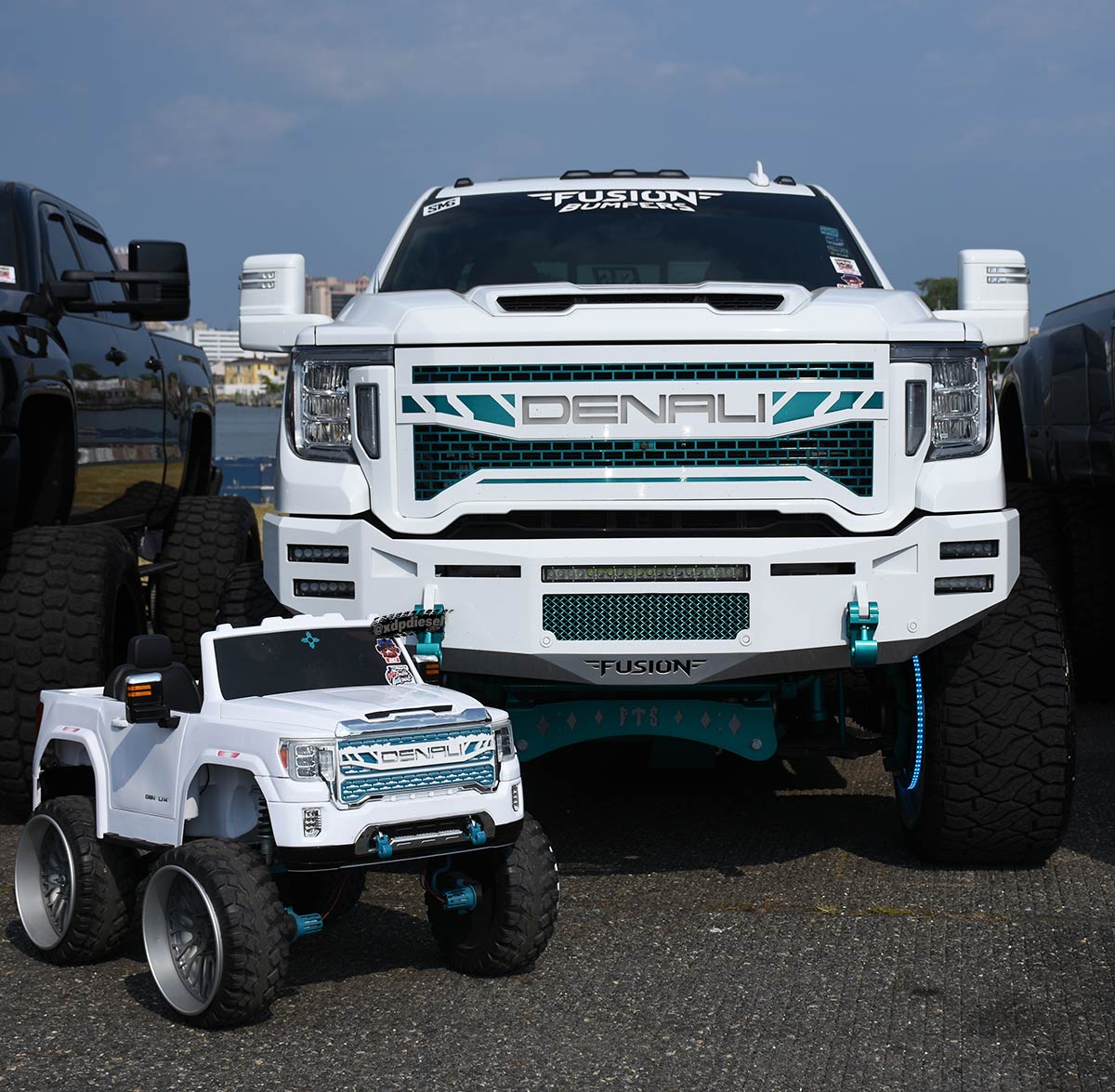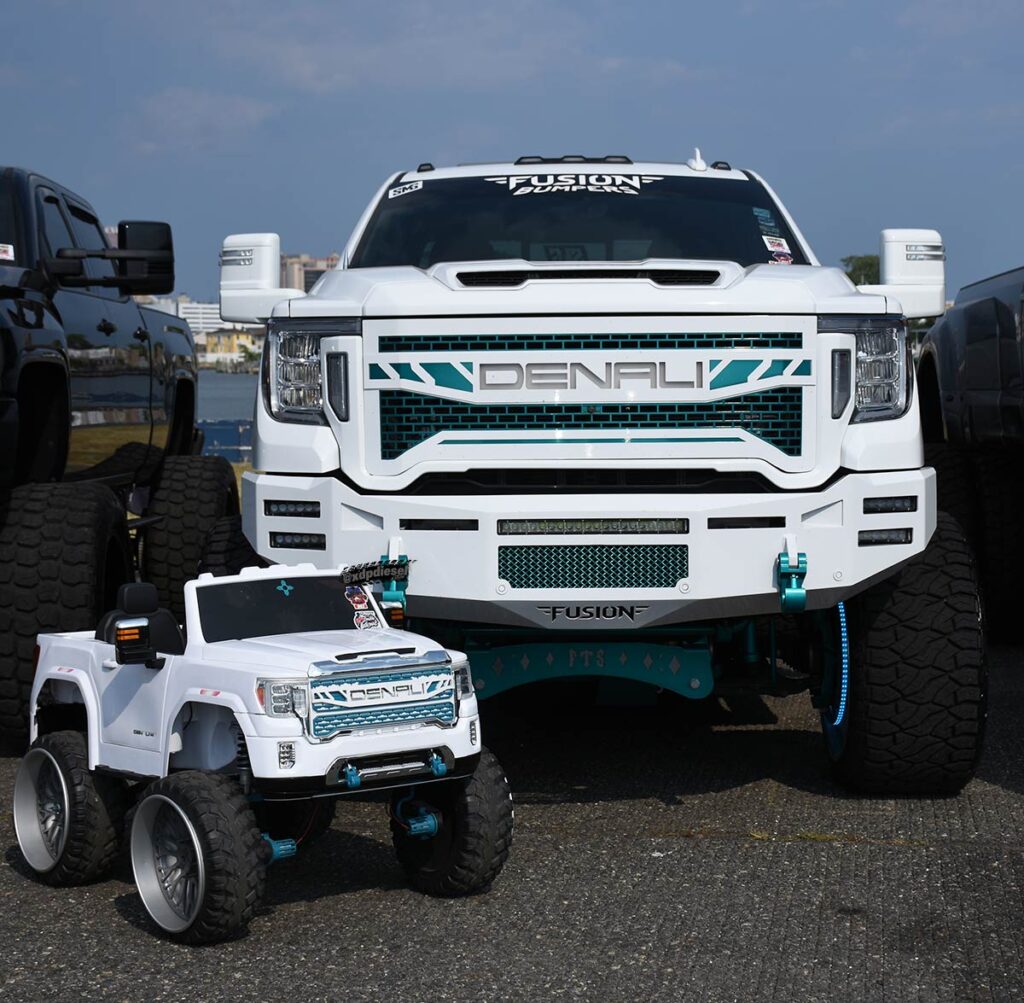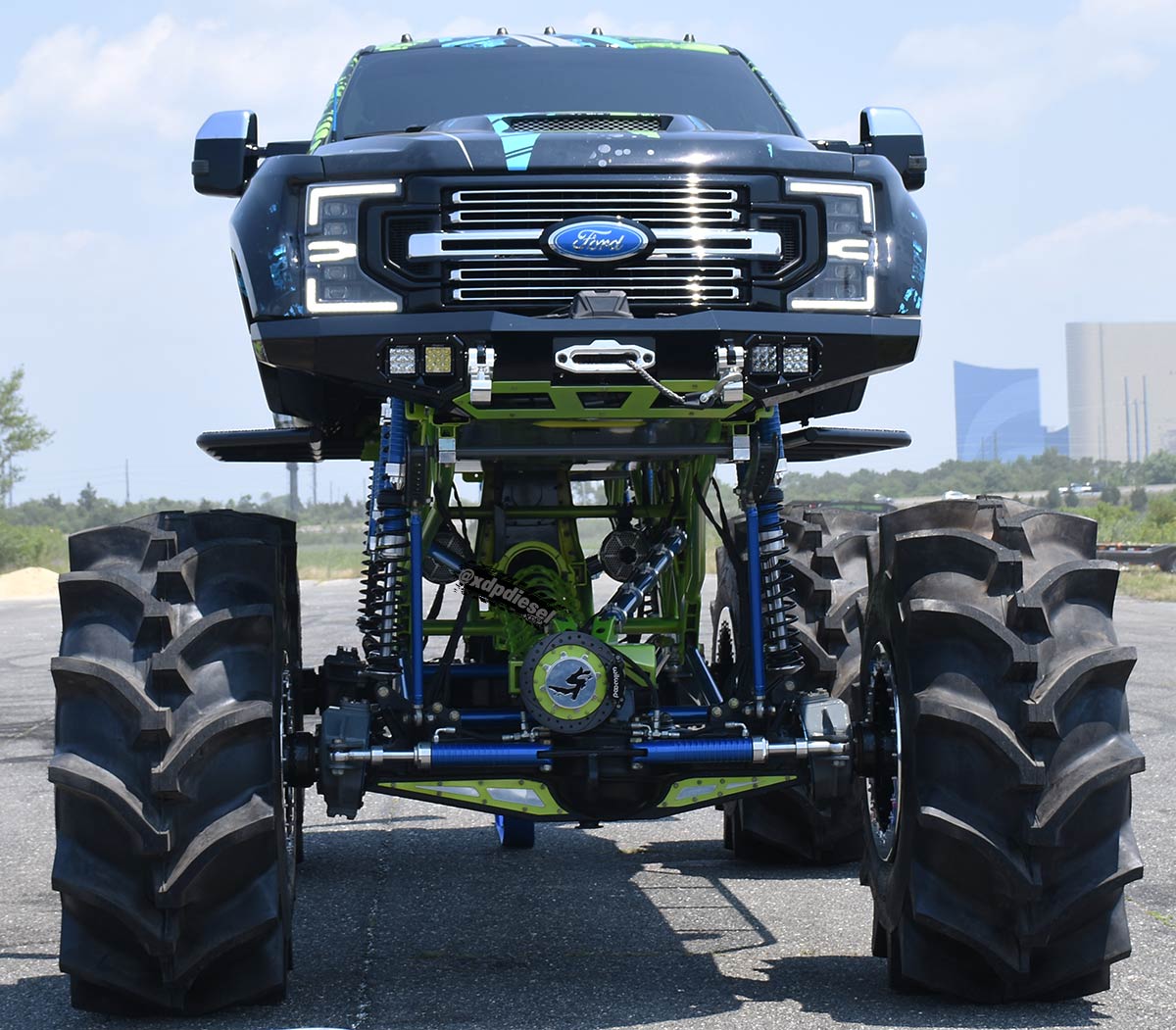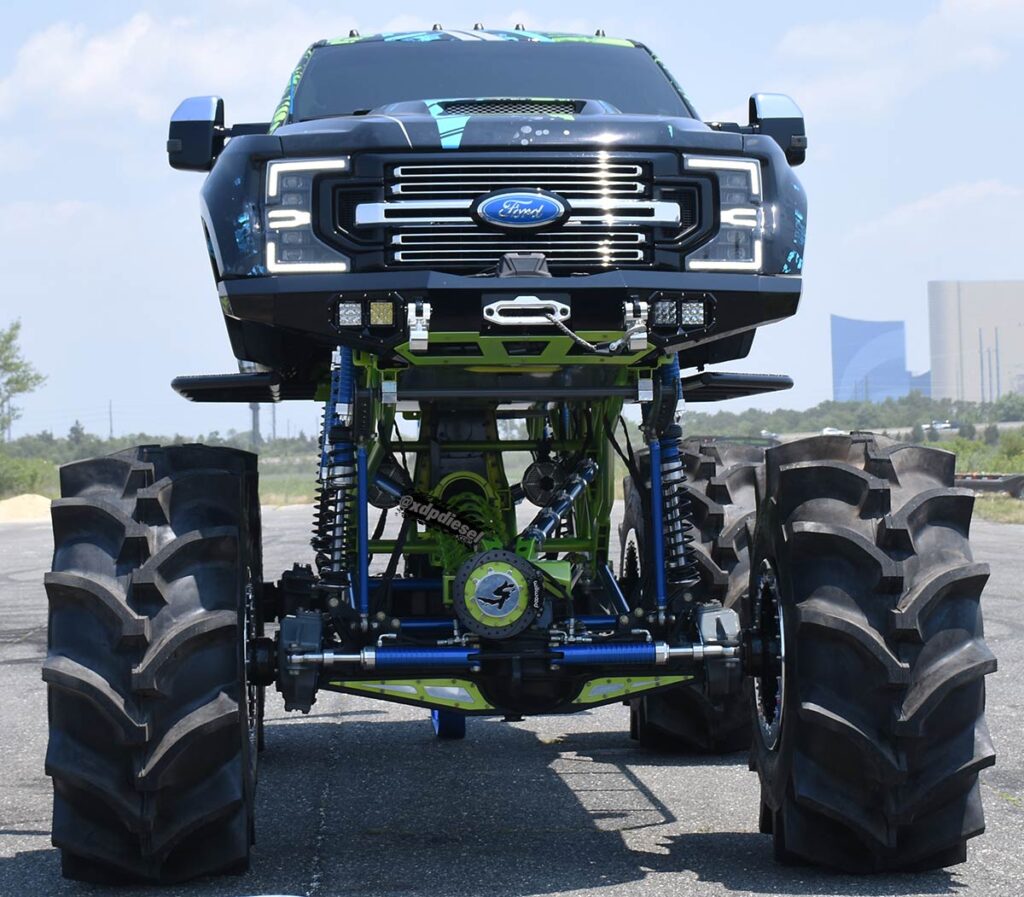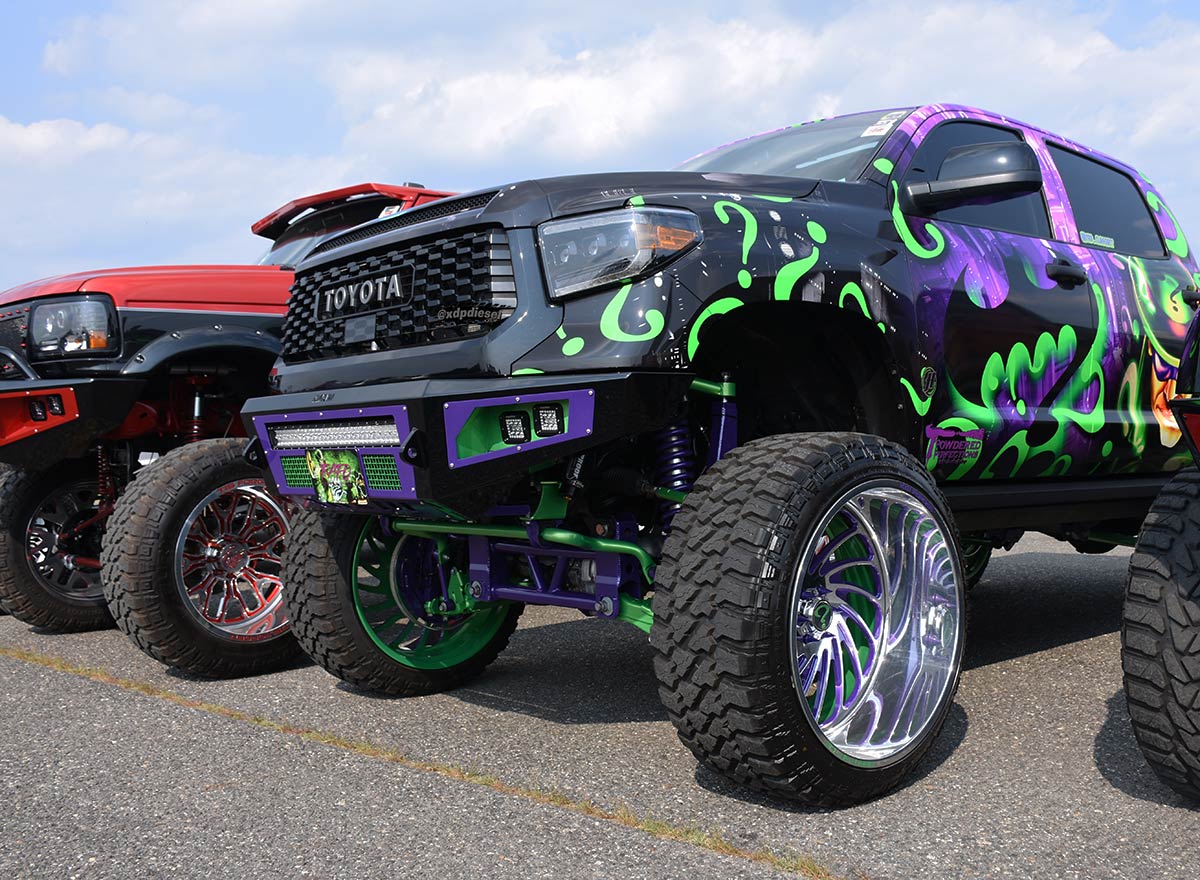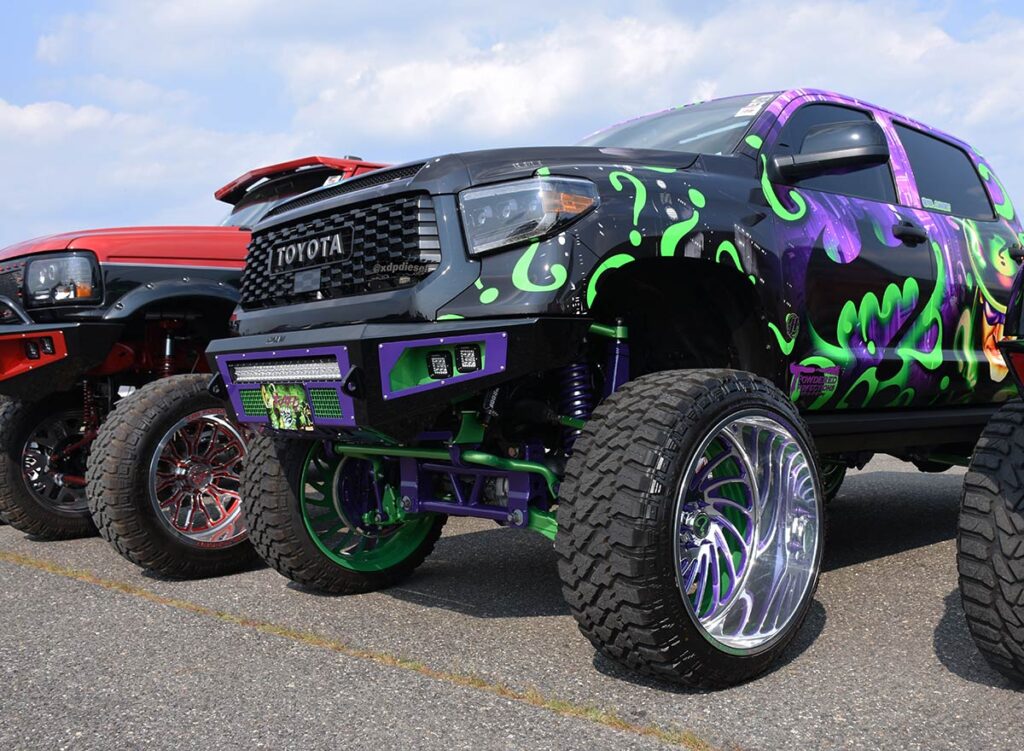 It was an overall fantastic weekend at the Atlantic City Truck Meet, and we are excited to see this event continue to grow every year. We can't wait to see what features Atlantic City Truck Meet 2024 has to offer and the new builds that everyone will bring! For the full recap video of this year's event, be sure to check out our YouTube channel. You can also find products from KG1 Forged, Fury Tires, Morimoto, and more at XDP.com today!