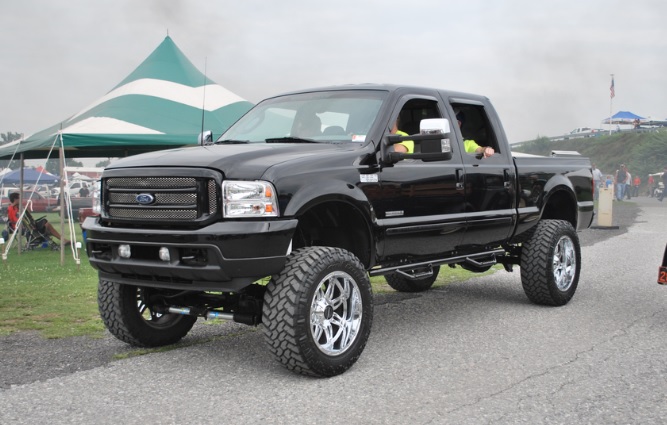 History/General Info
With the previous F-Series platforms spanning almost two decades since a major redesign, as well as increased competition from Dodge, Ford had to go all out with their new line of trucks. Ford started overhauling their trucks by releasing the new F-150 in 1997, featuring a more carlike appearance and plenty of convenience features to help appeal to a wider variety of consumers. Two years later in 1999, the real bombshell was dropped with the introduction of the F-250/350.
To help market the truck to commercial buyers, Ford sought to create a separate, dedicated heavy-duty truck platform. The all-new Super Duty, as they were referred to, would be distinguishable from the F-150 by its distinct body style, along with a heavier-duty chassis and suspension to allow for higher payload and towing capacities. The result was a truck that set the industry standard for the modern heavy-duty diesel pickup.
While the F-150 featured a more rounded grille and headlights, the Super Duty was all machismo. A new large upright grille was prominently displayed and screamed heavy-duty truck. The new styling featured a tall hood line that was flanked by fenders that sat lower. The front window openings were cut lower in the front half and helped further give the impression you were sitting inside a semi-truck. It was an instant success, and the styling cues went on to influence all Ford trucks for the next 20+ years.
7.3L Powerstroke
On top of a completely redesigned truck, Ford also revised the 7.3L Powerstroke diesel engine and made some significant upgrades. An intercooler was added to cool the compressed air from the turbo. This air-to-air intercooler increased the horsepower potential of the engine while also reducing exhaust gas temperatures (EGT). Ford replaced the cam-driven mechanical pump with an electric lift pump to provide better fuel system performance. Another big addition was the upgraded Garrett turbocharger that now featured a wastegate. New higher flowing split-shot 140cc injectors were larger than the 120cc injectors used on previous generations. Another bonus was they were also significantly quieter.
A new 17° swash plate High-Pressure Oil Pump (HPOP) was incorporated, up from 15°, to provide an increase in oil volume. These pumps can also better support performance modifications in the aftermarket. The 7.3L continued to utilize forged-steel connecting rods from 1999-2000 trucks and were replaced by weaker powdered-metal rods starting in 2001. Horsepower and torque were continually bumped up over the years. Starting at an initial rating of 235 hp and 500 lb-ft of torque across the board and ending with a peak of 275 hp and 550 lb-ft of torque in the later manual transmission trucks.
Transmissions
New automatic and manual transmissions were also introduced for the Super Duty lineup. The transmission options available were the new 4R110 Automatic and the ZF S6-650 6-Speed Manual Transmission. As with many of the older diesel truck offerings, the automatic transmission had its power limitations, especially when the power levels are raised.
Suspension
Suspension for the 1999-2003 Super Duty included heavy-duty three-inch wide leaf springs and staggered shocks. Two-wheel drive models retained the Twin I-Beam suspension in the front, while four-wheel drive variants used Dana 50 and 60 solid front axles with leaf springs. Standard rear anti-sway bars were installed on all Ford F-350 DRW models, which used a Dana 80 axle in the back. Single-rear-wheel F-250s and F-350s were fitted with Sterling 10.5-inch rear axles.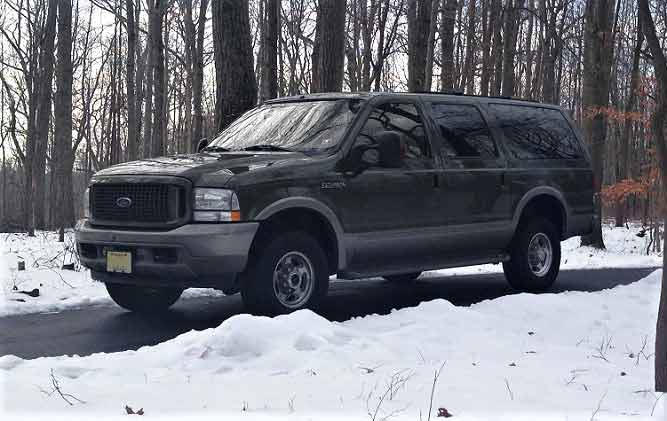 Ford Excursion
Ford offered a full-size sport-utility vehicle (SUV) utilizing the same basic platform/drivetrain as the F-250 called the Ford Excursion. Available from 2000-2005, it was available with all the same powertrain options as the Super Duty, including the 7.3L Powerstroke (and the 6.0L beginning in 2003). This large SUV had no real competition in the marketplace. For someone wanting a big diesel truck for towing or hauling heavy loads, but preferred having a third-row seat and an enclosed cargo area, the Excursion was a godsend.
What To Look For When Purchasing
Overall the 7.3L Powerstroke has a reputation for being a very reliable engine. With proper maintenance, they can easily last a few hundred thousand miles. As these trucks are getting older, Powertrain Control Module (PCM) and Injector Drive Module (IDM) failures are also starting to become more commonplace. The Camshaft Position Sensor (CMP) is also known to be failure prone. If you have plans to add significant power, the forged steel rods in the 1999-2000 trucks can be advantageous.
As with any older truck, rust can be a major issue. Check all the typical spots, including the frame, bed cross members, wheel wells, rockers, cab corners, etc. The amount of rust can depend heavily on where the truck spent most of its life, in addition to how it was used. A truck in the northeast that was used to plow snow will typically exhibit much more rust than a truck from the southwest.
Pros/Cons
Pros
Reliable
Factory Intercooler
Electric Lift Pump
Split Shot Injectors (Quieter than 1994-1997 models)
Available in a Crew Cab
Cons
Camshaft Position Sensor (CMP) Issues
Powertrain Control Module (PCM) and Injector Drive Module (IDM) Failures
Powdered-Metal Connecting Rods (2001-2003) Not Suited for Big Horsepower
41R00 Automatic Transmissions Can't Handle Additional Horsepower
Typical Truck Rust Issues (Especially in the Snow Belt)
Review
In 1999 the all-new Super Duty created the foundation and set the design tone for all Ford trucks that followed over the next 2+ decades. The 1999-2003 Ford F-250/350/450/550 Super Duty trucks are a great choice for someone that wants a heavy-duty reliable diesel work truck, without the exorbitant price tag of a later model truck. The 7.3L Powerstroke is considered by many as one of the best diesel engines ever offered and wasn't plagued by many of the issues found in the later 6.0L and 6.4L Powerstrokes.
It was offered in Regular Cab, Extended Cab, and Crew Cab models which provided more cab options than their crosstown rivals at the time. In addition, the Ford Excursion was also offered for those that want a heavy-duty truck and a big diesel engine but preferred a full-size SUV with a third-row seat.
Whether you are looking for upgraded performance or some of the popular maintenance/repair parts, these are some popular upgrades for your 7.3L Powerstroke.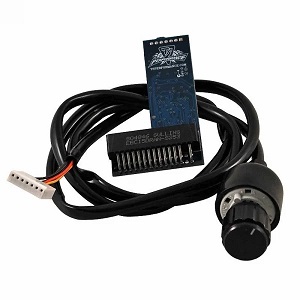 The best bang for your buck for any diesel is many times a chip or programmer. This can easily add up to 140 hp to your 7.3L Powerstroke.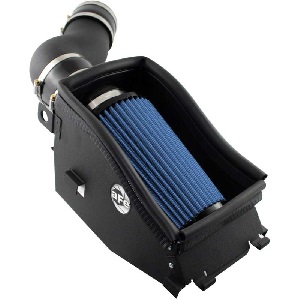 A quick way to add horsepower and torque. Easily add 15 hp and 30 lb-ft of torque in a matter of minutes with a freer-flowing air intake system.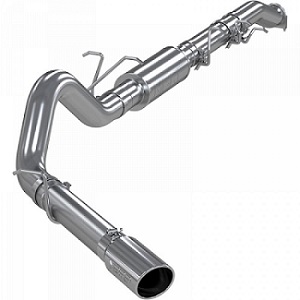 The secret to getting more out of your diesel engine is not only to get more air in but also out. Compared to a factory exhaust, an aftermarket exhaust can offer larger diameter tubing along with mandrel bends for improved exhaust flow. In addition, exhausts are offered in aluminized steel or stainless steel depending on your budget and what region you live in.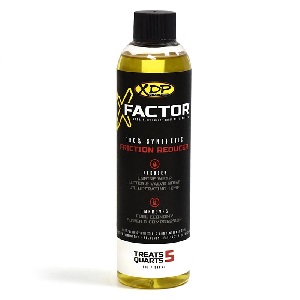 Reduce friction and wear in your engine with a high-quality Oil Additive. This can also help eliminate stiction and restores your failing HEUI injectors.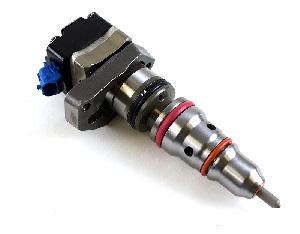 The average 7.3L fuel injectors needs rebuilding at around 125K miles. A wide range of options are available to replace or rebuild the fuel injectors in your truck.
6. Injector Sleeves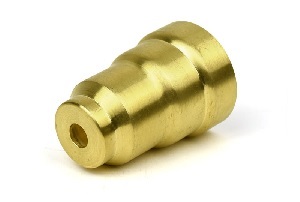 You may begin to encounter injector sleeve failure as your 7.3L Powerstroke engine ages. When an injector sleeve fails it usually splits or cracks which allows fuel to enter your cooling system.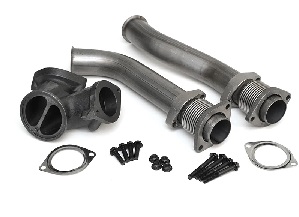 An Up-Pipe Kit for your 1999-2003 Ford 7.3L Powerstroke can fix a common issue that robs power from your engine. Due to extreme heat cycles and expansion/contraction, the factory-installed donut gaskets designed to seal your factory up-pipes will begin to leak over time. When this happens, engine performance can be reduced drastically.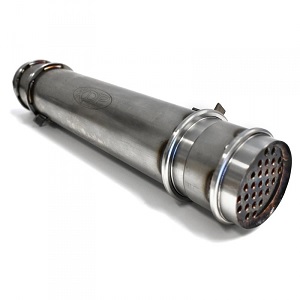 A failing engine oil cooler can cause leaks and elevated temperatures which can lead to catastrophic engine damage.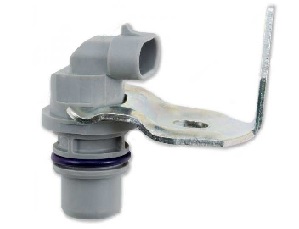 Camshaft Position Sensors (CMP) are one of the most common problems on the 7.3L Powerstroke. A failed CMP can cause issues such as the engine cutting out and even dying on you.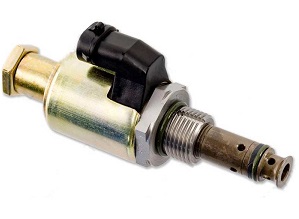 A failed Injection Pressure Regulator (IPR) will result in the engine either getting too much or too little fuel. This can lead to a multitude of problems such as rough idling or stalling at idle.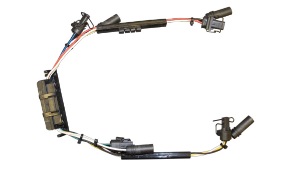 The Under Cover Valve Harness (UCVH) or internal injector harness as it can also be referred to, is constantly subjected to heat within the valve cover and the constant vibration of the engine. This can cause wires to eventually melt or rub against the valves and break.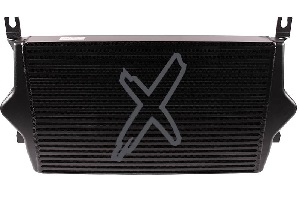 Upgrade your factory intercooler with a direct-fit intercooler designed to mount with zero modifications. With features such as 100% TIG-welded end tanks and a bar and plate design that offers superior durability and reliability.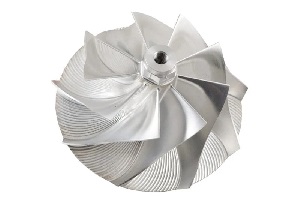 A lightweight, modified compressor wheel design not only eliminates compressor surge but will also increase boost, spool-up, and throttle response.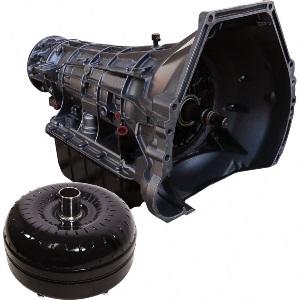 The stock 4R110 transmission wasn't designed to withstand additional HP and Torque. Therefore if you want to increase the power levels in your 7.3L, plan on upgrading your 4R110 as well.
1999-2003 Ford 7.3L Powerstroke Specifications
Production Years:
1999, 2000, 2001, 2002, 2003
Model Availability:
F250, F350, F450, F550, Excursion, E250, E350, E450, E550
Common Names:
7.3, 7.3L, Powerstroke, Navistar T444E
Configuration:
V8
Displacement:
444 cubic inches, 7.3 liters
Bore:
4.11″ (104.4mm)
Stroke:
4.18″ (106.2mm)
Cylinder Head:
Cast Iron w/ 6 Head Bolts Per Cylinder
Engine Block:
Cast Iron
Firing Order:
1-2-7-3-4-5-6-8
Compression Ratio:
17.5 : 1
Pistons:
Cast Aluminum
Connecting Rods:
1999-2000
Forged Steel
2001-2003
Powdered Metal
Injection:
Direct Injection with Hydraulic Electronic Unit Injection (HEUI) Injectors
Up to 21,000 PSI
Fuel Pump:
Electric Low-Pressure Lift Pump
Turbocharger:
1999-2003
Garrett GTP38 (W/ Wastegate)
Valvetrain:
OHV, 2 Valves Per Cylinder, Hydraulic Lifter Camshaft
Weight:
Approx. 920 lbs (Dry)
Oil Capacity:
15 qts w/ Filter (14.2L)
Horsepower:
1999-2000
235 Horsepower
2001-2003 (Auto Trans)
250 Horsepower
2001-2003 (Manual Trans)
275 Horsepower
Torque:
1999-2000
500 lb-ft of Torque
2001-2003 (Auto Trans)
505 lb-ft of Torque
2001-2003 (Manual Trans)
525 lb-ft of Torque
Battery:
Group Size 65
Transmissions:
ZF S6-650 6-Speed Manual
4R110 4-Speed Automatic
Fluid Specifications & Capacities
Engine Oil:
15W-40
Acceptable viscosity in ambient temps > 10° F
Preferred viscosity in ambient temps > 30° F
15.0 qts Capacity w/ Oil Filter (14.2L)
10W-30
Acceptable viscosity in ambient temps -10 to 90° F
Preferred viscosity in ambient temps -10 to 30° F
15.0 qts Capacity w/ Oil Filter (14.2L)
5W-30
Acceptable viscosity in ambient temps < 30° F
15.0 qts Capacity w/ Oil Filter (14.2L)
0W-30
Acceptable viscosity in ambient temps < 0° F
15.0 qts Capacity w/ Oil Filter (14.2L)
Engine Coolant:
50/50 Ethylene Glycol Coolant, Distilled Water
32.75 Qt Capacity
(8.2 Gallons)
Automatic Transmission Fluid:
4R110 4-Speed
Mercon V ATF
17.1-17.7 qts
Manual Transmission Fluid:
ZF S6-650 6-Speed
Mercon V ATF
5.8 qts
Transfer Case Fluid:
NP271/NP273
Mercon V ATF
2.0 qts
Front Differential Fluid:
Dana 50 IFS
SAE 80W-90
1.9 qts
Dana 60 Front
SAE 80W-90
2.9 qts
Rear Differential Fluid:
Sterling 10.25″ Rear
SAE 75W-140
3.75 qts
Sterling 10.50″ Rear
SAE 75W-140 or SAE 90 Hypoid Gear Oil
3.45 qts
Dana 80 Rear
SAE 75W-90
4.15 qts
Dana 135 Rear
SAE 80W-90
12.25 qts (F-550 Super Duty Only)
Maintenance Schedule
Service Procedure
Interval
Replace Engine Oil & Filter:
5,000 miles/6 months under normal driving conditions
3,000 miles/3 months under severe driving conditions
Replace Fuel Filter:
15,000 miles
Replace Air Filter:
30,000 miles/30 months
Engine Cooling System:
30,000 miles/36 months
Replace Automatic Transmission Fluid & Filter:
30,000 miles
Replace Manual
Transmission Fluid:
60,000 miles
Replace Transfer Case Fluid:
60,000 miles
7.3L Powerstroke Fuel Injector Codes
Application(s)
Injector Code
Type
Max Flowrate
Notes
1994 – 1996 (All)
1997 Non-CARB
AA
Single Shot
98 cc
1997 Model year engines designed to meet California emission standards (CARB certification) feature AB split shot injectors, NOT AA.
1997 CARB
All Early 1999
AB
Split Shot
130 cc
1997 Model year engines sold outside California featured AA single-shot injectors, NOT AB.
International T444E
(high torque models)
AC
Single Shot
160 cc
AC injectors are similar to AB injectors but are a single-shot design with a higher flow rate. They are found in International T444E engines but were never used in Powerstroke models.
Late 1999 – 2003
AD
Split Shot
140 cc
Used in all 1999+ 7.3L Powerstroke and International T444E engines.
Late 1999 – 2003
AE/AF
Split Shot
140 cc
Based on an AD injector, used in the number 8 cylinder from the factory. These are long-lead injectors.