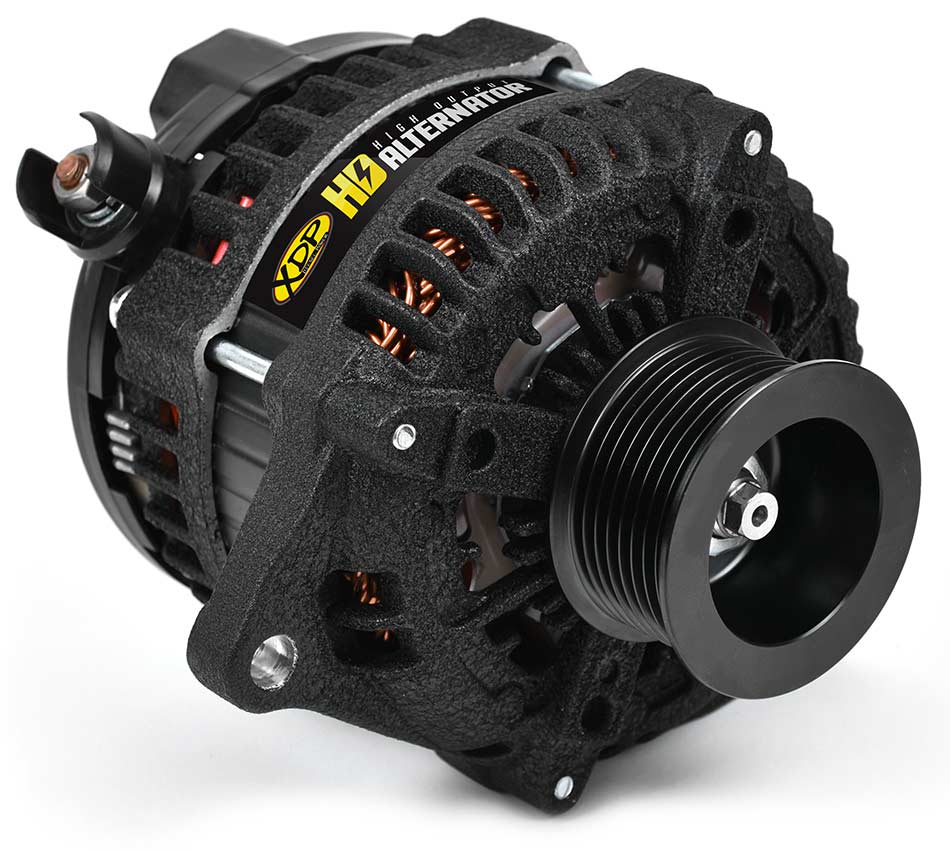 Diesel trucks are one of the most popular platforms for enthusiasts to modify. Aftermarket add-ons such as onboard air compressors, off-road lighting, as well as upgraded stereo systems can be extremely taxing on your electrical system. The charging system is often times the one item that gets overlooked.
The XDP Wrinkle Black HD High Output Alternators offer increased amperage to help remove the strain on the charging system. The additional amps boost your charging system, so it has the capability to handle whatever you throw at it! In addition, all HD Series Alternators come standard with dual internal fans for improved cooling and higher efficiency.
HD Series Alternators feature a durable Wrinkle Black coating for increased corrosion resistance and to enhance the under hood looks of your truck. Every alternator comes pre-tested and is ready for installation right out of the box. Alternators utilize the factory mounting locations and existing electrical connections so they are a direct bolt-on.
XDP HD Series Alternators are now available for the following applications –
GM
2001-2007 GM 6.6L Duramax (XD355)
2007.5-2010 GM 6.6L Duramax (XD351)
2011-2019 GM 6.6L Duramax (XD350)
FORD
1994-1997 Ford 7.3L Powerstroke (XD357)
1999-2003 Ford 7.3L Powerstroke (XD356)
2008-2010 Ford 6.4L Powerstroke (XD353)
2011-2016 Ford 6.7L Powerstroke (XD352)
DODGE
2007.5-2018 Dodge 6.7L Cummins (XD354)