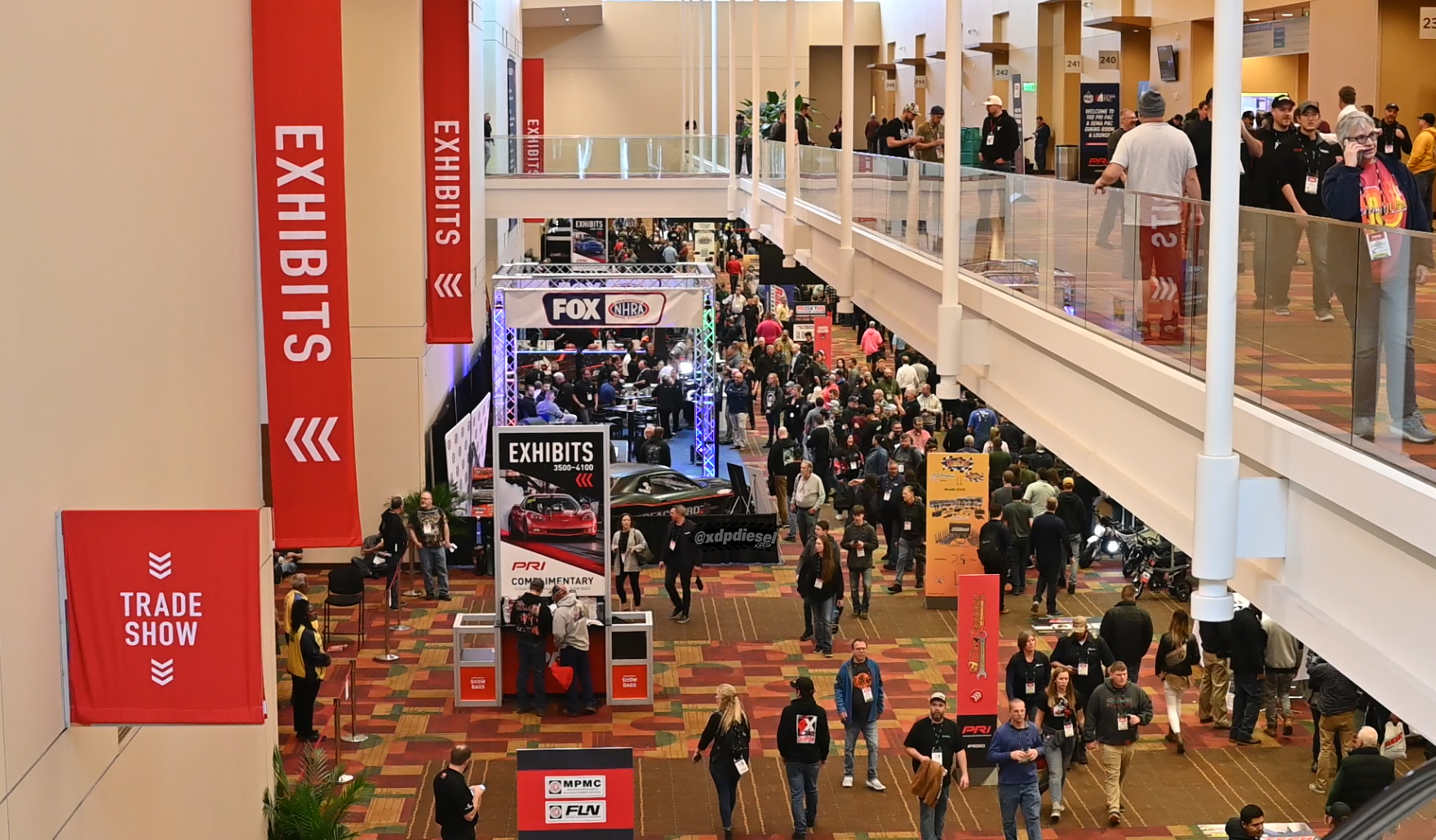 Indianapolis, IN, Dec. 8th – Dec. 10 th 2022
The XDP On the Road series finished 2022 in Indianapolis, Indiana at Performance Racing Industry (PRI), the most influential and premier trade show event for performance and racing. Held in the Indiana Convention Center and Lucas Oil Stadium, home of the Indianapolis Colts, manufacturers and service providers came from all over the country to attend and network at this three-day-long event. PRI is a much-anticipated event because it is an opportunity for leaders in the automotive and racing industries to showcase their latest products, services, machinery, simulations, and testing technologies.
Yellow Hall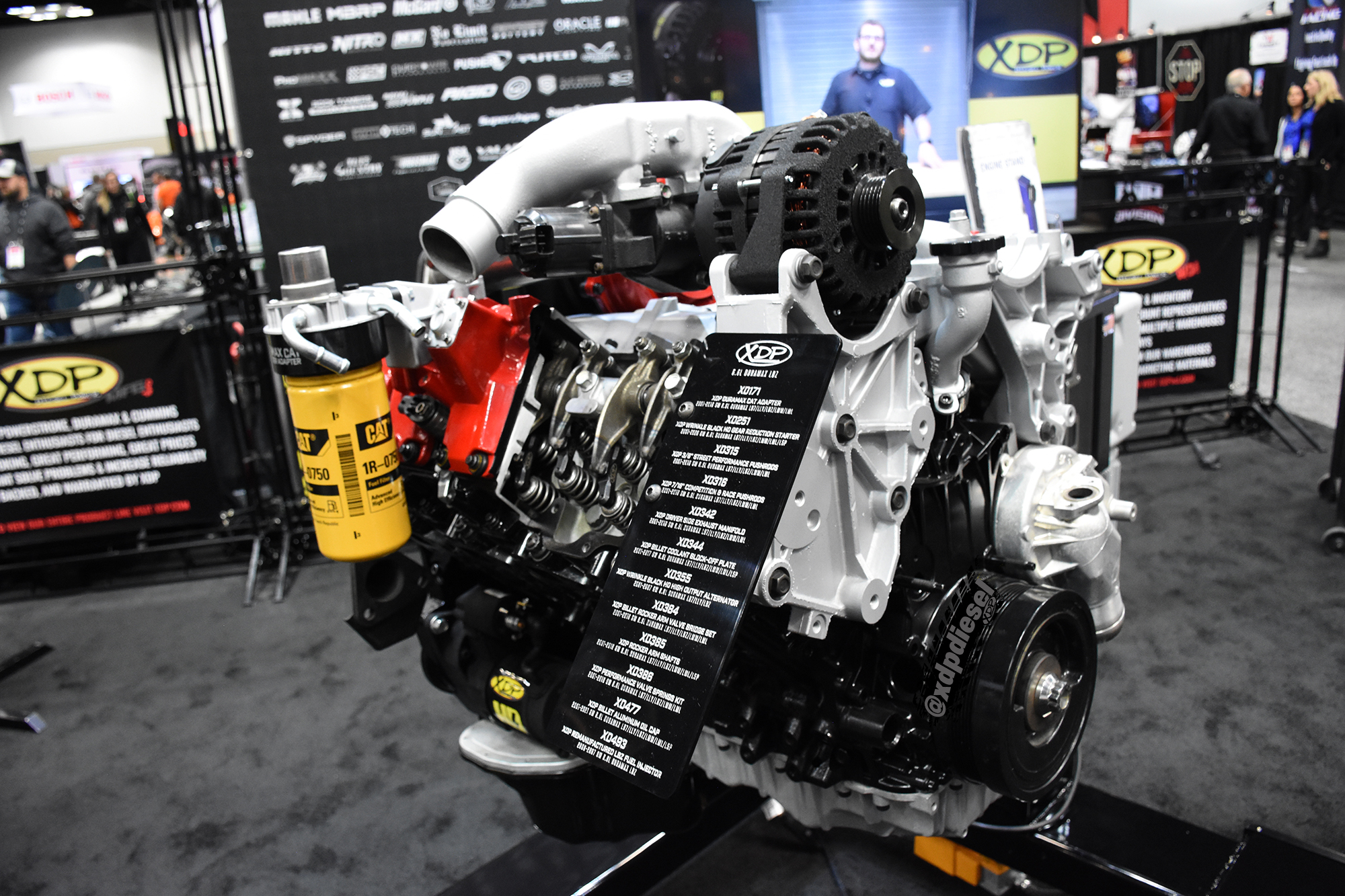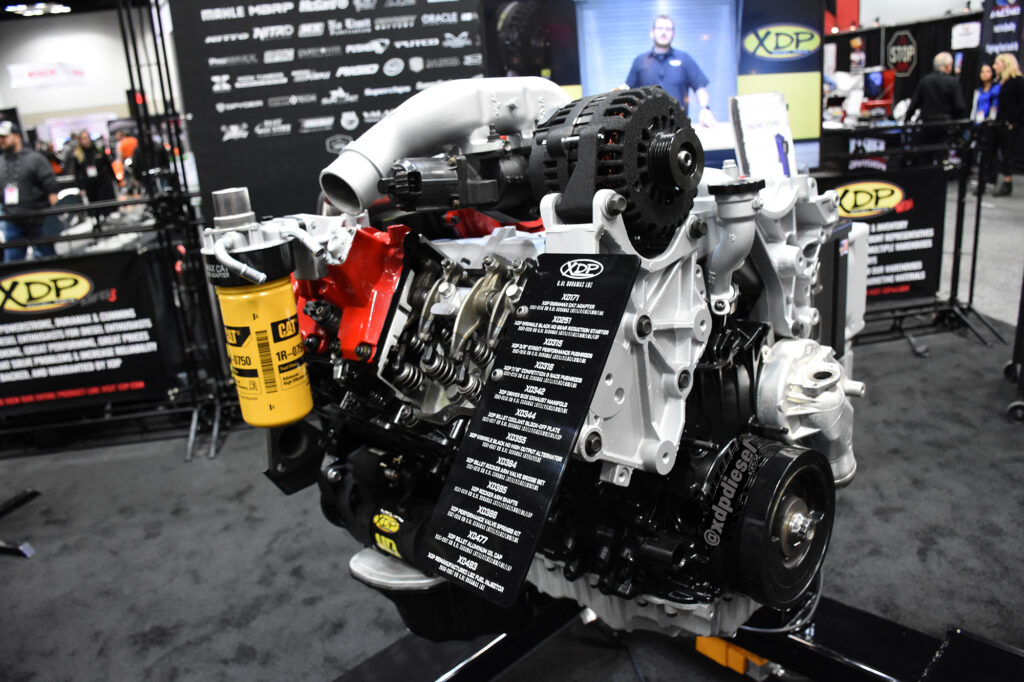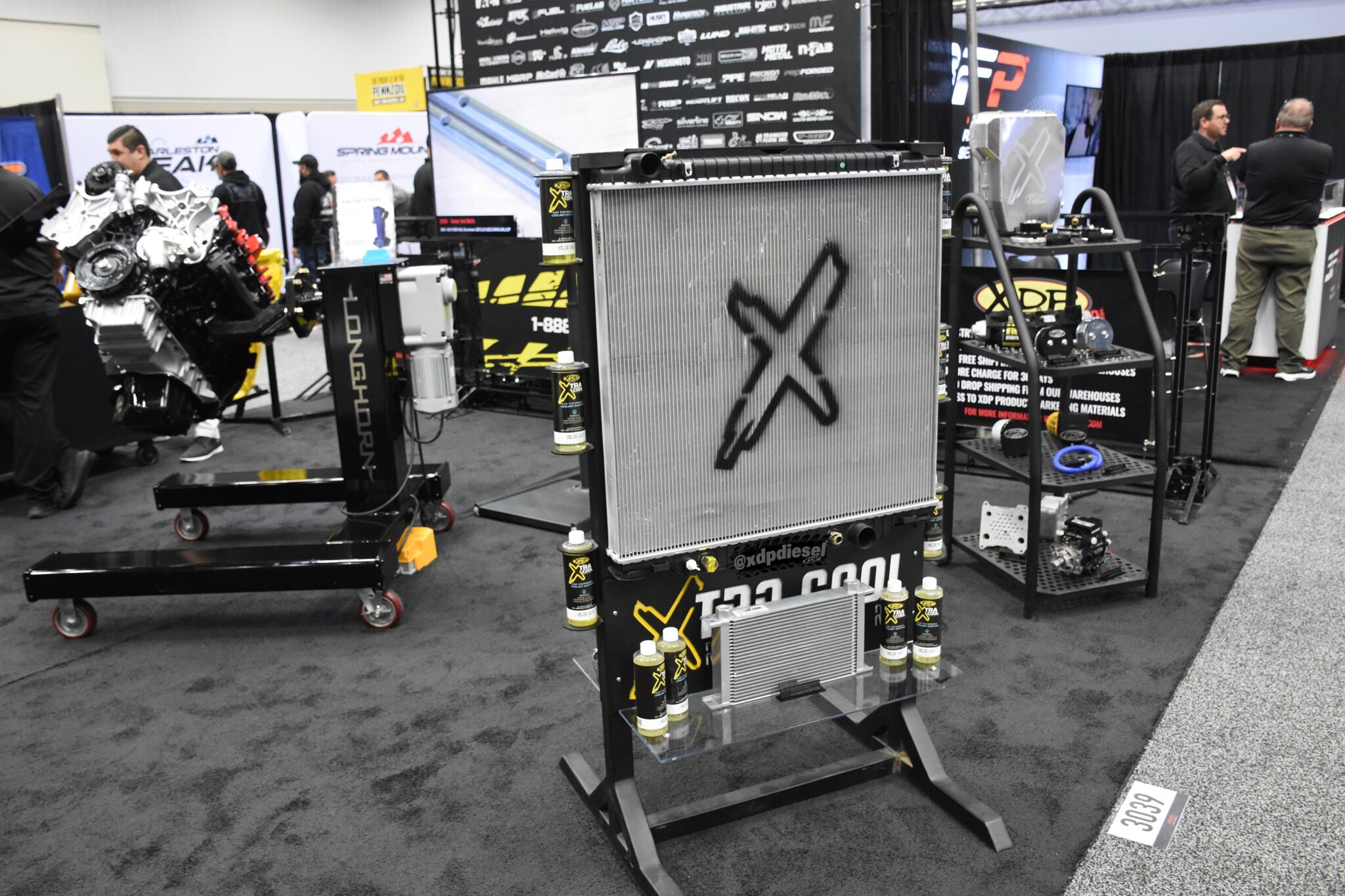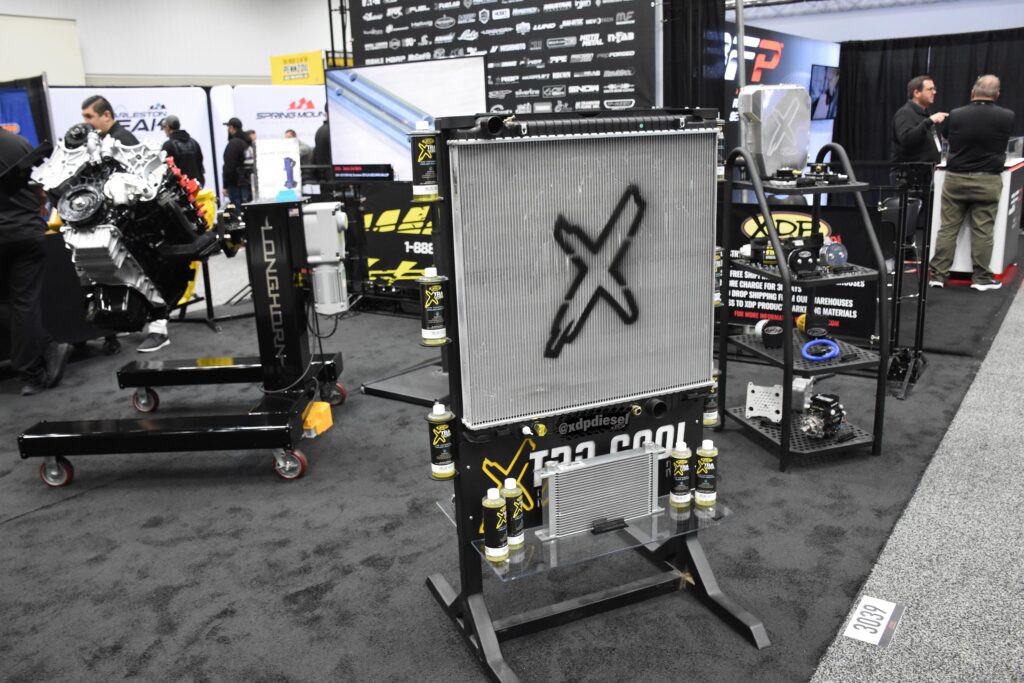 The event started for XDP in the Yellow Hall of the Indiana Convention Center, which was also the location of the XDP booth! The booth highlighted many of XDP's featured products including XDP's fuel sumps, alternators and starters, remanufactured injectors, battery hold down sets, coolant y-pipes, a radiator and intercooler stand, and more. The centerpiece of the XDP booth was the Duramax engine. The LBZ Duramax showcased many of XDP's parts, including the CAT Fuel Filter Adapter, Exhaust Manifold, Valve Springs & Retainer Kit, Pushrods, and more, all while rotating on a Longhorn Fab Pro Grade Rotating Engine Stand.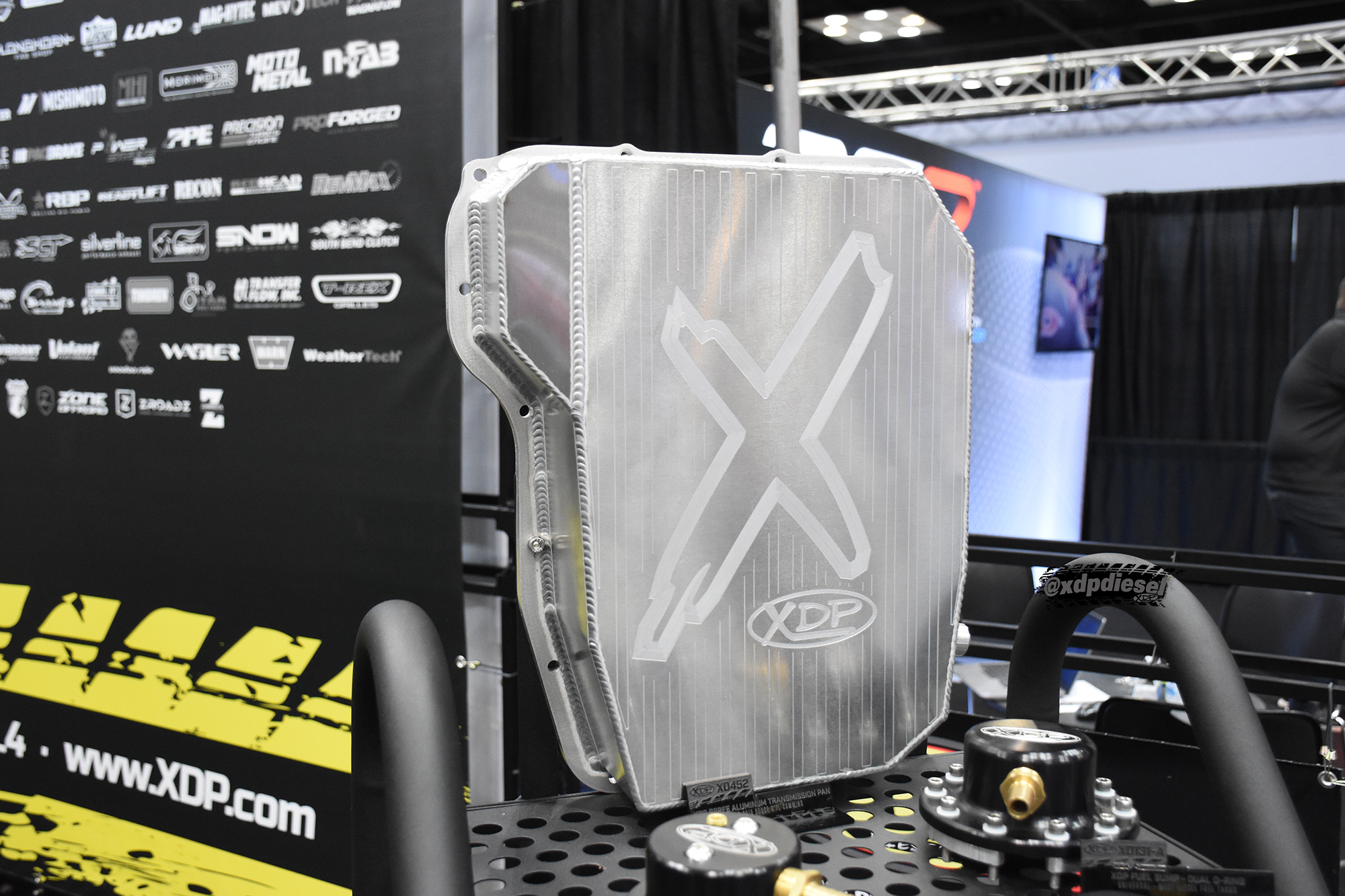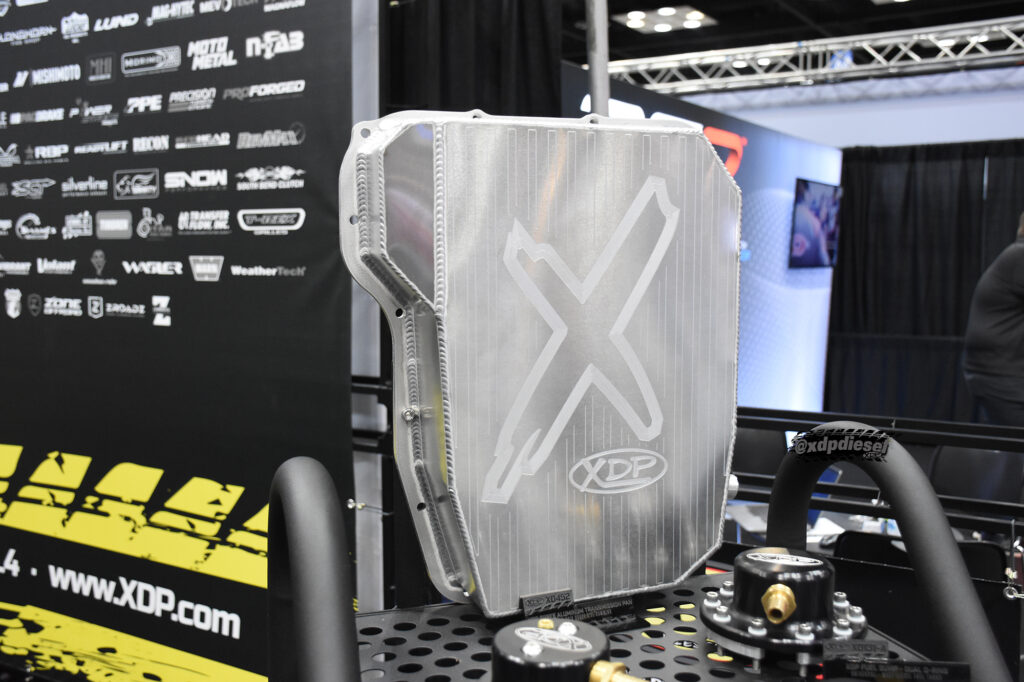 Longhorn Fab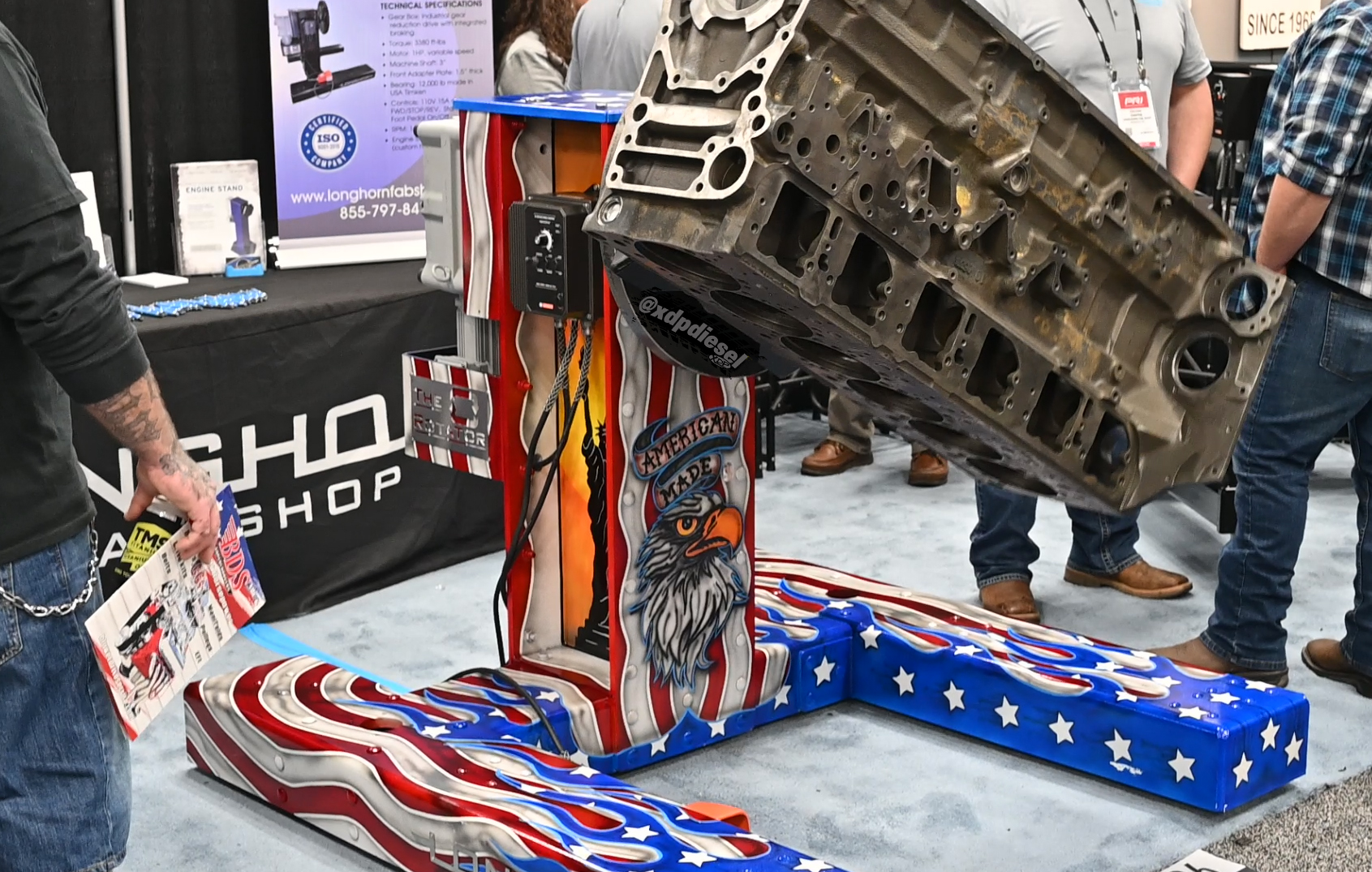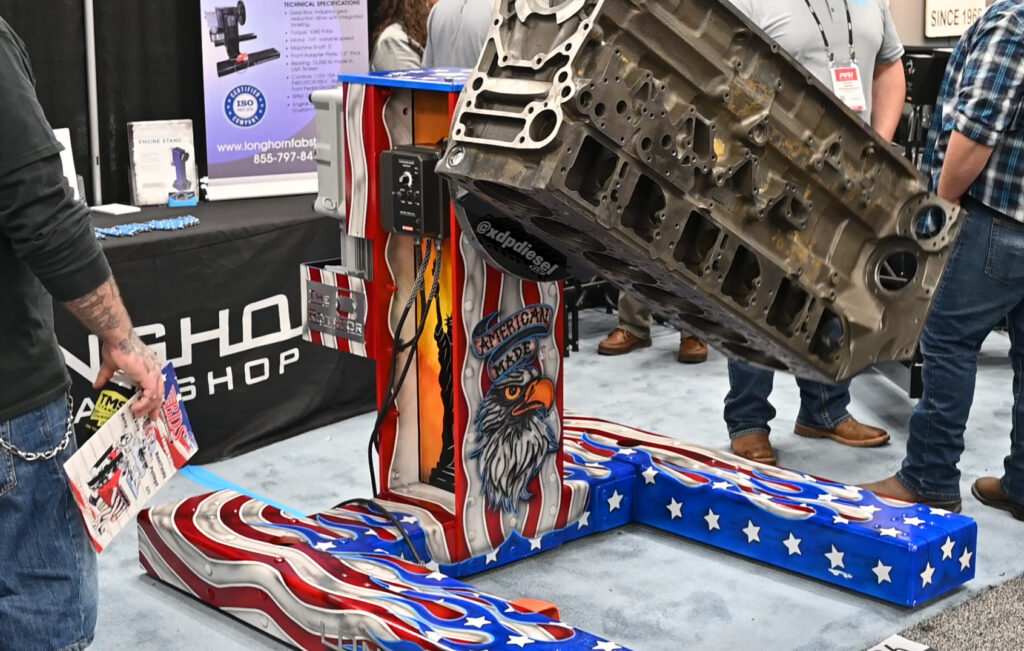 Speaking of Longhorn, we visited their booth and Manfred, the owner of Longhorn, showed us a one-of-a-kind, custom-painted Engine Stand for heavy-duty trucks. The patriotic stars-and-stripes theme was all done in three weeks by simply using spray paint and tape available at a local big box store.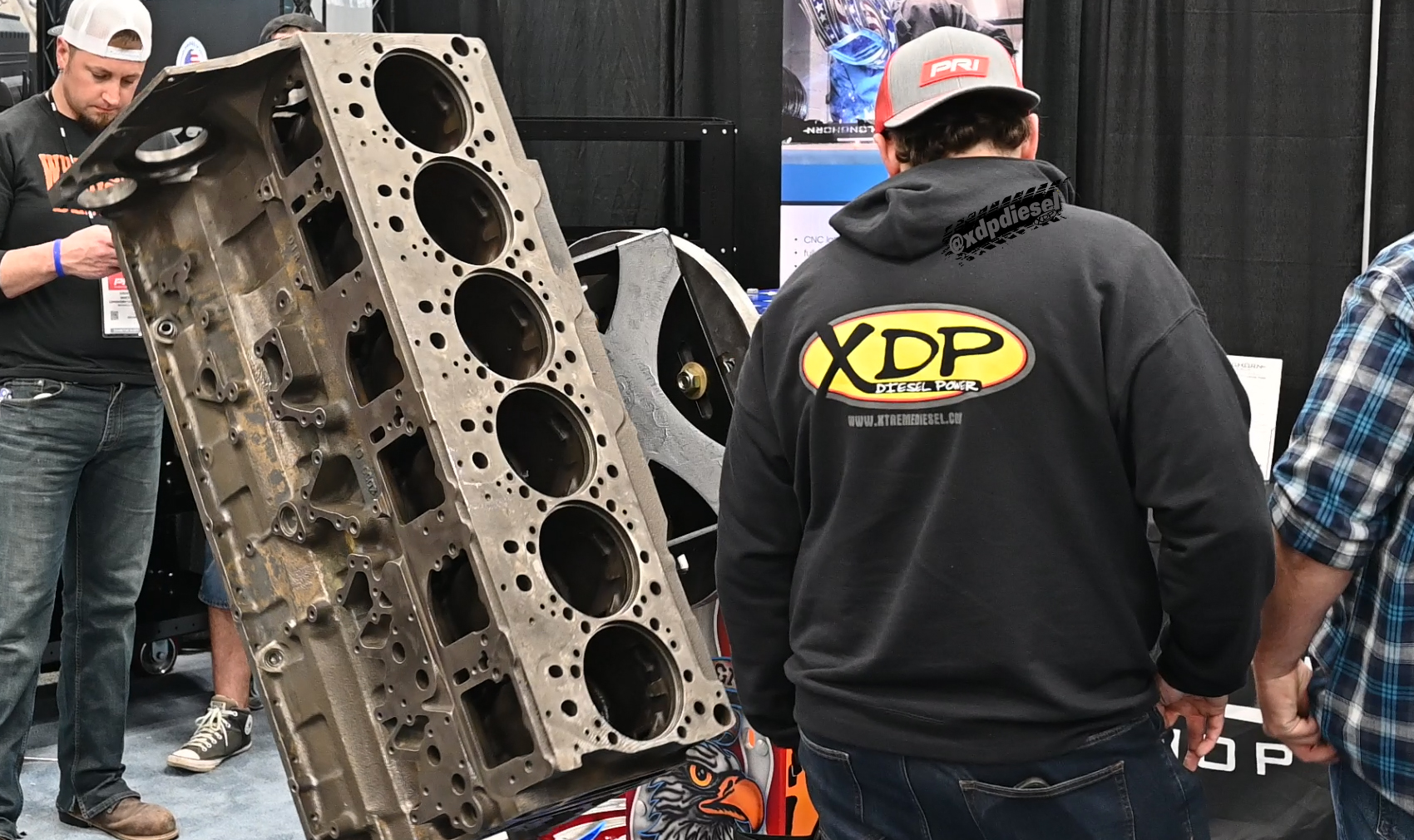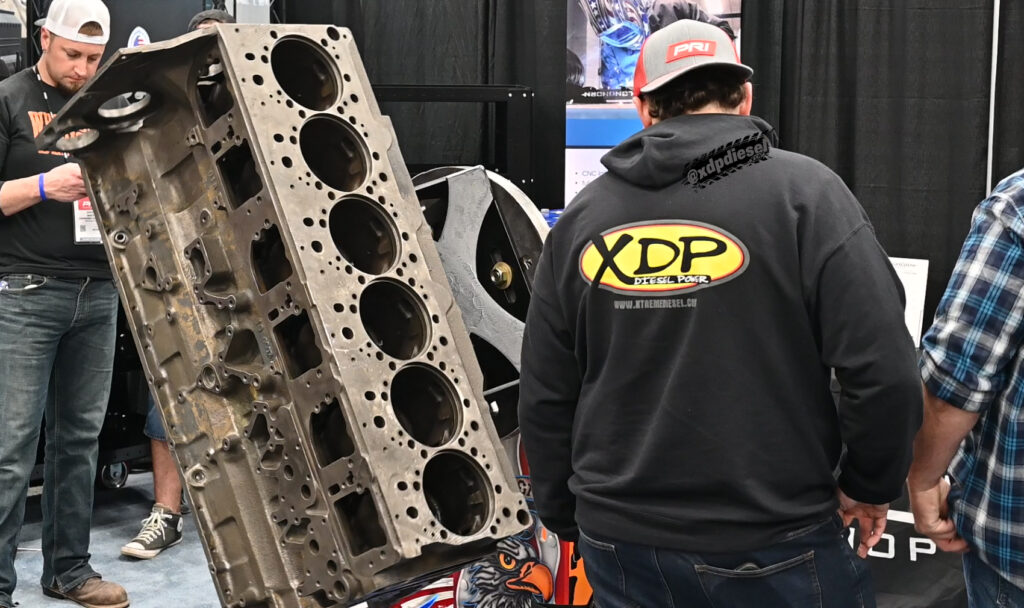 Royal Purple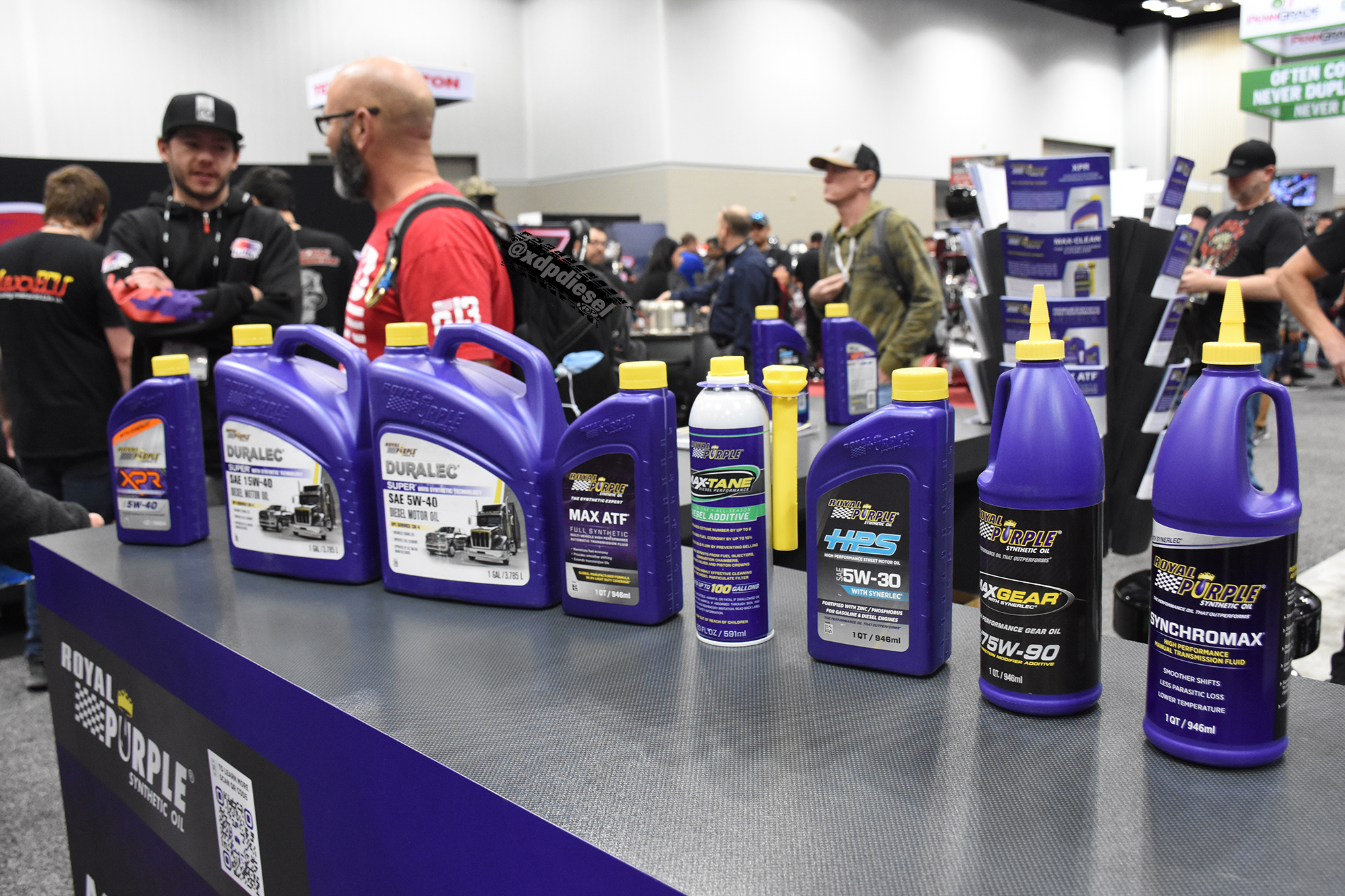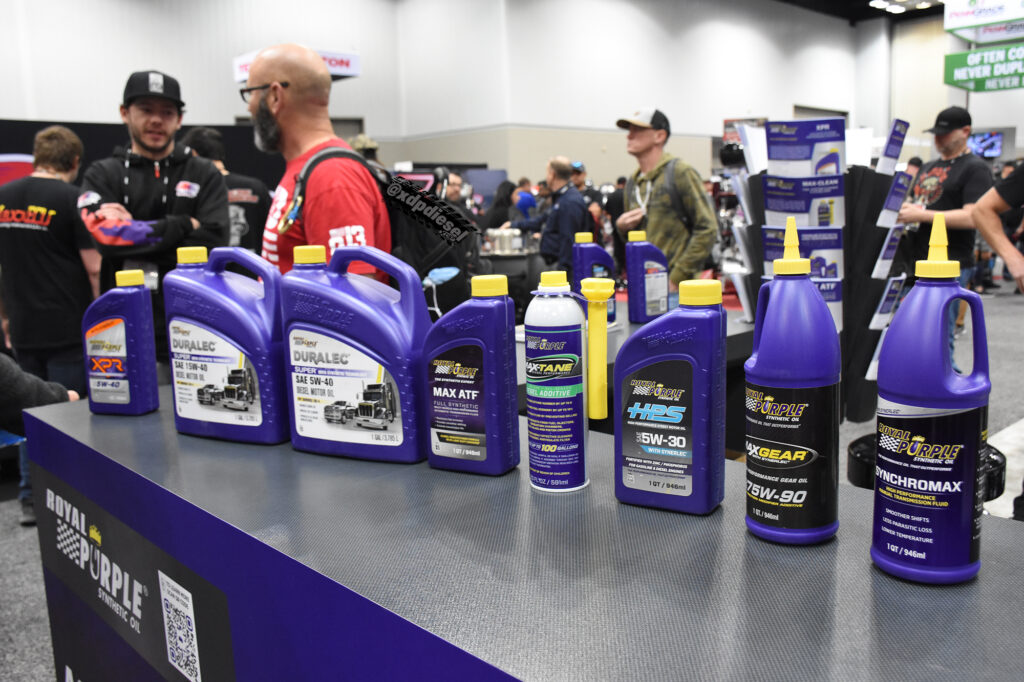 Everywhere you looked in Yellow Hall there were jaw-dropping high performance race cars and builds, but there were some that stood out from the pack. One of them was Royal Purple's Formula Drift Spec BMW. Its driver, professional drifter Dylan Hughes, made the announcement at the show that he will continue his partnership with Royal Purple for another two years. That wasn't the only big news from Royal Purple. "We are building a diesel drift car," said Mark from Royal Purple, "and it'll be the first one and only one in the US to compete with a diesel."
S&S Diesel Motorsport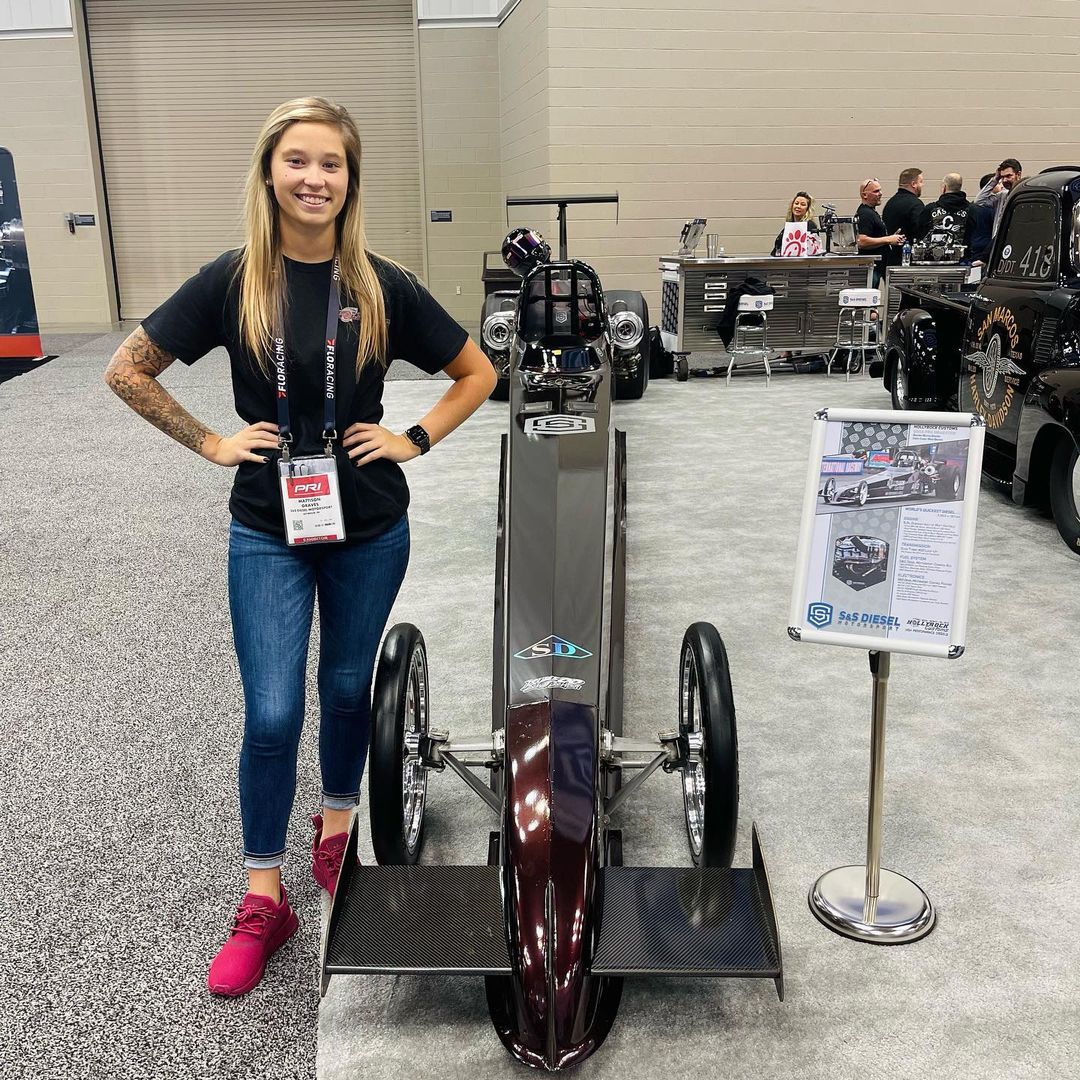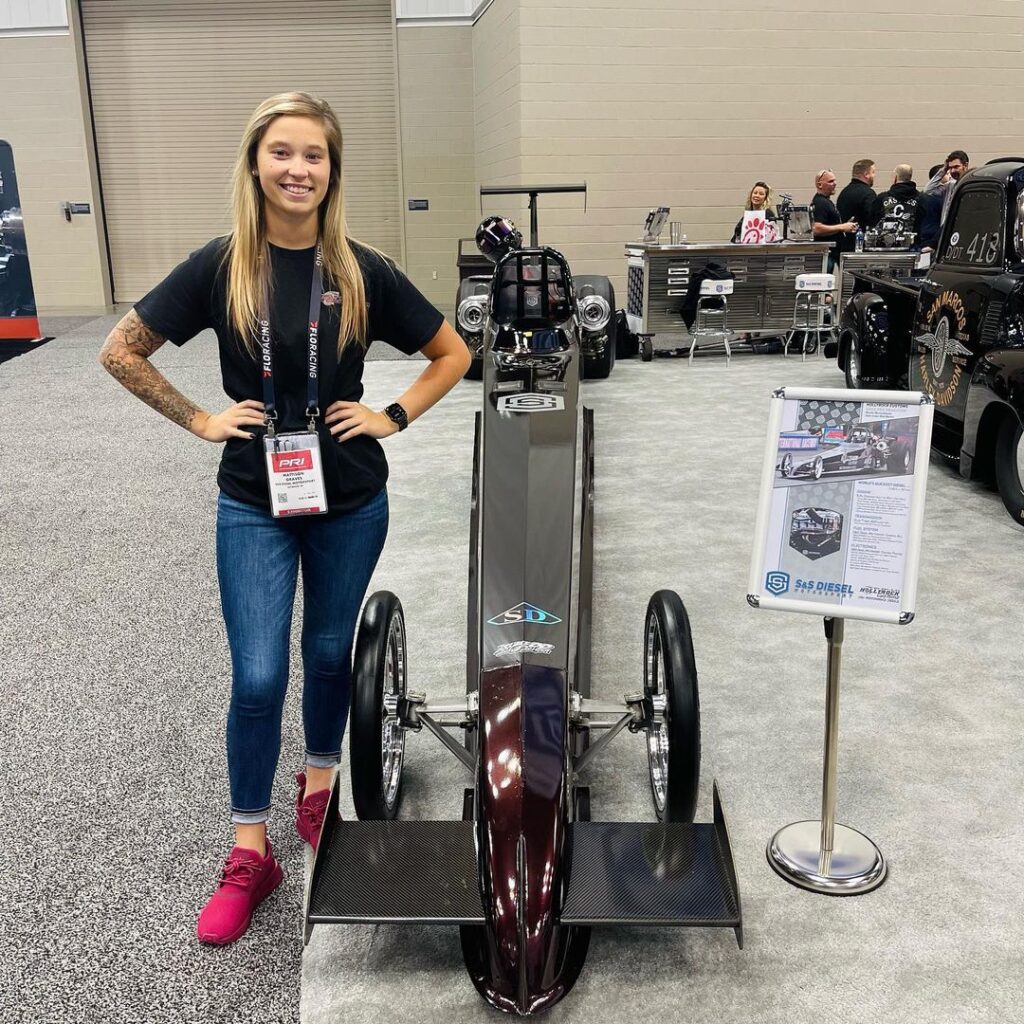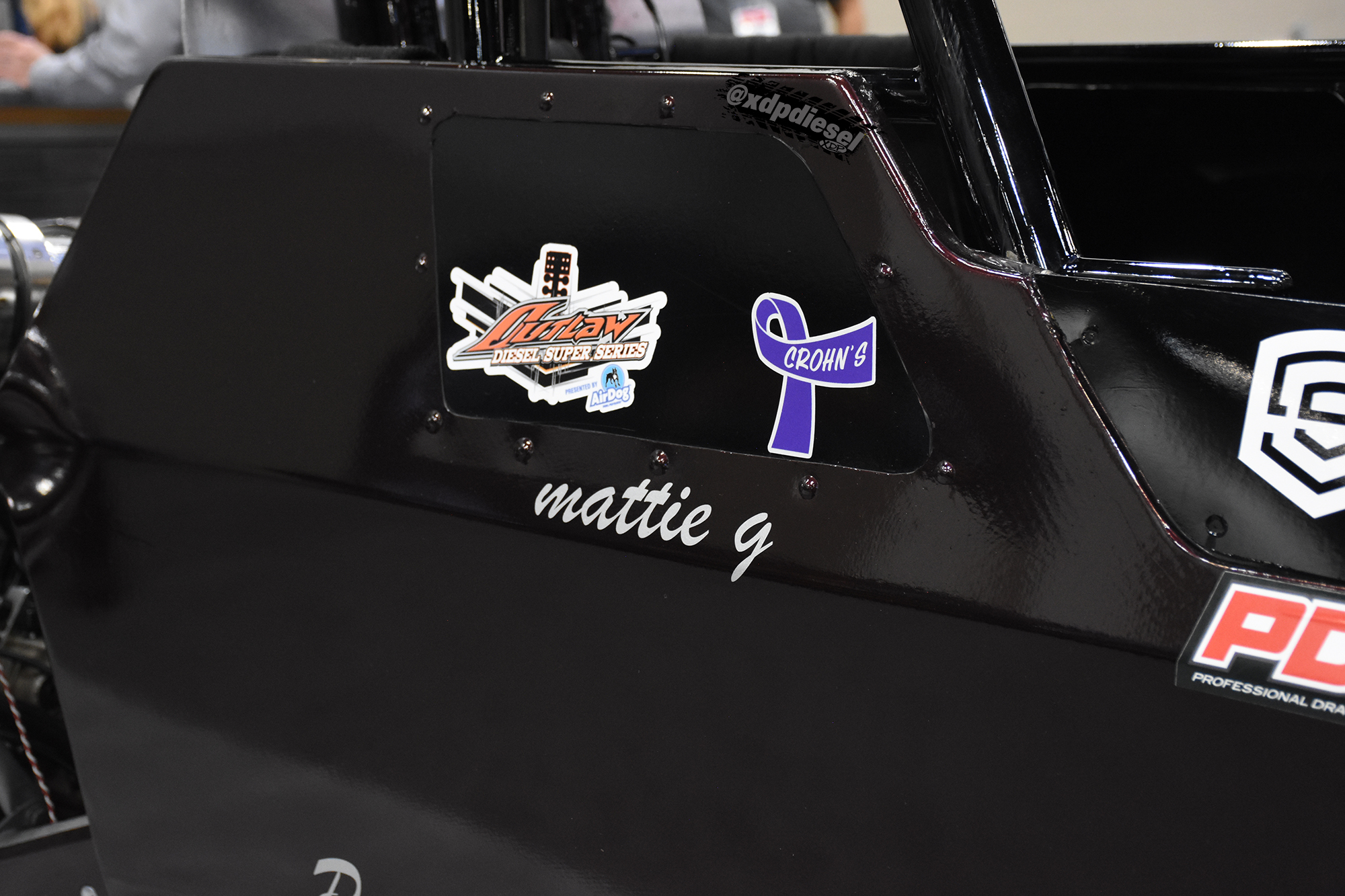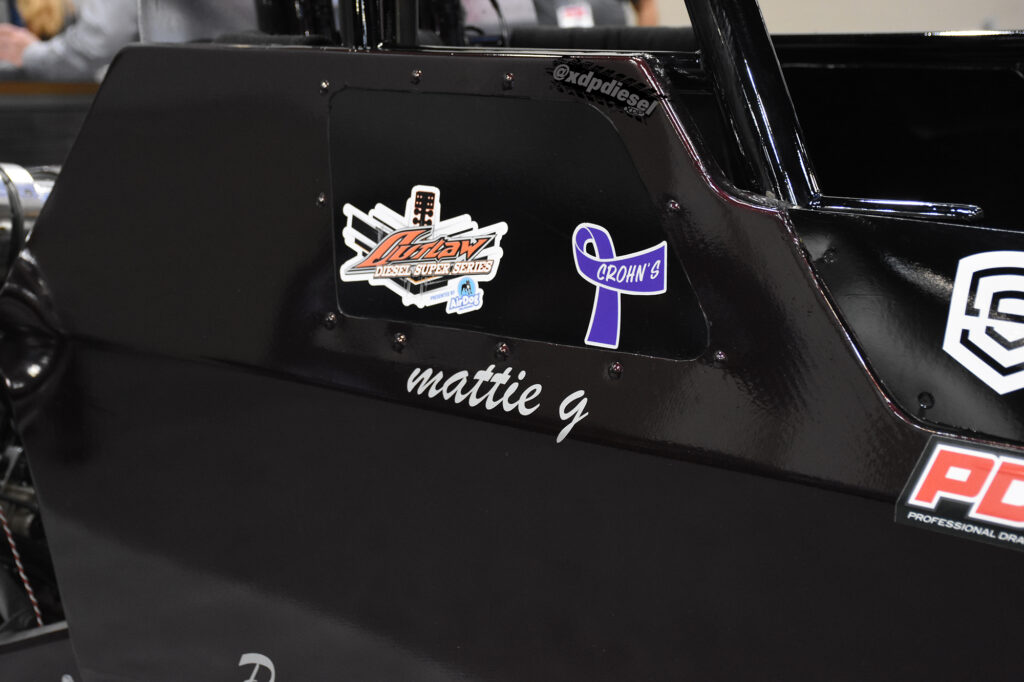 The other eye-catching build was Mattie Graves of Hollyrock Customs, and her twin-turbo Duramax Top Fuel Dragster, which appeared at the S&S Diesel booth. Mattie currently holds the record for being the fastest eighth-mile diesel in the world at 3.963 seconds at 187 MPH. She guided us through the day she broke the record back in November.
"We learned that you don't speak it out loud because you just jinx yourself, but we were all positive we were ready for it. I just kept saying this is going to be a new personal best for me. I went up there, everything seemed seamlessly perfect. It felt great, it sounded great, it looked great. And then got down to the end of the racetrack and we got a phone call at it said 3.96 at 187, so it was just a fantastic day." Mattie's looking forward to 2023 to beat her own record and qualifying against some of the quicker NHRA competitors.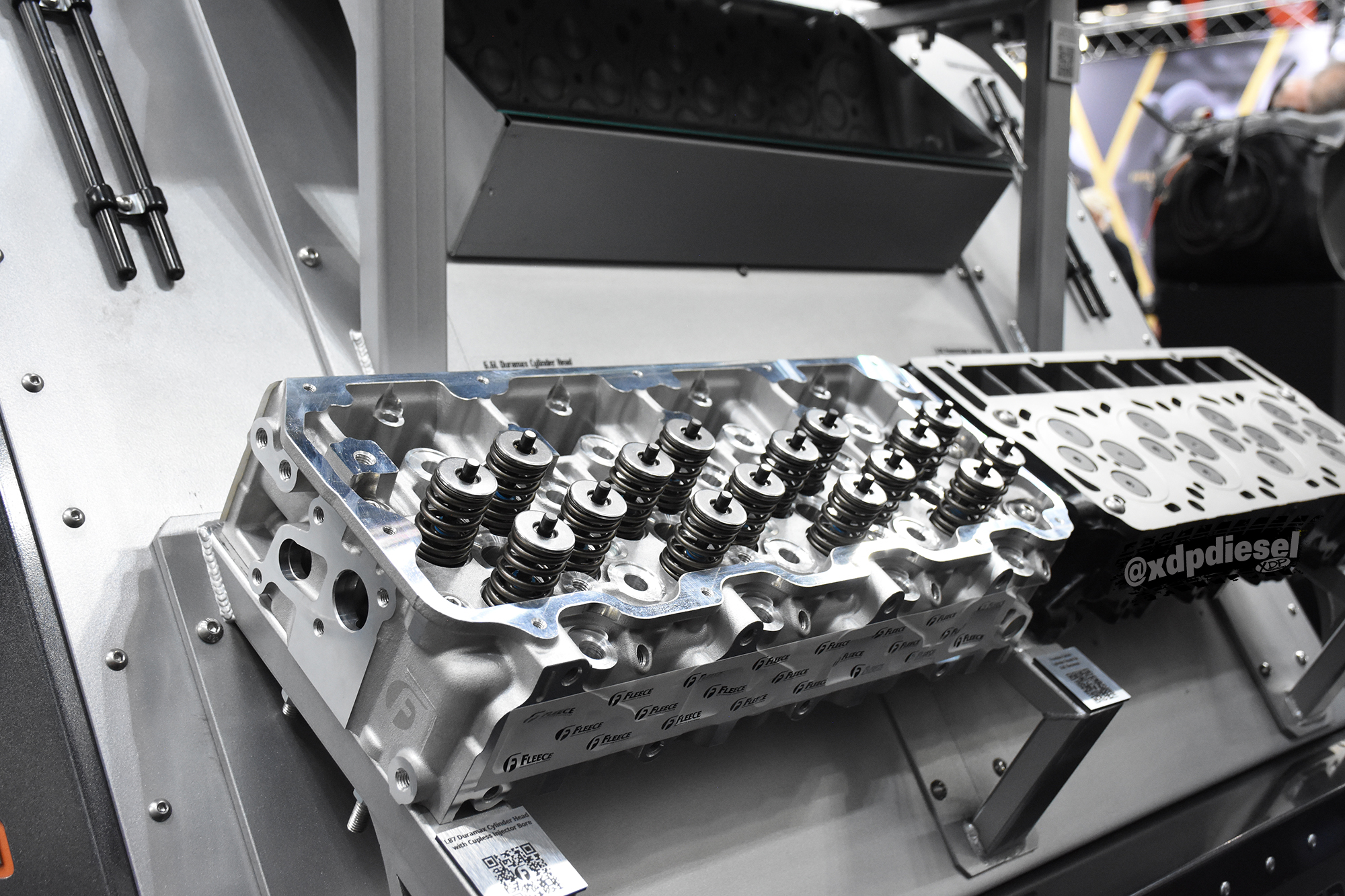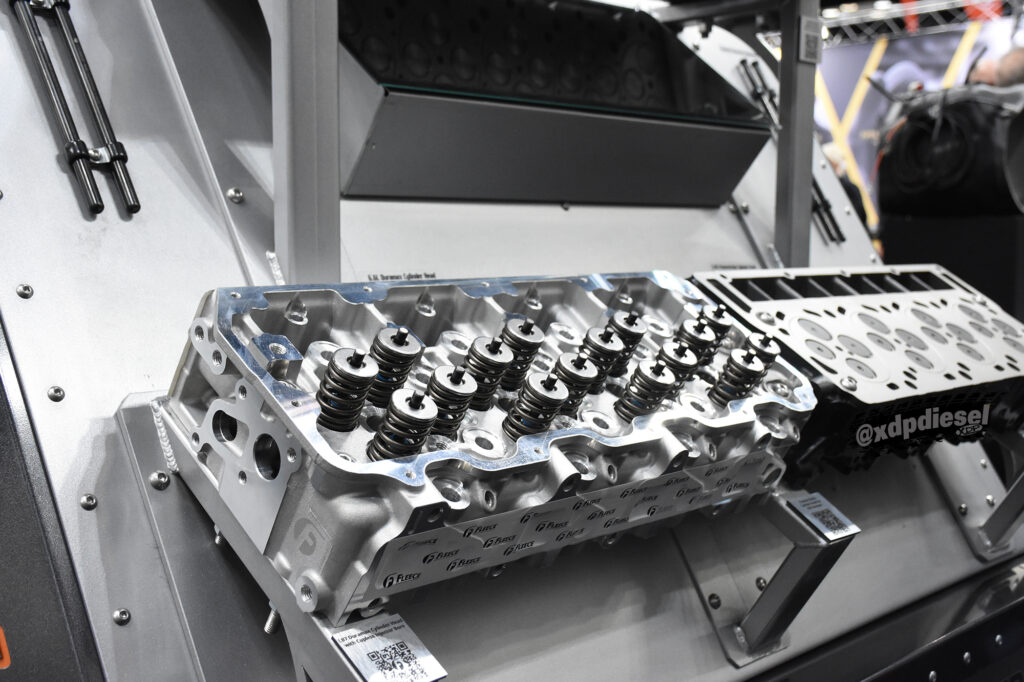 Amongst other manufacturers in Yellow Hall, there were several companies that introduced new products at the event. Hot Shot's Secret announced their new EDT+ Winter Defense, which is the winter version of their popular Everyday Diesel Treatment Fuel Additive. BD Diesel came with their track bars, as well as their LB7 Screamer Turbocharger. FASS Fuel Systems displayed an L5P Drop-In Filtration System that is expected to be released in the early quarter of 2023. Lucas Oil Products brought out their new Ceramic Speed Wax, Tire Inflator, and Sure Start Premium Starting Fluids. Finally, Fleece Performance Engineering showed off their LB7 Cylinder Head with Cupless Injector Bore, and their 2019 and up Dodge Ram Cheetah Turbocharger. Fleece is also working on a new 6.0L Powerstroke Cylinder Head.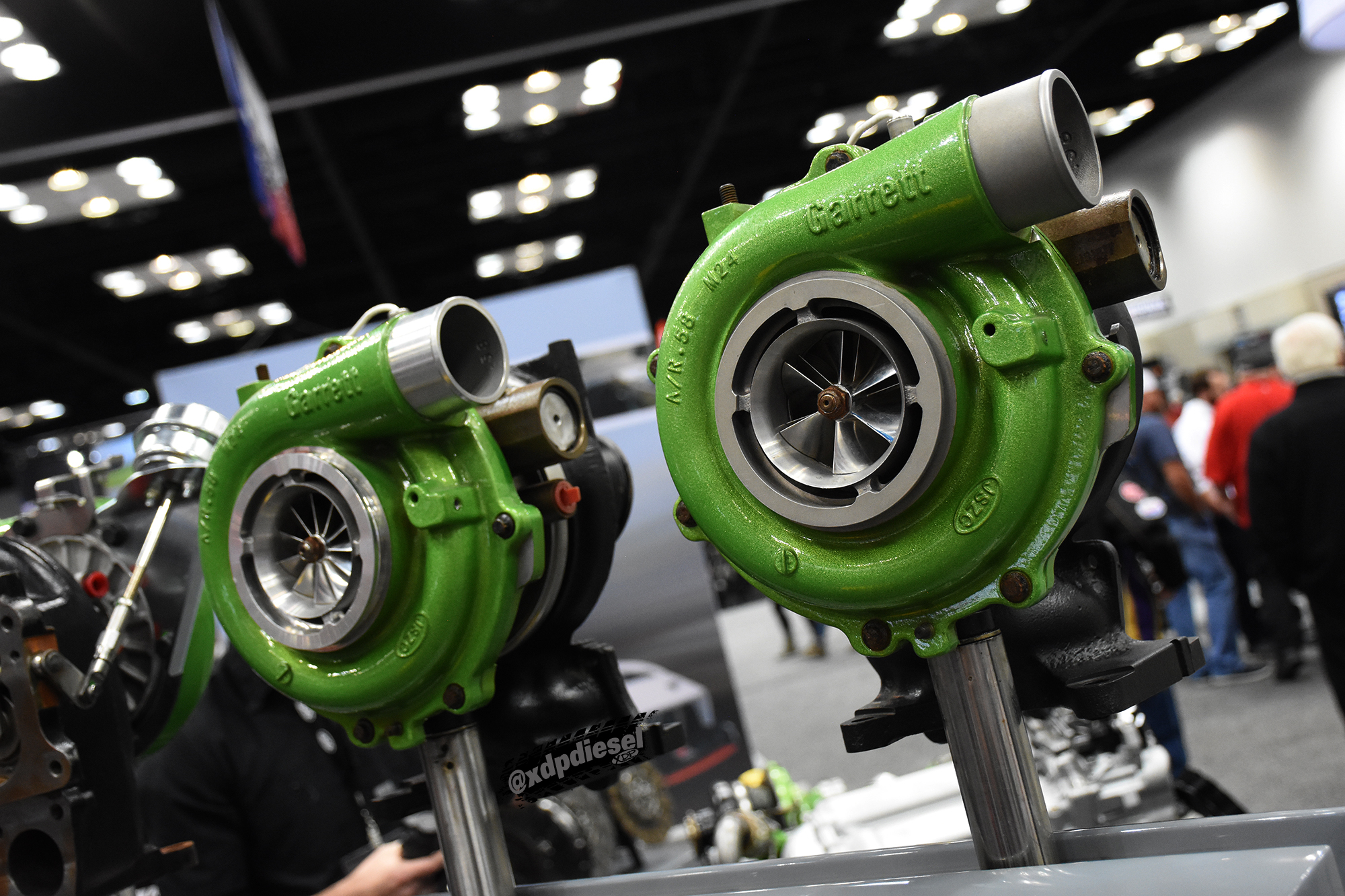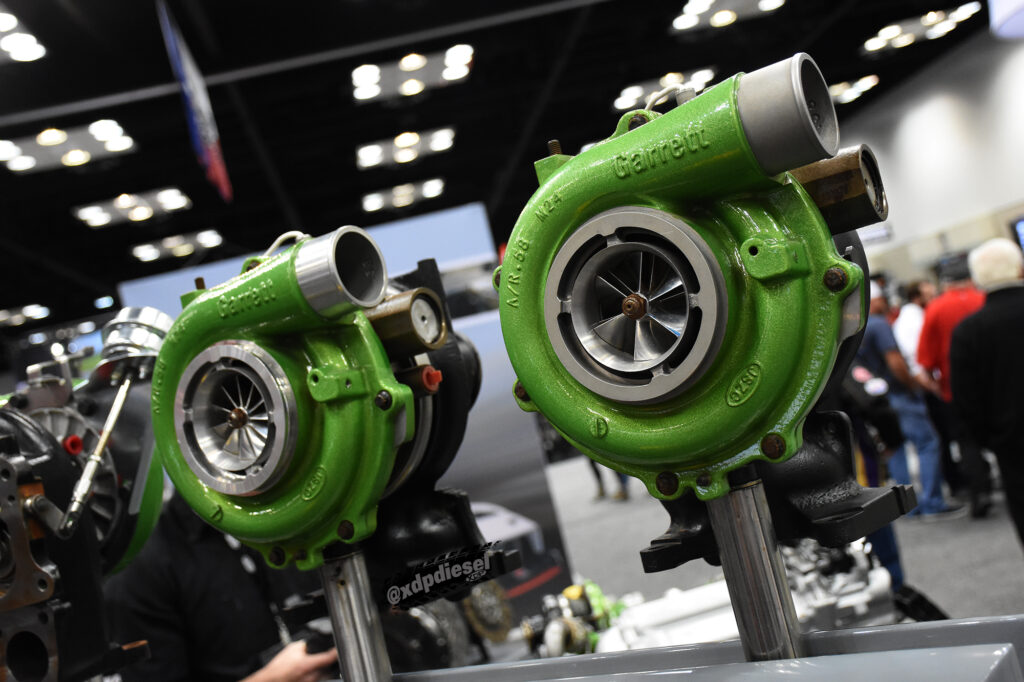 Lucas Oil Stadium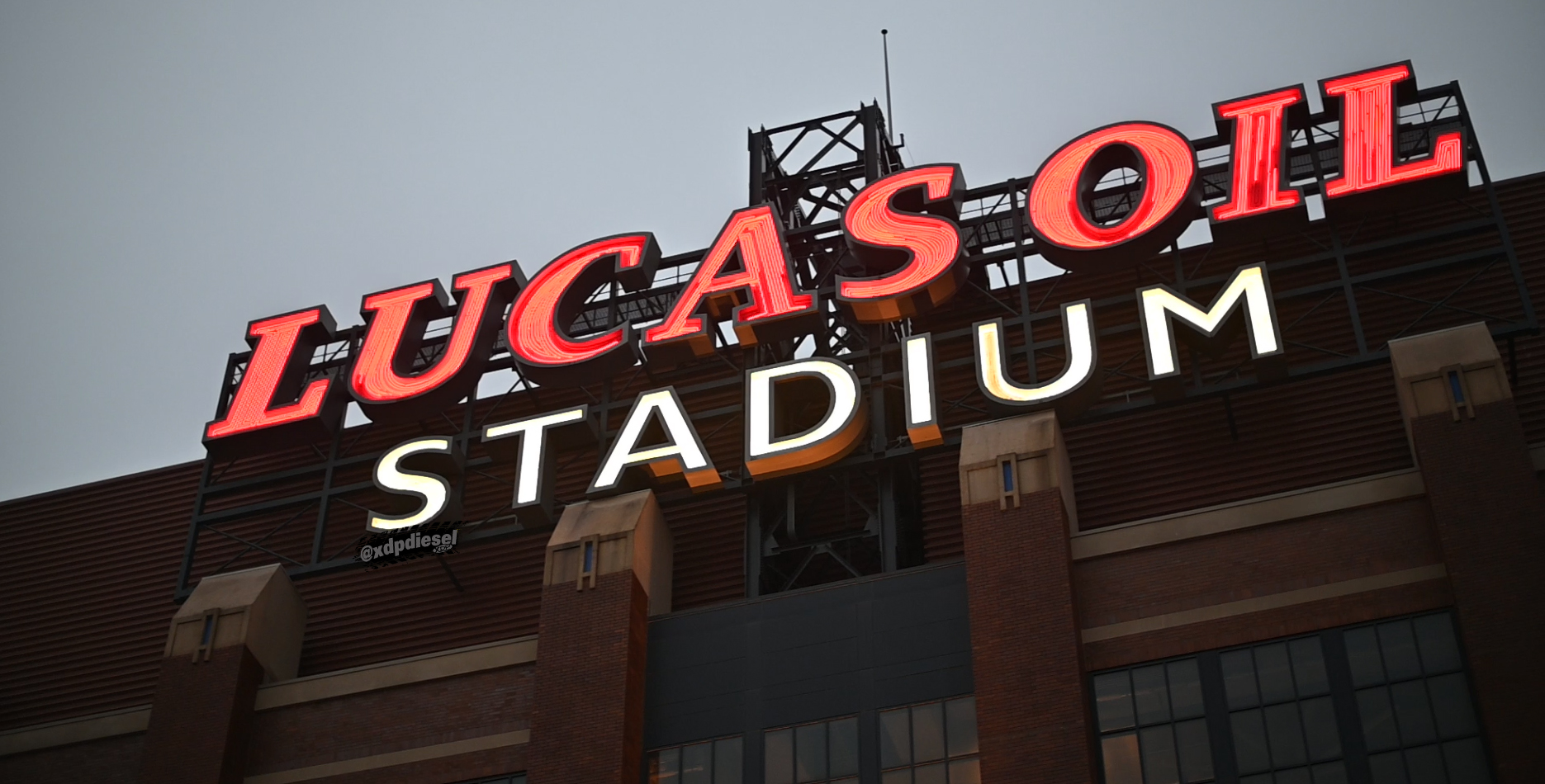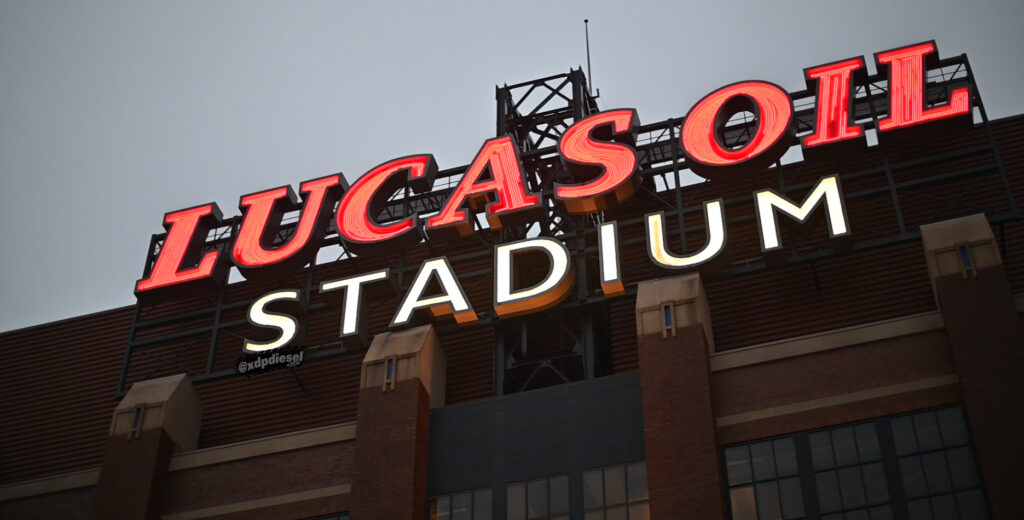 At the conclusion of Day 1 of PRI, many event attendees packed through the underground tunnels of the Indiana Convention Center which led directly to the PRI Happy Hour inside Lucas Oil Stadium. It's a show-favorite event where attendees took in the sights of the stadium, and competed in a NASCAR RC oval race, amongst other events. In addition, there were numerous Lucas Oil dragsters hanging from the rafters, as well as Indianapolis Colts memorabilia as far as the eyes could see.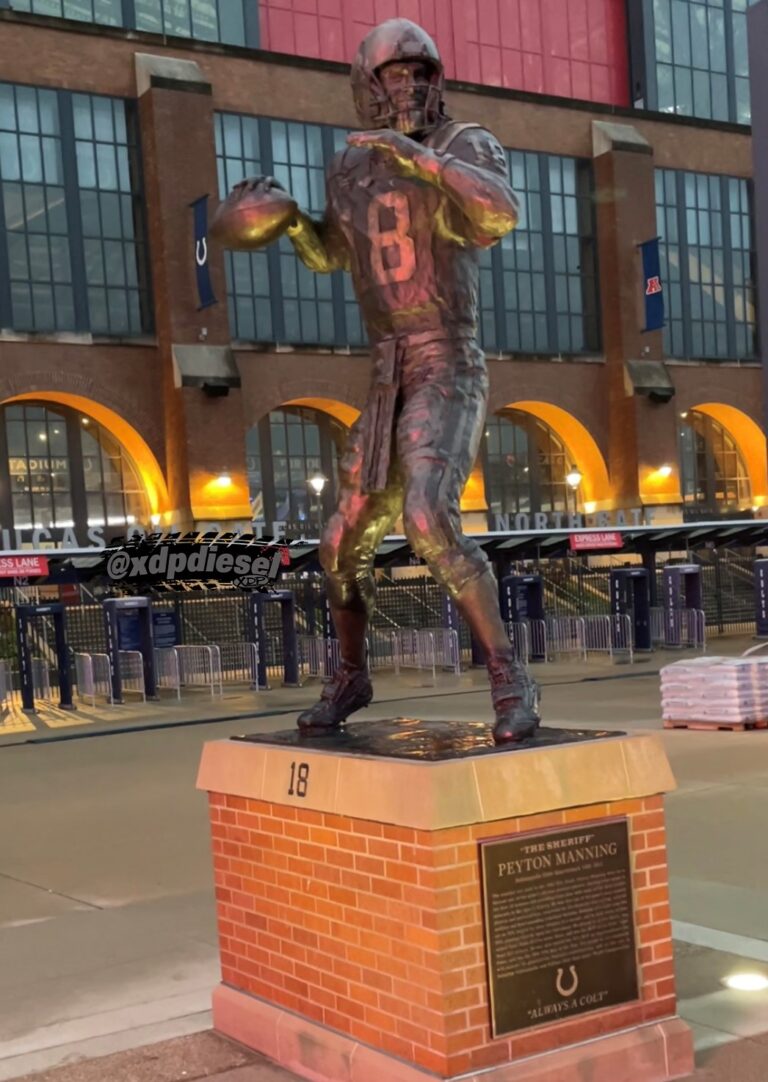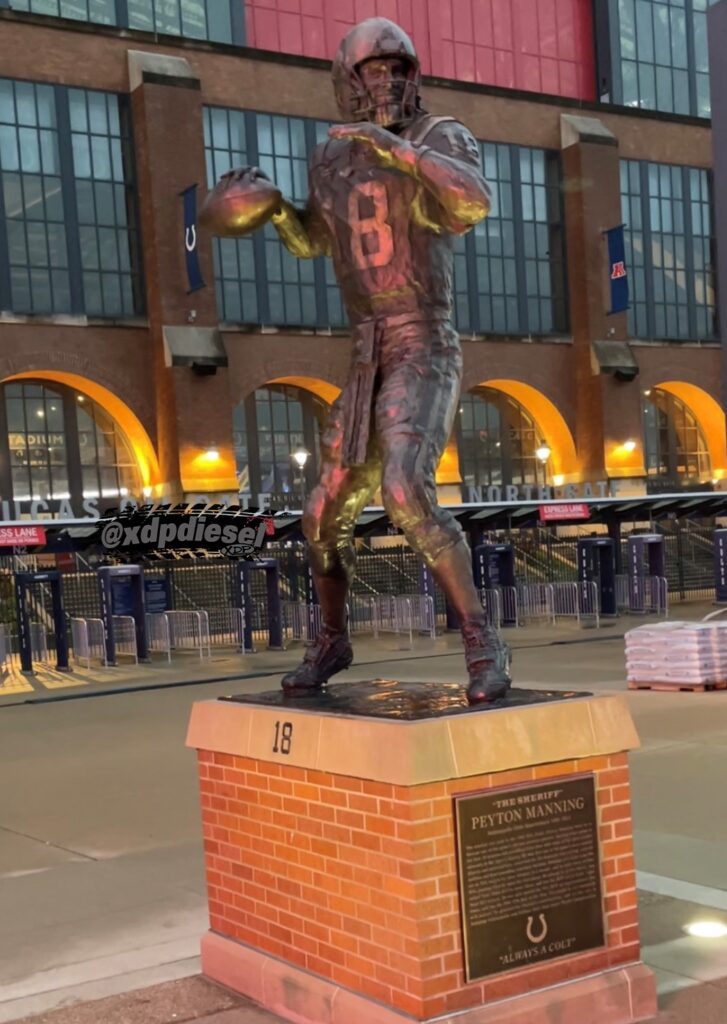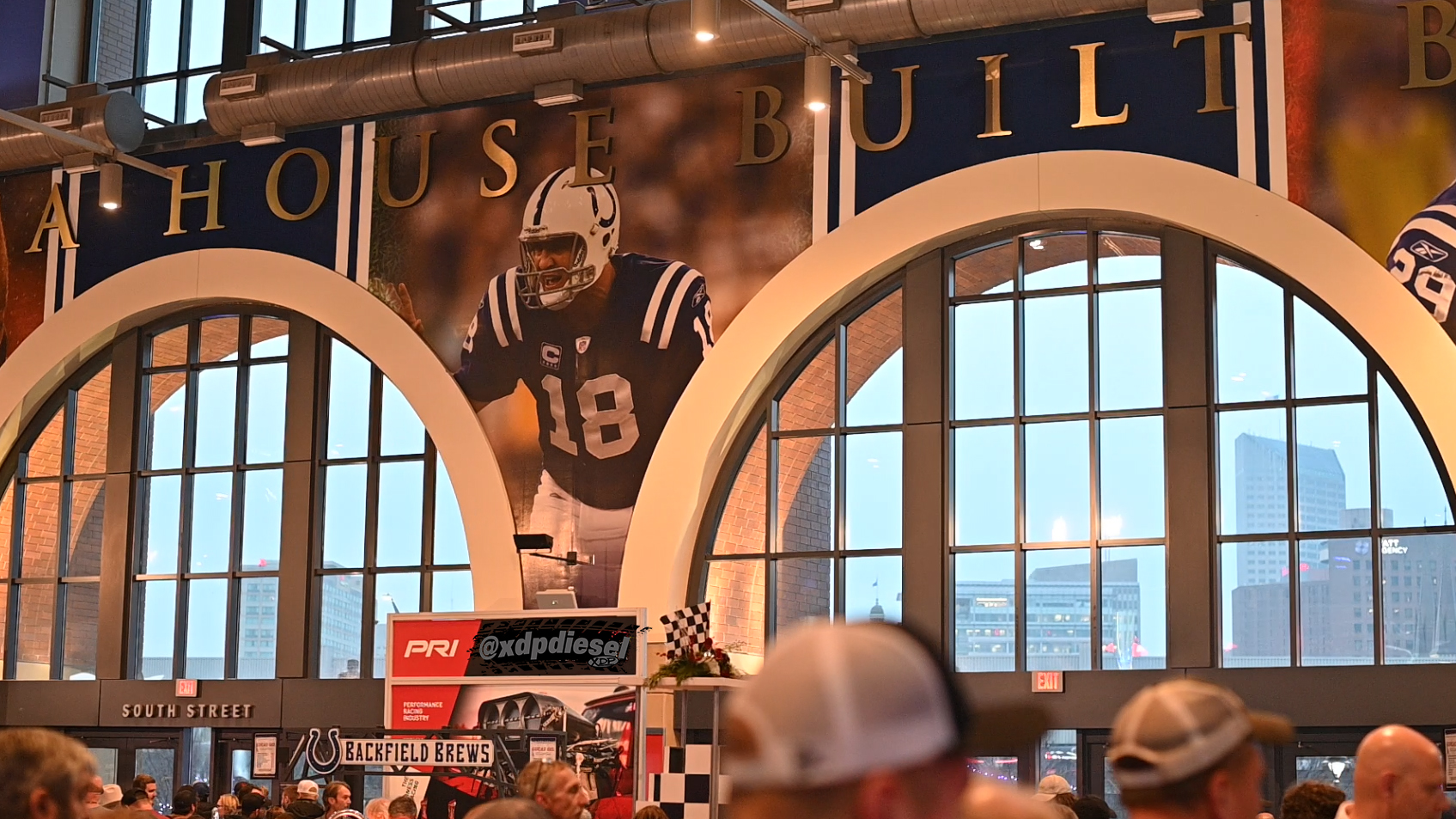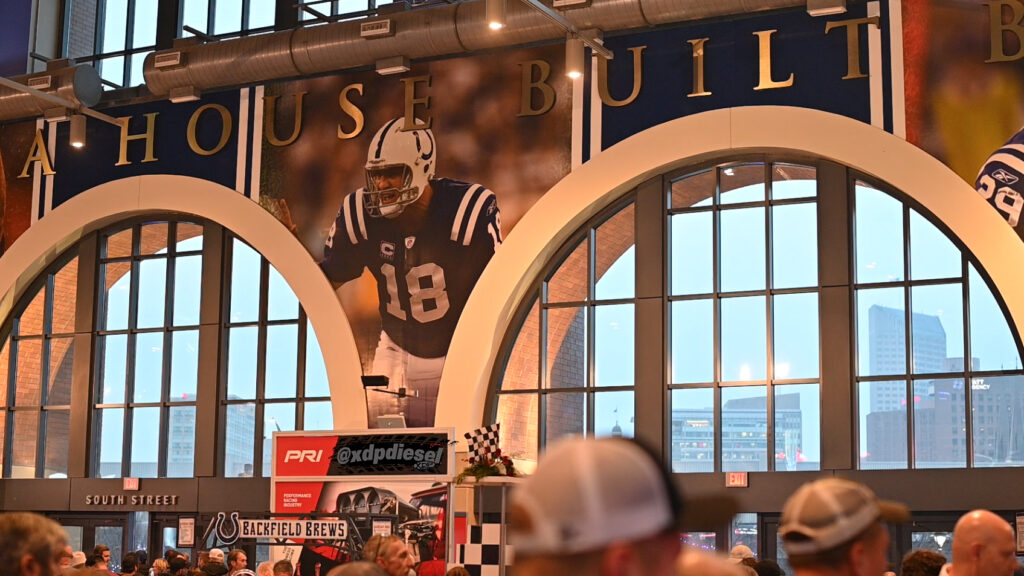 Goodyear Experience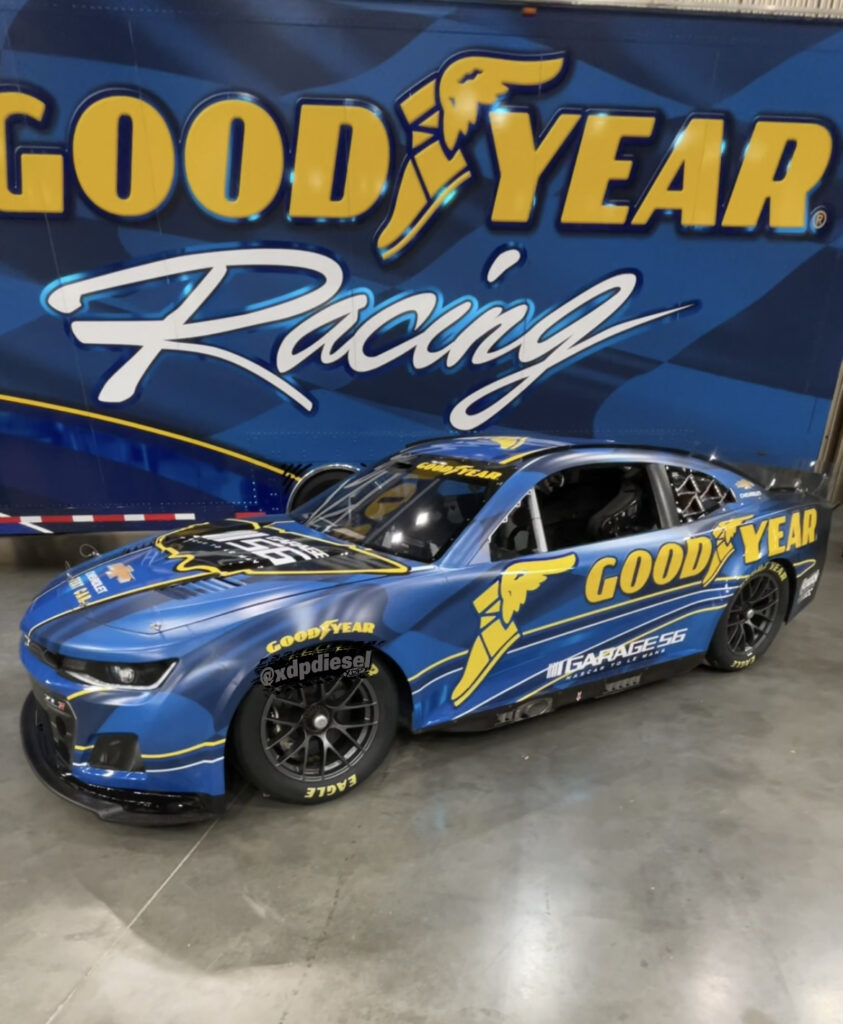 However, the PRI Happy Hour wasn't the only highlight of Lucas Oil Stadium. During the PRI event, the stadium was open with many featured products and trailer exhibits on display. Featured products from the likes of the RevMax who showed off a new 68RFE Direct Oiling Billet Input Shaft, Mahle Motorsports showcasing Ford Powerstroke 6.0L & 6.4L Cast PowerPak Piston Sets, and multiple Royal Purple motor oils were on display. The Goodyear Experience was also on full display as soon as you entered the stadium. Highlighted at the Goodyear Experience was John Force's NHRA Funny Car. John Force is a 16-time Funny Car champion, the 1996 NHRA Driver of the Year, and owns his own race team John Force Racing. John and his daughter Brittany Force, who is also well accomplished amongst the NHRA, met with fans at the Mahle Motorsports booth in Green Hall.
Green Hall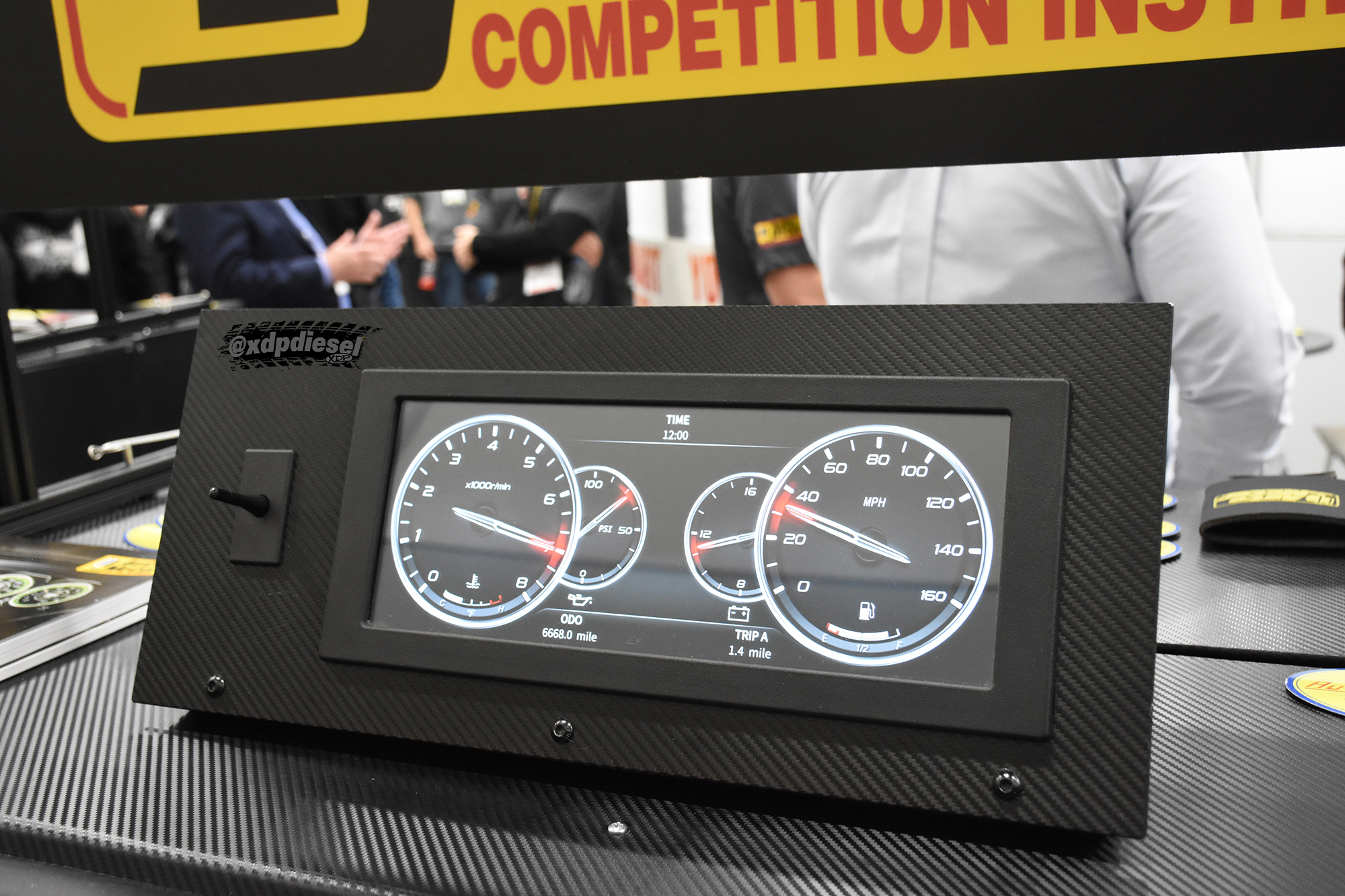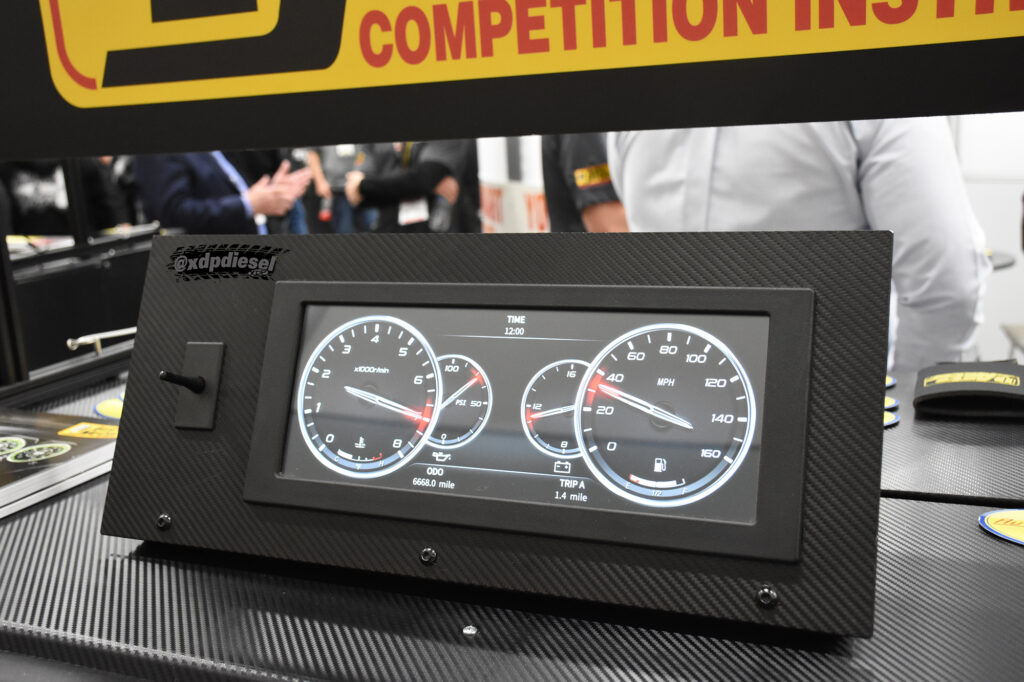 XDP concluded PRI weekend in Green Hall, where there were many manufacturers showcasing products both new and old. We started with Auto Meter, where they had a full line of gauges and were highlighting their Invision Dashes. The Invision Dashes are injection-molded direct-fit dash panels with an LCD display pre-installed into them. This digital display features a full six-gauge system that features fuel level, speedometer, oil pressure, voltage, and more. It's a line that Auto Meter plans to expand upon in 2023, and we are looking forward to seeing these become widely available for diesel applications.
Design Engineering, Inc. (DEI)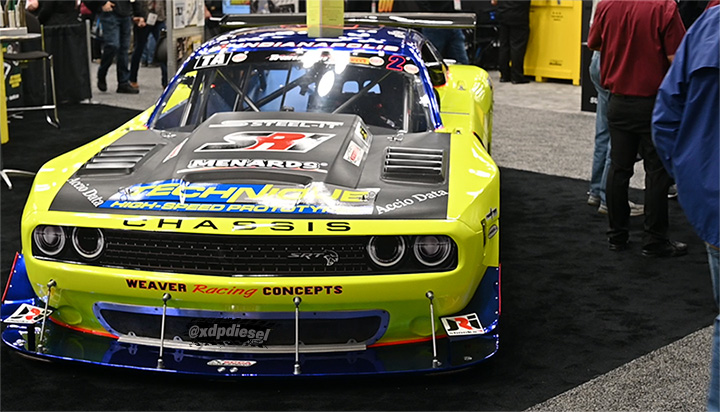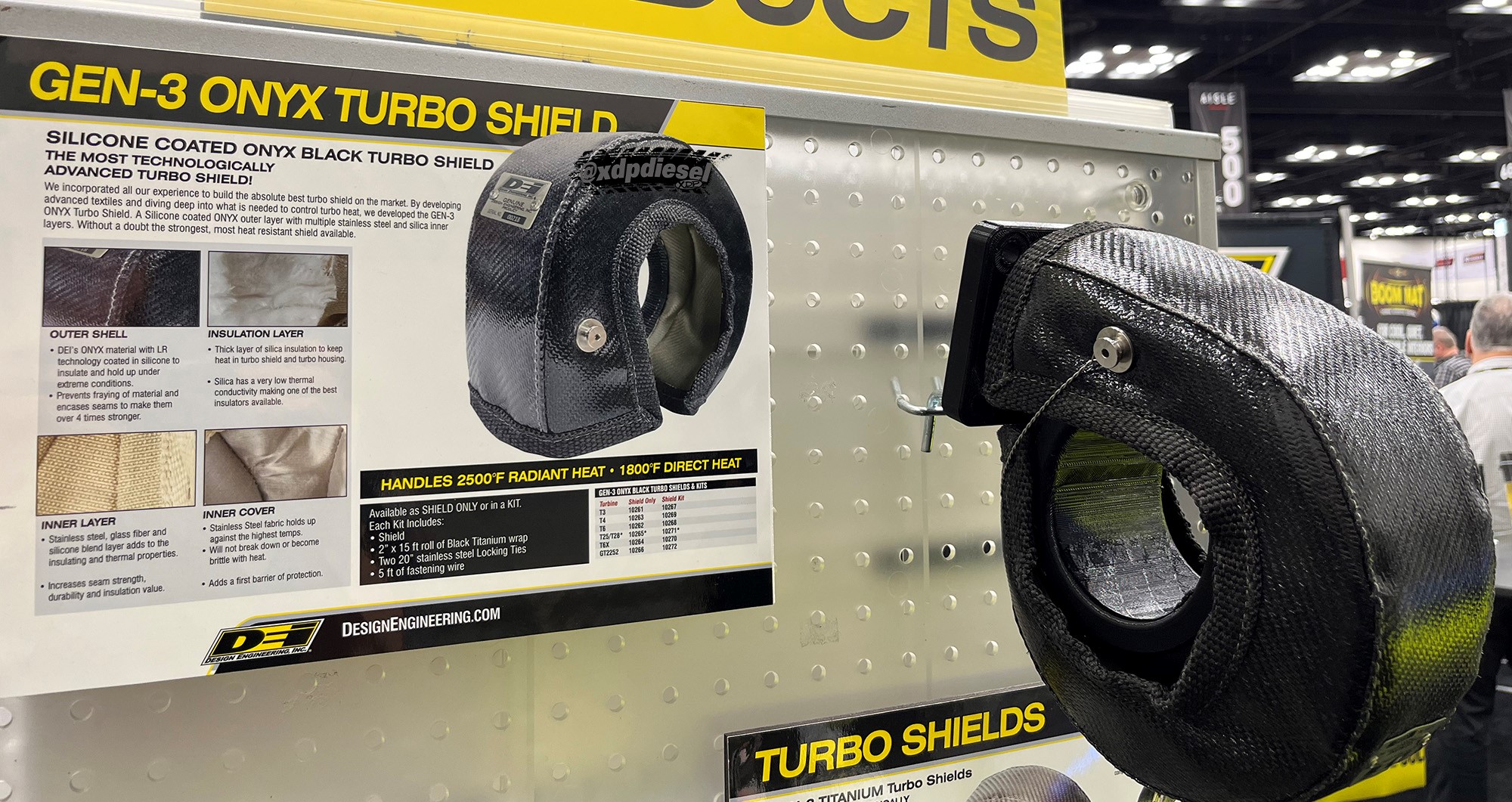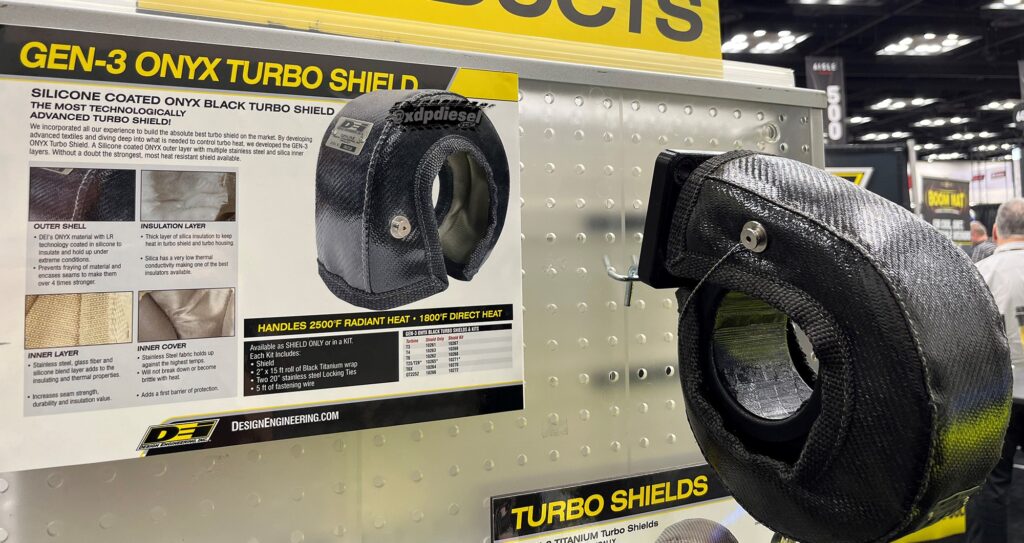 Our next stop was DEI (Design Engineering, Inc.), where they featured a Trans Am Series Challenger provided by Weaver Racing Concepts. DEI teamed up with this eye catcher to use their Reflect A Gold products to help with the cabin temperature and keep it nice and cool while racing. You may have seen this vehicle at Watkins Glen International last year running the TA1 class driven by Boris Said. DEI also featured their new Onyx Turbo Blanket, as well as their new three-inch and four-inch Titanium Exhaust Sleeves.
ProMaxx Performance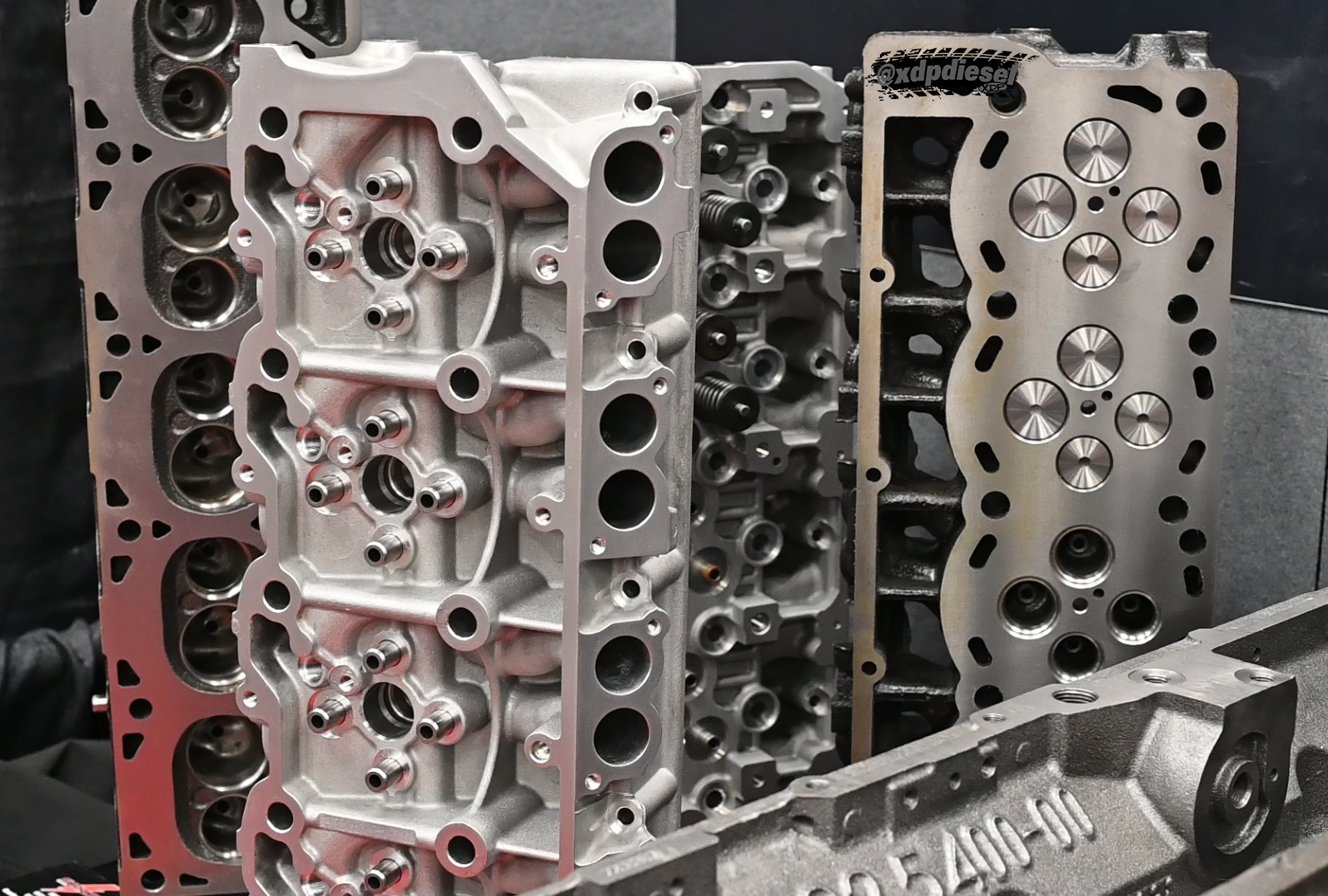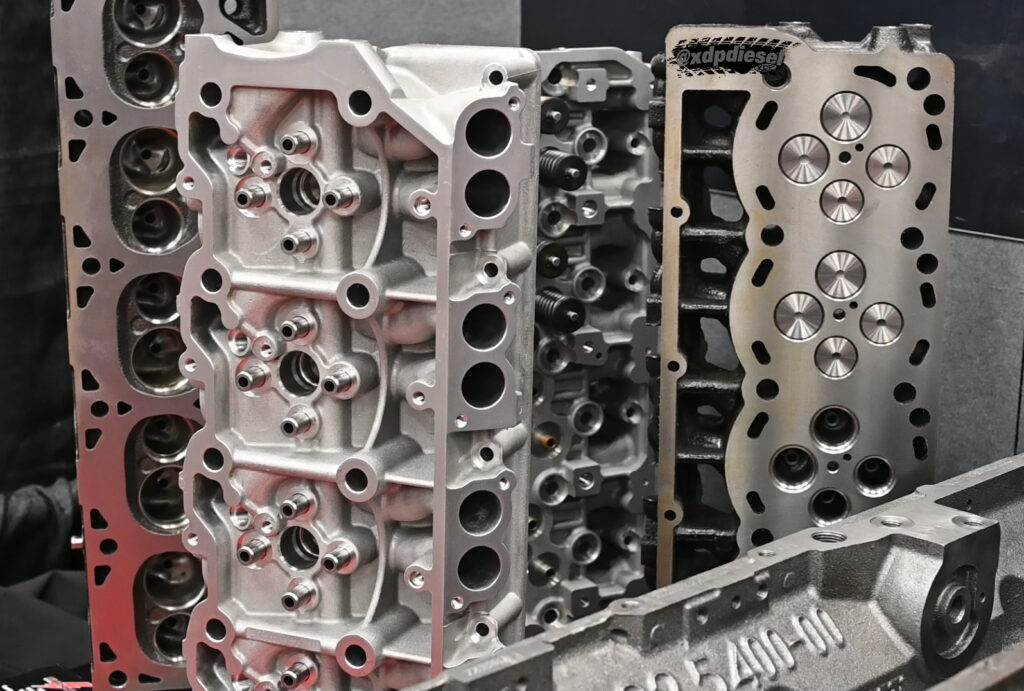 Jason from ProMaxx also gave us a tour of their booth which showcased various diesel performance Cylinder Heads that were on display for Ford, GM, and Dodge Ram applications. They take great pride in machining their heads in-house, from the milling to the assembly. ProMaxx is currently working to get their L5P Cylinder Heads in production.
We stopped at a few other booths in Green Hall before closing things for the weekend. CP Carillo showed us some of their diesel connecting rods and pistons for Ford, GM, and Dodge Ram applications. Cometic Gasket had their StreetPro Top End and Bottom End Gasket Kits on display, which are great products to reseal your engine. In addition, Fluidampr gave us a walkthrough of their Diesel Dampers and explained why their products are superior to the competition. As we looked back over the show, there were performance builds as far as the eye could see in all shapes and sizes.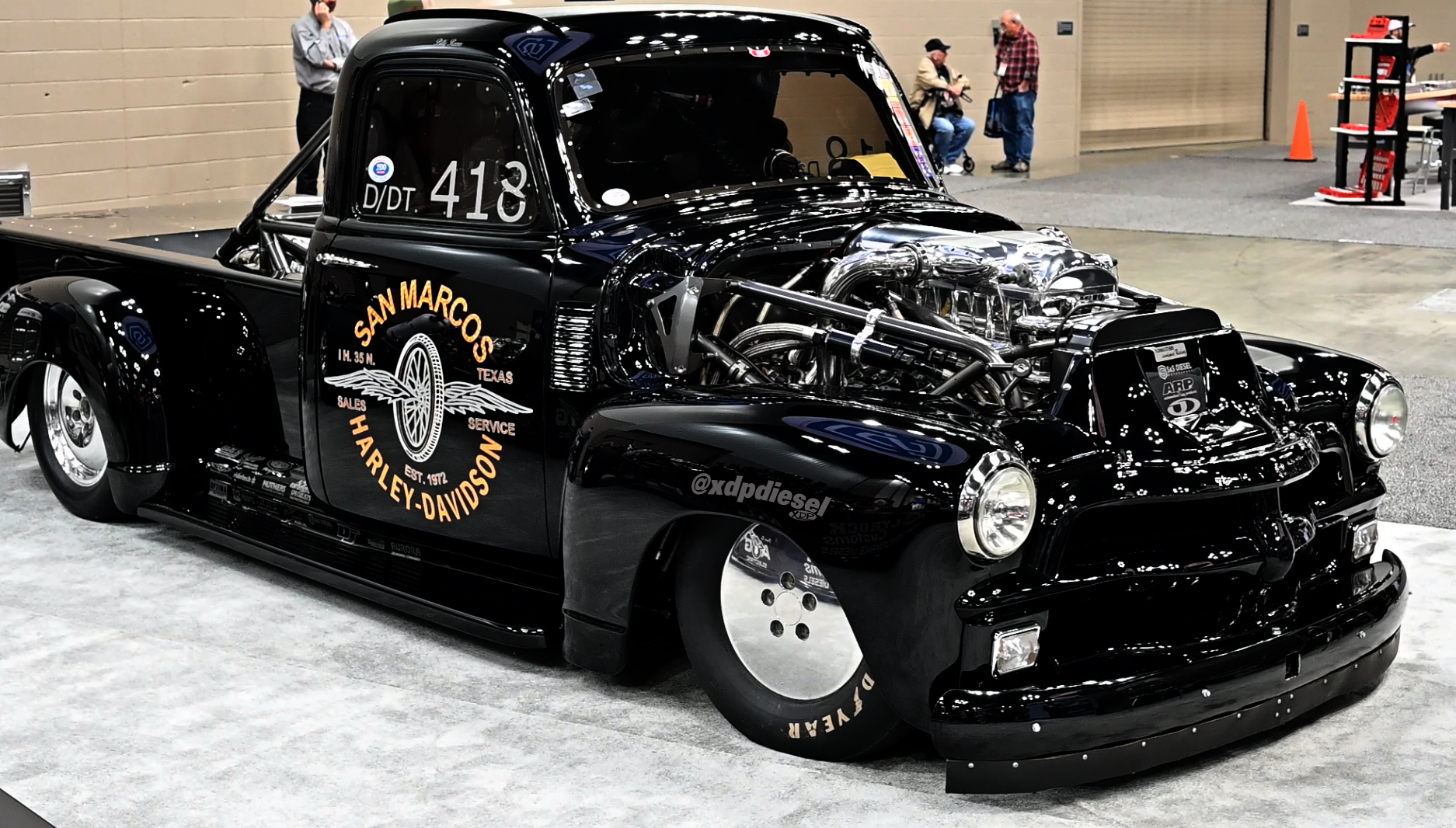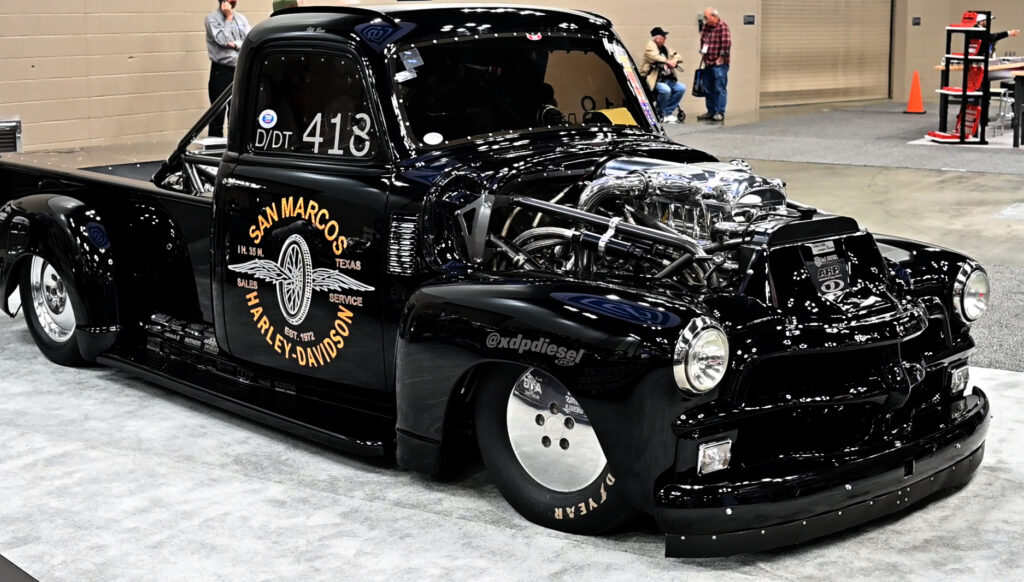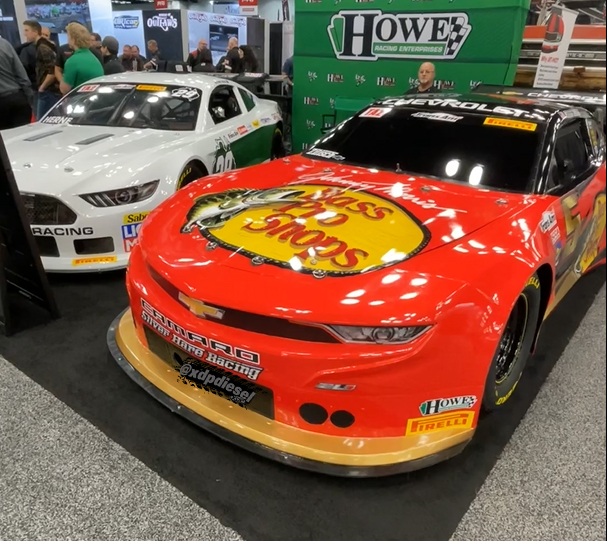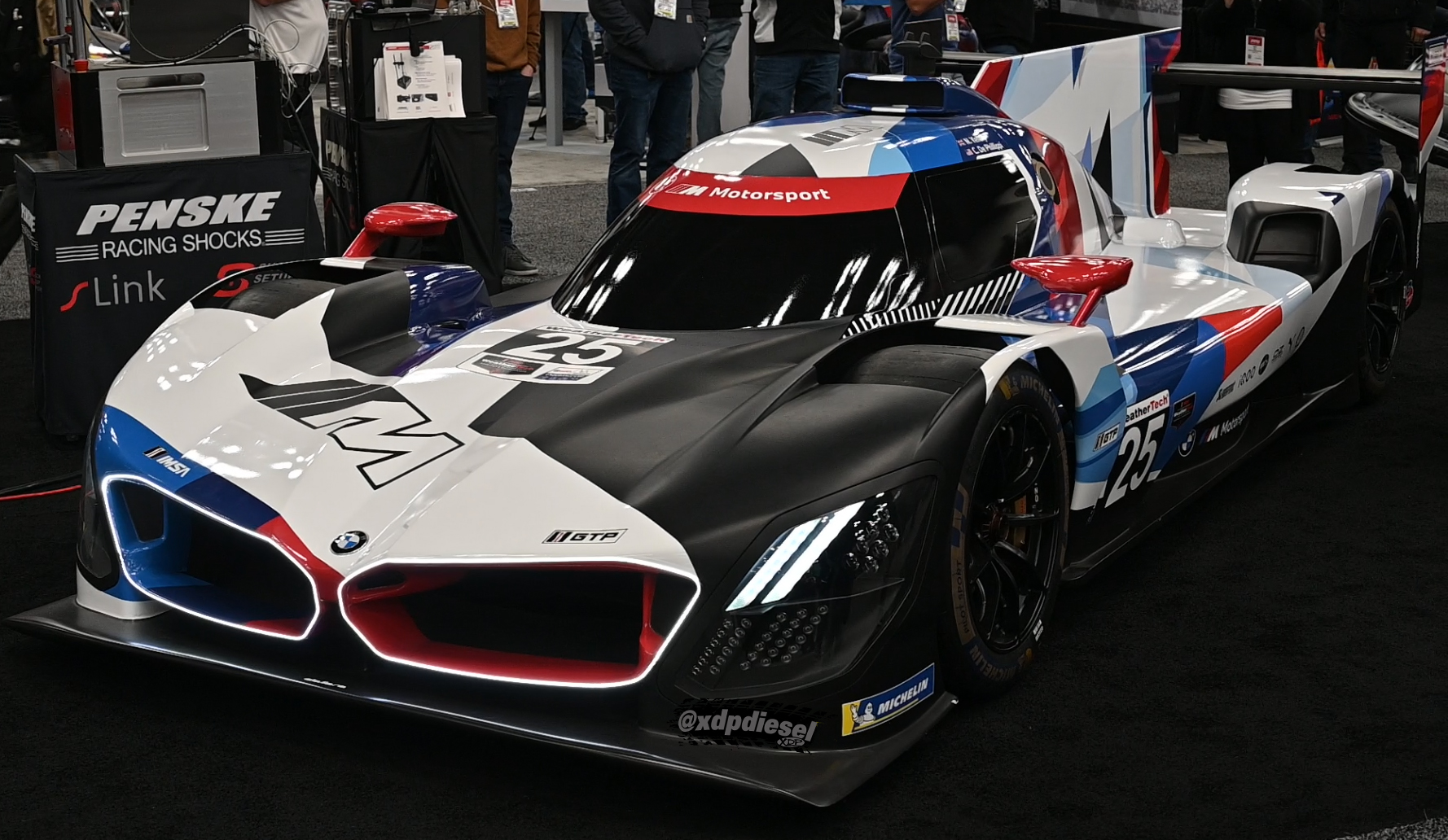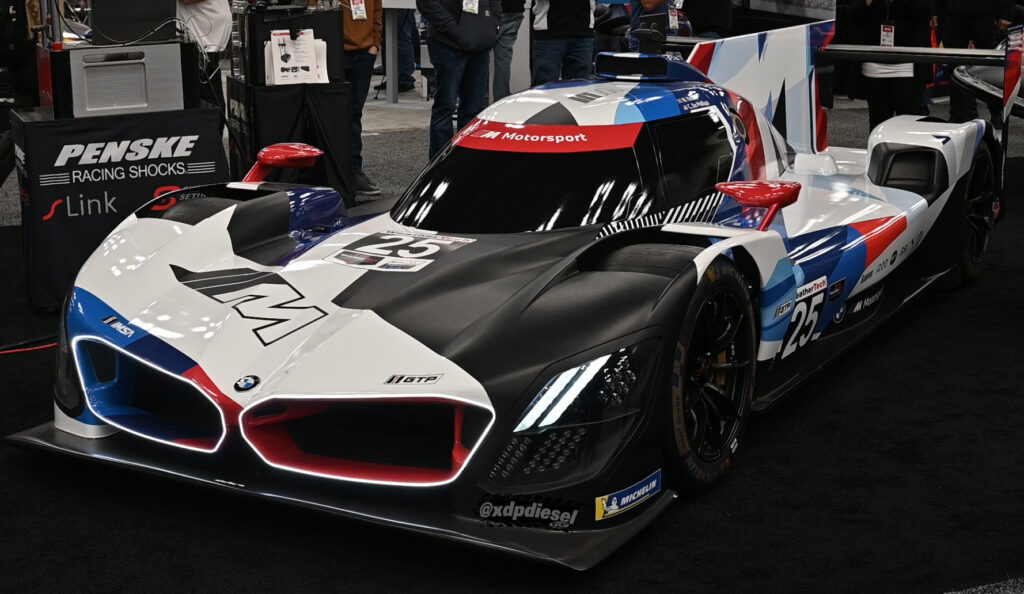 While PRI marks the end of events for XDP for the 2022 calendar year, it could not have closed out in greater fashion. It was an action-packed weekend that featured lots of great new products, exciting builds, and fun memories with the diesel and automotive community. We can't wait for next year's PRI Show and we look forward to a full event calendar for 2023. For a full event recap of PRI 2022, be sure to check out our YouTube channel!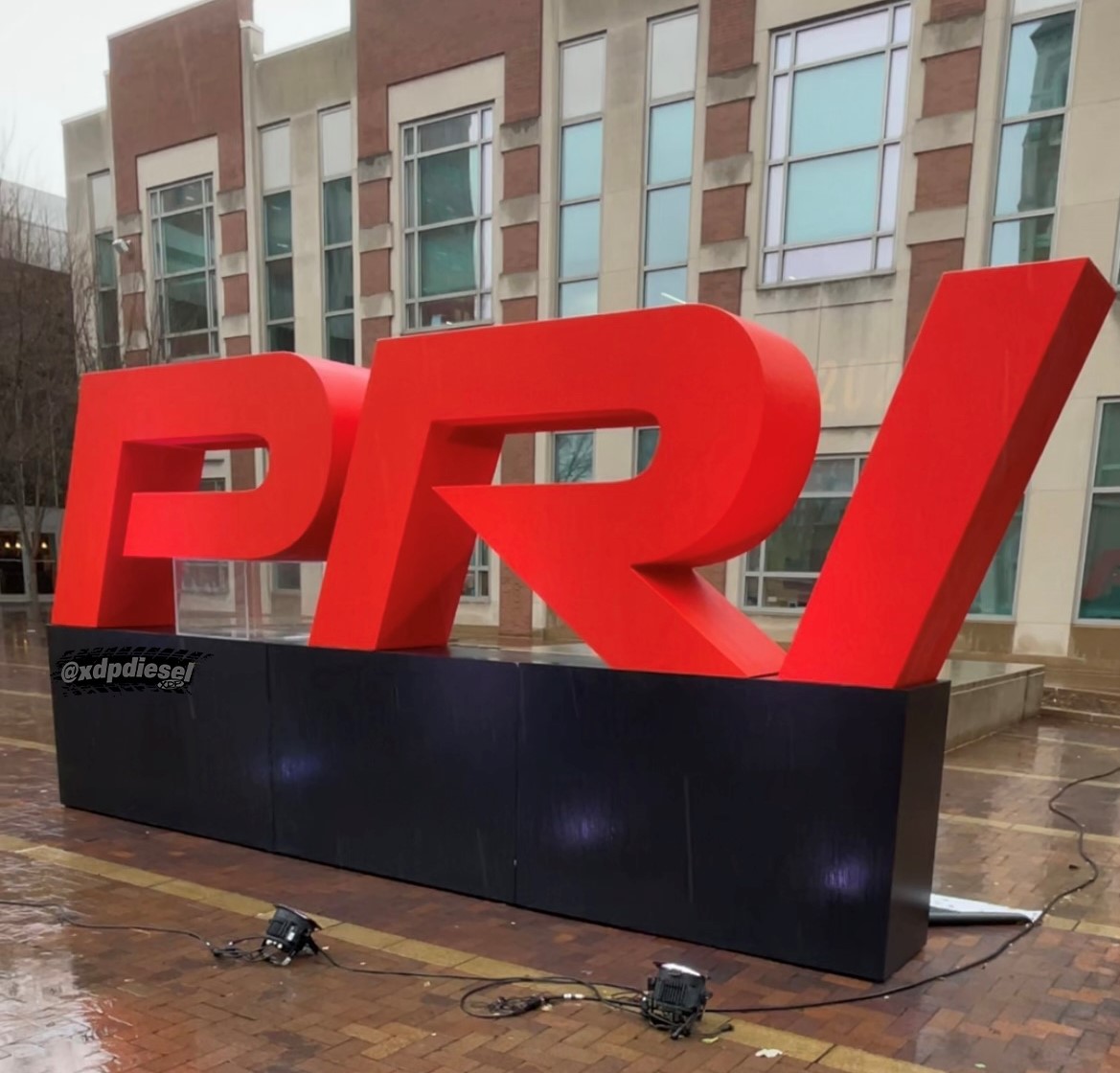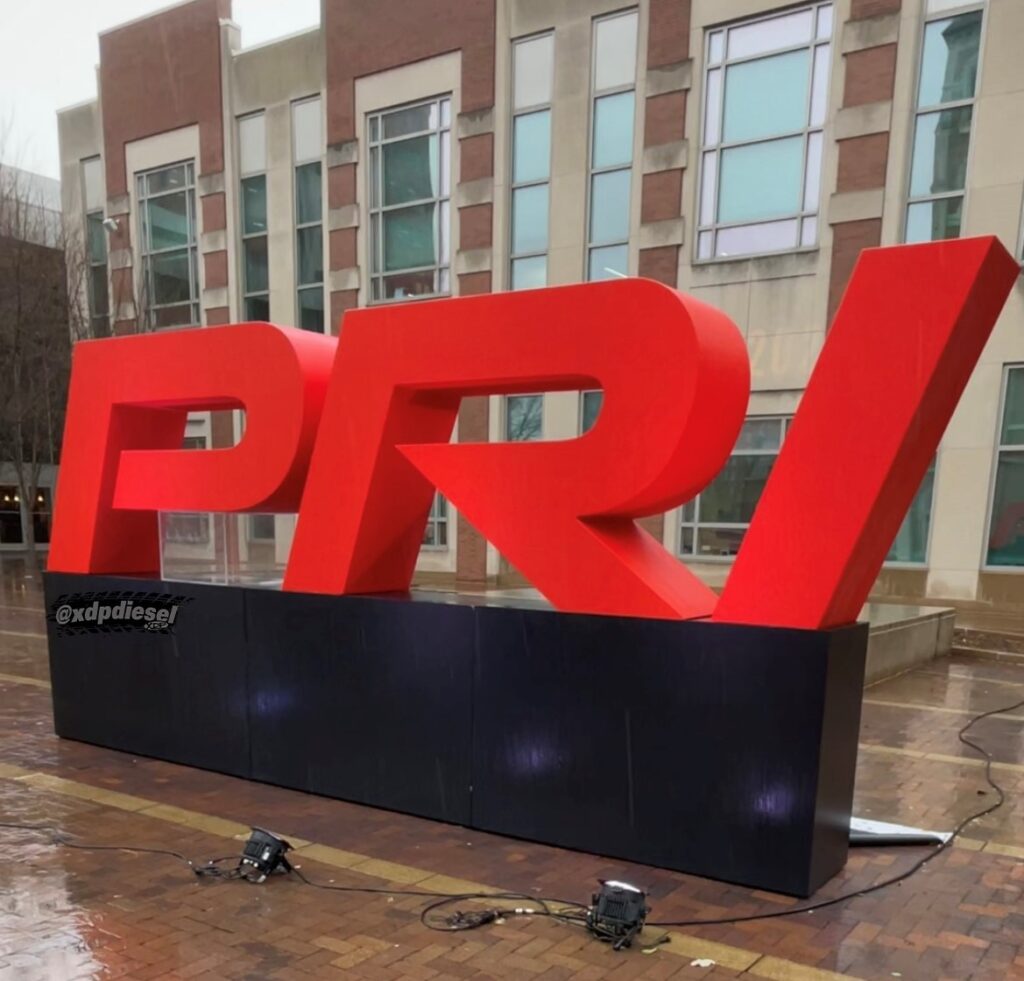 Disclaimer: XDP is in no way affiliated with Cummins or any of its subsidiaries or related companies, and that Cummins has not authorized the sale of any of XDP's parts, and has not tested or approved any of XDP's parts for use in genuine Cummins brand products.